Photography: foc foodoncam via Pexels
We've been exploring Hanoi and Ha Long Bay on an adventure with kids and grandparents in tow…
We're firm believers in teaching our kids that holidays don't have to be five-star luxe and non-stop kids' clubs (at least not all the time), and Vietnam is one of those places that fits the bill when it comes to a family-friendly holiday with more thrills than frills. Having already nailed Hoi An and Danang with the kiddos, we thought it was high time we took a hop, skip and jump over to Hanoi and Ha Long Bay for a city break and junk boat cruise vacay. Here's how we aced the history lessons, stunning scenery, chilly weather, two million spring rolls, party mini-vans and a mind-blowing cruise with three kids (and a set of grandparents) in tow…
FAMILY HOLIDAYS FROM SINGAPORE: HANOI WITH KIDS
When to go
If you fancy a chance to break out your winter wardrobe, then Hanoi between December and March is when it's at its chilliest. April to June are warm (but you'll often need a light jacket), and July to September are hot and humid (and prone to a wild storm). October to November brings about warm weather with clear blue skies.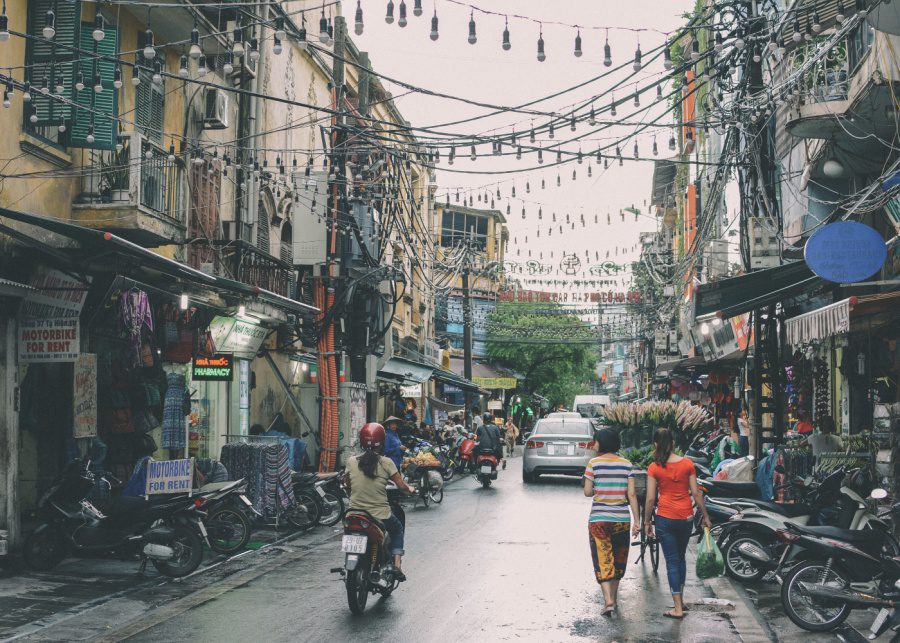 How to get there
Singapore Airlines, Vietnam Airlines and Jetstar all fly direct routes to Hanoi in around three hours. Taxis are readily available at the airport, but we arranged for our hotel to pick us up.
Where to stay with kids in Hanoi
There are cheap-as-chips boutique options through to swanky luxe picks in Hanoi, so it's easy to find something that suits your budget and requirements. We stayed in the very basic but clean and friendly Splendid Star Boutique. The family room was spacious and clean, and the staff was wonderful. No pools or all-singing, all-dancing facilities, but the location was great (right next to St Joseph's Cathedral: you WILL hear the bells!), and it was ridiculously good value. If it's decadence you're after, then have a look at the five-star Sofitel Legend Metropole, which boasts a three-storey spa, swimming pool, six restaurants and a central location in a beautiful French colonial building (fun fact: one of the HoneyKids team spent part of her honeymoon here, as did Charlie Chaplin).
What to do with kids in Hanoi
1. Traditional water puppet show
The traditional water puppet show at Thang Long Water Puppet Theatre has been operating since 1969, with up to five shows per day. The whole family will love watching the Vietnamese folk tales re-told using brightly coloured puppets dancing in the water to traditional music.
2. Take a cyclo tour!
No trip to Hanoi would be complete without piling onto a cyclo (a bit like a rickshaw) to explore the city. Expect the odd moment of sheer terror, and also make sure you negotiate prices BEFORE you set off!
3. Hoan Kiem Lake
Hoan Kiem Lake (Lake of the Restored Sword) is right next to Thang Long and makes for a great stroll in a beautiful setting. There's plenty of room for the kids to run, quaint little cafes and colourful street artists (we stopped for a family portrait), plus an awesome temple (follow the red brick bridge) where you'll snap a gazillion Insta-worthy shots.
4. Ho Chi Minh Mausoleum
For families with older kids (or with kids who don't have an aversion to keeping quiet for a bit), the Ho Chi Minh Mausoleum makes for a tourist spot the family won't forget in a hurry! Dress conservatively (shoulders and legs need to be covered) and be aware that while viewing Ho Chi Minh's body, it must be in silence. If long dead leaders don't feature highly on your holiday checklist, then the grounds surrounding the mausoleum are perfect for exploration and lunch. Don't forget to wander to the nearby Vietnam Military History Museum, too: with heaps of warplanes, tanks, a citadel to climb and some interesting war memorabilia, it's the perfect interactive history lesson the whole fam can get on board with.
5. Hit a night market
When it comes to souvenirs, art, street food and an authentic Vietnam city vibe, the Night Market in the Old Quarter of Hanoi is a fun slice of buzzy action. Flex your bartering skills, but keep an eye on your bags and wallets!
6. More museum fun at the Museum of Ethnology
One of the kids' fave mini-adventures in Hanoi was to the rather cool Museum of Ethnology, which is packed to the rafters with displays and interactive exhibits from different tribes and cultures found in Vietnam. The highlight? Watching mum try to navigate a ladder from one of the various traditional homes dotted around the grounds – in wedges. Prepare yourself for LOTS of sniggers when the kids spot some of the ruder wood carvings on display…
7. Tran Quoc Pagoda and Temple
West Lake is another lovely lake worth taking a trip to for pedal boat hire and a wander around the beautiful Tran Quoc Pagoda and Temple, which dates back to the 6th Century!
FAMILY HOLIDAYS FROM SINGAPORE: HA LONG BAY WITH KIDS
When to go
We took to the high seas in mid-April, so the water was too cold for swimming, and we definitely needed a warm cup of tea in the mornings to get us going. Nighttime skies were clear, and there was a surreal mist lurking around in the mornings (which kinda added to the charm of the place). July and August are generally considered low seasons, as this is when storms often whip into the bay and cause havoc. September to November and March to May are often pitched as the best times to visit the area.
How to get there
Either your hotel in Hanoi or your chosen boat operator will arrange the car journey to Ha Long Bay, which takes around four hours (and includes a stop on the way). Pick-up is usually early, and our hot tip? Go for one of the VIP minibus transfers – the kids were so taken with the onboard wifi, TV and DVD player, blacked-out windows, bar and disco lights that they didn't complain once. That's right; not once.
Where to stay in Ha Long Bay with kids
There are lots of boat operators on the Bay, and research and word of mouth are definitely your best approach. We took a long time deciding which company to plump for, and in the end, we went for Indochina Junk. As we were a party including young kids and grandparents, we splashed out on the private three-bedroom Prince 4 boat with our own personal crew of chefs, waiting staff and tour guide for two nights. The company run a fleet of boats to suit your budget and party size. Our cruise took us from Ha Long Bay through the quieter waters of Bai Tu Long.
What a cruise looks like with kids in Ha Long Bay
Much of what you do around the Bay will depend on the weather and the size of your charter. The bigger cruise boats will have different itineraries to the private hire cruises, but whatever you choose, there will be plenty of fun for all ages. Our two-day cruise included kayaking, a visit to a floating village, trips to bat caves, beaches and hillside temples, plus a truly amazing BBQ on our own deserted island beach where the crew caught and cooked crabs for us fresh (turn away, vegetarians!). A once-in-a-lifetime BBQ, if ever there was one.
Aside from plenty of sailing through breathtaking scenery (the boat is anchored at night, and when it does, prepare yourself for THE most amazing night sky you will ever see) and off-boat excursions, one of the main pastimes is definitely eating! The chefs kept us ridiculously well-fed with sumptuous feasts for breakfast, lunch and dinner (and no meal will be complete without an elaborate fruit or vegetable carving), which often ran to six courses! Our fussy kids were wonderfully catered for, and us adults were kept in the lap of food luxury – expect to gain a couple of kgs!
Would we do it again? Absolutely!
Stay tuned for more Vietnam adventures coming soon!