Photography: Unsplash
Want to know one of our fave things in the whole wide world? Mini breaks! Here are our top destinations for beach hangs and sunset chills with the kiddos, just a short trip away from Singapore
Dreaming of a short trip from Singapore with the kids? We are experts at planning an easy family holiday. It could be argued that life in Singapore is a bit of a holiday itself, thanks to our endless sunshine, great attractions for families and kid-friendly restaurants. All the same, it's great to venture away from the Little Red Dot, even if it's just to exchange one island for another.
Long-haul journeys with the brood can be a bit of a challenge (so don't miss our survival tips for plane trips with kids) and clashing school breaks don't help! But there's no need to go far for an amazing holiday. Singapore is surrounded by isles and pulaus, perfect for a long weekend vacay. So go on and pack your swimsuit, and take your pick from some of our favourite destinations for a short trip from Singapore with kids. No stopover required!
Note: Remember to check the travel requirements of the destination country you plan to travel to before setting off on your next vacation. Note that some of the visa requirements have changed since the pandemic! Also, be sure to check on your domestic helper's visa requirements too, if necessary. 
Our favourite destinations for a short trip from Singapore with kids
Click below to read more:
Malaysia
Indonesia
Thailand
Philippines
Vietnam
Cambodia
BEST FAMILY GETAWAYS IN MALAYSIA
1. Langkawi, Malaysia
Traveling time: Under an hour by plane
Why do we keep going back to Langkawi with the kids? A trip to Langkawi is a very accessible, quick weekend away, with flights whizzing you there in under an hour. We love the great bucket-and-spade experience at the Pelangi Beach Resort and Spa, and the kids will go nuts for the small dino-themed water park on-site. The white beach, relaxing atmosphere and close proximity to a small town full of delicious family-friendly restaurants seals the deal for us time and time again. What's not to love about the quick journey, clean beaches, delish food and fam-friendly hotels? The Holiday Villa Beach Resort & Spa is another fam fave on our list. With an array of activities to explore, like water sports, tennis courts and a children's playground to name a few, the resort has everyone in the fam covered for the best fam vacay!
2. Desaru Coast, Malaysia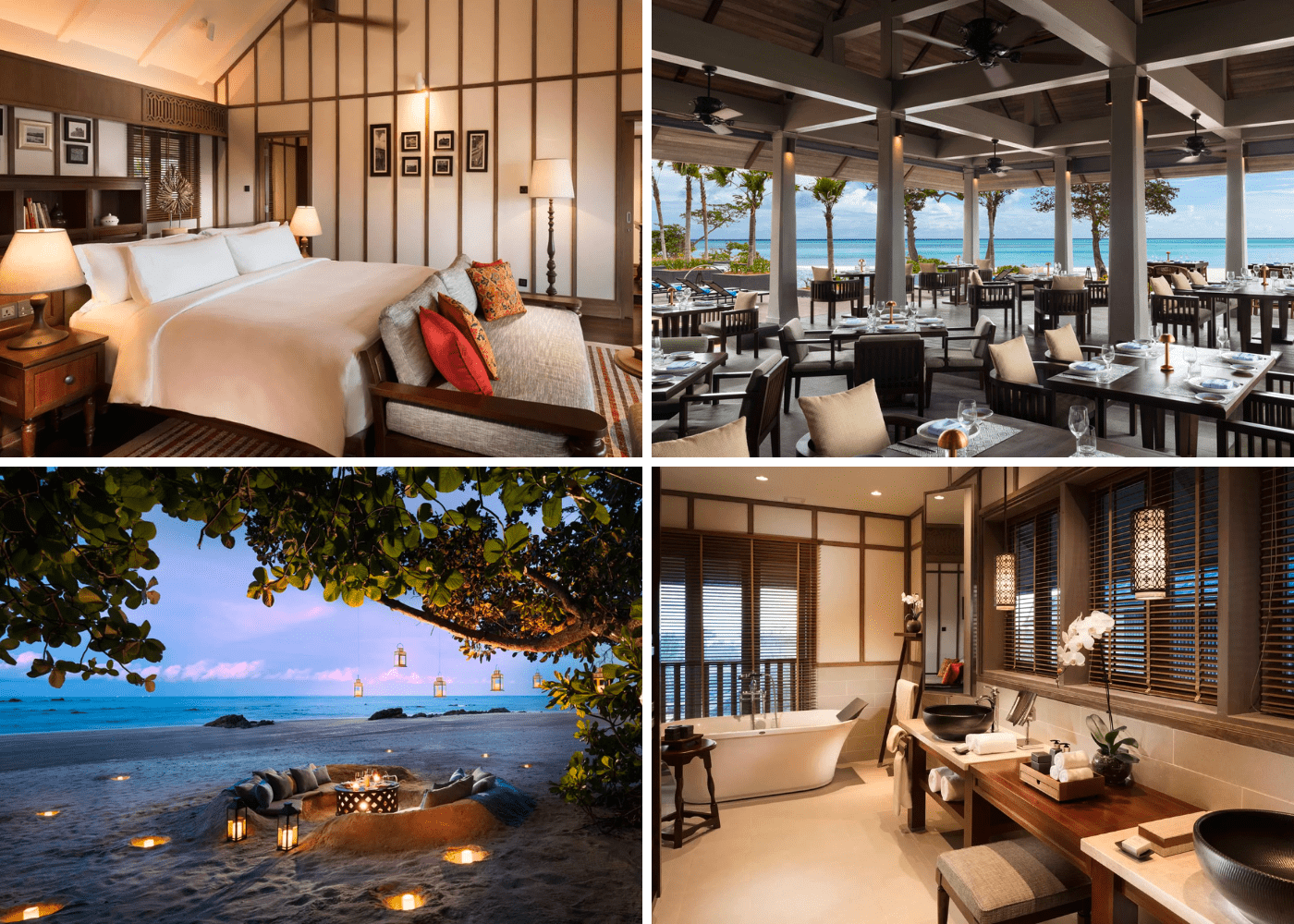 Traveling time: Around 2.5 hours by coach
Turns out a mini-break away from Singapore doesn't have to whack a kid-shaped hole in your wallet. We've enjoyed a long weekend in Desaru Coast for less than what a day out on Sentosa can cost us! That's not to say you can't splurge it either – we've seen Anantara Desaru Coast and One & Only Desaru Coast, and they're AMAZING! These holiday stay comes with complimentary daily activities planned for the kiddos. In our books, this is a big win-win! Your kids can explore a wide range of topics like discovery, education, local culture, nature, sports, and arts and crafts. A happy kid makes for a happy parent, right?
3. Johor Bahru, Malaysia
Traveling time: Just under an hour from Singapore by car
If you want to take a road trip, then just over the border in Malaysia, you'll find Johor Bahru, which is home to one of our favourite theme parks – Legoland! We've also got a whole Guide to Johor Bahru with kids that is a must-read and includes all the best places to stay, eat and play. And you can't visit Johor Bahru without shopping! There are so many bargains to be had (if you can drag the kids along without too much whining).
BEST FAMILY GETAWAYS IN INDONESIA
4. Bintan, Indonesia
Traveling time: About an hour by ferry
Apart from Sentosa, this is our closest island neighbour for a getaway, and it's the go-to if you want to get away fast, play golf or chill out with the kids on the beach. Check out our guide to hotels in Bintan for the lowdown on the best places to stay with the kiddos. One of the best family-friendly hotels here is Banyan Tree Bintan. With a private beach, a Ranger's Kids Club suitable for kids aged three to ten, a spa for some serious self-care time and a golf course for pops, this property is the perfect resort for everyone in the family to have some R&R time. This is the place to be if you want an effortless short escape for all the brood.
5. Bali, Indonesia
Traveling time: Under three hours by plane
This island needs no introduction, but it's a perennial fave for a family holiday. It's grown with us over the years, and we find something new every time we go back. We love heading to Jimbaran Bay because it's closer to the airport, and you can still get decent accommodation on or near the beach (without indecent prices).
Looking for a private villa for your short getaway from Singapore? Check out The Sea Shanty. With littlies, we love Nusa Dua and Club Med Bali. It's all-inclusive, so there's no risk of squabbling over who's hungry and where to go! For all our tips on the latest and greatest places to stay, eat, shop and chill – including fun stuff to do with kids – head over to Honeycombers Bali.
BEST FAMILY GETAWAYS IN THAILAND
6. Koh Samui, Thailand
Traveling time: Under two hours by plane
We love it here: The beaches, food, jungles, people and marine park excursions are a family pleaser every single time. There's plenty of choice for all budgets around this sunny island, so have a look at our guide to Koh Samui with kids and then put it on your holiday radar, stat. We recommend a holiday at Meliá Koh Samui with the fam. The resort is set out to pamper parents silly with their on-site activities like a spa and 24-hour fitness centre. Enjoy all this and more while the kids have a blast at the Kidsdom kids club.
Another place on our list is SALA Samui Chaweng Beach Resort, which has some unique activities to catch, like the Sala Seeker coconut tour. If you want to amp up your culinary skills with some delicious Thai dishes up your sleeve, the cooking class is your place to be! At the end of it, treat your family to a Thai spread cooked up by yours truly. Brownie points all the way!
7. Phuket, Thailand
Traveling time: Under two hours by plane
Looking for a private pool villa that doesn't cost the earth? You can find this in Phuket, Thailand, specifically at the super fam-friendly Avani+ Mai Khao. With a playground, sweet kids club, rock climbing, boxing and cooking classes, you can do as much or as little as you like. If blissing out at the spa or beachside with a cocktail is more your vibe, head across the road to the Anantara – the facilities are shared between these two hotels so that you can have the best of everything! Don't forget to check out our Guide for 30 Things to Do in Phuket before you go!
8. Bangkok, Thailand
Traveling time: About two hours by plane
If your kids never sleep, then perhaps you need a city that never sleeps, either! For an action-packed school break or short weekend holiday, Bangkok is the place to go. There's so much to love about this vibrant city that has something for everyone. Theme parks, shopping, massage, culture, history, fab food and tuk-tuk travel are just a few reasons to pop Bangkok firmly on your travel bucket list.
Experience the city from Siam Kempinski Hotel, located in the city centre. The hotel has a spacious setup for the Kempinski Kids Club, where children up to 12 years can enjoy an array of interactive and educational games. While the kids are entertained, take a dip in one of the saltwater pools at the resort's landscaped oasis, or opt for luxury spa pampering.
BEST FAMILY GETAWAYS IN THE PHILIPPINES
9. Manila, Philippines
Traveling time: Around three hours by plane
If it's a city break you're after, then there's nothing vanilla about fun-packed Manila! Hop into our guide for the Manila lowdown on where to eat, where to stay and what to do in the lively and cultural capital city of the Philippines. Our go-to pick from this bustling metropolis is one of the first resort-style hotels established in the city, Sofitel Philippine Plaza Manila.
Located at the bay, the resort offers breathtaking sea views, and it also lays on the red carpet for our little travellers with many activities to engage with, including an ice cream party, group tennis classes, a bubble station, and face and hand-painting, to name a few. Don't miss out on their staycation offers, which are too tempting to resist!
10. Cebu, Philippines
Traveling time: Under four hours by plane
Not to be confused with Sibu (in Malaysia), the paradise island of Cebu in the Philippines, is an easy direct flight straight from Singapore. We're talking under four hours, people! If you are looking for a splashing good vacay in Cebu, Jpark Island Resort and Waterpark is a must-visit for all you holiday-hungry peeps! Beyond the bustling 16.5 hectares of fun-tastic facilities, the main highlight includes the three towering waterslides, a lazy river pool, and a pool with a beach-like shoreline. There's much more for the kids to enjoy, including Pororo Park, Go Karting and mini golf. But what about mum and dad? Besides some much-needed pampering at the spa, we're also quite taken with the waves of the artificial tide pool. Go on, rediscover that inner child – we won't judge!
Another good fam option is Crimson Resort & Spa Mactan. With a whole pool (with lifeguards and life jackets for kids on standby) for kids, plus an indoor soft play area and playground dedicated to smaller guests, plus the friendliest staff on the planet, a beautiful little beach and an excellent buffet brekkie, you've got yourself one awesome, easy getaway. And if you've got a few days extra to spend in the sun, do make sure you head to Oslob for a swim with the whale sharks!
11. Boracay, Philippines
Traveling time: About three hours by plane
Boracay in the Philippines is one of our top beach destinations to go to. The Mövenpick Resort & Spa is a fam-fave located bang on the white sandy beaches of Boracay. What more could you ask for? Treat yourself to some invaluable downtime at Sagay Spa, and rest assured that the kiddos will find nothing to complain about with the fun-filled activities in store for them at the Little Kids Club, outdoor playground and splash pools. Beyond the hotel, enjoy the tranquil beaches because those sands and waters remain some of the loveliest we've ever seen. Don't forget to take a glass-bottom boat to see the cool residents who live just off the shore!
BEST FAMILY GETAWAYS IN VIETNAM
12. Vietnam
Traveling time: About three hours by plane
Fancy a buzzy city break to Ho Chi Minh or Hanoi, a more chilled vibe in the ancient town of Hoi An, or even a cruise around Ha Long Bay? Vietnam is one of our favourite places to jet off to with kids for a short weekend getaway. Gorgeous beaches, stunning scenery, super smiley people and a shed load of history make this an overseas adventure perfect for the young and old alike.
We love a weekend getaway to a Vietnamese seaside resort, and Salinda Resort ticks the box. The holiday haven showcases Vietnamese hospitality at its authentic best for an experience of a lifetime. There's so much to explore, from international cuisines, spas and wellness activities. There are also picturesque landscapes, so this resort is the complete package! For our tiny vacationers, there is a packed daily roster of fun at the Kids Club. Furama Vietnam is another vacation hotspot for your travellers' map. The hotel has loads of exciting activities for an action-packed weekend getaway for the whole gang!
BEST FAMILY GETAWAYS IN CAMBODIA
13. Siem Reap, Cambodia
Traveling time: About two hours by plane
Want a short weekend getaway with a dose of history and culture? If you are looking to take a deep dive into Cambodia, Shinta Mani Angkor and Bensley Collection Pool Villas is the place to be! The resort is located a few tuk-tuk rides away from historic sites, like the UNESCO World Heritage Temples of Angkor Wat, and local marketplaces. If a beautiful Cambodian resort perched amid tropical gardens and pools defines your base camp between packed city tours, we have nothing to complain about!  Find out why this ancient pocket of Cambodia makes for a seriously cool adventure that the whole gang will love.
Happy holidaying! Got a fave short weekend getaway from Singapore? Let us know!