One and Only Desaru Coast
Looking for a fun short family getaway from Singapore? From watersports and golf to luxury spas and some of the best kids clubs we've seen, here's where to eat, stay and play in Desaru Coast, Malaysia
If you've exhausted your list of indoor play centres and fun playgrounds in Singapore, we see no reason why you shouldn't throw some toys in a bag, grab the passports and nip off for an easy-breezy vacay with the kids for the weekend. Bonus points if you can get there in under two hours! That's why we'd highly recommend a mini-break to Desaru Coast, Malaysia. From waterpark action, kayaking and excellent golf facilities to relaxing at a world-class spa, by the beach or poolside with a cocktail in hand, here are the things we loved about this fun Malaysian beach destination.
How to get there (and what to expect!)
1. Hop on a ferry
Just a hop, skip and a jump on a ferry from Tanah Merah Ferry Terminal across the water, book yourselves tickets via Batam Fast and board a boat for the short 70 minute ride on the high seas. Tickets cost $118 per adult for a round trip including surcharges. Currently, ferries are running 8:30am departing to Desaru Coast, returning at 5:30pm to Singapore, Thursday to Sunday.
Take note that once inside the ferry terminal at Tanah Merah, there is only one tiny cafe serving kopi, cans of drink and small meals, and the queue was long. Come prepped with snacks and bottled water for the ride, and definitely don't expect money changers, fancy cafes, or, well, facilities!
2. Take a private car
Desaru Coast is also accessible by car (around a 2 hour drive), however, you are then at the mercy of the traffic on both sides of the border. The good thing about the ferry is that it eliminates this uncertainty.
Where to stay
Desaru Coast has really come into its own as a hot-list family holiday destination from Singapore. It is a different vibe to Thailand or Vietnam, as it's less about exploring the surroundings, and more about enjoying the resorts and the activities on offer. Desaru is perfect for a short family getaway for a couple of nights of fun and relaxation, with minimal fuss; one of the key benefits is avoiding the airport, and enjoying lux activities for less. There are four key resorts we'd recommend for a long weekend getaway, that have everything you need (including awesome kids clubs, nice restaurants, gyms and spas, plus access to sports and golf!)
1. One & Only Desaru Coast
The highest end of the resort spectrum has got to be One & Only. If you are after peaceful privacy, reconnecting with nature and beautiful food served overlooking the beach (hello Ember Beach Club), then this is the place for you. The resort has only villas, and they are all immaculately presented, as reflected in the pricing. We really loved the Dusky Monkey bar overlooking the infinity pool, perfect for sundowners and watching the cheeky dusky monkeys swing through the trees above (the bar's namesakes no less).
Kids are well looked after here, as there is a sweet kids club with outdoor play area made from recycled timber, and a lake for catch-and-release fishing. There's also an art room, decorated with guests' artwork and painted ceramics.
Adults will be just as happy, with the best equipped gym we've seen (possibly anywhere, ever), and a lovely spa using top quality products. There's even a hair salon.
2. Anantara Desaru Coast Resort & Villas
Anantara Resorts are well-renowned for their luxurious decor, reflecting the cultures of their locations, and the Anantara Desaru Coast is no exception to this rule. Expect lush rooms with every earthly amenity, a heavenly spa, and the best kids clubs of the Desaru scene. There's a teen club with beanbags, video games and a movie room, pinball and foozball machines, and fun beach activities to keep even the grumpiest teens entertained. Littles will love the arts and crafts and exploring the kids club right next door, so all your kids can be near to each other but separately entertained, no matter their ages.
3. The Westin Desaru Coast Resort
The Westin Desaru Coast Resort is right across the road from the Hard Rock Hotel, and a short 7 minute walk to the Anantara around the corner, so it is central to everything (including the price point of hotels for a stay at Desaru Coast). It's got everything you could want, including a beachfront location that's great for watersports, a lovely swimming pool, sweet kids club for younger ones, and easy access to the Els Golf Club via shuttle. The rooms here are big, so it's great for larger families, and there are several dining options to choose from. Don't miss a walk with the running concierge either along the beach or at the Els Club – a must do for a morning adventure!
4. Hard Rock Hotel Desaru Coast
The Hard Rock Hotel Desaru Coast is as the name suggests – filled with fun memorabilia from pop stars (we spotted Rhianna and Christina Aguilera dresses and a pair of Madonna's heels in the display cabinets!) and loud music from live bands after dinner (there's even a full drum set in the kids club!)
The drawcard for this hotel is the attached waterpark, which will provide hours of fun for the family. There's a splash park for toddlers, a bodyboarding wave, a rollercoaster and a swinging pirate ship ride for bigger kids. There's cabanas for the adults to chill and enjoy lunch by the wave pool. We even spotted one of the lifeguards surfing in the pool! If you're up for a bit of fun and craziness at a cost-effective price point, then this is the place for you.
What to do in Desaru with kids
If you can tear your kids away from the water slides, playgrounds and beach (we couldn't), there are plenty of activities in the area we hear are worth a visit…
1. Junglewalla Adventure Activities (including kayaking, mangrove cruises and bird watching)
Junglewalla is the crew you need to arrange super fun, interesting activities for the whole family. Led by local guide Irshad Mobarak, cruise along the river and learn from a Naturalist about the mangroves, different bird species, and the traditions and superstitions of local fishermen. You can even have the opportunity to plant mangrove seedlings. We came away from this tour bubbling with knowledge and the boat ride was such a fun experience.
2. The Els Club
Golfers will be well-pleased with a visit to The Els Club, designed by Major Champions Ernie Els and Vijay Singh. This course comprises 18-holes laid out across 41 hectares with 187 bunkers that traverses the streams and valleys of Desaru Coast. The clubhouse for The Valley Course covers 25,000 sqft with a restaurant, state-of-the-art golf shop and luxury locker rooms. There's even a locker for Ernie, with some of his memorabilia on display!)
Psst… The Westin organises a running club route around the golf course at sunrise. We can share from experience that it is a beautiful way to start the day. Look out for wildlife and enjoy the walk around the famous hole 3, overlooking the water!
3. Desaru Fruit Farm and ATV adventures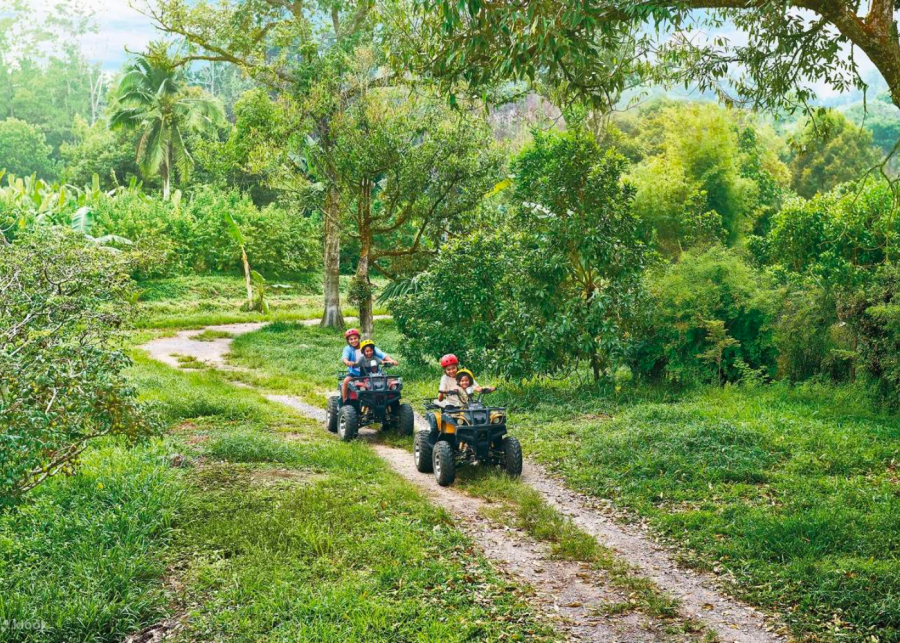 Our kids always love the idea of visiting a farm (although the dream doesn't always match the reality!) Desaru Fruit Farm is the ideal place to give city-dwelling kids a real feel for the countryside. Take a guided tour via ATV around 180 acres of tropical fruit, herb, bee-keeping and bio-agriculture areas. Check out the small petting zoo and try fresh fruits and raw honey.
4. Firefly cruise
Organised by Desaru Fruit Farm, you'll be picked up from your hotel at 7pm and whisked off for a cruise along the Bujang River to watch nature's own light show courtesy of the resident fireflies.
5. Tanjung Balau Fishing Village and Museum
Head to this nearby small fishing village for fresh seafood. While there, check out life in the community and explore the Muzium Nelayan Tanjung Balau, dedicated to the village's vibrant fishing history.
What are you waiting for? Make a date with Desaru today!