Image: Hyatt Regency Koh Samui
Koh Samui might be small in size, but HUGE when it comes to fun for families!
If a bucket and spade kind of adventure with kids is the kind of family vacay that ticks your boxes, then Koh Samui is always a beach holiday winner! Did you know this small island (it measures just 228.7sqkm) is packed from coast-to-coast with cool temples, natural waterfalls and plenty of hiking and exploring opps? Here's our low-down on where to stay, where to go and what to do with the family on the sunny island of Koh Samui.
How to get to Koh Samui from Singapore
Singapore Airlines, Scoot and Bangkok Airways both have scheduled flights that will whizz you to Koh Samui in around two hours.
Where to stay with kids on Koh Samui
We love Bhophut for a more laid-back vibe, Chaweng for an in-your-face fun Thailand experience, and Lamai for a good mix of the two.
1. Best on a budget: Am Samui Palace
This bustling resort, Am Samui Palace, is based in the heart of Lamai. Got more than one kid to pack buckets and spades for? No problem. The family suite sleeps up to five people and is pretty cost-effective. This small but wonderfully-located boutique resort has two pools, babysitting services and fantastic reviews.
2. Mid-range digs: Chaweng Regent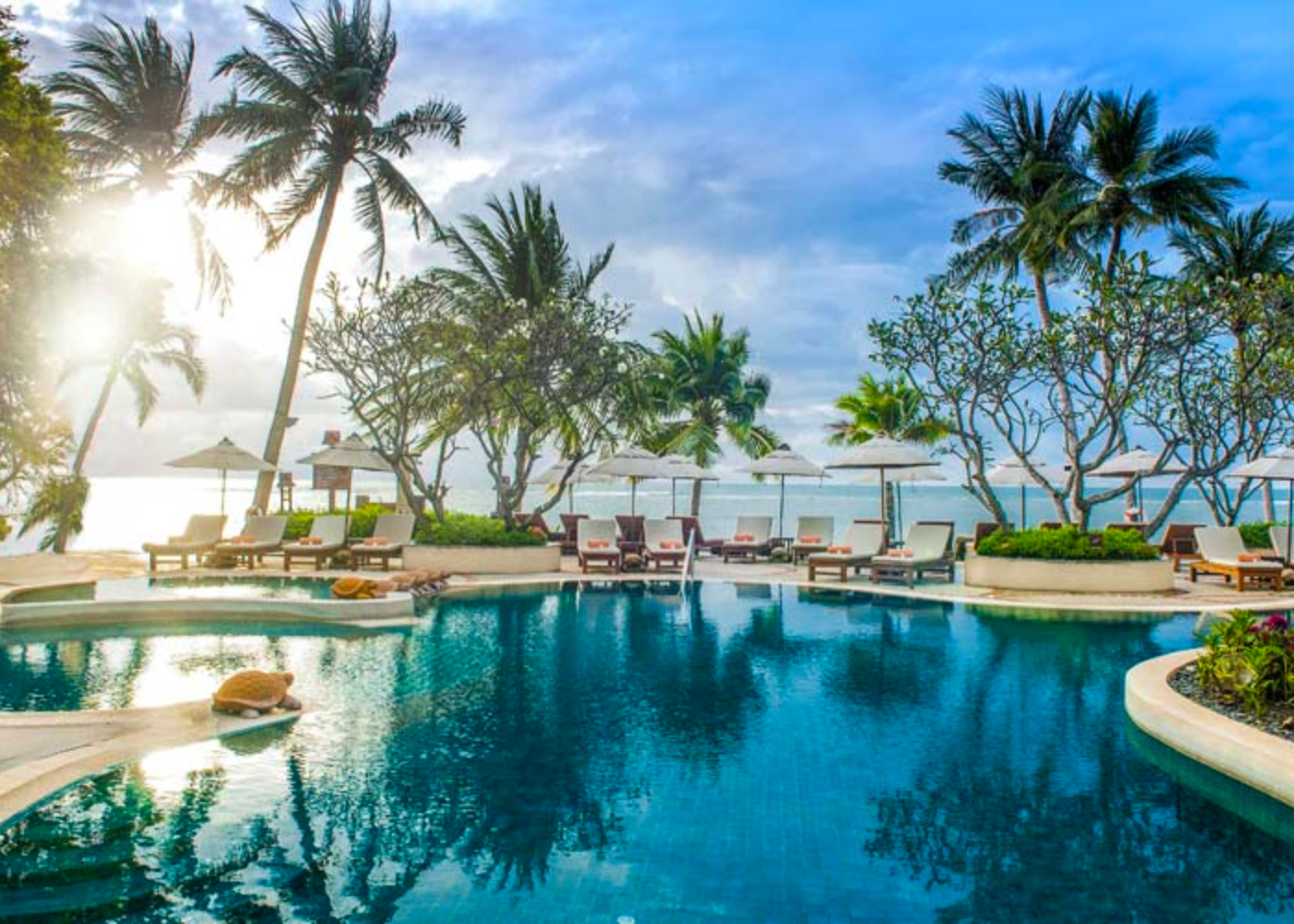 We have a soft spot for the Chaweng Regent, having stayed there several times both with and without the kids in tow. One of our writers even got married here! Try a spa villa for extra space, and make full use of the beachfront location, swim-up bars, kids' club and excellent food. Holiday heaven.
3. Luxury all the way: Anantara Bophut Koh Samui Resort
Located on a tranquil stretch of sand near a fisherman's village, Anantara Bophut Koh Samui Resort is a five-star luxury all the way. Keep the teens busy with onsite water sports. The adults might want to try a Thai cooking course! Work off the amazing cuisine at the tennis courts and send your small people to the kids' club. There's also a library, spa, infinity pool, babysitting services, restaurants, bars and plenty more to keep the whole fam happy and relaxed.
Things to do with kids in Koh Samui – Our top five
1. Beach time: Sand + sea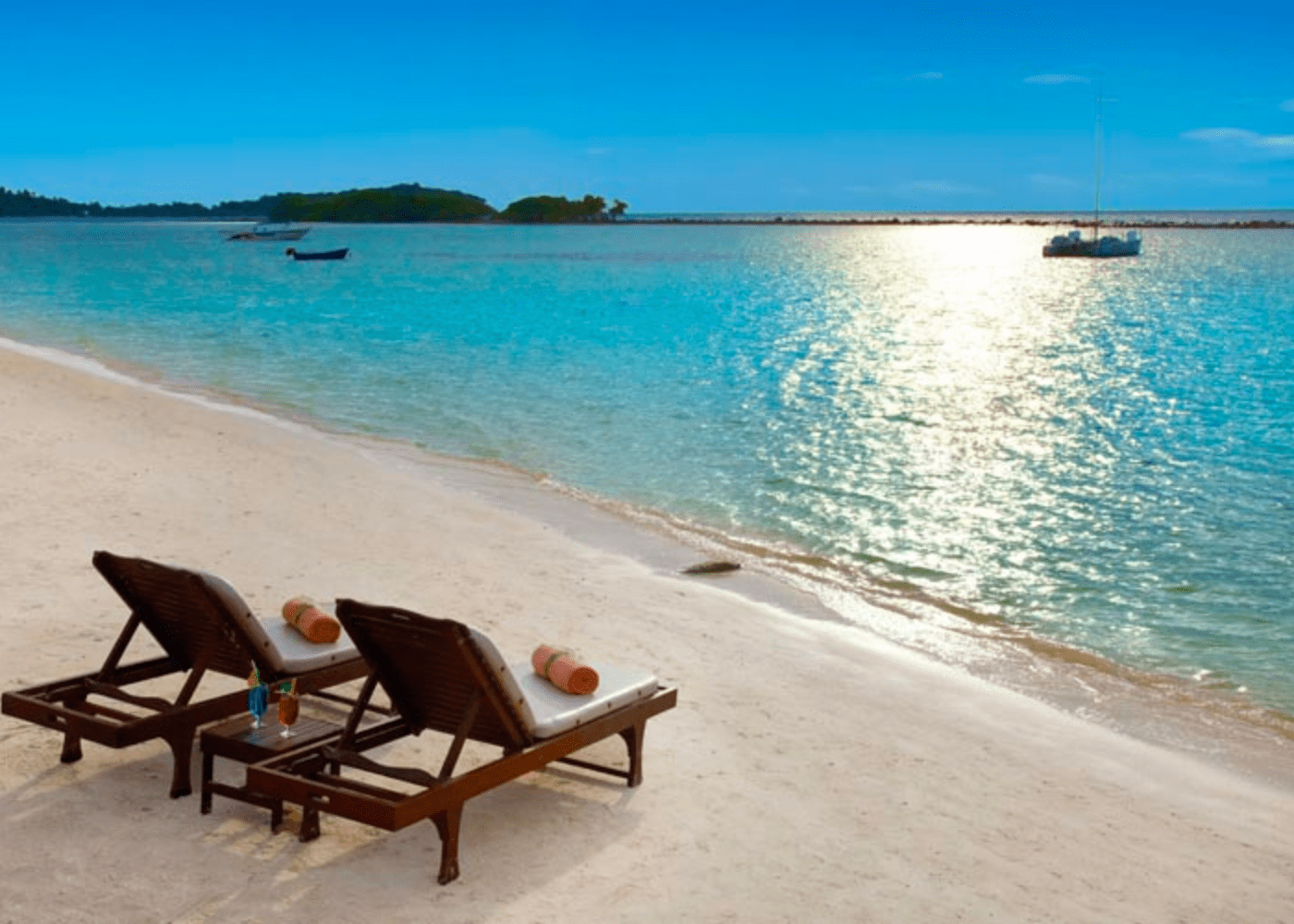 Sand that's soft to the touch and clear water for miles, the beaches around the island are incredible. Pack lots of sunscreen and prepare for days filled with sandcastle building, sea bobbing and quality family time on the beach and at the pool. Forgot the inflatables? No worries: the kids will love chatting with the friendly beach sellers and bartering for a giant unicorn or doughnut inflatable!
2. Angthong National Marine Park
For an action-packed day out the family will love, hop on a speed boat for a tour out to the stunning Angthong National Marine Park. Warning: it can get a bit bumpy, so hold on to the little ones tightly. Once you get there, it's non-stop adventure exploring the many islands, snorkelling, kayaking, or just lying on the beach and soaking in the stunning scenery. Definitely a day to remember!
This kind of trip is best suited for kiddos aged five and above. It's no fun staying on the boat with tots while everyone else is adventuring. Plus, exploring opps can involve scaling rickety steps up rock faces along the way. Ask your hotel to organise the tour for you, or pre-book with Koh Samui Tours.
3. Secret Buddha Garden
The Secret Buddha Garden is Koh Samui's equivalent to Haw Par Villa – but with less scope to terrify errant kids with the Courts of Hell. Also known as Magic Garden, it's a great place to explore once you're done building sandcastle cities.
Set in the beautiful, lush hills, the garden was created by durian farmer Nim Thongsuk back in 1976 at the sprightly age of 77. He continued to add stone animals, deities, strange and curious statues and all things weird and wonderful until his death at age 91 years. His tomb is on the site – follow the path near the angel statues! Add in a waterfall, and you've got yourself the perfect place to pique the kids' curiosity about nature, plus some great photo chances for Insta-worthy perfection.
4. Visit Big Buddha
While there's no doubt that Koh Samui offers lots of fun for families, it's also packed with culture and history that makes for a great afternoon away from the sun, sea and sand.
Big Buddha Temple, known locally as Wat Phra Yai, is an enormous statue of Buddha (the clue was in the name) that presides over the coast close to Bophut. It's definitely worth the hike up all those steps for the views and lovely feelings of peace and tranquillity. Well, as peaceful as it can be when out with the small people…
5. So many beautiful temples to see!
Wat Plai Laem is another dazzling temple that the whole fam will be impressed by, especially since it also sits on a massive lake full of fish. Donate a small sum to the temple, and you'll be given a big basket of fish food. Our little ones had a ball tossing the goodies into the lake and watching hungry fishes come to the surface for their snacks.
Another day, another Wat, but the kids won't be expecting this one (but will definitely use it as a tale to tell once they're back in the classroom!)Wat Khunaramis home to a mummified monk! We kid you not. Monk Luong Pordaeng died in 1973 while in a seated meditation position, and since then, his body has been on display in an upright glass case at the temple. Seeing is believing for this macabre but fascinating 'must see'.
6. Lamai Night Bazaar
Lamai Beach is Koh Samui's second most popular beach after Chaweng, and it's also where you'll find a bustling night market every Sunday. Teeming with hand-carved soap, fairy lights, hand-painted serving bowls, exotic spices and cute tees, this is the place to get your shopping fix. Your little ones will enjoy soaking in the vibe, checking out knick-knacks (shop sellers are super friendly), playing with balloons and watching musical shows performed by local kids.
Pro tips: Places and things to avoid…
We hate to do this, but there are several things to look out for when you visit Koh Samui. As a team passionate about doing what we can for the environment, including teaching our children about ethics surrounding animals, please avoid the numerous animal exploitation activities.
These include elephant riding, exotic animal park visits, and snapping photos with monkeys and iguanas on the beach. Instead, bring your kiddos to the wonderful Samui Dog rescue shelter to volunteer. Hang out with the pups and kitties and donate a dollar or two to help them continue their amazing work!
Have fun on your dreamy family holiday to Koh Samui!