Gold galore, jaw-dropping artwork, 300-tonne statues and Buddha's tooth: we've been on the temple trail around Singapore and have found 12 amazing temples to explore with the kids
If you are looking for some cultural fun with the kids, have grandparents in town who need entertaining with an interesting activity or two, or simply fancy adding some serious colour and history to your life, then maybe it's time you started exploring the beautiful Buddhist and Hindu temples to be found glittering all over the island. These 12 gems can be found in neighbourhoods all around Singapore, so gather the troops, bring the cameras and head off on a temple trail sure to wow the family…
Six unmissable Buddhist and Taoist temples
1. Thian Hock Keng Temple
With its Southern Chinese architecture, Thian Hock Keng (pictured above) is one of the oldest Hokkien temples in Singapore – it was originally completed way back in 1842 (no, kids, we don't remember it being built). The main temple is dedicated to Ma Zu, the Taoist Goddess of the Sea (the area used to be a coastal road back before land reclamation started!), and the smaller temple at the back is dedicated to Guan Yin, the Buddhist Goddess of Mercy.
158 Telok Ayer Street; www.thianhockkeng.com.sg
2. Buddha Tooth Relic Temple and Museum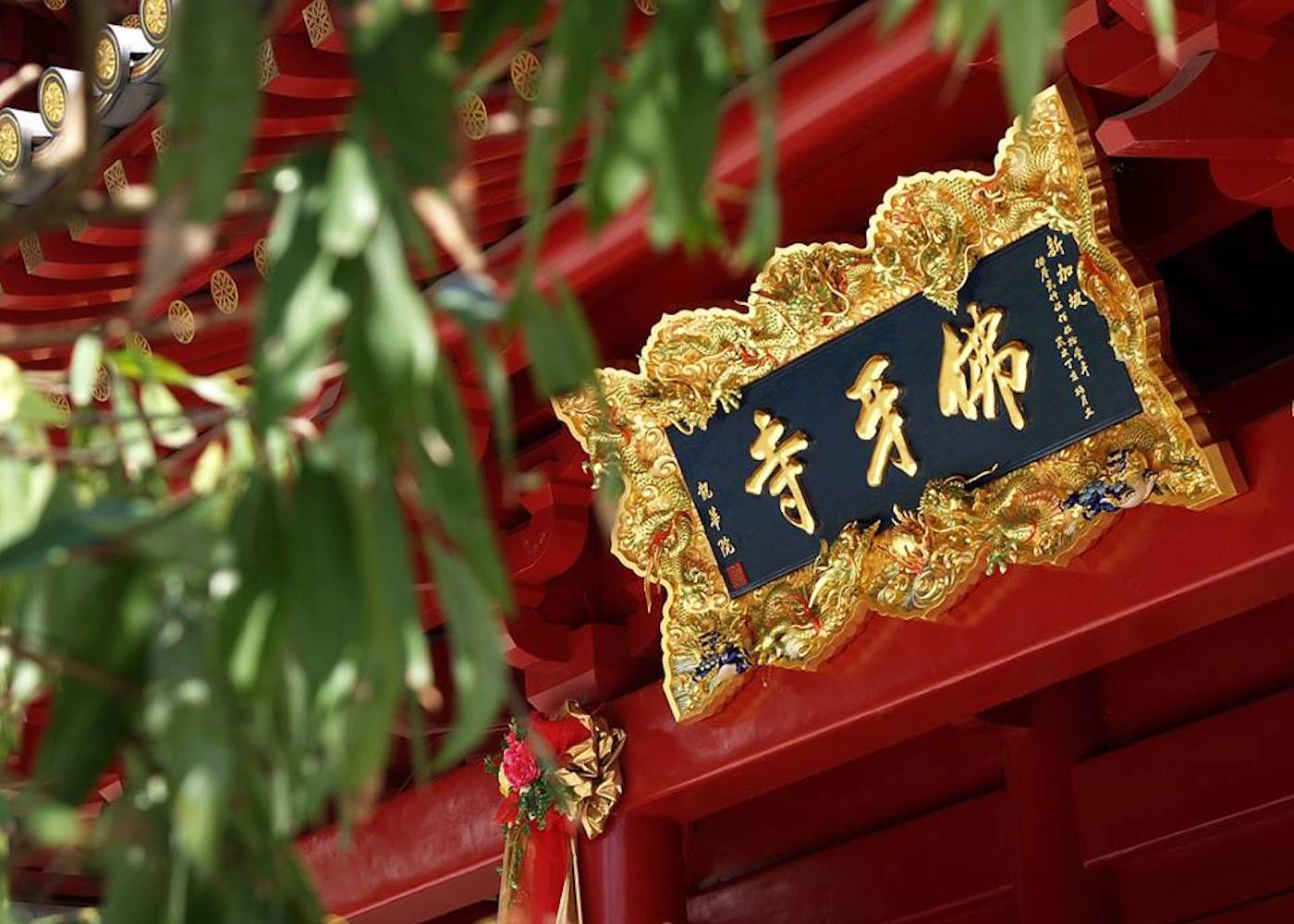 Head over to Buddha Tooth Relic Temple and Museum for a visual feast and history lesson the whole family will love. While the temple may be the new kid on the block (it was only opened in 2007), it has fast become a focus for anyone heading to Chinatown. This is one of the best spots in Singapore to catch the celebrations on Vesak Day, one of the most important holy days to Buddhists around the world. The architecture was inspired by the Chinese Tang dynasty, and the temple was specifically constructed to house the tooth relic of Buddha (the tooth fairy didn't get that one, kids). Along with thousands of pieces of gorgeous artwork related to all things Lord Buddha, there is also a museum, a library, a garden, a vegetarian restaurant and a bookstore on site! Visitors are requested to come along dressed modestly (no mini-skirts or hotpants, folks).
288 South Bridge Road; www.btrts.org.sg
3. Wat Ananda Metyarama Thai Buddhist Temple
You'd be forgiven for thinking you had teleported to Thailand when you visit the original part of this Thai Theravada Buddhist Temple, first constructed in 1925, but as you pass through the modern part of the building, it is clear to see why this amazing structure was nominated for the 2014 World Architecture Festival Awards. The new construction, completed in 2014, houses the new monks' quarters, meditation halls, classrooms and a museum. We are loving the traditional vs modern take at this seriously cool temple.
50B Jalan Bukit Merah Road; www.watananda.org.sg
4. Burmese Buddhist Temple
Few will fail to be impressed by the 10-tonne, 11-foot white marble Buddha statue residing at the Burmese Buddhist Temple, which arrived in Singapore from Mandalay in 1918 and boasts the worthy accolade of being the largest pure white marble statue of Buddha outside of Myanmar. Once you have been wowed by Buddha, check out the on-site Bodhi tree which can boast its origin back to the original Bodhi tree where Buddha attained enlightenment. Part of the temple dates back to 1875, which makes this pick the oldest Theravada Buddhist temple in Singapore.
Tai Gin Road, Novena; www.burmesebuddhisttemple.org.sg
5. Lian Shan Shuang Lin Monastery
Also known as Siong Lim Temple and Shuang Lin Temple, Lian Shan Shuang Lin Monastery is the oldest monastery in Singapore, having been completed originally in 1902. Architecture was modelled on the Xi Chang Shi Temple in Fuzhou, South China, and visitors fail to tire of the beautiful seven storey pagoda. The layout was designed in the traditional Heyuan Chinese courtyard style, and with three prayer halls, a rock garden, wall carvings and a collection of Bonsai trees, this is definitely a pick to get Instagram going into overdrive.
184 Jalan Toa Payoh; www.shuanglin.sg
6. Sakya Muni Buddha Gaya Temple (Temple of 1000 Lights)
Influenced by Thai Temple styles, the centrepiece of this temple is an unmissable 300-tonne, 15-foot statue of Buddha, surrounded by, you've guessed it, 1,000 lights! The temple was created by Thai monks back in 1927, and visitors will also love other cool features including a huge Buddha footprint inlaid with mother-of pearl, a reclining Buddha and a heap of colourful murals telling the tales of Buddha as he searched for enlightenment. A wax model of Gandhi and figures of the Hindu elephant god Ganesh, can also be found onsite.
366 Race Course Road; www.facebook.com/pages/Sakya-Muni-Buddha-Gaya-Temple
Six unmissable Hindu temples
1. Sri Mariamman Temple
The biggest and oldest Hindu temple in Singapore is not to be found in Little India as you may imagine, but is instead nestled in Chinatown: Sri Mariamman Temple has been declared a National Monument, and is famous for its Fire Walking Ceremony (Theemithi), which will be held this year on 20 October as part of the Deepavali celebrations. Don't try this at home, kids! In addition to the festival, this place is well worth a visit any time of the year to feast your eyes on the Gopuram (pyramid style gate-way) which has no less than six layers of statues to welcome you through the gate. The temple, built in 1827, is dedicated to the Goddess of Rain, Mariamman: Don't forget to raise your eyes to the sky when looking around – the paintings on the ceiling are breathtaking!
244 South Bridge Road; www.smt.org.sg
2. Sri Senpaga Vinayagar Temple
This temple is hard to miss with its five-tiered, 68 feet high golden entrance tower: And we get to walk past it most days on the school-run! The main prayer hall is centred around four granite pillars, each of which has eight sculptures of Lord Vinayagar depicted beautifully. The temple is managed by the Singapore Ceylon Tamils' Association, and visitors are welcomed warmly and encouraged to spend time taking in the paintings and carvings adorning the walls and ceilings, and getting a history lesson from friendly guides along the way.
19 Ceylon Road; www.senpaga.org.sg
3. Sri Krishnan Temple (Sri Krishna Bagawan Temple)
Not sure whether to visit a Hindu or a Buddhist temple? Tick both of your list with one visit at Sri Krishnan Temple, where there is an altar to the Buddhist Goddess of Mercy, Guanyin, as well as carvings and statues dedicated to the Hindu Gods. The temple was founded back in 1870 when a statue of Lord Krishna was placed under a banyan tree on Waterloo Street.
152 Waterloo Street; www.facebook.com/SriKrishnanTemple
4. Sri Thendayuthapani Temple (Chettiars' Temple)
Sri Thendayuthapani Temple, built in 1859, is the place to head to witness the Thaipusam festival in all its glory. Celebrated on the full moon day in January or February, the temple comes to life with a chariot procession and a toe-curling event where some devotees, wait for it, pierce themselves with spikes! Ow! The main deity of the temple is the six faced Lord Subramanian (Lord Murugan), and there's no missing this place with its amazing 75 feet tall blue Gopuram as its entrance.
15 Tank Road; www.sttemple.com
5. Sri Veeramakaliamman Temple
Sri Veeramakaliamman Temple is a popular focal point in Little India, with the 14-handed Goddess Kali being the main deity. Kali is the Hindu Goddess who kicks evil to touch, and represents power and change. A woman after our own heart! The ceilings of the temple are covered with exquisite paintings and sculptures of various Gods, and the colourful outer roof is jam-packed with sculptures too.
141 Serangoon Road; www.sriveeramakaliamman.com
6. Sree Maha Mariamman Temple
If you love a bit of gold then this is a sight to behold: Sree Maha Mariamman Temple has not one, not two, but three golden roof domes (vimanams) decorated with statues of the Goddess Mari in her 16 manifestations, as well as other Indian Gods. Murals, paintings, carvings and sculptures fill the temple for a visual feast that will have your camera going into overdrive.
251 Yishun Avenue 3; www.sreemahamariamman.org
Like this story? Here's more we think you'll enjoy:
Head to Singapore's prettiest parks and gardens
The best family neighbourhoods in Singapore!
Singapore neighbourhood guides: Chinatown
How to ace Little India with the kids in tow
Don't forget to subscribe to our weekly newsletter and follow us for fun moments on HoneyKids Instagram!