Photography: Mohd Fazlin Mohd Effendy Ooi via Flickr
Need a quick and easy getaway with the fam? Here's our guide to kid-friendly places in the popular shopping town of Johor Bahru, just across Singapore's border.
We've all heard about shopping day trips and weekends with the family in Johor Bahru – just a short drive from Singapore, and you'll find yourself in Malaysia! So we headed on a short weekend break to JB in Malaysia to scope out the best kid-friendly spots, from theme parks and nature reserves to malls and supermarkets. You can get your family there in about an hour, and the best part? No air travel required! (But don't forget your passports!)
How to get to Johor Bahru
Since most Singapore taxis aren't licensed to travel into Malaysia, your best bet is to drive yourself, get on a bus, or hire a car service. If you're looking for hassle-free transportation, we recommend hiring a car service… especially if you're travelling with kids! Our pick? Johor Premium Transport will have a car pick you up at your home in Singapore and drop you off at your destination in Johor – you don't have to get out of the vehicle at border checkpoints! Once you're in Malaysia, taxis are very inexpensive around Johor.
Where to stay in Johor Bahru
Our pick for luxe living is Jen Johor Puteri Harbour by Shangri-La. With rooms at a friendly price point compared to other Shangri-La properties, use the cash you save to spend on your fam-cation.
KSL Resorts is centrally located at Taman Century in Johor Bahru, and there's plenty of room for everyone (almost 900, to be exact)! This is a very family-friendly resort, offering package deals for Legoland visitors, and all hotel guests get free admission to the in-house Dinosaur Alive Water Theme Park.
Don't forget about the Legoland Hotel – with 249 rooms decked out in themes including Pirates, Adventure, and Kingdom, each room is kitted out with Lego features galore.
What to do in Johor Bahru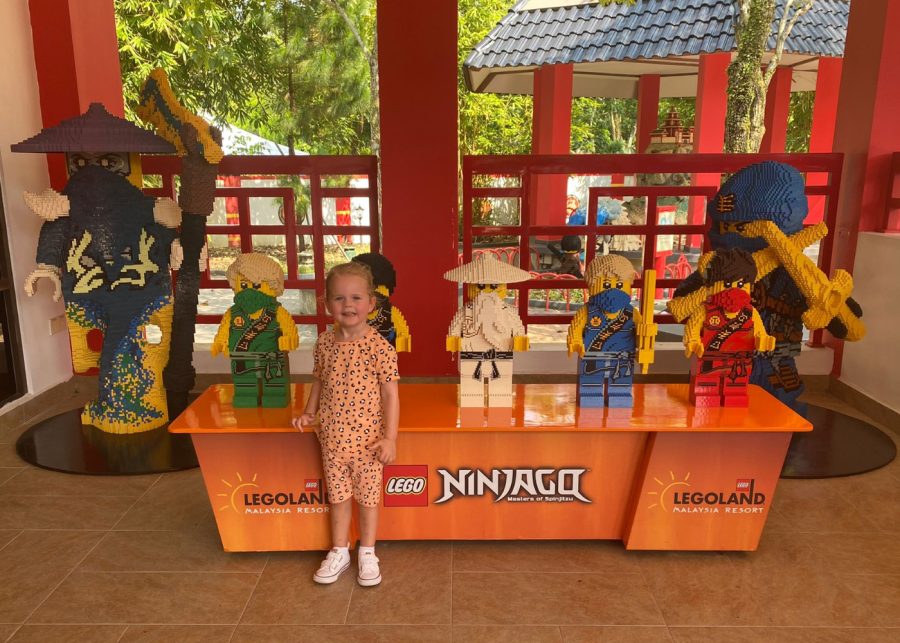 Get set to sweat… a lot! If you can stand the heat, Legoland Malaysia packs a fun-filled day with more than 40 rides, and everything is hands-on. If you need a break from the hot Malaysian sun, cool off at Legoland Water Park, just a few steps away. You can book a cabana for the day, which we highly recommend! Check out our complete guide to Legoland Malaysia for great insider tips, plus our round-up of the best theme parks in Asia.
It might not be as big as the Mandai Zoo, but Zoo Johor (currently closed) is considered one of Malaysia's oldest zoos and easy to walk around. You'll see tigers, crocodiles, birds, and other zoo animals, plus the entrance fee is less than S$2!
For a retreat into nature (and it's free, too!), Pulai Waterfall is great for cooling off after a weekend trek in the dense forest. While Singapore's farms face space constraints, JB's farms are huge and fascinating. The UK Agro Resort is home to Malaysia's largest goat and sheep farm and 15 acres of a passionfruit manufacturing station. For an immersive experience, the farm also houses a campsite, restaurant, chalet and barbecue area.
Where to shop in Johor Bahru
If great food and entertainment aren't enough, shop to your heart's content at the Johor Premium Outlets. Offering 130 designer and name brands (think Burberry and Ferragamo), get a significant discount on your coveted bag with savings daily. If you're more of a high-street shopper, go nuts at Victoria's Secret and Cotton On.
For a cheaper mall experience, we recommend local favourite City Square Mall. Located right next to the immigration checkpoint, the mall houses heaps of restaurants found in Singapore BUT with more than half price off thanks to the exchange rate. Look out for brands like Inglot for an absolute steal on makeup or Uniqlo to stock up on your everyday basics. Aeon Mall Tebrau City and Mid Valley Southkey are also favourite haunts for shoppers looking for bargains.
Want to go all out on mega grocery shopping? Head to Lotus's or Giant. These hypermarts offer everything from clothes and electronics to food (Tesco even stocks British brands) and toiletries. We suggest coming here with an empty car – be prepared to load up on heaps of groceries!
Where to eat in Johor Bahru
Suppose you're tired of cafe-hopping in Singapore; head over to JB for more hipster cafes. Streetside coffee and tea joint Chaiwalla & Co. has great cuppas and brews for you to while the day away. To top off a day of great food, The Ice Cream Project will meet your need for a sweet treat with its quality ice creams. They're also preservative-free, which will abate you of any dietary guilt.
But for a truly Malaysian experience, sink your teeth into a huge seafood feast. Think dishes like sweet yet savoury cereal prawns, ikan tiga rasa (tri-flavoured fish) and salted egg yolk crab. Of note are Selera Senibong Seafood and LC Catering for local favourites like these. Mamak stalls are a unique Malaysian haunt. Plenty are open 24 hours and are even equipped with free WiFi access and projectors for football or movie screenings. Restoran Habib is a haven for roti canai (the Malaysian version of prata), naan and tandoor chicken.
To grab and go the best of JB's food, make a trip down on an early morning to one of JB's many markets. Pasar Tani, for instance, is lined with street stalls hawking beancurd and you tiao, nasi lemak and kuih-muih (Malay cakes).
Enjoy your quick getaway to JB, folks!