Image: Legoland Malaysia
Just a stone's throw away from the Tuas checkpoint, Legoland Malaysia is a hot favourite with families. Here's all you need to know about how to get there, things to do and where to stay – plus our insider tips on how to conquer the theme park!
Legoland Malaysia is a long-time favourite destination for families in Singapore. If you have kids (or a husband) crazy about all things LEGO, this is one pilgrimage you must make. We went to the park ourselves to create this Legoland Malaysia guide: the inside scoop on how to have a great visit with the family! Just a drive across the causeway, and there's loads of lego fun in store for both children and adults! It's doable in a day so that you can experience theme park fun in a jiffy.
There are now three super exciting parks to explore – the Legoland Malaysia theme park, the attached waterpark, and the SEA LIFE Aquarium. We'll take you through our top tips for each of the parks in this guide! Between gravity-defying roller coasters, waterslides, and over 13,000 fish to see in the Aquarium, be warned: you may have a tough time getting the family to leave. In which case you can keep the fun going with a stay at the Legoland Hotel!
Legoland Malaysia.. How to get there
Car:
Definitely the most convenient way, especially with kids in tow. Factor in around 1.5 hours driving time, without traffic; then a swift 10 minutes from Tuas Second Link. If you drive your own car, check that your insurance will cover you in Malaysia! Parking will cost you RM10 per entry (or you can park for free if you're a three-park pass annual member!).
The benefit of going by car is that while the queues for cars can be longer than the bus queue at immigration, your kids may be more comfortable and can stay put. Consider renting a car, or hiring a door-to-door car service – look for a service that is inclusive of toll fees. Sgmytaxi suggests the price should be between $100 – $150 for up to 10 passengers, with a variety of vehicles available.
Bus:
Hop on a WTS direct coach service that departs from either the Singapore Flyer or Jurong East, and enjoy the express lanes at immigration. Service departs at 8:45am, and you can choose to either return same day, or combine with a hotel stay to return at a later date. The price for a one-way trip starts at $13 per person on weekdays for a seat on a 40-seater coach. You can also try busonlineticket.com with a 9:00am pick up from Lavender MRT station. A cheaper, hassle-free option if you don't drive in Singapore!
Legoland Malaysia – Themed Zones
There's just so much to see and do at Legoland Malaysia, and we are here to guide you! An impressive theme park, water park and the new SEA Life Aquarium welcome you at the resort in Nusajaya, Johor. Opening hours are from 10am till 6pm daily, with longer hours on weekends and during school and public holidays. My kids tried mapping out their day (in the effort to cover all rides in sequential order) but ended up screaming and running towards whatever caught their fancy! (Note: Kids tend to forget all disciplinary rules when here). With more than 70 hands-on rides, slides, shows and attractions, which are the ones not to miss?
There are eight – yes, EIGHT – themed zones in the Legoland Malaysia theme park, and you don't want to miss any of them. Whether you want to become a fearless Knight, meet swashbucklin' pirates, explore ancient lands or even be transported all around the world in just a few steps – there's something for the whole family! The park is arranged in a circle, with the entrance and exit in one place, so everyone starts at the zone called The Beginning. Here is where you'll find a stage for fun performances and Asia's largest Lego stores (flash your membership card for a discount – more on that later!)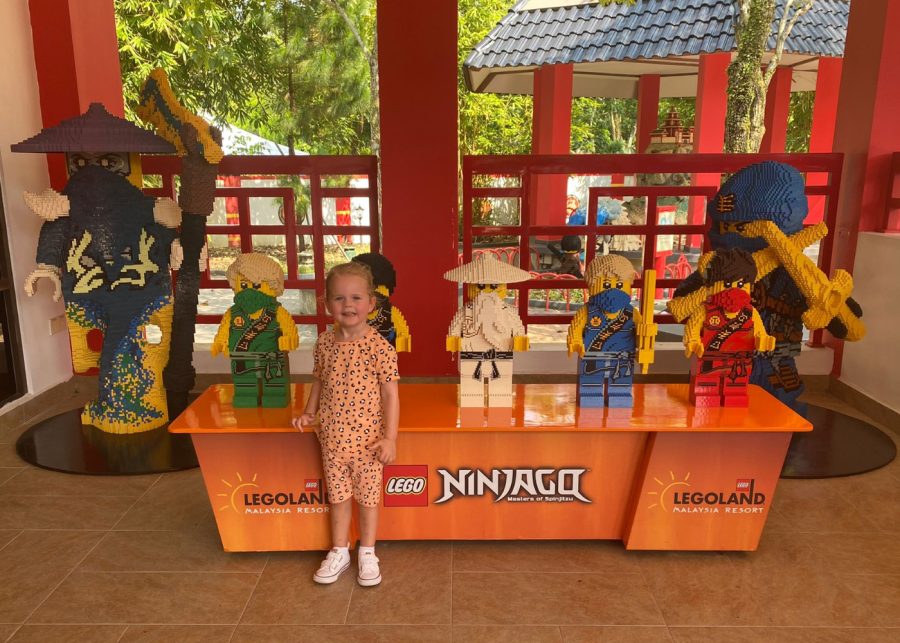 From here, you can head off in any direction. We followed around to the left to Lego Technic and the brand new attraction 'Rebuild the World'. This is the place for avid lego builders and scientists – don't miss the fun workshops that kick off from 10:30am. The Great Lego Race and Aqua Zone are our top rides in this zone. If you have some little ninja's in your midst, don't miss Lego Ninjago World and the truly awesome Lego Ninjago: The Ride. This one is indoors (hooray!) and sees kids and adults alike putting their ninja skills to the ultimate test to become a Master of Spinjitzu.
Best for Little Ones
Our top picks for littles are LEGO CITY (this is where they can sign up for a licence and drive their own mini cars and boats, and don't forget the train ride!), Imagination (a mini train for the really little ones, a 4D cinema, and huge lego zoo animals), and MINILAND for all the iconic world landmarks made almost entirely out of thirty million (!) Lego bricks.
Best for Older Kids
LEGO KINGDOMS is where The Dragon rollercoaster can be found, and older kids definitely won't want to miss the LAND OF ADVENTURE where the Egyptian Pharaohs and the Lost Kingdom Adventure reside. This one is a shooting game, so keep track of your scores to see who will win your family challenge! Dino Island is where it's at to cool down from the heat, as you are almost guaranteed to get wet on this fun log ride – see if you can stop from squealing on the huge drop at the end, and Beetle Bounce is fun for everyone!
Legoland Malaysia – Our top three attractions
Here's our list of the top three attractions you don't want to miss at Legoland Malaysia:
1. Rollercoasters
If you've got a brave bunch, you're on the right track to one of the greatest action experiences in Legoland Malaysia. The Dragon Rollercoaster is loads of fun – even queuing is a cool experience, as you wait in line through a castle, with lego knights and props to take insta snaps with along the way! Don't miss The Dragon's little sister, the Dragon's Apprentice – as it's a smaller rollercoaster, it's probably best to do that one first and build up to the big one.
And don't forget The Great Lego Race, where you sit in a Technic-inspired cart and hurtle around a decently sized roller coaster. My son absolutely loved the part where we experienced a stomach-lurching drop. Compared to the other rides in the park, this is one of the most impressive, especially for adrenaline junkies. You can expect long queues on busier days, so best to get in line early!
2. Rebuild the World
The newest attraction at Legoland Malaysia is 'Rebuild the World'. Get ready to visit PLANET LEGOLAND®, a new immersive build experience where anything is possible! Let your imagination soar as you build, unbuild, rebuild and leave your mark on our world. What will you create?
3. Boating School
This is, and probably always will be, one of our favourites! Boating School has a minimum age of eight years to drive alone (one to seven years allowed with adult company). One of the longest queues in Legoland (we stood in queue for an hour), it's worth the wait. Your little captains can take the wheel of their very own battery-operated boat. There's a pre-defined route to follow and kids must watch out for cool Lego figurines as they steer.
Legoland Malaysia – the Waterpark
Time to cool off? Head to the Legoland Waterpark for hours of fun heading down slides, swimming in the wave pool and drifting along building your very own raft. Our top tips would be to bring your own towels, and if you have little ones with you, try and book a cabana in advance so you have somewhere to snack and store your things and rest if needed.
Legoland Malaysia – SEA LIFE Aquarium
The newest park on the Legoland Malaysia block, is SEA LIFE Aquarium. Here you can discover sea creatures up close and dive into an amazing underwater world. Be engaged and inspired to learn, love and care for the ocean through Sea Life Malaysia's compelling storytelling. Showcasing more than 25 display tanks in 11 habitat zones, featuring 13,000 sea creatures from 120 species, book out at least a few hours to explore! Psst.. check out the underwater dining experience while you're there!
Where to eat
There are a bunch of eateries in the theme park itself, including restaurants and food kiosks to choose from when you need to make a food stop. From pizzas, to burgers and shakes, kebabs, local delights and fried chicken, you'll be spoilt for choice. Do pack water bottles though to keep the kids hydrated at all times. Check out the restaurants Legoland has to offer if you want to plan ahead.
For more options outside of the theme park, there are several restaurants inside the Legoland Hotel. Don't miss a visit to Bricks Family Restaurant (buffet-style, complete with lego model chefs and decorations!) or there are Italian and Japanese options, and more. Alternatively, you can check out the nearby Mall of Medini. It's a 4 minute walk from the hotel for even more dining and takeaway options. We grabbed sandwiches from Ben's Independent Grocer, they open at 8:30am – 10:00pm, be there early to avoid a queue!
For something really special, head over to the SEA LIFE Aquarium and enjoy Malaysia's first-ever Underwater Dining Experience! Indulge in a four-course meal in an intimate underwater setting surrounded by sea creatures, including the renowned Black Tip Reef Sharks and Zebra Sharks!
Legoland Hotel
Why not stay the night at the Legoland Hotel so you can enjoy exploring the park at your own leisure? We did that! Located right on the grounds of the resort, one look at the Legoland Hotel and you'll feel like you're part of LEGO world. From the moment you arrive at the spectacular dragon-guarded entrance, you'll be soaking in the atmosphere. Think interactive LEGO features, themed play areas, kids' entertainment and a family restaurant with LEGO models all over! The kids will go crazy just taking all that in.
There are three themed rooms to choose from: Pirate – our pick – Kingdom or Adventure. You'll find a private kids area with a double-decker bunk bed, television, a LEGO box filled with bricks (of course). There's a treasure chest which children will need to unlock by solving a puzzle sheet. Imagine your kids' excitement when they step into such a room!  This was hands down my kids' favourite hotel stay ever! After a long day of rides, we sent our junior shipmates to their cabin. Us parents found time to unwind in our king-sized cabin, just a sliding door away.
Room rates: Kingdom/Pirate/Adventure/Ninjago themed rooms start from RM670 per night. Click here to book your room. 
Tickets and parking
A combo ticket for all three parks (theme park + water park + SEA LIFE Aquarium) will cost online from RM313 per adult and RM259 per child (age three to 11 years).  Purchase tickets online before you go and find out more about annual passes – if you decide to make many trips, this is well worth the investment. An annual pass entitles you to free parking, 10% off the Lego shops, and seasonal specials. Definitely investigate, as you could save quite a bit!
Insider tips to make your trip awesome!
Visit the park on a weekday – the park sees about 5,000 visitors a day and about 20,000 on a weekend. Also the queues for rides start getting longer on weekdays from 1pm to 5pm.
Watch your (kid's) head – the staff at quite strict on the height limits for children, which are indicated on the boards. You don't want to be walking off in a huff when your baby isn't up to the height mark, so do check prior to queuing.
Don't spread yourself too thin – the park is pretty large, so if you can, give yourself two days to cover it. If you don't have more than a day, then choose to explore three out of the eight sections – you can always come back for round two!
Be prepared for the weather. Rides shut down during wet weather (and no refunds!), so hope for a sunny day. Do remember to pack and slap on sunscreen. Bring along towels if you don't like getting wet (the water park has rides that will splish and splash). Some visitors bring along their own ponchos for Dino Island.
Most rides are free with the entry cost. You have to pay for the sideshow alley games that offer prizes. The food isn't cheap. The retail offerings are a test of your kids' willpower even if you're not planning on adding to your LEGO collection. The Big Shop has an impressive range, and prices are mostly lower than what you will find in Singapore retail stores.
The writer was a guest of Legoland Malaysia–