Playing with toys has never been this enjoyable! Whether it's delving into physics principles or simply having a blast, here are our favourite tech toys for kids!
In today's fast-paced world, tech is what keeps everything ticking, from the moment we wake up till we call it a day. Thanks to tech, this generation has also seen a whole bunch of little tech enthusiasts emerge in recent years. To keep up with the tiny fidgety fingers of today, tech toys have to be a cool mix of technology and electronics that offer a super interactive experience. It's all about having fun, staying engaged, and maybe learning a thing or two along the way! To satiate your tiny tinkerer's tech cravings, we have sussed out the latest tech toys that check off all the right boxes. So scroll down for the complete low-down…
Tech toys for kids in Singapore
1. Invent and DIY with littleBits
If you have wee ones with an inclination to invent and DIY, the littleBits Gizmos & Gadgets Kit is a fantastic toolbox to keep their fidgety fingers busy. We love that the box is packed with motors, wheels, lights, and servos galore, giving little tinkerers the freedom to DIY any of the 16 projects. The good news is that the projects are easy to make too, thanks to the handy dandy instruction manual included in the box. Once they're ready, kids can tilt, shake, or tap their phone to make the project perform fancy tricks.
2. Smart cubing with GoCube Edge
This cube could easily pass off as a fancier version of a Rubik's Cube. But guess what? It's much more than that! The GoCube Edge cube is a smart cube that elevates cubing to the next level with its interactive features. You can play and practice using multiple mini-games, accurately measuring your progress to level up your skills. Psst, you can even take your game to the next level with the GoCube app and compete on the global leaderboard online!
3. Creative coding made fun with Chibitronics
Chibitronics has unveiled an incredible kit that turns coding into an absolute blast for young tech enthusiasts. The Love to Code Creative Coding Kit introduces an exciting concept through paper electronics, letting kids craft functional circuits directly on the pages of an included storybook. How cool is that? On top of that, kids get to master the basics of electronics and coding with the guidance of fun characters like Fern the Frog and Sami the Seal. Oh, how we wish we had these when we were growing up!
4. Learn about potential & kinetic energy with SpringBots
The Thames & Kosmos SpringBots STEM Kit is a great way for kids to grasp the fundamentals of physics and mechanics while having a blast. This 3-in-1 engineering kit empowers young learners to build three awesome robots, wind them up, and witness them in action, much like the workings of old-fashioned clocks! So, roll up those sleeves and dive into the world of physics, where springs and gears hold the key to unlocking exciting possibilities. It's hands-on fun that makes learning a real adventure!
5. Build your own race track with Ravensburger GraviTrax
The Ravensburger GraviTrax interactive track system is an absolute blast for kids, as it lets them design and construct their very own marble race tracks. The best part? Your young ones will dive into the world of engineering, gravity, magnetism, and kinetics as they strive to send that ball zooming to the finish line. With over 200 pieces and nine ready-to-go track instructions included in the kit, the creativity and fun are boundless as they create their custom tracks. Let the marble-racing adventure begin!
6. Build your own tablet with Kano's computer kit
If the kids are using technology and getting some screen time, we might as well be getting them to learn a new skill while they're at it. Check out Kano's Computer Kit Touch, where the little ones can not only learn how to code but build their own tablet, too. Plus, you know they won't get bored with the tablet after when there are more than 100 step-by-step creative challenges and projects to work on.
7. Explore tech possibilities with Lego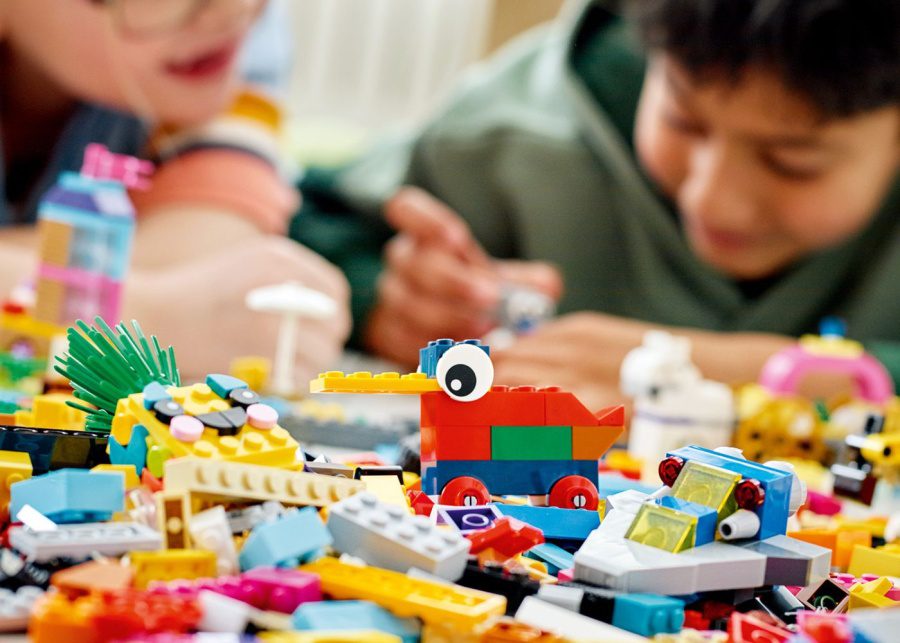 We're not going to hide our love for Lego – it's a favourite in our households! From Duplo sets for the little ones to the larger, more complicated Technic sets for the older kids (and the young ones at heart), Lego offers plenty of opportunities for the kids to use their imagination and creativity. And, turns out there's plenty more to do than build cars, buildings and trains. Check out Lego Education, where the young 'uns can learn through play and develop their holistic skills. You can even build your own robot! Now, who says STEAM education isn't fun?
8. Gaming made fun with Nintendo Labo
It's no surprise that handheld and console gaming has been on the rise since we've started self-isolating. Well, turn gaming time into a fun learning opportunity with Nintendo Labo. This tech toy for kids is basically a series of sturdy cardboard creations (read: almost indestructible) that allow the kids to make their own toy-cons and play along! Think: a racing wheel, remote control cars, a motorbike and even a piano! It's so fun, we want a set of our own, too.
9. Learn your numbers and simple maths with this nifty tech
Check out Fun Math Games for Kids!, a cool app that makes learning numbers and math super fun! It's perfect for K-4th graders and helps them practice addition, subtraction, multiplication, and division in an engaging way. Plus, there are fun elements like monsters, weapons, and accessories to keep them entertained while they learn. Say goodbye to boring math and hello to math adventures!
10. Program your own robotic ball
As huge Star Wars fans, our kids were ecstatic to meet BB-8, a quirky circular droid in the latest sequel trilogy. And if you managed to snag a roving BB-8 from the folks at Sphero back when The Force Awakens was released, you would've heard of a similar product: the Sphero SPRK+. It's a programmable spherical robot that allows kids to learn how to code and have fun at the same time. Not only that, it's also an incredibly fun piece of tech for kids to play with, and we're sure the kiddos won't be able to put it down once they get started, making it one of our favourite tech toys for the kids. Be prepared for whizzing robot balls around the house!
11. Arts and crafts, with a side of tech
Imagine if you could make your drawings come to life – not in a sinister way like in the movies, but with a 3D pen that prints your creations as you're designing them. 3D pens like the ones from 3Doodler are a good way to engage the kiddos' creativity and gross motor skills, though it's certainly not as easy as it looks! We love this tech toy for kids because it's affordable and the possibilities of creating anything you want are endless. Plus, YouTube has plenty of tutorials and ideas that you can draw from, too.
12. Sketch and draw these Pixar characters
Does your young 'un dream of being a Disney or Pixar animator in the future? If so, you'll want to check out Osmo's Super Studio! The little ones can not only draw their favourite animated characters, but use their creativity and imagination to animate their own Disney shows, too. Even if your kids aren't the best at drawing, it's a great tool to help them gain basic drawing skills. The best part? Osmo has different iterations of the Super Studio for your kiddo to pick out: from The Incredibles to Frozen II, Disney princesses and more! We wished we could've had this tech toy as kids…
And there you have it! The latest tech essentials for your little tinkerers.