Photography: RODNAE Productions via Pexels
Does your little one love fiddling with a toy keyboard? Here's where your child can learn to play the piano in Singapore.
We'll admit, the piano is not the easiest instrument to learn (we can testify to that!). But don't let that deter you from signing the kids up for music classes in Singapore. In fact, multiple studies have shown a ton of benefits of learning how to sight-read music and play the piano. For starters, kids will develop coordination and motor skills, improve their academic skills and cultivate social skills, too. So, if you're looking for piano lessons for kids in Singapore, here are the best classes to sign the tots up for!
The best piano lessons for kids in Singapore
1. LVL Music Academy
LVL Music Academy is a great school to kickstart your kid's music journey on the right note, with fun and engaging lessons for kids. With a highly qualified cohort of teachers at the ready, we say you are indeed getting a bang for your buck! Cause lets be honest, piano lessons can be an expensive affair. You can expect to find teachers with ABRSM certifications, Diploma and Degree holders, and international backgrounds too. Did we mention that the music books are written and designed by the LVL team? Impressive! As for convenience, the school has that sorted too. It gives your little one the option to attend lessons from the studio, from home or even online, or even choose between group or private lessons. Not sure if the piano is your littlie's cup of milk? Just give the trial lesson a shot.
Where: 195 Pearl's Hill Terrace (near Chinatown MRT)
2. The Happy Pianist
If you are scouting for fun piano lessons to interest your little ones, sign up for The Happy Pianist's programs. What's different about this school is it prioritises its students' convenience too. Imagine being taught by highly qualified teachers in the comfort of your home, with no lock-in or minimum commitment period. Great! And getting started is straightforward. Just send in a learning request, discuss your preferences with the school to find a teacher that best suits your kid's learning requirements, and schedule your first lesson to start. It's that easy-peasy! Did we mention you can even begin your journey with a free starter class?
3. Melodious Piano Studio
Think Melodious Piano Studio if you are on the hunt for piano lessons the kiddos will love. Best part? With this school teaching model, practising at home will become less of a struggle for your kiddo. Like the sound of that? Well, listen on folks! Melodious Piano Studio specialises in early childhood piano teaching and imparts a strong music foundation for a confident music journey ahead for your littlie. We also love that the school customises its lesson plans to match the pace of your kid. Not sure whether to commit to a complete lesson plan? Book a 30-minute trial class and get an in-depth insight into the school's teaching methods and piano program.
Where: 106 Yishun Ring Road #02-199, 760106 Hougang Branch and 142 Lorong Ah Soo, #01-239, 530142
4. D-Flat
With over ten years of imparting music knowledge to students across the island, this studio is definitely worth bookmarking. Plus, it is just a 4-minute drive from bustling Orchard road and a walking distance from Redhill MRT. D-Flat Studios provides kids with a framework to understand music as they mature. The younger kids will be introduced to musicianship and rhythmic exercises, while kiddos 13-year-olds and older are taught how to play by ear and have jazz techniques incorporated into their lessons.
Where: Tanglin Studio, 356 Tanglin Road, Belvedere Block A, Level 3, Singapore 247674
5. Creative Hearts Centre for Performing Arts
The Little Pianists group piano class at Creative Hearts is specially designed for mini musicians to develop a life-long love for music and the piano. The group classes help to build confidence, social skills and teamwork for kids aged 4-6 years. We also love the Kids on Keys program – a fresh and innovative play-based approach to teaching music and piano concepts to young 'uns aged three to five. It's perfect for parents who are looking for more than a traditional music and movement program, and whose kids aren't quite ready to start piano lessons just yet. Looking for private lessons? Piano lessons start for kids aged 4 and up, including adults. Each class is tailored to the student's level and interest – which means, if they want to learn Taylor Swift songs, they sure can!
Psst… all trials are 50% off! Book group trials here or contact the centre for individual lesson trials.
Where: 2 Pandan Valley #01-200 and 428 River Valley Road #02-04
6. Yamaha Music School
Another one of our top picks for the best piano classes for kids in Singapore, is this acclaimed music school – a household name for budding musicians. Helmed by a team of skilled instructors, the carefully selected curriculum includes performance opportunities so kids will learn self-confidence while sharing their talent with loved ones. The duration of the course stretches to four years and includes 11 lessons per term.
Where: Various locations in Singapore
7. Staccato!
If your little one dreads attending piano classes, check out Staccato!. Here they will receive piano lessons in a fun, creative and unconventional way. Plus, the curriculum encourages self-confidence and self-esteem through improvisation, composition and performance. Did we mention lessons are also tailored to the needs and talents of your kid? Staccato! has a new program called Staccato Elite Program for Young Talent meant for kids looking to accelerate their music education journey. There are tons of performing ops for your littlies to build their confidence along the journey as well!
Where: Locations in Bukit Timah Plaza, #01-26 and #02-24, Singapore 588996
8. Juzmusic Academy
Established in 2006, this music school has nearly two decades of teaching experience to showcase. And with highly qualified teachers, your kid will be able to kickstart their music education journey on the right note. The holistic program for individual piano lessons includes a personalised curriculum to build on your little one's fundamental technique. It also focuses on cultivating your kiddos' interest and enthusiasm for music. Once your kiddo has mastered fundamental techniques, they can progress further by exploring various musical genres such as classical, pop, rock, jazz or ABRSM certification! Not sure if the piano is the right instrument for your kid? Fret not! Give Juzmusic's free trial class a shot to assess for yourself.
Where: 1 Marine Parade Central, #09-04, Parkway Centre, Singapore 449408
9. Seimpi School of Music
The Seimpi School of Music believes that every child is a born genius. All it takes is dedication in cultivating their knowledge, skills and mindset to help them reach their fullest potential. What sets this school apart from its competitors is its approach in training the little ones how to speed-read, which in turn, teaches the kids how to absorb information faster. Classical piano classes involve an all-rounded training, which includes musicianship skills and the understanding of the music of different genres as well. Seimpi School of Music also offers lesson flexibility to suit the needs of students attempting different examination syllabi like the Associated Board of Royal Schools of Music (ABRSM) and London College of Music Examinations (LCME).
Where: Three locations at Centrepoint, Hougang and Jurong East
10. Hark Music School
Listen, for someone who tried their darndest to sight-read as a kid and never did get the hang of it, getting told you don't have to read a score is a dream come true. And your little ones can certainly learn the piano without sight-reading, too! At Hark Music School, piano lessons are made fun and effective through a focus on pop music with no-score reading. The school's aim is for students to strengthen their music sense and play what is heard in the mind. Less emphasis is placed on instructions here, as students are encouraged to be as creative as possible. We love it!
Where: 62 Prinsep St, Singapore 188660 and at 2 Kallang Ave, #05-10, Singapore 339407
11. Cristofori Music School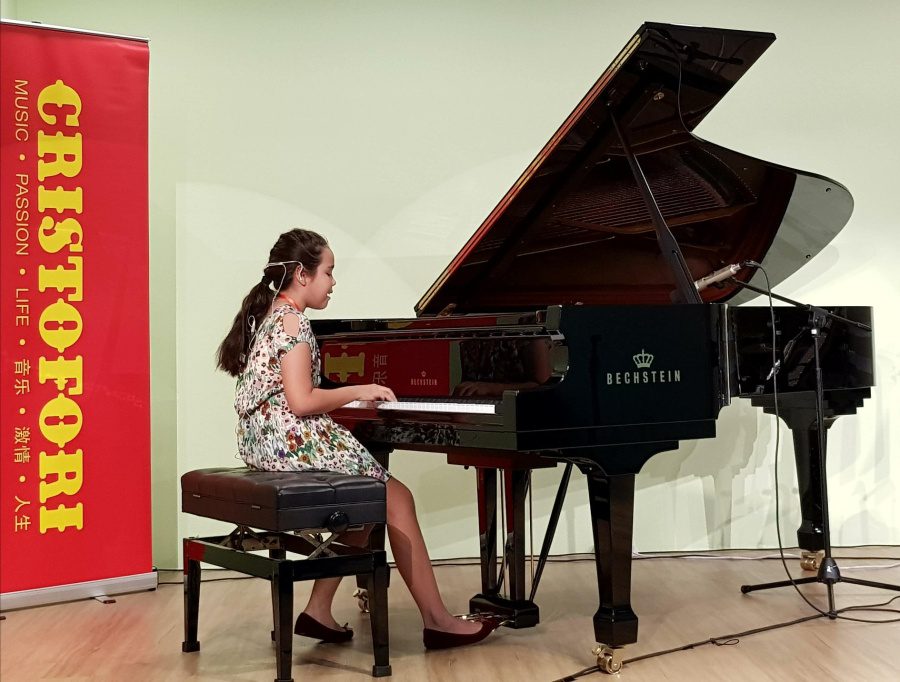 Global brand Cristofori is a pretty well-known music school for kiddos to learn instruments. In fact, the school's piano lessons focus on academic theory, performance and general musicianship in the student-centred music graded system. Plus, your little ones can learn through activities and personal exploration. And, there are two routes your little ones can take: a classical music approach to achieve an ABRSM diploma, or the contemporary music approach to receive a Rock School diploma. Either way, it'll all go towards achieving UCAS points for UK universities in the future.
Where: Various locations
12. Stradivari Strings
Look no further than Stradivari Strings for top quality music lessons! Though Stradivari Strings is predominantly a school and store for string instruments, it has piano and keyboard lessons for kids, too. Its piano lessons for kids help instil patience, self-confidence and self-discipline from practice. Not only that, but its teachers are also picked based on a strict selection and are armed with qualifications from some of the best music schools in the world.
Where: Sultan Plaza, #02-23 100 Jalan Sultan, Singapore 199001
13. Aureus Academy
This music school opened its doors way back in 2013 and has since expanded with over 18k students enrolled today. Specialising in a variety of music lessons, award-winning Aureus Academy believes that the best environment to learn a musical instrument is a series of one-on-one lessons tailored to suit the student's learning pace and style. Whether your child is looking to work towards official exam certification or simply wishes to learn the piano for fun, the skilled and highly qualified teachers at Aureus Academy will customise lessons accordingly. There are 19 locations around the city, each with passionate full-time teachers at the helm. A solid option!
Where: Aureus Academy, with 19 locations islandwide
14. Replugged Music
Replugged Music prides itself on its sole focus on teaching music. If you've got budding performers on your hands, the Pop Piano course is a great way to introduce them to possibilities of performing in public. The class covers everything from basic music theory to lead and rhythm improvisation so your child could be simultaneously singing and playing, in no time.
Where: 249B Victoria Street, Bugis Village, Singapore 188034
15. Intune Music
For serious music lovers, sign them up at Intune Music School where like-minded musicians believe in providing high-quality music. The pop piano program teaches the use of solfege (Doh-Re-Mi) instead of formal classical score notation, coupled with simple chords and keys so that the kiddos will be able to play many of their favourite pop songs almost immediately.
Psst, the course also covers learning how to coordinate singing with keyboard playing. And if your budding maestro is keen to perform, they'll be given a chance to showcase their skills at Intune Music's public performance opportunities.
Where: Bras Basah Complex, 231 Bain St, Singapore 180 231
Top image: Siniz Kim via Unsplash