Sometimes we just need to get out of the house... these classes for babies and toddlers in Singapore are the perfect excuse!
Looking for adorable activities in Singapore to take your baby to? When you've exhausted the favourite baby books and maxed out the coffee fix at your mums' group, but you're still keen to get out and about, you need a class designed especially for your small person! We've done a whole lot of research for you here, and with a huge range of baby and toddler classes in Singapore, from music to yoga and everything in between, you're sure to find a weekly dose of fun for you and bubs.
Best baby & toddler classes in Singapore
YOGA CLASSES FOR BABIES & TODDLERS IN SINGAPORE
1. Kanga Kids Yoga
Envious of your baby's innate yoga abilities? Time to catch up! These classes, in which babies are welcome, are fun and relaxing. The folks at Kanga Kids Yoga keep babies stimulated with fun moves, props, and songs, while mums get busy with a basic stretch (creaking bone noises totally allowed). Kanga Kids has classes for crawling, standing and walking babies, as well as a mix of all three, with reasonably priced packages that will keep you coming back for more.
Where: 322 Joo Chiat Road, Singapore 427579
2. Inspire Mum & Baby
The weekly private classes at Inspire Mum & Baby focus on relaxation and contentment for your little one, combining movement and touch to relieve stress and help you relax (which we know it's a hard ask with a baby in tow!). Classes include infant massages, various postures and sensory interactions that can improve sleep quality (hurrah!).
Where: Inspire Mum & Baby @ 188-2 Tanjong Katong Rd, Singapore 436990; 290 Orchard Rd, #14-11/12 The Paragon, Singapore 238859; One Orchard Road, YMCA, Singapore 238824
SWIMMING CLASSES FOR BABIES & TODDLERS IN SINGAPORE
1. Swish Swimming
Like yoga, young babies have an uncanny ability in the water (and are also dangerously attracted to water). So, learning basic water safety, like how to float on your back, is not only a real lifesaver but lots of fun too. You can organise private classes in your condo or private pool, but if you're happy to venture out, we love the 'Mums & Bubs' classes in the saltwater (gentle on the skin) indoor and outdoor, slightly heated pools at Swish Swimming.
Where: 72 Loewen Road, #01-08, Dempsey Hill, Singapore 248848
2. aquaDucks
A swim program that caters to infants and pre-schoolers in Singapore, aquaDucks makes use of a unique blend of European, USA and Australian teaching methods. This child-centred swim class teaches kids to be independent swimmers who don't rely on floatation devices. We especially love how Aqua Ducks has small classes at five different locations and gives plenty of one-on-one time for babies aged over six months.
Where: Five locations around Singapore, with its offices at 43 Jalan Merah Saga #02-64, Work Loft @ Chip Bee, Singapore 278115
3. Little Splashes
It's safety first at Little Splashes. Pick up water safety tips and right-brain training for little ones as young as three months old through swimming. Classes are conducted in its chlorine-free indoor heated swimming pool safe for all ages and skin types.
Where: 300 Bedok South Avenue 3, #01-07, Singapore 469299
4. Inspire Mum & Baby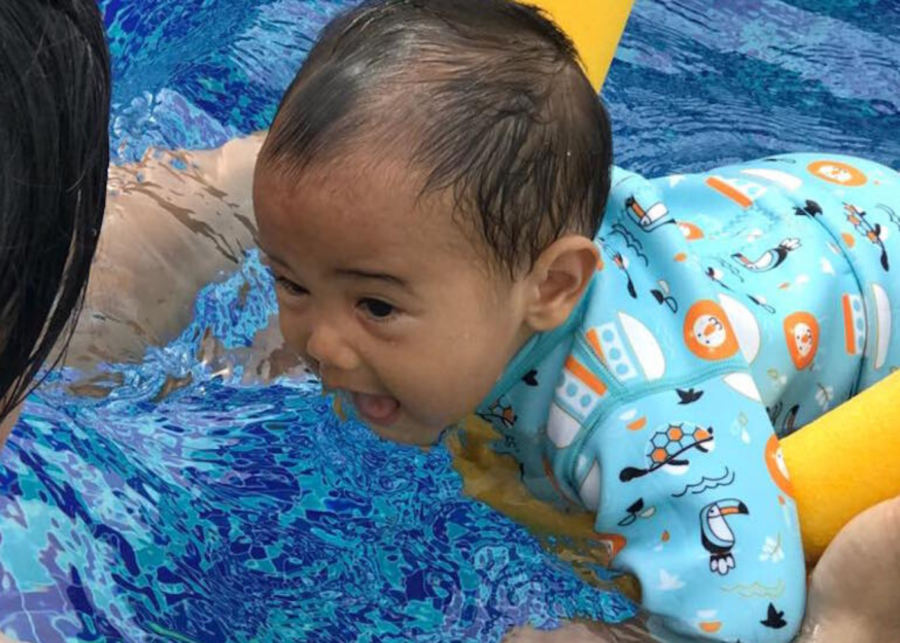 Turns out, Inspire Mum & Baby does a ton of baby classes in Singapore… including swim classes, too! Its lesson plan starts by recreating the womb in your bathtub with its rather ingenious Bathtub Babies programme for tiny humans up to three months old. Inspire Mum & Baby also has a weekly schedule at its East Coast pool as well as offering private classes at home for groups of six or more. The school also provides aquatic therapy, improves water confidence and aquatic fitness. Time to hit the pool!
Where: 188-2 Tanjong Katong Road, Singapore 436990
MUSIC CLASSES FOR BABIES & TODDLERS IN SINGAPORE
1. Creative Hearts
Creative Hearts is bub's perfect first intro to music. The centre has many fun and engaging early childhood music and movement lessons for babies, toddlers and preschoolers. We love the Daddy and Me Music class, perfect for bub to bond with dad! Plus, it's a great way for mum to get that extra me-time — yasss! Don't forget to check out the bilingual musical playgroups, which include music and movement, instrument exploration, storytime, sensory play and more — all in English AND Mandarin! Guess what…all trials are 50% off! Book group trials or contact the centre for individual lesson trials.
Where: 2 Pandan Valley #01-200, Acacia Court, Singapore 597626
2. Muse Arts
Looking for music-related baby classes in Singapore? At Muse Arts, tots aged from one to six years learn are introduced to original compositions (yep, no 'Old MacDonald' or 'Wheels on the Bus' here!) in a fun way. Songs are carefully selected to suit the age group's attention span, ensuring bubs and kids get the most out of the experience that they possibly can.
Where: Muse Arts, 61 Kaki Bukit Avenue 1 #06-06, Singapore 417943 
3. Jiggle Wigs (Temporarily closed)
Jiggle Wigs is a favourite for its bright catchy tunes and loads of jiggly, wiggly instruments to play with. From scarves and shakers to parachutes and bubbles, there are opportunities for babies and tots aged seven to 24-months-old to explore all kinds of things that can make music. It's 45 minutes of fun for both bubba and you!
Where: Various locations 
4. Musical Monkeys
Musical Monkeys is a good one if you'd like to get started early, as they offer a variety of baby classes in Singapore. From newborn and even prenatal classes, including classes in German! Sing and dance with different instruments, and appreciate a new musical instrument from another part of the world every week. It's a great way to bond with your kids, so be prepared to sing along, parents!
Where: Currently online
5. The Amazing ToyBox
The Amazing ToyBox is a huge amount of fun for one to six-year-olds (and parents too!). These home-based music baby classes in Singapore is led by two fantastic musicians and songwriters. Former preschool teachers Mark and Reuben hold Amazing ToyBox Concerts and all their songs are 100 per cent written, composed and performed by themselves – Singapore's answer to The Wiggles kind of. They'll have your little one wriggling and jiggling along to the music in no time!
Where: Online
6. Gymboree
At Gymboree, kids develop motor skills along with a good dose of music appreciation. From newborns up to five years, kiddos will join in with tummy time, flashlight play, games, storytelling and play-based activities. Prepare to jam! (Note: Tuesday classes are temporarily closed)
Where: 19 Tanglin Road #04-20/21, Singapore 247909
7. Our Music Studio

Our Music Studio offers Musical Babes classes for newborns, through to Young Musicians for up to six years old. Classes are taught with a focus on exposure to music and expression through movement and singing, and improvisation of your child's own musical masterpieces. If an ongoing commitment is not your thing, one-off musical playdates can also be arranged. You can even rope the husband in for Family Time, a music and movement session for families with two or more kids.

Where: Our Music Studio, Tanglin Mall, 163 Tanglin Road #03-11B, Singapore 247933
8. Kindermusik with Love Studios

If you're keen to get started from the get-go, Kindermusik with Love Studios offer programmes for newborns that will have your baby (read: you) dancing around the maypole. They also have music- and movement-based classes for children aged 18 months to three years, three to five years and five to seven years. Don't forget to keep an eye out for upcoming holiday camps!

Where: Kindermusik with Love Studios, branches at Rochester Mall, United Square Shopping Mall and Katong V Mall
9. Yamaha

From its activity-based Apple Course for two-year-olds to classical guitar courses for kids aged 12 and up, Yamaha offers some of the most respected music classes for kids around. Piano courses include optional exam preparation as well as technical exercises, aural training, sight reading and theory of music; drum, piano, and electone courses are also available.

Where: Yamaha Music, various locations
10. Music for Young Children Singapore

Music for Young Children Singapore offers structured courses for children from 27 months to 12 years, including exposure to music association ABRSM's exam syllabus for kids from 3 years. There are even classes for teens and adults, in case you feel like picking up the piano yourself. Don't plan on nipping out for a child-free mani during class time though – parents are expected to attend with their kids, and there's even homework!

Where: Music for Young Children Singapore, various locations
11. The Glasshouse
Got a mini maestro at home who's raring to learn about all things musical? Check out the fab online courses on offer at The Glasshouse. Each session includes relatable tales of famous musicians, as well as lots of fun, interactive activities to allow your young musician's creativity to run wild. With options suitable for wee ones all the way through to teens, there's something for everyone. Prices start from $28 per month.
DANCE CLASSES FOR BABIES & TODDLERS IN SINGAPORE
1. Dancing Kids
Is there anything cuter than seeing a baby light up and wiggle to a tune? The music and movement class at Dancing Kids is loads of fun, with singing, dancing, and general mayhem guaranteed. Babies can also graduate to ballet lessons once they're over 18 months old. This is a dance school that comes to your condo function room, so you can even organise your very own dance sesh with friends right at home.
Where: Various locations
Psst – check out our full list of dance classes for tiny dancers here!
SPORTS CLASSES FOR TODDLERS IN SINGAPORE
Time for something a little more active? Whether you want to start prepping them for the big leagues or just get some fresh air and exercise, we have a few ideas for sports classes that are suitable for toddlers (and a couple for kids who are a little older). Of course, they can't go too hard, because the rougher sports weren't made for little people. And, competition doesn't need to come into play at this age – fun (and puns) is the name of the game here. Still, they're sure to hone their gross motor skills, pick up a few pointers, and besides, haven't you always wanted to be a soccer mum?
1. Get Ready at Ready Steady Go Kids
The Get Ready program is held at various childcare centres and kindergartens. Aimed at improving spatial awareness in toddlers aged 1.5 to 2.5 years and exposing them to sports skills and equipment, the program helps kids become more active in a fun way.

Where: Various locations across Singapore
2. Fundamental Movement Skills with Kidmando
Kidmando put the fun in Fundamental Movement Skills. What they do may not technically be 'sport' but at this age, who cares? Babies, toddlers and preschoolers get to learn critical skills such as object control, balance and awareness through super cool games (think brightly coloured ten-pin bowling, tunnel crawling, stilt-walking, and egg and spoon balancing).
Where: Various locations across Singapore
3. Multi-Sport for Toddlers at Sportball
Among their many other sports programs, Sportball provides a parent-accompanied class for toddlers aged 16 months to two years, and another class for tots aged two to 3.5 years. Through a play-based curriculum, children get to try their hand at a variety of eight different sports and spend some quality bonding time with mum and dad.
Where: Various locations across Singapore
GENERAL PLAY CLASSES FOR BABIES & TODDLERS IN SINGAPORE
If you're after a simple change of scenery and casual socialising whilst baby gurgles and plays without any structure, there are lots of lovely outings for you to choose from. We've put together a list of some of our favourites!
1. Tea & Tots
Get out of the house once in a while and let the tiny people age eight to 18 months take part in circle time, storytelling, sensory play, music and movement and arts and crafts – all in a 75-minute session! Held in the first boutique international school in Singapore, Integrated International School (IIS), tots a little older can head to the Reggio Emilia inspired drop-off program, Little Tykes. Be sure to check out the Ocean Snoezelen Room for peaceful sensory pleasure and if you fancy a break from all the fun, you and the toddler can help yourself to tea and snacks.
Where: Integrated International School, 41 Sunset Way, #01-01 Clementi Arcade, Singapore 597071
2. Baby Sensory
Looking for some easy adventure and sensory play? Check out this UK program for babies up to 13 months old, and have fun with glowing balls, light shows, puppets, petals and more. There are also learning opportunities for parents to find out just 'how' and 'why' certain activities are good for a baby's development.
Where: 3 Temasek Blvd, #01-618/619/620 Suntec City, Singapore 038983
3. Bubbles Gymnastics
Bubbles Gymnastics at Turf City runs 'Gymtots' most mornings for babies aged one to three years old. These one-hour sessions are parent-accompanied and provide a good mix of free play and structured activities such as basic gymnastics, song and dance, and circle time. You can sign up for a whole term for unlimited weekday access to the gym.
Where: 200 Turf Club Road, #02-04 The Grandstand, Singapore 287994 
4. Mucky Pups
Mucky Pups, for one to three-year-olds, is a fun themed class where little ones can play games, paint, and hear stories all about upcoming festivals and celebrations one week and flowers the next. Throw in some bubble blowing and sing-alongs and baby AND you will want to keep on coming back! Helpers are welcome if you need an extra pair of hands.
Where: Various locations 
5. Centre Stage
Catering for the younger babies, Baby Stage at Centre Stage gives bubs aged six to eighteen months a fun and colourful morning of play and exploration at Portsdown and the East Coast. They'll be able to play and interact with playmates of different ages and bond over soft gym equipment, tunnels and if they've got the attention span for it, puppet shows and storytelling.
Where: East Coast & outside venues 
6. Blue House Infant and Toddler Atelier
This well-established nursery and international preschool also has a range of classes and drop-in sessions in their infant and toddler atelier. Its playgroup sessions have different themes where kids will be kept busy exploring their senses through activities such as storytelling, arts and crafts and strolls through the outdoor gardens.
Where: Blue House Infant and Toddler Atelier, 2 Turf Club Rd, Singapore 287988 
7. PIP's PLAYbox
PIP's PLAYbox at the Esplanade is an amazing space designed by Lekker Architects, a husband and wife team of Reggio Emilia devotees. It's a magical zone for kids of all ages with indoor and outdoor play including a loft, an arts and craft area, a reading corner with plenty of local reads. Drop-in is free, and keep an eye out for regular themed activities like storytelling and crafts.
Where: Esplanade, Level 4, 1 Esplanade Dr, Singapore 038981
8. The Artground
Goodman Arts Centre has dedicated space just for kids to not just admire art, but play in it too! The play area features rotating exhibits that encourage kids to interact and explore, including a little stage suitable for toddlers. Keep an eye out for workshops and events happening.
Where: 90 Goodman Road, #01-40 Goodman Arts Centre, Singapore 439053 
OTHER FUN CLASSES FOR BABIES & TODDLERS IN SINGAPORE
So you and baby have been for a dip, saluted the sun, sung and played your hearts out together at these baby classes in Singapore. What's left? Plenty, it seems.
1. Beauty Mums & Babies
Always wanted to learn how to do a baby massage? Learn about the benefits of baby massage for newborns and how to do it properly with a lesson at Beauty Mums & Babies. Brilliant for those with babies zero to six months old, and great for getting them (and you!) to sleep better at night.
Where: Beauty Mums & Babies at Paragon, 290 Orchard Road, #14 -11/12, Singapore 238859
2. Baby Signs Singapore
Get started on some early communication skills at Baby Signs Singapore and teach baby how to sign through games, songs, and other activities. They'll be able to better communicate their needs with you and reduce the risk of incurring a frustrated bub.
Where: Various locations, check Facebook for details
3. Growing Up Gifted
Designed specifically for kids eight months and up to eight years old, the enrichment classes at Growing Up Gifted cover an array of skills that every parent wants bubs exposed to. Think language literacy, logical thinking, problem-solving skills, socio-emotional development – the list goes on… And the best part? Parent-child playgroups are also available for you to guide your child along the enriching process!
Where: 101 Thomson Road, #01-20/27, Singapore 307591
With so many fun classes for babies and tots to check out in Singapore, what are you waiting for?!
Top image: SWISH Swimming