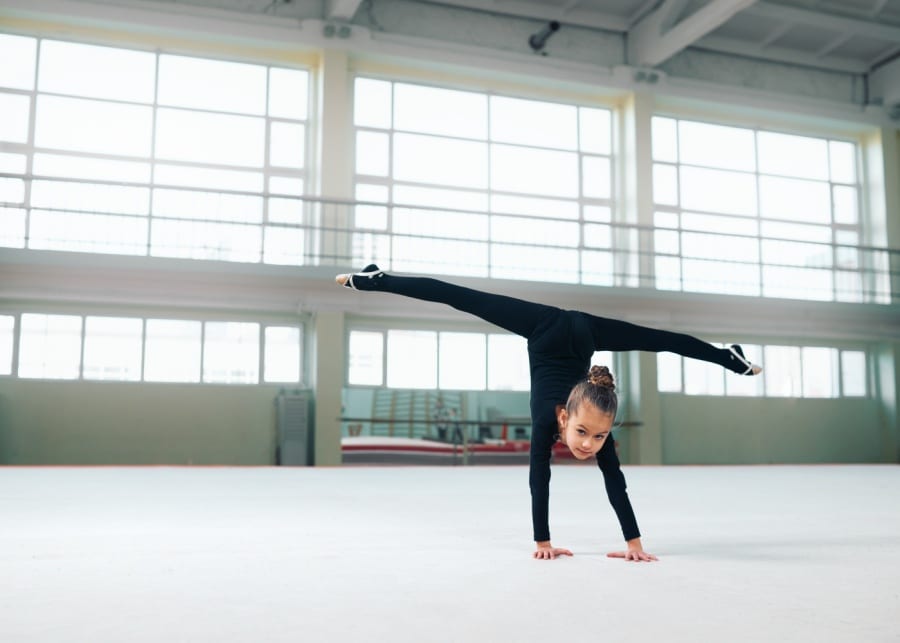 Tumble, cartwheel and spring your way to these gymnastic classes for kids in Singapore!
Do you have a hand standing, high-octane kiddo at home looking for a way to expend all that pent-up energy? Put that flexible exuberance to good use and get your small acrobats signed up for a gymnastic class in Singapore! This little island state has a cart(wheel) load of back-flipping, tumbling gymnastic lessons for fearless kids of all ages. So whether you want to find a group for your toddler, a way to occupy your bored teens or just a new after-school club for your mischief-makers, we've found the best gymnastic classes for kids of all ages and abilities.
18 of the best gymnastic classes in Singapore for kids
1. Alpha Gymnastics
Looking for an action-packed gymnastic lesson for kids of all ages and abilities? Check out Alpha Gymnastics' classes! They are professionally designed from Romper class level (a parent-participation lesson suitable for tumbling tots as soon as they can walk) right through to intermediate programs for full-on acrobatic kiddos. Kids will be encouraged to learn at their own pace on the Olympic standard gymnastic paraphernalia, and we love that Alpha is insistent that it is never too late to learn how to handstand. We may have to take up that challenge at the Adult/Teen Recreational Course one of these days…
Alpha Gymnastics, ESR BizPark @ Chai Chee, Block 750 Chai Chee Road, #01-13B, Singapore 469000
2. Beary Fun Gym
Weekly children's gymnastic classes at Beary Fun Gym are designed for four- to 12-year-olds who want to learn some somersaulting and backflip skills in a fun, energetic class. This gym believes all children are capable of learning and benefiting from a gymnastics program. But this is not a play-based gymnastic class for kids, though: children are taught by first-rate coaches and will be expected to practise, practise and then practise some more.
Beary Fun Gym, branches in Bukit Batok, Changi, Hougang, Katong, and Choa Chu Kang
3. Prime Gymnastics Club
Whether your kiddos want to take up gymnastics recreationally or have aspirations of becoming an Olympic sports champion, Prime Gymnastics Club has been coaching kiddos through to the lofty heights of the National Team since 1987. Worried these gymnastics classes for kids might be a wallet-busting sports pick? The good news is that Prime is a not-for-profit registered society. That means that this skilled sport is made far more accessible to all who want to give it a go. Coaches from six different countries will teach budding gymnasts from 18 months to develop their skills and encourage your kiddo's independence, focus and self-discipline, too.
Prime Gymnastics Club, 17A Toa Payoh Lorong 7, #01-190, Singapore 311017
4. Bianka Panova Sport & Art Academy
Set up by nine times World Champion rhythmic gymnast Bianka Panova, kids from age four can choose from either general gymnastics (non-competitive classes where the emphasis is on fun and friendship) or the rhythmic gymnast programme, which is based on Bianka's own Eastern European training. Forget the traditional beams, bars and vaults! Rhythmic gymnastics combines ballet lessons, dance moves and acrobatic grooves using props like balls, ropes, ribbons and hoops. Artistic expression is the name of the game. Not to mention, the Head Coach is Bianka herself! She trains keen youngsters through the certified grades in a competitive but fun-packed environment.
Bianka Panova Sport & Art Academy, 2 Bukit Merah Central, #02-03, Singapore 159835
5. Bubbles Gym
Class names over at Bubbles Gym seriously make us want to ditch being an adult and try a spot of kidulting instead! And the gym has front somersault for starters, a cartwheel clinic and other fun gym sessions on offer. Tots are welcome from age one, with recreational gymnastic lessons starting at five years on the Olympic-sized apparatus. This even includes an awesome 12-metre-long tumble track! Add in a flying fox and a ball pit slide, and this is one stupendous place to learn gymnastics. Gymnasts who show kick-ass flair will be asked to join the beginners' program, where a more structured, competitive gymnastic journey could set them on the tumbling track to gymnastic stardom. Take note that Bubbles Gym will be relocating to Holland Village next year.
Bubbles Gym, The Grandstand, 200 Turf Club Road, #02-04, Singapore 287994 – Please note: Relocating to #07-01, One Holland Village, 7 Holland Village Way, Singapore 275748
6. The Yard
Bend, stretch and flip! The Yard is where it's all at for tumbling tots from age 12 months (where parent participation classes will give little ones the perfect building block for future gymnastic success) right through to senior classes (for talented gymnasts age 11 plus where they can accelerate their cool skills). The Yard's fun but challenging vibes will encourage mini gymnasts to really get to grips with coordination, strength and agility during their weekly lessons. Expect state-of-the-art equipment and top-notch local and international instructors on hand to help your kiddo. They'll be nailing that backflip in no time!
The Yard, 10 Science Centre Road, Singapore 609079, 72 Loewen Road, Singapore 248828 and Sime Darby Centre, #03-05, 896 Dunearn Road, Singapore 589472
7. Gymkraft
Being little won't stop kids over at Gymkraft from cartwheeling their way to success! Mini gymnasts are welcome to join its gymnastic classes for kids who are three and up. And whether they are testing their acrobatic skills for fun or are looking to train for a spot on the world stage, there is a class for all. Recreational programs are where it all starts for kids aged seven and up, and older tweens and teens will move into the Artistic Gymnast classes to continue training. Psst, Gymkraft also has classes in parkour, trampoline, tricking and dynamic wrestling. Perfect for mixing it up every once in a while!
Gymkraft centres at Tampines and Kallang Wave Mall
8. Tumble Joy Gymnastics
Families living in the East, this is another gymnastics club that you can bring your kids to. Tumble Joy's Funfit classes cater to ages two and up, and if your kid shows interest and potential, they can advance to the Tumblefit programme. Raising a child with autism spectrum disorder (ASD), physical and/or developmental disabilities? The centre offers a tailored Therafit programme to cater for everyone. We love!
Tumble Joy Gymnastics, Festive Mall @ Our Tampines Hub, 1 Tampines Walk, #B1-11/12, Singapore 528523
9. Raffles Gymnastics Academy
Since its founding, Raffles Gymnastics Academy has won awards and produced many gymnasts – true testaments to how amazing its programmes are! With 12,000 square feet of bar stations, high & low beams, a 50-feet acro trampoline and much more, kids are spoiled for choice. The academy also offers massages and physiotherapy for those who require them and a physio-room for anyone wanting to maintain a good, nutritional diet for themselves. Not looking for anything serious? It also organises birthday parties, anniversary functions and boot camps.
Raffles Gymnastics Academy, 500 Upper Bukit Timah Road (The Salvation Army Sports Centre), Singapore 678106
10. BazGym Gymnastics School
If you're not ready to sign your kids up for classes, BazGym offers a trial lesson for all programmes at $45. That sounds like a fair deal to us! Classes are capped at five students, so each student will receive sufficient attention from their coaches. The school also offers a PhysioGym programme, which is exclusively designed and catered for children with special needs. Parents who want to experience the thrill of learning gymnastics can participate in its beginner adult classes, too! Carefully curated programmes, a handpicked team of qualified coaches, and classes at fully equipped gymnasiums… BazGym definitely deserved to be awarded Club of the Year (Competitive) by Singapore Gymnastics.
BazGym Gymnastics School, classes in SAFRA Punggol, SAFRA Jurong, and Ah Hood Road
11. The Little Gym
Hailing from the United States, this children's fitness and development centre features programmes that help develop motor and sports skills. Kids as young as four months old can participate in the parent-child classes, while those aged three and above can go for the gymnastic lessons. There's also the Wonderkids Club, a three-hour enrichment programme that combines active learning and immersive play. If you want to do something else, it offers karate, sports and dance classes, and fun camps. Yep, this place definitely receives our stamp of approval!
The Little Gym, locations in Marina Square and Forum the Shopping Mall
12. Power Kids Gym
Your child is in safe hands whenever they're at Power Gym. It's a stimulating, nurturing environment where kiddos are guaranteed to have loads of wholesome fun through progressive activities. The curriculum was developed in both the US and Europe, so you can be assured that you're getting enough bang for your buck! If you'd rather have the classes in your home or somewhere else, the gym has a mobile program that you can engage in. Each session combines circuit training, basic gymnastics, and fun games.
Power Kids Gym, UE Square, 81 Clemenceau Avenue, #02-12, Singapore 239917
13. My Gym
Bubbas aged zero to five years old, y'all are more than welcome to attend My Gym. Each age group features award-winning programmes that focus on early child development. You'll be raising mini gymnasts in no time! That's not all, though – the gym also offers other developmental activities, including prepping for preschool, sports and art classes. Scratching your head on what to do for weekends and special events? We say, spend your day at My Gym!
My Gym, locations include Buona Vista, Great World, Punggol and Tampines
14. NorthStar Gymnastics
Who says only kids get all the fun? At NorthStar Gymnastics, grownups get the chance to tumble and be flexible, too! The coaches are experienced in adult learning and training, so there's nothing to really worry about. If you need more time (and space) to improve your skills, there are unsupervised open gym sessions that you can go for. NorthStar is a 4,200-square-foot gymnasium that's fully equipped, so you get all the space that you need to become the next Olympic gymnast!
NorthStar Gymnastics, Singapore Post Centre, 10 Eunos Rd 8, #03-02, Singapore 408600
15. Karpenko Gymnastics Academy
Is your little one curious about rhythmic gymnastics? Then, sign them up for lessons at this gym academy, which Victoria Karpenko, a Russian champ, founded. You're definitely getting the best of the best training over here! Participants will develop flexibility and even mental strength as they train. Those who are able to reach a certain standard may even take part in competitions the academy attends. There's something for ability at KGA!
Karpenko Gymnastics Academy, outlets at Robertson Quay, Bukit Timah, and Orchard
16. GIM Sports
This academy has been around for more than a decade and is one of the most trusted academies among families in Singapore. GIM Sports offers specially designed gymnastic programmes for kids of all ages and abilities. The recreational programmes, which are split into four groups, focus on developing participants' skills as well as improving their strength, flexibility, coordination, and fitness levels. It also runs gymnastic camps if you're looking for something to occupy the kiddos during their school break.
GIM Sports, The Grandstand, 200 Turf Club Road, #04-03, Singapore 287994
Note: The Grandstand will be closing on 31 December 2023. Watch this space for an update on GIM Sports' new location!
17. Asia Gymnastics and Dance Academy
If you can't decide between ballet or gymnastics, this academy suggests trying out both activities! Many kids take up dance classes to hone their body control, while gymnastics help with their coordination and flexibility. Kids aged four years old and above can attend the Kinder Gym, Level 1, and Level 2 classes.
Asia Gymnastics and Dance Academy, locations in Orchid Club Road and Woodleigh Park Arena
18. SWAGA Gym
Here's another family-friendly gymnastics club in Turf Club Road if you're looking for more options. Swaga Gym has a programme for everyone! The gym provides fitness and fun all under one roof, with a fully functional jungle gym area that'll keep everyone entertained. For the boys, there's a popular parkour programme that they can partake in. Parents, you're not forgotten too! Join the adult fitness class so that you can stop putting off your 'fitspo' plans.
Swaga Gym, The Grandstand, 200 Turf Club Road, #02-14, Singapore 287994
Note: The Grandstand will be closing on 31 December 2023. Watch this space for an update on SWAGA Gym's new location!
Ready to take your little tumbler to these gymnastic classes for kids in Singapore? Don't forget the camera!