Do you ever wish you could switch places with your kids? Swap meeting rooms for playgrounds, and balanced meals for popcorn? It might be easier than you think. Here's our guide to ditching adulthood for a day with plenty of fun things to do in the Lion City...
Kids in Singapore have got it good: all that free water play around the city, great parks and indoor playgrounds have us a little bit jealous. If 'fun things to do' has become a synonym for 'hiding in the cupboard to get some me-time', it might be time to try some kidult-ing. Because let's face it, being an adult isn't easy. There are days when you almost feel like you're nailing life. You get the kids to school on time with something resembling lunch in hand. You get yourself to the office fully clothed. You pat yourself on the back for taking this whole 'adult' thing in your stride. Then there are days when you just want to pack it all in and not be held responsible for watering plants and paying bills on time. Well, friend, for such days, we have just what you need. Farewell (for now) adult-ing and hellooo kidult-ing!
THE HONEYKIDS GUIDE TO BEING A KIDULT IN SINGAPORE
1. Conquer Sentosa on the Skyline Luge
Whizzing downhill at top speed without concern for the consequences? Sounds like something the cool kids would do. With four tracks to navigate, we bet you'll be the one begging for "one more go" – it's even open at night if you wanted a date night activity!
Where: Skyline Luge, 45 Siloso Beach Walk, Sentosa, Singapore 099003
2. Release your inner Tarzan at Forest Adventure
For an aerial treetop escapade, head to Forest Adventure. With 44 obstacles on the Grand Course to tackle, this place provides 2.5 hours of elevated fun across wobbly logs, rope swings, rickety bridges and a couple of leaps of faith. The HoneyKids team has tried out the Forest Adventure experience and we can safely say it's perfect for both fearless types and those prone to hissy fits when they get stuck at the top of the zip liner.
Where: Forest Adventure, Bedok Reservoir, Singapore 479244
3. Relive your childhood shopping trips at Daiso
If your childhood was anything like ours, you probably had those occasional magical days where your mum handed you a tiny amount of cash and said something along the lines of: "Choose carefully" or "Don't spend it all at once". You then went nuts and picked up everything within grabbing distance, or agonised endlessly over the virtues of a Rainbow Brite doll versus two giant buckets of red frogs. Bring those days back to life at Daiso where, no matter how hard you try, you'll always revert to the behaviour of a small child. Set yourself a budget and a time limit and go crazy, little one.
Where: Daiso, various locations islandwide
4. Bounce back to the old days at Amped Trampoline Park
Nothing takes you back to your seven-year-old self like spending all afternoon bouncing on the trampoline in the backyard. With 35 interconnected trampolines, Amped is almost just like your childhood backyard but air-conditioned. With foam pits. And parkour walls. We did say "almost".
Where: Amped Trampoline Park, 46 Kim Yam Road #02-11, Singapore 239351
5. Make some furry friends without the hard work at We are the Furballs
If you spent half your childhood harassing your parents for a puppy, and now you're spending half your adulthood being harassed by your kids for the same thing, this might be the place to keep everyone happy. If you meet the minimum age requirement of 10 years (on both adult-ing and kidult-ing days), head down for a good old-fashioned puppy cuddle (or are you more of a cat person? Check out our fave cat cafes here).
Where: We are the Furballs, Bugis+, 201 Victoria Street #07-07, Singapore 188067
6. Defy gravity at iFly
Skydiving without actually jumping out of a plane? Sounds exactly like the kind of safe-activity-parading-as-a-tough-adrenaline-junkie-activity we need. Sign us up.
Where: iFly Singapore, 43 Siloso Beach Walk #01-01, Singapore 099010
7. Get some tricky pics at Trick Eye Museum
Leave your inhibitions and photo hang-ups at the door, put your phone on camera mode and get silly. 2D images become 3D in these optical illusion galleries where you're the star. Just try to stop yourself from embarrassing the kids with your social media uploads.
Where: Trick Eye Museum, Waterfront @ Resorts World Sentosa, 26 Sentosa Gateway, Singapore 098138
8. Go on an ice cream binge at Singapore's best ice-cream shops
With no parents around to put a stop to things, what's a good kidult to do but hit the ice-cream shops? Don't stop until the brain freeze renders you incapacitated by working your way through our list of the best ice-cream shops in Singapore. Ice cream not your thing (who are you?!)? We've got the best places for chocolate cake and yummiest cookies in Singapore.
9. Do some extreme chest bumps with Bubble Bump
We think Bubble Bump-ing is a giggle-fest waiting to happen. It's not easy to take anyone seriously when they're approaching you at full speed inside a giant plastic bubble. Try it.
Where: Bubble Bump Singapore, various locations
10. Get lost in storytime at an awesome book store or the library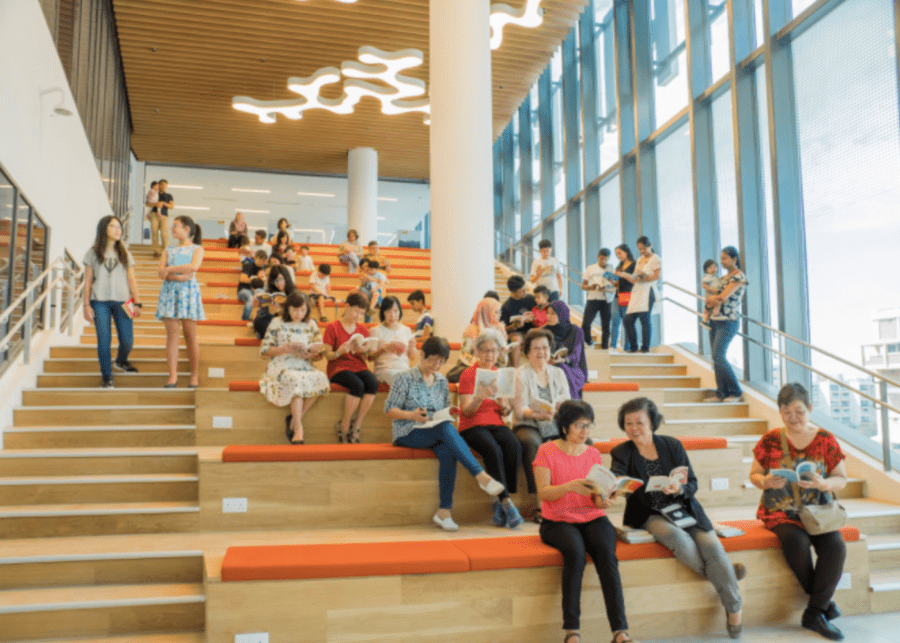 Getting locked in the bookstore might not be every child's idea of fun, but a few of us here at HoneyKids are not ashamed to admit it was our ultimate fantasy. You too? Plunge yourself back in time and get reacquainted with as many cats in hats, babysitter's clubs, and big friendly giants as you can. Woods In The Books in Tiong Bahru (one of our favourite bookstores in Singapore) is the perfect place for such whimsy, and Kinokuniya is ideal for sprawling out on the floor amidst piles of big colourful hardbacks. And don't knock library time, too. Our fave libraries in Singapore include the branches at Bugis, Tampines, Queenstown and Woodlands, which also happen to have excellent children's sections.
Where: Woods in the Books, 3 Yong Siak Street, Singapore 168642; Books Kinokuniya, stores in Ngee Ann City, Bugis Junction and JEM; National Library Board, locations throughout Singapore
11. Bust out some old moves at a skatepark
Mums, borrow the kids' penny board, and Dads, dust off your board of choice and hit one of the many great skate parks at Somerset, Bishan, East Coast, or Woodlands. Go on kidults, show off your skate skills!
Where: Find your nearest skatepark on their website.
12. Try out an escape room
You might not be able to escape your parental duties, but you can escape from an escape room! Put your mum brain to good use and apply the ol' grey matter to something more taxing than "What's for dinner tonight?" Read our guide on the best escape rooms in Singapore for you to embrace your inner teen.
13. Go to an arcade
Remember the days of seeing how far your pocket money could take you at the local games arcade? Whether you risked it all at the claw grab, the penny slots or whack-a-mole, the arcade was one of your fave kid haunts. So let loose for a couple of hours and let the good times come flooding back! Check out Timezone for some good ol' escapism fun, Saint Games for its gaming rooms if you're more of a console fan, or Fat Cat Arcade if what you want is a jolly good time.
Where: Timezone, locations throughout Singapore; Saint Games, Kallang Wave Mall, 1 Stadium Place #02-09, Singapore 397628; Fat Cat Arcade, various locations in Singapore
14. Go vintage at MINT Museum of Toys
A nostalgic little expedition for those who don't need their kidult-ing with a side of adrenaline. Step back in time, perhaps even beyond your own childhood, and browse this huge collection of vintage toys and memorabilia. Unfortunately, there's no actual playing allowed but hey, it's fun to look.
Where: MINT Museum of Toys, 26 Seah Street, Singapore 188382
Have a good time kidult-ing!