Photography: Choo Yut Shing via Flickr
Heading to Tiong Bahru with the kiddos but not sure what to see or do? Here's our guide to all things family-friendly in this hip 'hood.
Thought Tiong Bahru was just for the hipster crew? Think again! This cool little neighbourhood makes for the perfect kid-friendly outing, with everything from an amazing train-themed park, to the cutest kids' bookstore we've ever seen. Read on for what to see and do in this neck of the woods (and of course, the family-friendly restaurant recs – our favourite bit about Tiong Bahru!)
Things to do and see in Tiong Bahru
Run amok in Tiong Bahru Park with its train playground and sandpit
Although Tiong Bahru Park can't compete on size like some of the other parks we know and love in Singapore; it still packs a punch with wow factor when it comes to the playground. It's a real kid-pleaser and completely unique. How many playgrounds include a runaway train?! The train is the centre of the fun, with a plethora of slides, climbing frames, and more to explore. It's surrounded by sand too, so be sure to pack a bucket and spade to build a castle or two. And there's more! We shouldn't forget to mention the traditional (but still extremely popular) swings and seesaw nearby. Coming with a toddler in tow? There's a dedicated toddler maze complete with interactive (and noisy!) activities to keep the little ones busy. The only drawback of the playground is there's not much in the way of shade, so come early or set up camp under the train for the best shady option.
Explore more green spaces
Although the main attraction is without doubt Tiong Bahru Park when it comes to outdoor activities, it's worth mentioning the smaller green spaces hidden away in Tiong Bahru. We particularly like Kim Pong Park near our favourite Yong Siak Street (more on the latter below!). The metal seat swings here are a welcomed addition and the perfect place to rest tired little and big legs, with enough seats for the whole family. Nearby, you'll also find Seng Poh Garden. This is a small square, but it's worth visiting to spot the dancing girl sculpture and matching mosaic on the floor. You could also grab food from one of the cafes nearby for some al fresco dining…
Hunt for murals
It's not just the food and parks – you'll also want to keep your eyes peeled for Tiong Bahru's murals. Hunt for the very impressive artwork by local talent, Yip Yew Chong. There are three street murals to find here! Our favourite is the singing birds on Seng Poh Lane. Impress the kids (and the hubby) with this snippet of knowledge: the mural is a nod to an old pastime that was once common in Singapore, where residents would bring their prized feathered friends down to the street corner to chirp away. Feeling inspired to explore more street art in Singapore? Check out this mural guide.
Snap cool architecture
Besides the murals, one of the other things that makes Tiong Bahru so special is the architecture. These art deco, low-rise buildings offer something completely different on the Singapore landscape. And don't think the architecture is missed on the little ones. The buildings of Tiong Bahru are a sight in themselves, and we love exploring the different streets with the fam and finding something new each time. Make exploring more of a game with a classic like i-spy, or get the older kiddos going as budding photographers, snapping their favourite buildings along the way.
Where to shop in Tiong Bahru
Woods in the Books
Yong Siak Street is probably one of our favourite streets in Tiong Bahru. It's jam-packed with unique shops and Insta-worthy cafes waiting to be explored. You'll find Woods in the Books nestled towards the top of Yong Siak Street. Get the kids to spot it from the beautiful, hand-painted mural outside. Once inside, you'll be spoilt for choice with the selection of picture and illustrated books on offer. Just try getting the kids to leave! We also love their eco-conscious approach and the Little EcoHero Project they run to inspire kiddos to look after the planet, through poster contests, workshops and so much more.
Where: Woods in the Books, 3 Yong Siak St, Singapore 168642
Nana & Bird
Looking for a wardrobe overhaul? Look no further than Nana & Bird. With a mix of local and international brands, you're sure to find something for both yourself and your mini-me. Created by best friends, Georgina Koh and Tan Chiew Ling, their approach is all about only buying things that they'd wear themselves. It's fair to say that they have incredible taste! We particularly love their fun and quirky jewellery collection…
Where: Nana & Bird, 1 Yong Siak St, Singapore 168641
Cat Socrates
A hop, skip, and a jump away from nano & bird is Cat Socrates. Head to this treasure trove of a store for gifts galore. Even the fussiest person on your present buying list will be well catered for here. There's also a great selection of unique toys and stationery on offer. Chances are, you won't be leaving empty-handed.
Where: Cat Socrates, 78 Yong Siak St, #01-14, Singapore 163078
Tiong Bahru Wet Market
Kiddos always love the hustle and bustle of a wet market, with plenty to take in. Although it's always busy, it's worth a wander around Tiong Bahru Wet Market. If you're treating yourself then definitely stop by the flower shop at the main entrance for a variety of beautiful blooms, as well as larger, outdoor plants at bargain prices. Just behind the flower shop, you'll find a seat swing if you need a break (and it's always a winner with the kids!). Also, keep on the hunt for more murals and the colourful cartoon frog characters dotted around the market for the littlies to spot.
Where: Tiong Bahru Market, 30 Seng Poh Road, Singapore 168898.
Where to eat and drink in Tiong Bahru
Plain Vanilla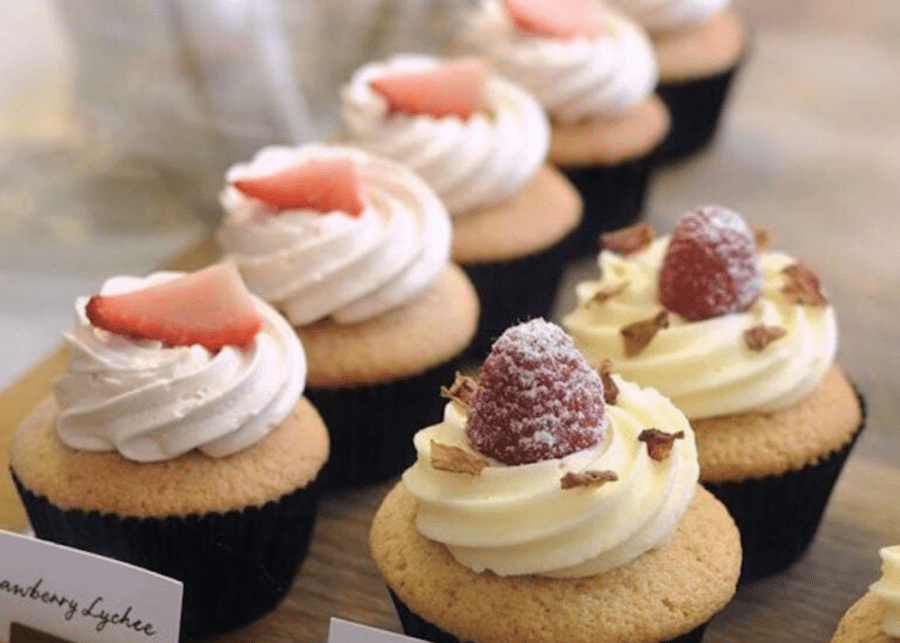 This joint has to be up there with our favourite cupcake shops of all time. Once you've finished your shopping on Yong Siak Street be sure to head over to Plain Vanilla to pick up some sweet treats for the way home (if they last that long!)
Where: Plain Vanilla Bakery, 1D Yong Siak St, Singapore 168641
Tiong Bahru Food Centre
There are so many great food options in Tiong Bahru, the list really is never-ending. But one of the most famous is Tiong Bahru Food Centre. With Michelin-star hawker stalls, it's fair to say this place is extremely popular and it's easy to see why. The tricky part is choosing what to eat; it all looks so tempting! Got older kids and feeling adventurous? Let them loose and get them to choose the options! After a safer bet? Order the Tiong Bahru Hainanese Boneless Chicken Rice – a firm favourite for all the family.
Where: Tiong Bahru Food Centre, 30 Seng Poh Rd, Singapore 168898
Creamier
A real kid-pleaser (and let's be honest, we love it too!), ice cream is always a winner. It doesn't get much better than Creamier ice cream either. Oh wait, it does. Creamier ice cream AND waffles. With flavours including "Richest Dark Chocolate Ferrero" and "Butterscotch Almond", the difficult part will be picking one!
Where: Creamier, 78 Yong Siak St, #01-18, Singapore 163078
The Butcher's Wife
Don't fancy cooking dinner when you get home? Pick up a takeout from The Butcher's Wife also on (you guessed it) Yong Siak Street. Everything here is gluten-free with a focus on gut-friendly ingredients – all the more reason to order. We love their gluten-free focaccia and mini corn on fire (they are popular choices with the kids too).
Where: The Butcher's Wife, 19 Yong Siak St, Singapore 168650
Forty Hands
Forty Hands is an oldie and a goodie. It was one of the first on Singapore's coffee shop scene (Aussie founder, Harry, later went on to create the ever-popular Common Man Coffee Roasters). It's a firm favourite, so expect a queue or get there early. They open at 7am in the week, and 7.30am on the weekend. Doable if your kids don't understand weekend lie-ins like ours. The downside here, it is small. If you've missed a free table, you can always head to nearby Kim Pong Park to enjoy your coffee fix.
Where: The Butcher's Wife, 78 Yong Siak St, Singapore 163078
Tiong Bahru Bakery
A Singapore rite of passage has to be trying a pastry (or two) from this famous haunt. If you haven't sampled one yet, then hotfoot it over to Tiong Bahru Bakery and grab yourself a danish – we can guarantee it won't be the last one you buy!
Where: Tiong Bahru Bakery, 56 Eng Hoon Street, #01-70, Singapore 160056
PS. Café Petit
Petit by name and nature, PS. Café Petit is best for takeout. Stock up on the way home with their speciality pizzas, and you won't be disappointed. It's pizza with a difference too, with options including Carbonara, Green Goddess, and Garlic Prawn!
Where: PS, Café Petit, No.41 Blk 78. Guan Chuan St, Singapore 160078
Privé Tiong Bahru
We can always rely on Privé to deliver when it comes to a family lunch, and the Tiong Bahru joint is no different. Grab an outside table to watch the hustle and bustle across the way at the nearby Tiong Bahru Wet Market. The dedicated kids' menu is sure to please even the fussiest of eaters with everything from French Toast to Fishie Chippie! There's even a Rainbow Rice Bowl which we quite fancy too!
Where: Privé, 57 Eng Hoon St, #01-88, Singapore 160057
 Looking for more? Check out our big sis The Honeycombers bumper guide to Tiong Bahru!