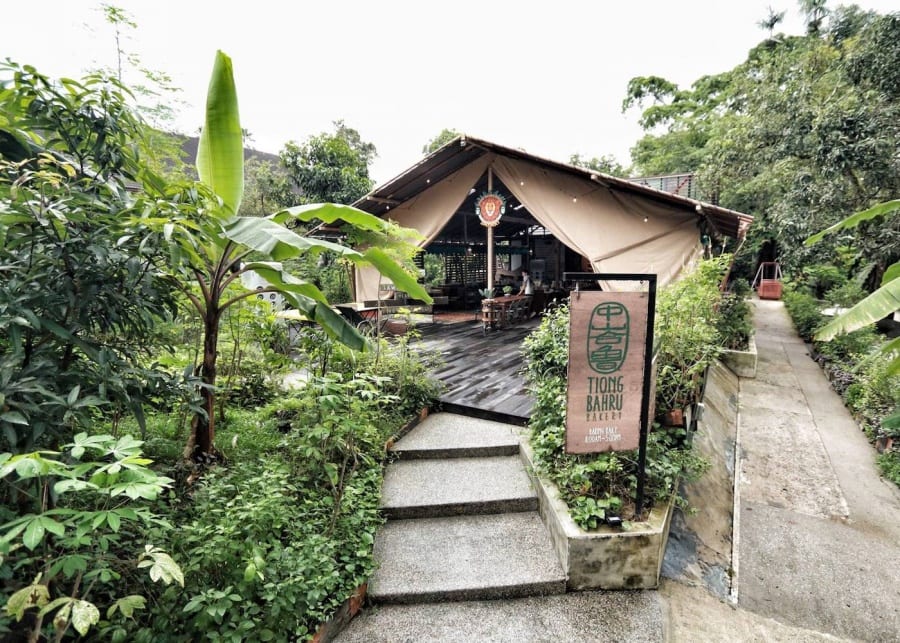 Family-friendly cafes, great shopping and some of Singapore's iconic restaurants: there's something for everyone to love over at Dempsey Hill.
Dempsey Hill is one of the hippest places for families to hang out, eat and play in Singapore. This enclave of ex-military barracks has been carefully renovated over recent years and is now home to some of Singapore's best restaurants, cafes and boutiques. Just a five-minute trip from the hustle and bustle of Orchard Road, Dempsey Hill is a lush tropical oasis. We've spent many hours exploring all that this wonderfully relaxing area has to offer (all in the interest of research) and have hand-selected the best spots to eat, play and shop around Dempsey Hill!
Cool things to see and do in Dempsey Hill
1. Core Collective Dempsey
For fitness and wellness smack bang in the heart of Dempsey, look no further than Core Collective. From personal training, pilates and total body conditioning to wellness services, the Dempsey space is truly a stomping ground for those seeking to live better.
After all that working out, you'll no doubt have worked up an appetite. Feeling like pizza? Opt for the ever-popular sister outlet Plank Sourdough Pizza. We're all for tucking into some nom-tastic cheesy goodness at this family-friendly pizza restaurant, and our kids gave the outdoor play area a big thumbs up!
Where: Core Collective Dempsey, 27A, 30B/C Loewen Road, Singapore 248839
2. SWISH! Swim School
This lovely school is tucked away within the Loewen Cluster on Dempsey Hill, and we admire the indoor and outdoor pools set in a beautifully restored black-and-white property. The water is temperature-controlled and saltwater chlorinated, which is much more gentle on the skin. Swimming lessons for kids of all ages, including babies, are available, the school also provides a dedicated coach for children with special educational needs.
SWISH! Swim School also has instructors offering kids' classes at the Core Collective pool down the road – a no-brainer since the fitness and wellness space is perfect for families to while away the weekend.
Where: SWISH! Swim School, 72 Loewen Road #01-08, Singapore 248848
3. Huber's Bistro
There's a whole lot to love about Huber's awesome location in Dempsey Hill. The bistro is uber-casual, designed to complement the two-storey butchery. Head straight to the amazing outdoor playground for the kids to run wild. It's shaded and gated, so you won't have to worry about losing track of your adventurous little people. Then retire to the bistro for a bite to eat and a refreshing drink. As you can imagine, the meat is as fresh as it comes. They've got at least seven sausage dishes on the menu, and some pretty good-looking burgers, too. Before you leave, don't forget to stock up inside, and you'll be sorted for meals for the foreseeable future!
Where: Huber's Bistro, 22 Dempsey Road, Singapore 249679
4. The Yard
Bend, stretch and flip! The Yard is where it's all at for tumbling tots from 18 months (where parent-participation classes will give little ones the perfect building block for future gymnastic success), right through to senior classes (for talented gymnasts age 11-plus where they can accelerate their cool skills). The Yard's fun but challenging vibes will encourage mini gymnasts to really get to grips with coordination, strength and agility during their weekly lessons. Expect state-of-the-art equipment and top-notch local and international instructors on hand to help your kiddo nail that backflip.
Where: The Yard, 72 Loewen Road, Singapore 248848
5. Wildlings
Don't miss out on forest school on your visit to Dempsey. Make a beeline for the super-popular outdoor wonderland that is Wildings. Offering plenty of fun activities that even us adults would want to take part in – adventure camps, nature plays, even birthday parties… Get in touch with nature by spending time exploring the outdoors, right within its exclusive space! Psst, it's pretty popular so book in advance!
Where: Wildlings, 27A Loewen Road, Singapore 248839
6. Duxton Playground
Duxton Playground is a collaboration between Monument Lifestyle and Duxton Kids, which means it combines some of our fave things – entertainment for the kids, bagels, and the best coffee! Check out the range of artsy classes and camps on offer from Clay Explorers, all the way through to Mindful Artists Empowerment Camp! Oh, and did we mention the super cute clothing range, too?
Where: Duxton Playground, 73 Loewen Rd, 01 16A, Singapore 248843
7. b_together club – opening May 2022 (formerly Kids21)
One of our fave spaces, Kids21, is having a revamp and will reopen in May 2022 as an exciting new concept – b_together! This brand new club will be located in the same spot (Block 16) in Dempsey Hill and is set to include a members' nook, creative studios, games zone, lending library, and a bespoke children's soft play area. And that's before we've mentioned the fab outdoor play areas! Stay tuned for more news (we can't wait!)
Where: b_together, 16A Dempsey Road, Singapore 247695
8. Visit Museum of Ice Cream
Make it a sweet treat at the Museum of Ice Cream Singapore on your next visit to Dempsey! This is a pretty exclusive import to Singapore, with the original (and only) Museum of Ice Cream being based in NYC! We've already explored its 14 never-before-seen installations, dedicated to the celebration and experience of enjoying ice cream! We give a big thumbs-up to the dragon playground, the pink and yellow jungle with 10,000 bananas, and the largest MOIC sprinkle pool ever created. The experience lasts up to 90 minutes, and yes, there are ice cream tasting stations dotted throughout (which we think is the best part of the tour!).
Where to eat in Dempsey Hill
1. Tiong Bahru Bakery Safari
With many wide smiles and much excitement, we stepped into the Tiong Bahru Bakery Safari tent when it first opened in 2018. It's a fab cafe experience where the grown-ups are well-catered for, as are the small people. The cool cafe has brought us handmade croissants, unique lattes and amazing breakfast jars in a pretty garden setting… this is one brunch adventure the whole family is sure to love! Psst, and it's also got a playground, too!
Where: Tiong Bahru Bakery Safari, 130E Minden Road, Singapore 248819
2. Open Farm Community
Our absolute favourite spot to treat the kids (and ourselves) to a feast is Open Farm Community. The moment you step into the epic grounds of this farm-to-table restaurant, you'll see why it's such a family favourite. It shares a sandpit and small play area with Tiong Bahru Bakery Safari next door, and that's before you've explored the rest of the garden! The kids' menu is so healthy, fresh and inventive that you'll happily scoff their leftovers. Resist the temptation and save your appetite for the transcendent steamed Tiberias barramundi with smoked mussel butter (or anything else from the superb menu for that matter). Warning: once you go, you'll find yourself back most weekends.
Where: Open Farm Community, 130E Minden Road, Singapore 248819
3. PS. Cafe
For an elegant dining affair, check out PS. Cafe at Harding Road – it's a great idea for date night with the SO! The food is truly magnificent, and special mention must go to the cakes, which are stunning both in terms of taste and magnitude (one serve of the Blackout chocolate cake will satisfy four, and then some). Watch out, the shoe-string truffle fries are seriously moreish. The ambience at this stylish cafe is simply divine, and the outdoor lawn and garden will entertain your little ones for a good hour or so.
Where: PS. Cafe, 28B Harding Road, Singapore 249549
4. Margarita's
If you've got a hankering for hot and spicy nachos, enchiladas or quesadillas, then look no further than Margarita's. The venue has a fun Mexican vibe, with its terracotta and cobalt tiles, smoky aromas and La Bamba beats. It doesn't hurt that the frozen margaritas are some of the best to be found in Singapore. As you can imagine, it gets pretty rammed here in the evenings, so book ahead. If you can't get a table, but still need a hit of chilli con carne, head a few doors down to La Salsa.
Where: Margarita's Dempsey Hill, 11 Dempsey Road #01-19, Singapore 249673
5. The Dempsey Project
Previously Jones the Grocer, The Dempsey Project is now our go-to for weekday takeaway coffee and weekend lazy breakfasts with the fam. And did we mention it's a dog-friendly venue? We challenge any foodie worth their salt to leave the place without a bag full of goodies from the bakery, deli and cheese room. It's just the place to put together a fabulous antipasti platter. Or, if you can't be bothered to do a DIY platter, then have an impromptu date night and order a platter from the menu (we can vouch for the Sunset platter being incredible!). Also, be sure to keep an eye out for offers – every Monday and Tuesday you can make like the Italians and enjoy an aperitivo early doors with a cocktail and sundown platter for $25! We'll see you there!
Where: The Dempsey Project, 9 Dempsey Road, Singapore 247697
6. Samy's Curry
Samy's isn't just a famous curry restaurant, it's an institution. Traditional fiery curries have been served straight onto banana leaves at this Dempsey Indian eatery for over 20 years (and it's still so good!). It's a no-frills kind of joint, which only adds to its appeal. Indulge in signature South Indian dishes such as chicken masala and the famous fish head curry. It's a Singapore must-do, and seriously tasty! We highly recommend it.
Where: Samy's Curry, 25 Dempsey Road, Singapore 249670
7. Chopsuey Cafe
Chopsuey serves high-end East-meets-West nosh in blissful French-influenced colonial style surroundings. It's brought to you by the same crew that runs PS. Cafe, so as you'd expect the food, ambience and fit-out is spot-on. While Chopsuey feels more 'date night' inside, you won't feel out of place with your junior diners out on the terrace for the delish Sunday yum cha. True to the Asian dining experience, it's a plate-sharing concept, which you'll be thankful for when the feast arrives – no food envy! You'll find something for all tastes with classics like steamed dumplings, more adventurous offerings like tingling chilli-jam prawns and inventive dishes such as the delectable steamed 'lasagne' of snapper and tofu.
Where: Chopsuey Cafe Dempsey, 10 Dempsey Road #01-23, Singapore 249549
8. Jumbo Seafood
The grand-daddy of family-friendly seafood restaurants, Jumbo takes prime position at Dempsey Hill. See how many peanuts your kids can eat with chopsticks while you await delicious seafood fried rice, dipping buns and scallops with broccoli. Crab lovers will be in their element with the sweet and soupy chilli crab, but make sure to don the large paper aprons. The little ones will love checking out the fish and crustaceans in the floor-to-ceiling tanks inside.
Where: Jumbo Seafood, 11 Dempsey Road #01-16, Singapore 249673
9. Jim Thompson Restaurant
If you've been lucky enough to visit Jim Thompson's home in Bangkok, you'll adore his sophisticated Thai restaurant in Dempsey. While the man himself is no longer with us (he went missing on a walk at Malaysia's Cameron Highlands in 1967), his passion for Thai food and culture lives on. The décor is just as quintessentially Thai as his pad, with paper white walls, dark wood and generous silk furnishings. The food is an extension of the opulent interiors, with distinctly traditional Thai dishes such as fresh pomelo salad, prawn cakes with chilli-plum dip and creamy red curry.
Where: Jim Thompson Thai Restaurant & Wine Bar, 45 Minden Road, Singapore 248817
10. RedDot Brewhouse
RedDot Brewhouse is a locally owned (but South African-influenced) open-air bar that serves handcrafted beer and good pub grub. It's a relaxing place for a drink with friends and/or a family dinner as there's plenty of shade, room to roam and a gentle breeze. If you go on Sunday between 11.30am and 2pm, the kids can get involved in activities like cooking classes, face painting and catching fish in the pond (with masks on and social distancing measures in place). Plus, there's ample free parking right out front, making it easy to nip in and out.
Where: RedDot Brewhouse, 25A Dempsey Road #01-01, Singapore 247691
11. Baker & Cook
Baker & Cook is housed alongside Core Collective Dempsey, SWISH! Swim School, Yoga Lab and Barre Lab; so when you're done with your activities, just nib in here to enjoy a great cup of joe and some delicious bread and baked goods! Looking for something healthy? Its leaner and greener all-day dining options are good for you and the fam. Also, there's also a shaded outdoor playground! So, parents, you know where to bring your kids to so that you can enjoy a little R&R at this cafe.
Where: Baker & Cook, 30C Loewen Road, Singapore 248839
12. Burnt Ends Bakery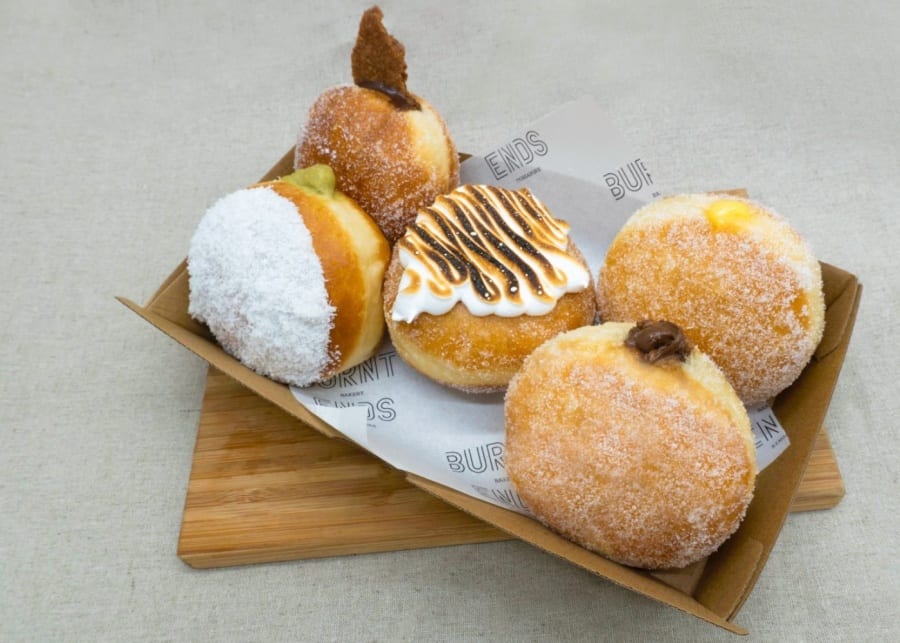 Burnt Ends, the one-Michelin-star brand, is moving to its new digs in our fave neighbourhood, and its bakery is already open for business. Yay! Get your wallets ready for its doughnuts, scones, cookies, and sourdough bread, which you can either pre-order from its website and then self-collect on-site, or make your purchase at the bakery directly. If you plan on doing the latter, be sure to drop by early… We're told the good stuff sells out pretty fast!
Where to shop in Dempsey Hill
1. RedSea Gallery
Smack bang next to The Dempsey Project you'll find leading contemporary art space RedSea Gallery. Adorning the walls and floors you'll find works by local and international artists in mediums of painting, sculpture, print, photography and video installation. With new exhibitions almost monthly, there's always something new and exciting to see (and buy) at RedSea Gallery. Psst, be sure to check out ARTitude Galería next door too, which has a fab selection of Latin American art. Last time we visited Columbian artist Samir Quintero's work was in residence (interesting fact – he worked on the new Disney fave Encanto!)
Where: RedSea Gallery, 9 Dempsey Road #01-10, Singapore 247697
2. Dover Street Market
Besides just brunch and pretty scenery, Dempsey can be edgy too – by way of Dover Street Market, of course. Founded by Comme des Garçons designer Rei Kawakubo and her husband, the multi-label concept store stocks luxury fashion brands, streetwear labels and exclusive collaborations like Gucci x DSM and Converse x DSM.
Where: Dover Street Market, 18 Dempsey Road, Singapore 249677
3. Sing Pet Club
It's not a family outing without a treat for Fido, so before you leave Dempsey, head on over to Sing Pet and spoil your fury kids. This place is HUGE, so chances are if they don't have it here, you're not going to find it in SG! Oh, and Fido is welcome to browse in-store too!
Where: Sing Pet Club, 8D Dempsey Rd, #01-01, Singapore 249672
What do you love most about Dempsey Hill? Send us a DM on Instagram and let us know!