Photography: The Fat Kid Bakery
Do or donut… just be a-glazed with our list of the best doughnut shops in Singapore!
Donut or doughnut – it doesn't matter how you spell it. These sweet treats are one of Singapore's perennial favourites, so donut underestimate the power of these fried goods! Whether you prefer a traditional hole-in-the-middle doughnut or you're more of a trendy bombolone, we went on a sweet, sweet mission to find the very best doughnuts in Singapore. Here's what we found…
Where to find the best doughnuts in Singapore
1. The Fat Kid Bakery
We love the tongue-in-cheek name of this decadent patisserie, but you know what we love even more? Their sourdough bomboloni. They're light and fluffy with a slight tang, perfect if you don't fancy something too saccharine sweet. Grab a whole box with yummy flavours like citrus, sea salt maple to share with the fam. Try their savoury options which include garlic mascarpone, egg mayo and more!
The Fat Kid Bakery, 39 Amoy Street, Singapore 069865
2. Sourbombe Artisanal Bakery
Started by MasterChef Singapore 2018's runner-up Genevieve Lee, her "sourbombe" (a mashup of sourdough and bomboloni) creations are a smorgasbord of whimsical flavours that you won't find anywhere else. We love the basque burnt cheesecake bombolone – it's the bomb! Other flavours include the classic Ispahan, Strawberry Milk and more.
Sourbombe Artisanal Bakery, 9 Penang Road, #02-03, Singapore 238459
3. Nassim Hill Bakery
If it's just one sweet treat you're after, Nassim Hill's brioche doughnut should be it. Each buttery bun contains a generous filling of chocolate or kaya, so don't be surprised if they squirt all over you with the first bite! Psst, the fillings are made in-house from scratch, so you know you're getting the good stuff. Yummers! Make sure the littlies are out of sight before sinking your teeth in…
Nassim Hill Bakery, Tanglin Post Office Building, 56 Tanglin Road, #01-03, Singapore 247964
4. Plain Vanilla
Mention this bake shop, and the first thing that comes to mind is… cupcakes. But did you know that Plain Vanilla makes tasty doughnuts too? Treat yourself to a box of three custard-filled brioche doughnuts in flavours such as cinnamon brown sugar, raspberry rose, and coconut gula melaka. These cuties are temporarily off the menu, but set to return in the next 2 months.
Plain Vanilla, locations include Tiong Bahru and Cluny Court
5. Fluff Bakery
This quaint Muslim-owned bakery has all the sweets you need, including chewy stuffed doughnuts. With imaginative flavours such as strawberry cream pie, lemon curd, and toffee nut, it's not easy to pick one. Our choice? Get the New York cheesecake… or the earl grey milk chocolate… see, even we're having a hard time deciding. Fluff co-owner (and ultra-hip mum) NurSyazanna Syaira recommends the lemon cream pie and maple French toast, which are also her faves!
Fluff Bakery, 795 North Bridge Road, #01-01, Singapore 198763
6. Common Man Stan
The CBD sibling to Common Man Coffee Roasters has a Dough of the Day for those on the lookout for exciting new doughnut flavours. Last time we checked, there's zesty chocolate orange, key lime meringue pie, and black forest in its repertoire. We can't wait to see what's next on its menu!
Common Man Stan, 11/12 Stanley Street, Singapore 068730
7. Burnt Ends Bakery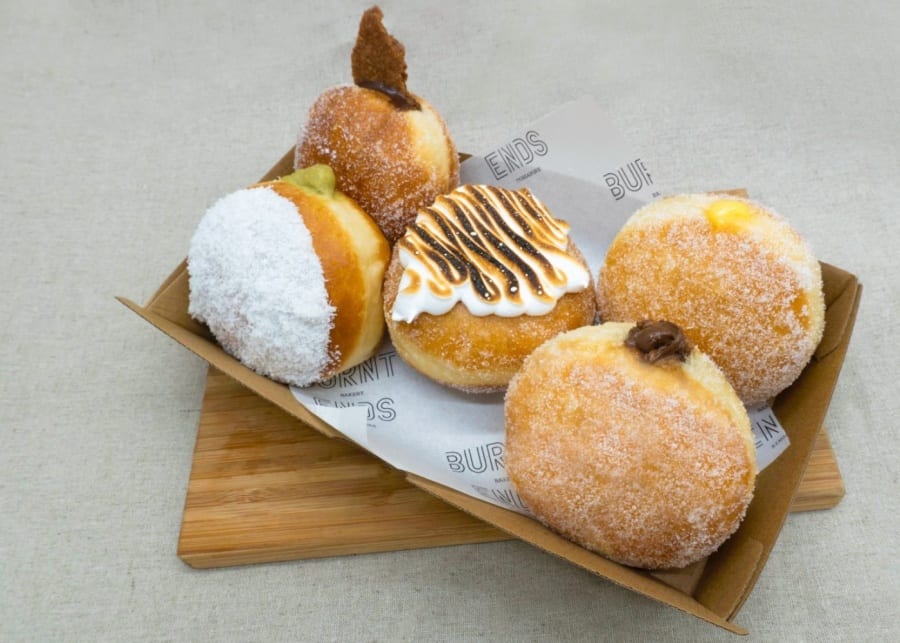 Foodies often sing praises of this Michelin-starred restaurant; its bakery is equally revered thanks to its baked goods. Get a baker's dozen of its famed Milo Dinosaur doughnut, made exclusively for the 2020 Singapore Food Festival. Or, mix and match with other flavours such as pandan and lemon meringue. The bakery is only open from Thursday to Sunday, so best be there early in the day to avoid disappointment.
Burnt Ends Bakery, 7 Dempsey Road, #01-01, Singapore 249671
8. Doughnut Shack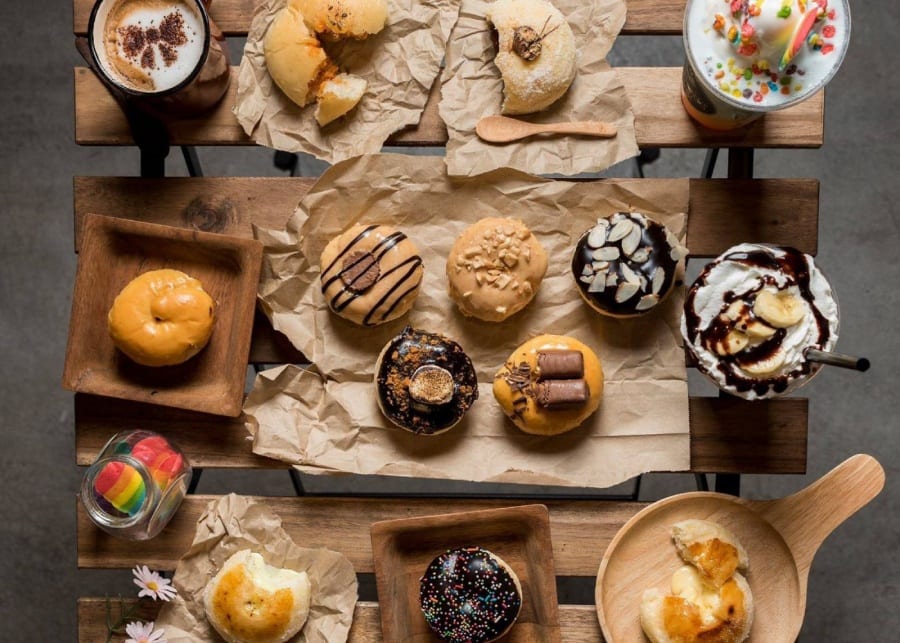 Can't decide between the old-fashioned doughnut and the pillowy bomboloni? We have a suggestion – go crazy and get both in all kinds of flavours! Doughnut Shack will leave you spoiled for choice with its offerings that include vanilla glazed, earl grey blueberry, and even chilli crab. Psst, the doughnuts tend to sell out fast here, so fastest fingers first!
Doughnut Shack, 151 Kitchener Road, Singapore 208526
9. Puffs and Peaks Bakery
Eastsiders, rejoice! Now you don't have to travel far to get your sugar fix. This cosy Tampines bakery by a mother-daughter duo specialises in oh-so-adorbs doughnuts; you can't stop at just one. Flavours rotate every week, including its mainstay cinnamon doughs. No time to make your way down? Online preorders refresh every Monday evening, though everything is available in limited quantities.
Puffs and Peaks Bakery, Tampines Central Community Complex, 866A Tampines Street 83, #03-03, Singapore 521866
10. Korio
This hole-in-the-wall cafe in the CBD is basically an entire meal in one – start off with its sammies before moving on to its New York-inspired brioche doughnuts for dessert. We love its caramelised biscuit offering. Kiddos will love the peanut butter & jelly stuffed dough. Fun fact: the crunchy cinnamon sugar do' holes are actually made of the leftover dough from its ringed doughnuts!
Korio, Far East Square, 135 Amoy Street, #01-03, Singapore 049964
11. Simple Cafe
Just like its name, this pastry shop keeps things simple and lean on its menu. The star item is, of course, its sugar-coated brioche buns. Apart from vanilla, Simple Cafe offers another flavour that changes every month and leans towards the Asian palate. You've just gotta try one to see what it's all about!
Simple Cafe, 462A Crawford Lane, #01-73, Singapore 191462
12. Brotherbird Coffeehouse
Those who've hung around Bali Lane should be familiar with this bakery. Its signature mochi donut has been raved about for as long as the cafe has been in operation! The sweet treat is served with almond crunch, soft-serve ice cream, and salted caramel sauce. Be sure to snap photos before you dig in. While you're here, grab a few croissants, especially the mentaiko prawn. You're welcome!
Brotherbird Coffeehouse, 32 Bali Lane, Singapore 189868
13. Doughter Bakery
Another mother-doughter founded bakery, this online store offers a unique take on this quintessential snack – chocolate mochi! Its chewy doughnuts are made using the finest Belgian chocolates, baked (not fried, wowzers), and generously dipped in chocolate ganache. Perfect for choco-lovin' kiddos!
Doughter Bakery, online only
14. Delish Hotel Pillow Doughnuts
We're just gonna go right ahead and say it: this doughnut shop's too delish for words! Dense and soft, and just like its namesake, the doughnuts here are pillowy and delish. One box contains a mix of flavours such as matcha, lemon cream cheese, and strawberry cream. Fans of the king of fruit, you'll want to try its durian pengat doughnuts!
Delish, online only
15. Haritts Donuts & Coffee
This low-key yet well-known Japanese brand won raves for its handmade doughnuts – we're told that the entire batch sells out a few minutes after they're out! Flavours specially created for Singapore include pistachio, speculoos, and creme brûlée. Don't forget to pair your fluffy treats with an iced coffee, as per its name.
Haritts Donuts & Coffee, Havelock II, 2 Havelock Road, #01-08, Singapore 059763
16. City Donut
We're all about loving local, and City Donut carries a selection of exciting flavours that pays homage to our tiny red dot. We're talking pulut hitam, orh nee, and pandan ondeh ondeh, just to name a few. There are churros, too – also known as the Spanish doughnut – if you're looking for a different doughy treat in Singapore.
City Donut, locations in Telok Ayer and Novena
17. Mr Holmes Bakehouse
Need to get baked? If the answer's yes, make your way down to Mr Holmes Bakehouse. This San Francisco native, which proclaims itself as "the cruffin originators", sells hand-rolled brioche doughnuts filled with curds, creams, and jams. Flavours change every few months (we spy banoffee, strawberry lemonade, and blue Hawaiian); however, you can get the plain if you prefer classics.
Mr Holmes Bakehouse, outlets in Orchard and Raffles Place
18. Red Sparrow
Here's an option for the adults – Ca Phe Banh Ran, coffee-glazed doughnuts from this Vietnamese eatery at Dempsey Hill. Made in-house and served with chocolate ice cream, these look similar to their Krispy Kreme counterparts but with a caffeine kick.
Red Sparrow, 11 Dempsey Road, #01-18, Singapore 249673
19. FLAKE
Looking for something a little different? Well, how about a hybrid pastry? Flake's take on the cronut (croissant and doughnut) is made using French butter and comes in myriad rotating flavours that include banana caramel, hazelnutella, and tiramisu. Kiddos not that adventurous? Just grab a box of its classic cinnamon sugar and enjoy…
FLAKE, online only (currently closed)
20. Bakes By NY
Sweet tooths, this Muslim-owned pastry shop should be one of your go-tos to satisfy your doughnut cravings! Its stuffed doughnuts come in full and mini sizes with various flavours such as Ovomaltine, cream cheese, and biscoff. There's also a supersized option which can feed two people – perfect for parents to share (don't tell the kids).
Bakes By NY, branches in Tampines, Yishun, and Bugis
21. Kind Kones
Is there such a thing as gluten-free, vegan doughnuts in Singapore? If it's coming from Kind Kones, yes there is. Baked with ingredients like flax seeds and almonds, this hole-some treat is sure to delight! Get some ice cream for some additional healthy snackin' at home when you're making your purchase.
Kind Kones, outlets in Forum the Shopping Mall and The Paragon
22. Madd Pizza
For a place that serves pizza, people have been raving about its bomboloni, which speaks volumes. Go for the chocolate or custard cream if you want some filling in your doughnuts; otherwise, get it in its original plain fried goodness.
Madd Pizza, 19, 20 & 21 Haji Lane, Singapore 189212
23. Kobashi
Kobashi's signature sourdough fry-ups are not to be missed! This Japanese-inspired online bakeshop serves up unique flavours such as cereal milk glaze, a decadently oozy Nutty Rocher and more. If you're in for a carb fest, check out their Black Summer Duo Cheese Focaccia, that's topped with a layer of truffle slices.
Kobashi, order online.
So what are you waiting for? Time to go glazy for this jelly and eat alllll the best doughnuts in Singapore!