Freakshakes, CrazyShakes, Over The Top, whatever you want to call them, these delish drinks are just the thing you need to sweeten up the kids...
We love a good burger as much as the next person, but you know what we love just as much as burgers? Milkshakes! Whether it's a classic creamy shake, or something way over the top and piled high with enough dessert to feed the whole fam, we just can't get enough of these milky delights. Read on for our top picks of milkshakes in Singapore and then head over with (or without) the kids to have a sip!
Best milkshakes in Singapore
Black Tap
You won't be needing a children's menu at Black Tap with these life-changing Crazy Shakes. They're definitely not easy on the wallet, but you'll be good for dessert for a week, at least (and they're def big enough to share). Whether you're in for the chocolatey Sweet N' Salty peanut butter shake or CakeShake with cake batter (pictured top) complete with a whole slab of cake piled on top, you're going to get your money's worth of milkshake as well as one helluva sugar rush. One reason why it's the best milkshakes in Singapore. Read our full review of this milkshake and burger heaven.
Where: From $22, with classic shakes at $12. Black Tap, 10 Bayfront Ave, Marina Bay Sands Shoppes, 180 Bay Level, Singapore 018956, t. 6688 9957
burger bar new york
Simple and to the point, you won't find snacks or whipped cream heaped on top of these beauts but just like its world-famous burgers, burger bar new york's milkshakes are all taste. These creamy and delicious milkshakes don't just pander to our sweet tooth, they're a beautiful pairing to wash down those must-have burgers. The best mid-day pickup.
Where: burger bar new york, 115 Amoy St, #01-03, Singapore 069935 
The Benjamins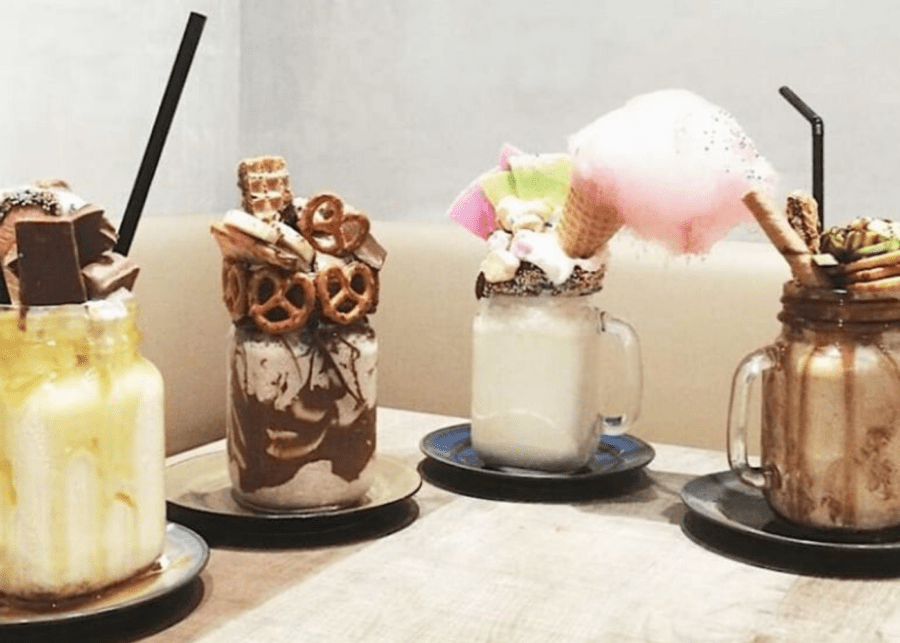 If you're a fan of all things 'over-the-top' then these mason jar milkshakes are sure to hit the spot at The Benjamins. Overflowing with delish goodies like you'll find these milkshakes in all flavours, even with boba! Whatever you pick, it's sure to go great with your banana pancakes, wagyu burger or on its own as an indulgent treat for the kiddos (once they figure out how to eat it). Plump for themed milkshakes like Unicorn, Mermaid or Smurfs with extra lux decorations and flavours.
Where: From $16, The Benjamins, #01-20/21 Forum The Shopping Mall, 583 Orchard Rd, Singapore 238884
Summerlong
Take a break from scooting and chill out by the riverside with one of Summerlong's super shakes. Opt for the Peanut Butter Jelly Time or minty fresh Mint Condition for your dose of all-in-one dessert in a cup.
Where: From $16, Summerlong, 60 Robertson Quay #01-04, Singapore 238252 
Five Guys
American fast-food joint Five Guys are in town, and they've brought their milkshakes, too. These handspun milkshakes allow you to pick whatever flavours you want. Pick mix-ins like bacon and malted milk, or the usual favourites like chocolate, peanut butter and oreo cookie pieces.
Where: $10, Five Guys, Plaza Singapura, #01-32/33/34C/35, Singapore 238839
Citrus By The Pool
This Halal-certified café restaurant Citrus by the Pool is situated right next to Woodlands Swimming Complex and smack dab between Woodlands and Marsiling MRT Station. Pop by after a swim to recharge with ice cream blended milkshakes made with low-fat milk piled high with iced-gem biscuits and popcorn to sip on (or just eat) at the alfresco area.
Where: From $8.90, Woodlands Swimming Complex, Woodlands Street 13; 
OverEasy
No American-style diner experience would be complete without some delicious creamy milkshakes to go along with it! OverEasy serves them up by the jar. Go for one of the classics like Strawberry or Oreo or try the M&Ms milkshake to be paired with your chicken and waffles, corn dogs and sliders. Simple, easy and one of the best milkshakes in Singapore.
Where: From $12, 1 Fullerton Rd, #01-06, Singapore 049213
Jen's Kitchen-On-the-Go
Hankering for something sweeter than a milkshake but simpler than a freakshake? Jen's Kitchen On-the-Go has the happy medium for you and it comes in four different flavours. The bestselling Death by Brownie is a surefire winner for chocolate-lovers young and old. Another favourite? The PinkyFreakShake with strawberry ice cream, strawberry wafer and iced gem biscuits. Yum.
Where: $11, 1A Cuscaden Road, Lobby Level, Hotel Jen Tanglin, Singapore 249716
Clinton Street Baking Co. & Restaurant
Apart from its deliciously fluffy pancakes, Clinton Street Baking Co has some of the best milkshakes in Singapore, in all the classic flavours like vanilla and chocolate with Chantilly cream. Mmm.
Where: From $10, Clinton Street Baking Company & Co., 31 Purvis Street, Singapore 188608