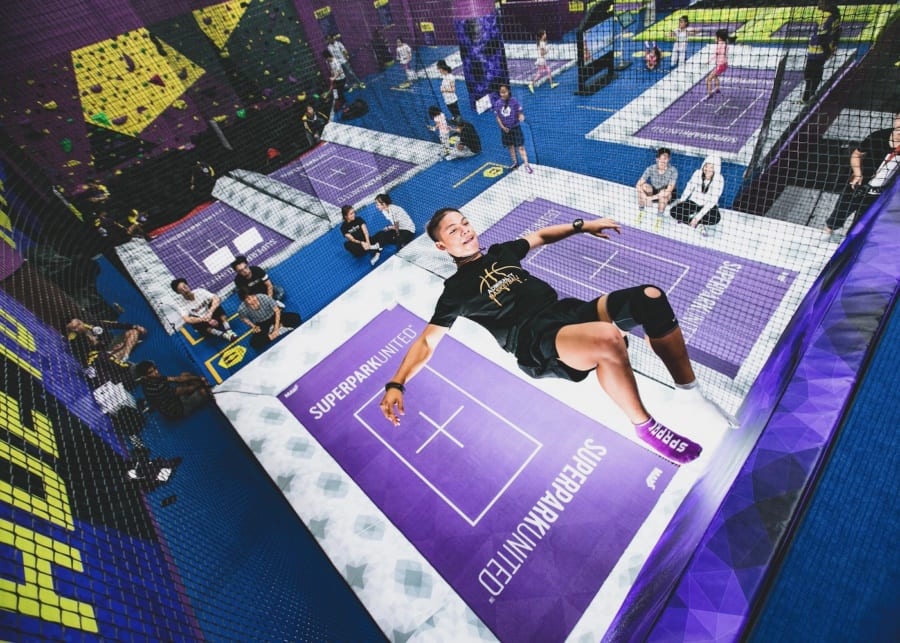 Photography: SuperPark Singapore
Need an indoor activity that's high-energy too? Start jumping for joy, parents, our top trampoline parks in Singapore list was made just for you!
As parents, we know that there are a few boxes that need to be checked before a place can qualify as one of the best indoor playgrounds in Singapore. First up, it must tire out the most energetic of kids. There better be some coffee and it should be a place you can keep cool in the heat, too. Bonus points if it can triple up as a great rainy day activity. Speaking of which, have you checked our list of 100 indoor activities in Singapore for kids?
But what if you could also hop in on the action? At one of the many awesome trampoline parks around Singapore, you can bounce along with your kids, have fun and break a serious sweat (bye bye, boot camp!). We've personally leapt on trampoline parks islandwide (or at least our junior reporters have) and can give you the real deal on where, when and how to get your family jumping for joy.
Psst: Before you go, do check for the latest rules and regulations regarding Covid-19 – some trampoline parks in Singapore require bouncers to wear masks and bring a government-issued ID! 
The best trampoline parks for kids in Singapore
1. SuperPark
This one's not exclusively a trampoline park; instead the all-in-one SuperPark has over 20 activities for the whole fam. We're not kidding. This indoor play centre has absolutely everything from sports to adventure activities divided into three different zones: an Adventure Area, Game Arena and Freestyle Hall. Bounce as high as you can on the trampoline platform, dive into foam pits, climb augmented rock walls or engage in something a little different in the interactive Valo Jump where you jump to play a game. Had enough of trampolines? Take a break at the kid-friendly gym, skate and scoot areas, pedal car tracks, flying fox, obstacle courses, or try your hand at some traditional sports like baseball, street basketball and even bowling.
SuperPark Singapore, Suntec City Mall, 3 Temasek Boulevard, #02-477 (North Wing), Singapore 038983
2. BOUNCE Singapore
If the kids are getting restless on a shopping trip in Orchard Road, pop by level nine of Cathay Cineleisure and into BOUNCE Singapore. Straight from Melbourne, Australia in 2012, BOUNCE has over 100 interconnecting trampolines and a variety of trampolines zones, including the X-Park challenge course, a five-metre "Leap of Faith" and wall run. This is the place for kids aged three and up to bounce off the walls all they want.
BOUNCE Singapore, Cathay Cineleisure, 8 Grange Road, #09-01, Singapore 239695
3. Katapult Trampoline Park
Nestled in the picturesque and lush family-centric leisure park Orto, Katapult is well-ventilated with massive fans blowing cool air on sweaty little bodies. It's recommended that young ones under four years have hands-on supervision at all times, but if you have older jumpers, you can make the most of the glassed-in viewing platform on the second level. Special mention goes to the popular three-metre free-fall from level two all the way down to the oversized airbag below (only for jumpers aged 18 and up, sorry kids!). Katapult is also the only trampoline park in Singapore with an Olympic trampoline for wall runs – yes, you can rebound and run vertically up the wall! Need more convincing? Slacklining and dodgeball games are also on offer.
We love that the folks at Katapult are in partnership with social enterprise, Ground-up Initiative, which encourages us all to become a 5G society (Gracious, Green, Giving, Grounded and Grateful). Proceeds from locker rentals are donated to this worthy cause. Psst: Before you duck off, why not stay for a spot of longkang fishing in the purpose-built pond right out front?
Katapult, ORTO, 81 Lorong Chencharu, #01-11, Singapore 769198

4. AMPED Trampoline Park
As super busy parents, it makes a massive difference to our lives if we don't have to schlep for miles to get to the nearest indoor play space. Amped wins hands down as it is conveniently located to service the central and west-side families. It was also the first on the trampoline park scene. Jumpers of all ages are welcome, although kids aged three and under must have one parent accompanying them. Amped even has special slots set aside for 12 and under. There's plenty of space for kids to go wild with 35 interconnected trampolines. Kids will have a blast catapulting themselves into giant foam pits, forging through the ninja warrior course and slam dunking Michael Jordan-style into the basketball nets!
AMPED Trampoline Park, The Herencia, 46 Kim Yam Road, #02-11, Singapore 239351
5. JUMPRROCKS
Folks living in the east of Singapore, rejoice: another trampoline park has opened! Unleash all the hype and fun in your tiny human's body by taking them to Jumprrocks at Katong. Get ready to bounce away on mega structures, dive into a ball pit, and escape velocity with trampolines at its Jump Zone. Planning a group outing to this park with friends? Compete against one another through a series of creative challenges or just have fun with physical games at the Battle Groundz. Time to jump high and rock on, everyone!
JUMPRROCKS, Kinex, 11 Tanjong Katong Road, #B1-05, Singapore 437157
6. Spring Rolls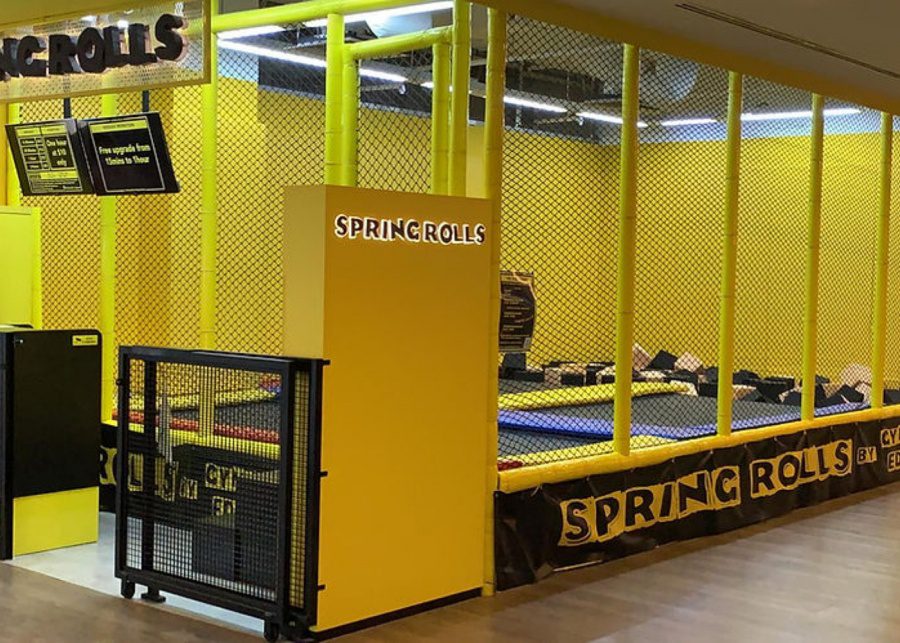 Get the kids pumped up at this pop-up play area! Spring Rolls is awesome for the number of locations across Singapore and its proximity to the shops. Featuring a trampoline and obstacle play, the little ones will enjoy an unlimited fun time while parents take a breather and sip on their coffee or go around the shops some more. Or, they might just be coerced to join the fun too!
Spring Rolls, various locations
Essential tips for first-time jumpers:
Trampoline parks all have a series of interconnected trampolines, so your little guys can bounce from one side of the place to the other. Kids get good speed and height, so collisions are par for the course, especially if more than one bouncer hits a trampoline at once. Luckily, all trampoline parks allow adult supervision to avoid accidents before they happen!
No grip socks, no bouncing. You can buy a pair of socks on-site for around $2-$3.
It's best to book in advance to avoid epic disappointment on arrival. These joints book out fast.
Sign the compulsory waiver online to maximise jumping time and avoid a bottleneck.
All locations are bounce-riffic party venues, guaranteed to put a smile on any birthday boy or girl.
According to NASA, an hour of jumping is the equivalent of a sweat-inducing three-hour run, so ample water is essential – and maybe a change of clothes.
What do all trampoline parks have in common? The feel-good tunes cranking from the sound system! Let the good times roll…
Don't forget to bring an extra face mask!