Best soft play in Singapore? We found it!
Padded, cosy and teeming with charming toys, these soft and indoor play areas in Singapore are the perfect way to keep baby busy.
Babies are adorable and snuggly for sure, but let's face it, they can be a bit boring to hang out with. And since they're not very mobile, finding things for babies to do in Singapore can be a challenge. Heading to parks and shopping malls with your stroller at the ready is an option, but they're not the best place for bubba to stretch their legs and get some tummy time. Our tiny humans need a special place that will help support and encourage them developmentally. Luckily, we know just the thing: indoor playgrounds for babies! Packed with toys, soft landings and stimulation for kids of all ages, these are the soft play areas in Singapore we especially love. Just don't forget to read our survival guide for mums while you're at it!
Soft play indoor playgrounds for babies in Singapore
1. The Artground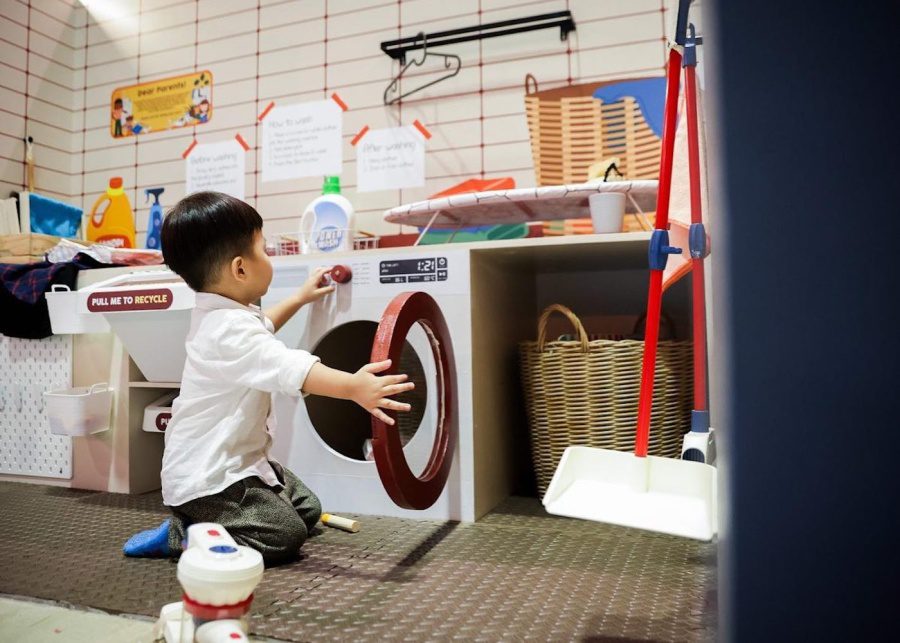 Developed in conjunction with the National Arts Council, The ArtGround is the place to be for immersive arts and cultural experiences for kids. Kitted out with regular art installations by professional artists, kids get to discover the fun in art. But they're not the only ones. There's a soft play Baby Stage space made up of a low-rise curving ramp for little crawlers. Entrance to this place is free by the way! There's also a baby care room with a nursing chair, changing table and a parking point for strollers. Keep an eye out for baby classes!
Where: The ArtGround, 90 Goodman Road, #01-40 Goodman Arts Centre (Note: temporarily closed for revamp)
2. Amazonia
Amazonia has a super-duper arctic-themed space, complete with an eight-metre-high wave slide (supposedly the largest in Singapore!) if bub is brave enough to tackle it in the safety of your lap! While older kids will love shooting hoops in the trampoline area that's decked out with basketball rings and the video interactive wall, teenier tots are also catered to. The special toddler play area for kids aged up to three years is fully padded and boasts interactive play panels, a ball pit and a mini slide, as well as aeroplane-esque baby swings. Good luck reining bub's excitement in while you take off your sandals and don the socks – the toddler area is right by the shoe racks!
Where: Amazonia, 1 Kim Seng Promenade, #03-113 Great World, Singapore 237994
3. Rocking Horse Playhouse
Tucked away in Horse City, Bukit Timah is Rocking Horse Playhouse – a well-lit sanctuary for babies and parents alike! It's the perfect place for bub and mum to take that well-deserved break or book a playdate at. There's lots of (safe) space for baby to crawl and explore while mum and dad chat up some new friends. For the toddlers, they can while the day away playing with high quality toys. Our fave spot? The pantry for some coffee, of course!
Where: Rocking Horse Playhouse, 100 Turf Club Road, #01-02M Horse City, Singapore 287992
4. Buds by Shangri-La
If you've checked out our full review of Buds by Shangri-la, you'll know we're obsessed with this mother-of-all indoor playgrounds at the Shangri-La. Buds has got something for every age, including a toddler zone for kids aged four years and below. Equipped with a ball pit, piano floor, interactive wall buttons and all sorts of playground equipment (including harnesses for bouncing babies) Buds is our new best buddy when it comes to soft play paradise for tiny humans.
Where: Buds by Shangri-La, 22 Orange Grove Road, Singapore 258350
5. Little Bear's House
If you've got curious little bubs at home, then add Little Bear's House indoor playground to your list, quicksmart. Aimed at kiddos from one through to seven, this clean, comfortable and engaging space is packed with awesome, high-quality toys that encourage kids to be kids. We love the padded floor to protect against all those baby bumps, and how the place is so light, bright and relaxing for the whole fam to enjoy. As for the toys, they're switched up every four weeks to keep things fun and fresh.
Where: Little Bear's House, 21 Lichfield Road, Serangoon Garden Way, Singapore 556841
6. Pororo Park
Any Pororo fans in the house? Then a trip down to Pororo Park is a must! Little ones will go gaga over the dedicated soft play area at Crong's Backyard, which is teeming with toddler-sized playground equipment such as swings, slides and plenty of toys. They can also explore the character-themed pretend play areas over at Petty's Supermarket and Pororo's House. The Shark Ball pit and Pororo Express train ride will definitely be a hit with the kids, young and old too. The best part? Entry is free for babies under one year!
Where: Pororo Park, 6 Raffles Boulevard, Marina Square #02-29, Singapore 039594
7. Kidz Amaze at SAFRA Toa Payoh
Spanning a whopping 12,700 square feet, Kidz Amaze has a massive jungle gym for bigger kids, but that doesn't mean the toddlers and babies are left out. The soft play area for infants and toddlers has been specially designed by early childhood experts to develop infant's gross motor skills, so you know it's going to be all gravy. It's tummy time a-go-go!
Where: Kidz Amaze, SAFRA Toa Payoh, 293 Lor 6 Toa Payoh, Singapore 319387
8. T-Play HometeamNS Bukit Batok
If you've got an advanced crawler on your hands, they'll love HometeamNS Bukit Batok's T-Play indoor playground, which is vehicle-themed with 'roads', planes and an aeroplane-inspired playground! There's also a ball pit here which little ones will appreciate. It's almost entirely baby- and toddler-friendly, so parents can do with just sticking nearby and keeping an eye on the littles while they explore the space!
Where: T-Play at HometeamNS Bukit Batok, 2 Bukit Batok West Ave 7, Singapore 659003
9. Joy of Toys
Tucked away on the third floor of Clarke Quay Central, Joy of Toys certainly lives up to its name to bring the joy of open-ended play to toddlers and babies. You won't find any huge slides or bouncy castles in this indoor playroom, but there's a huge range of playthings from wooden developmental toys to family games. Fitted instead with plenty of comfy couches to put your feet up while the kiddos potter around, the space resembles a huge living room where you can escape the fast-pace city life and just let the kids discover the Joy of Toys.
Where: Joy of Toys, 6 Eu Tong Sen Street, #03-51 Clarke Quay Central (Yellow Zone), Singapore 059817
10. Pirate Land
Pirate Land is an indoor playground and kiddy entertainment centre with its very own Pirate-themed soft play area. The bubbas will be amazed at the slew of elements and themed soft play areas here: Toy Bricks Street, Kitchen Square and bouncing house to name a few. There's also an infant and toddler play zone designed specifically to cater to infant's motor skills. We love!
Where: Pirate Land,  #04-08/09/10, The Centrepoint, 176 Orchard Rd, Singapore 238843
11. Blue House Infant Atelier
We just can't get enough of Blue House. Not only for its stellar Preschool and Nursery program but also for its playgroup and drop-in sessions for kids aged from six months to three years old. It holds weekly classes for kids at different ages and stages, plus it has an onsite pantry. Blue House also organises various playgroup programs that explore different themes, what's not to love?!
Where: Blue House Infant Atelier, 2 Turf Club Rd, Singapore 287988
12. The Polliwogs
The Polliwogs and its lovely cafe has a brightly-coloured and well lit, ocean-themed soft play area. The features our tots love most include the bouncy castle, climbing structures and large slides. The bubbas are gonna want to come back often, so we say nab a package deal to save a pretty penny. It's also a great place for birthday parties to celebrate your littlie and their friends. The cafe here serves a yummy range of snacks to feed the kiddos (or yourself) when they get cranky!
Where: The Polliwogs, #03-12 VivoCity, 1 Harbourfront Walk, Singapore 098585
13. Waka Waka
While older kids go crazy over the massive safari-themed playground at Waka Waka, tots will have plenty to keep themselves busy as well. At the toddler zone, little ones can have their pick of any toy they want. They can explore interactive wall panels and master their motor skills on a mini slide, padded seesaws and a soft bouncing pad, before stacking lightweight blocks. If that's not enough, there's also a toddlers-only bouncy castle that's sure to be a hit!
Where: Waka Waka by The Pollywogs, 407 Havelock Rd, #05-01, Singapore 169634
Love this list of soft play areas for babies in Singapore? Check out these indoor playground too!