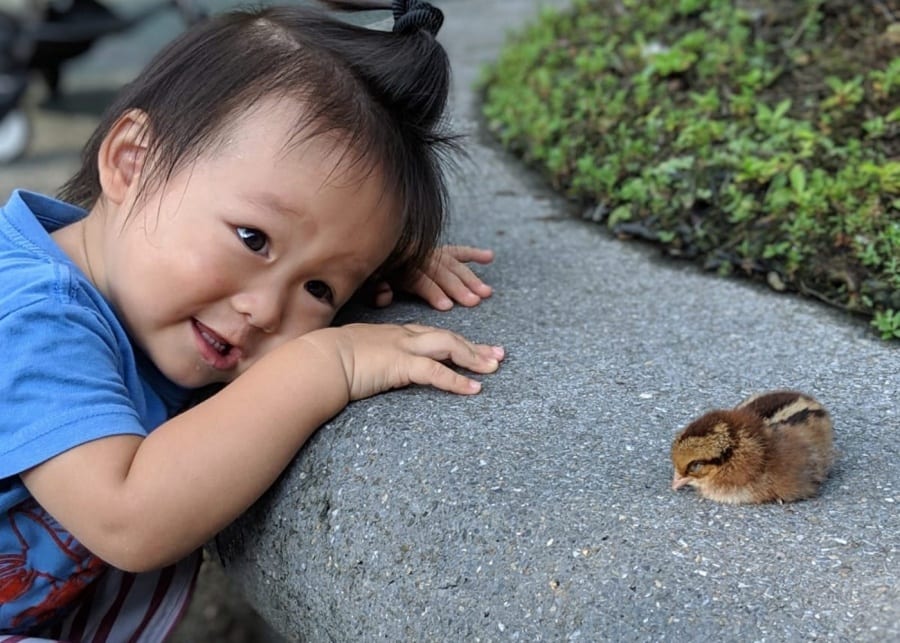 We just made roaming around town with bub SO much easier – here are all the fun things to do with babies and toddlers in Singapore!
It's no secret that we LOVE living in Singapore. It's one of the best places in the world to raise little ones thanks to the amazing transportation system, year-round sunshine, stroller-friendly parks and shopping malls, not to mention all the fun, free things you can do! But when you've got a baby or a toddler in tow, the logistics get kind of tricky – especially if you're commuting. You'll need to consider whether there are lifts for your strollers, nursing or changing rooms within walking distance for bub, or if a place has lockers for you to store your car seats. And of course, always have mosquito repellent and sunblock at the ready. Sounds like a lot of work, we know.
But don't worry, we've done all the legwork for you with our pick of the best spots in Singapore for toddler and baby fun! So all you need to do is pack that nappy bag, load up the stroller and dress your littlies in their cutest outfit (with a change of clothes obvs). Now let's get a move on! There's a kopi and plate of kaya toast with your name on it!
12 fun things to do with toddlers and babies in Singapore
1. Play the day away at an indoor playground
Need to get some tummy time in for the little one, or want to exhaust your toddler? Head over to the indoor playground nearest you. These places are usually filled with age-appropriate toys, soft landings and stimulation for kids of all ages. Although most indoor playgrounds have dedicated spaces for pre-walkers, some spaces, like Pororo Park, Petite Park, and Joy of Toys are more baby-friendly as a whole, as well as being great fun for toddlers. They're also connected to malls, which means easy nursing and changing room access and lifts for strollers.
2. Explore FutureWorld at the ArtScience Museum
Since bub is much too young to give his or her opinion on the impact of World War II on Asian impressionist art (although your toddler might try!), you're better off schlepping them over to FutureWorld at the ArtScience Museum, a permanent exhibit by the uber fun and techy TeamLab. It's got oodles of cool interactive and immersive artworks that'll get your tiny human clapping with delight. This museum is worth coming back to over and over again, especially since the installations keep changing. Oh, and it's right next to Marina Bay Sands, so MRTs or hopping in a cab isn't a problem. It was updated in early 2023, so a good time to revisit if you haven't been for a while!
FutureWorld @ ArtScience Museum, 6 Bayfront Avenue, Singapore 018974
3. Attend a baby or toddler class
They might be little, but it doesn't mean your baby or toddler has to miss a fun class. Lucky for you, there are heaps of baby and toddler classes you can try out, ranging from music and yoga to swimming, baby gym and everything in between. Our hot tip? Classes are a great way to get a breather from #mumlife. If you're feeling a bit overwhelmed, hand over the class-bringing duties to Daddy, who'd probably be more than willing to spend some extra QT with baby.
4. Discover the fun in art
Head on down to The Artground, where the little ones can immersive themselves in art and culture. There are many great features here, such as interactive visual art spaces and art exhibits. For those that are still crawling, place them at the Baby Stage, a soft play area made up of a low-rise curving ramp. Prefer one-on-one bonding time with your bundle? Take part in the many activities available there, like arts and crafts workshops. Time to get messy!
The Artground, Goodman Arts Centre, 90 Goodman Road, Block J #01-40, Singapore 439053
5. Spend the afternoon at a playground
For some reason, bucket swings – and regular swings, for that matter – are quite hard to come by in Singapore. Babies like to be pushed on swings too, people! Jubilee Park at Fort Canning, West Coast Park, Esplanade Park, East Coast Park, Adventure Playground at Bishan-Ang Mo Kio Park and Bishan Park Playground all have bucket swings so that bub can enjoy the great outdoors too! They are also perfect spots for toddlers to burn off that endless energy. Need more park inspo? Check out our favourite parks and playgrounds to have on your list in Singapore.
6. Sunny days are picnic days
When it comes to awesome parks to enjoy a picnic, the Little Red Dot has got them in spades. Our fave? The Botanic Gardens! Although the sun can get quite hot, picnics are actually one of our fave things to do with toddlers and little ones, especially early in the mornings when the weather's nice and cool. Grab a picnic blanket, bub's fave snacks and a nice shaded spot and you've got your morning tummy time sorted. BONUS: the Botanic Gardens has both swans and ducks, and even the occasional squirrel!
Singapore Botanic Gardens, 1 Cluny Road, Singapore 259569
7. Beat the heat with a bit of water play
A sweaty toddler is never a happy toddler and, in Singapore, you can never get away from the omnipresent Mister Sun. Our super-fun solution? Skip the AC and head to one of the city's awesome water play spots to cool off and have splashy fun! The toddler area at Gardens by the Bay and Clusia Cove at Jurong Lake Gardens are our top picks for things to do with toddlers and babies – your tots can toddle around without getting knocked down by the older kiddos.
Gardens by the Bay, 18 Marina Gardens Drive, Singapore 018953
Clusia Cove, Jurong Lake Gardens, 104 Yuan Ching Rd, Singapore 618661
8. Enjoy nature at Gardens by the Bay
After your littlie has had their fill of water play fun, head over to the Cloud Forest Dome at Gardens by the Bay for an awesome stroll that's sure to lull them right to sleep – yas! As soon as you enter, bub will enjoy seeing the world's tallest indoor waterfall, blasting full force. Once they're done napping, head next door to the Flower Dome for more flowers and a cuppa at Pollen.
9. See Nemo and friends at the S.E.A. Aquarium
There's no doubt about it: Babies and toddlers will love peering into the glass and saying hello to all their fishy friends at S.E.A. Aquarium at Sentosa. The best part? They'll have 100,000 aquatic animals to choose from too! We also love the fact that the aquarium is fully air-conditioned, which means you can take your time gazing at the glowing jellyfish or even take baby out of the pram and let them crawl around the auditorium of the Open Ocean Gallery as they look up at happy manta rays and sharp-toothed sharks.
S.E.A. Aquarium, Resorts World Sentosa, 8 Sentosa Gateway, Singapore 098269
10. Grab a book or two at the National Library
It's never too early to cultivate a love for books, we say! Whether your wee one has big love for lift-the-flap books or page-turners with tons of texture, My Tree House at the National Library has it. Plus, it's got lots of (crawling) space for tots and even interactive installations. It's a favourite day out for our tykes too!
National Library Singapore, 100 Victoria Street #B1-01, Singapore 188064
11. Explore Mandai Wildlife Reserve – Singapore Zoo, River Safari and Bird Paradise
Watch your wee one's Dear Zoo dreams come to life as you whisk them away for a morning full of animal fun. Don't forget to pack your mosquito repellent and sunblock – you're going to be doing LOTS of walking! Although this is high on our list for things to do with toddlers, feel free to skip the zoo if bub is younger than eight months old. It's a whole lot of work for them (and you) and all parties might end up feeling miserable. Not feeling a 28-hectare walk carrying bub?
Hop on a tram or rent a stroller or wagon. If you feel like checking out Bird Paradise or the River Safari, here's the good news: lots of it is sheltered and makes a perfect pram-friendly walk! At River Safari, bub will love the funny antics of the pandas at the Giant Panda Forest and the super-cute dugongs at the Amazon Flooded Forest.
Mandai Wildlife Reserve, 80 Mandai Lake Road, Singapore 729826
12. Take them down the supermarket aisles
Us parents love the supermarkets here in Singapore since you can get practically anything here… Except maybe an SUV. So the next time you're running your errands, why not bring the bubs along? It'll be a good time to introduce them to various meats, fruits, and veggies. Watch out for those grabby hands though, else you'll end up with more things in your cart than what you've set out to purchase!
Enjoy your day out with the bubs, parents!