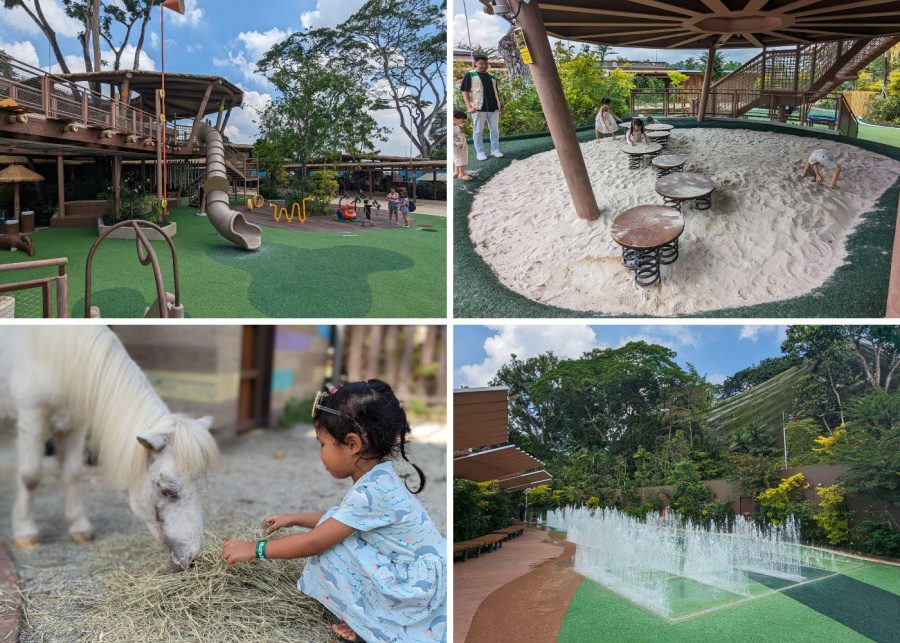 Planning a trip to Singapore Zoo with the kids? Check out our guide to all the things to see and do at this family-friendly attraction, including the brand new KidzWorld attraction with a petting zoo, water play and treehouse playground!
Sure, Singapore is best known for its green spaces, the Marina Bay Sands skyline and all the fab shopping malls. But despite this, Singapore Zoo and its many activities consistently ranks as one of Singapore's must-see attractions for good reason. Even kids and adults who might usually prefer an air-conditioned indoor playground love this iconic attraction! From breakfast with the animals to the Night Safari, there's quite literally something to do every single second of the day here. As long as you have the stamina…
Whether you're a visitor to the island or a resident looking for an escape from city life, we've compiled a complete guide to exploring Singapore Zoo with kids. Filled with all the best things to do and see, it's guaranteed to help you and your rangers-in-training make the most of your time trekking through the wilderness. Pack the sunblock, hat, face mask and insect repellant (a must-have because mozzies are everywhere!) and prepare a wet weather plan too. Top tip: check out our guide to wellies and rain coats for a zoo adventure complete with puddle jumping!
A COMPLETE GUIDE TO SINGAPORE ZOO WITH KIDS
How to get around

With 28 hectares to cover, you're going to need to be strategic in your approach. Download the handy-dandy Mandai app so you can have the map on hand at all times, and pick which parts of the zoo you really want to see. Do yourself a favour and jump on the guided tram ride for an early overview of what's in store. And if you still find yourself with tired little legs to carry? Strollers and wagons are available for hire. Also, if you have your car seat with you, you can leave it with the friendly folks at the Stroller, Wheelchair, Electric Scooter and Wagon Rental centre, right by the entrance.
The deets: Guided tram ride (unlimited rides): free! Strollers $15, wagons $18.
THINGS TO DO WITH KIDS AT SINGAPORE ZOO
1. Newly opened: Brand new KidzWorld at Singapore Zoo
As addictive as the animals are, there definitely comes a time in the day when a stop at the wet play area is a good – and cooling – idea. Pack swimmers and make the most of the zoo's kid-friendly play area, KidzWorld, which we've waited for ages to reopen and has just debuted its new digs!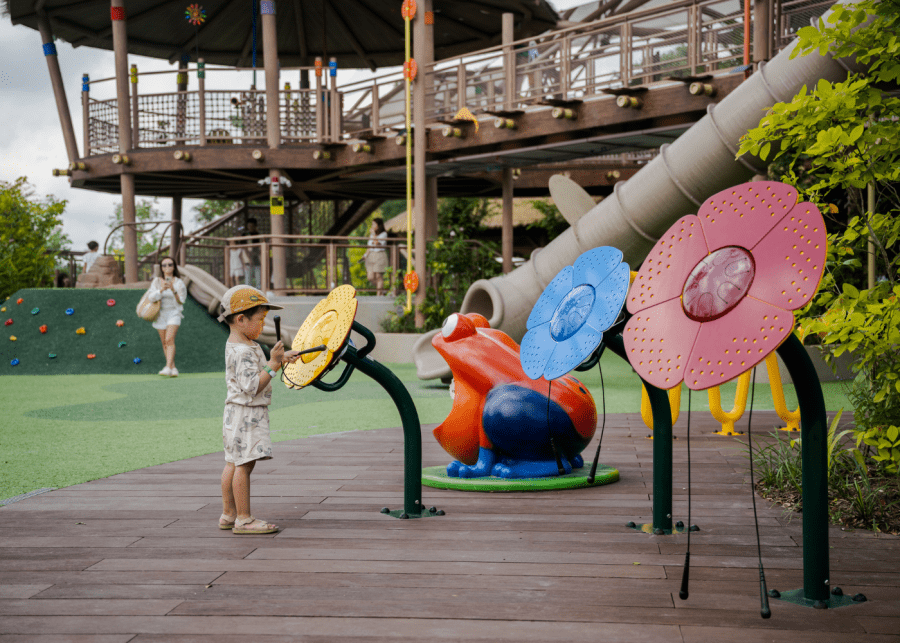 Here you'll find both wet and dry play areas – look forward to double-storey treehouse playgrounds and an awesome water maze wet playground!
KidzWorld also has opportunities for animal encounters, from a petting zoo (Rabbit Patch, Kitty Corner and Canine Clubhouse) to the Animal Land and Animal Buddies areas!
2. Get to know the zookeepers
If you happen to be chaperoning aspiring zookeepers, give them a taste of the real thing with Keepers' chit chat where keepers will share the inside scoop, including interesting quirks of our fave animals. Check out the website for the timings, and schedule a listen – you can meet everyone from the elephant keepers to our favourite white tigers!
3. Feed the animals!
Catch the animals at their most animated during their feeding times. It takes some planning, but it's well worth it when you're feeding the elephant, giraffe, giant tortoise, white rhino and last but not least, goat!  Here you have the chance to get in on the feeding action yourselves and find out about the animals from the zookeepers. You'll need to book your session online and arrive 15 minutes before feeding time.

4. Catch a show
If all the exhibits start to make you miss your own furry friends at home, find a seat at the amphitheatre for an animal show. The cast of domestic animals are trained to entertain, and will even stick around for autographs, or at least photographs, afterwards. Be wowed by the agility and dexterity of the rainforest creatures at Rainforest Fights Back and get that reptile-loving kid a slithery surprise photo op! Or if you love a little (or a lot of) wet fun, the quirky antics of the California sea lion at Splash Safari Show are sure to delight.
5. Go on a tour
If you're not keen on walking around Singapore Zoo with kids, hop aboard a tour buggy as part of one of the Wildlife Experiences. You'll be chauffeured around the animal exhibits in style, where you'll get the lowdown on how to care for them and also how to feed the rhinos and giant tortoises. Or, how about treating your kid to the ultimate in behind-the-scenes zoo adventure and letting them become a zookeeper for a day? Here's the chance to experience an exclusive hands-on programme with the keepers, and learn how to look after your fave animals. There's a 6-12 and an over 13's addition for the older kids (aka mums and dads).
6. Join a camp
If after all that you and your little chimps are still after more, keep your eye on the online registration calendar for half-day and even overnight camps offered at the zoo. Kids will get to be junior zookeepers or avian keepers, and can even spend a night sleeping among the animals. You might want to keep this on the down-low though, unless you can handle six months of, "Can we go yet?"
7. Stay up late for the Night Safari
If you're still going strong come nightfall, the Night Safari is THE park for nocturnal adventuring, from Thursdays to Sundays, 6.30pm till 12am. By this stage, you'll definitely want (need!) to put your feet up, so jump on the free Guided Tram Ride. You'll journey through the seven geographical regions that make up the park, and see the inhabitants of each. Opt for the special private buggy Safari Adventure Tour and get to meet and feed the elephants (currently unavailable).
Even if you're not joining a tour, definitely make time to see the Creatures of the Night Show where nocturnal critters like otters and hyenas spring into action. Entry is free, so make sure to book online in advance!

8. Dine with a difference at 'An Evening in the Wild' or book a staycay!
If you want something for the bucket list – this is it! Embark on a dining experience like no other in a secret lakeside location overlooking Upper Seletar Resevior where you'll get up close with wildlife, and be treated to a four-course extravaganza. As you might have guessed, these sell out quicker than hot cakes – so keep your eyes peeled. Psst, you can also try glamping at the zoo, too! Keep on the lookout for the next release of dates!
More tips for Singapore Zoo…
1. Get a zoo membership if you're likely to be regulars
Ask any of the HoneyKids mums and they'll tell you that a Zoo membership is worth it. Better yet, get the Friends of Wildlife membership card, which will give you access to all four awesome wildlife parks (River Wonders, Jurong Bird Park, Singapore Zoo and Night Safari). Members get to enjoy awesome discounts on food, merch, rides and rental items and more. If you plan to visit the zoo more than once a year (because trust us, you will), you'll definitely make use of all the perks!
2. And get the WildPass (it's free!)
This one is really a no-brainer – sign up for this free WildPass and get offers such as up to 30% off admission tickets, 10% off at selected F&B outlets, and more!
3. Look our for more promos
Yep, keep your eyes peeled – there's often a deal or two which offers discounts to local residents, as well as bank-specific promos. It's always worth a look before you book, or check out our sweet deals page for the latest zoo offers and best family deals in SG!
Love this guide to Singapore Zoo? Check out our guide to Bird Paradise, too!