We love nothing more than a mini-break from Singapore. Here's where we fancy hanging out on a beach with the kiddos...
Always dreaming of an easy family holiday? It could be argued that life is a holiday here in Singapore, thanks to our endless sunshine, great attractions for families and kid-friendly restaurants – but it's great to venture from the Little Red Dot, even if it is just to exchange one island for another. Long-haul journeys with the brood can be a bit of a challenge (so don't miss our survival tips for plane trips with kids) and clashing school breaks don't help, but there's no need to go far for a smashing holiday. Singapore is surrounded by isles and pulaus just perfect for a long weekend vacay. So pack your swimsuit and sarong and take your pick from some of our all-time favourite short getaway from Singapore picks for families: no stopover required…
Joyo
Under 3 hours by ferry
This is our hands-down favourite for a family holiday everyone will love. The best way to enjoy it is to get a group of mates together and book it for a public holiday. Why is it so good? Find out in our review for our own family vacay to Pulau Joyo.
Telunas
3 hours by ferry

Located about three hours from Singapore in Indonesia's Riau Islands, Telunas Private Island combines the sun, sand and sea with resort comforts and no airport time: perfect for an easy family holiday. We liked it so much, we went back for a second time! Fun for little ones doesn't include pushing a start button on a TV – they'll get to build sandcastles, go fishing, try stand-up paddling and take out a kayak. Parents can indulge in a variety of spa and massage treatments. The sister property, Telunas Beach Resort on Sugi Island, is a more economical option and designed with large groups in mind.
Bintan
About an hour by ferry

Apart from Sentosa, this is our closest island neighbour and it's the go-to if you want to get away fast, play golf or just spend days with the kids playing on beautiful beaches with powder-soft sand. If, like us, you want an effortless escape where all of the family will be taken care of wonderfully, this is the place to be for a weekend of family bliss.
Loola Adventure Resort
About 3 hours by ferry including land transfer

Holiday with a conscience at LooLa Adventure Resort, an award-winning eco resort. Staffed entirely by locals and situated on the South Eastern part of Bintan Island, you'll experience authentic Indonesian food and hospitality. You won't just be lazing on the balcony (though there's plenty of time for that) – there's plenty of outdoor activities ranging from dragon-kayaking, raft-building and boom-netting, to going on an ecotour and tackling the obstacle course… activities that will get your heart pumping. Little monkeys can even try their hand at scaling a coconut tree! If you're keen to give back, there's plenty of opportunities to get involved with local community projects organised by LooLa. Once you and the kids are all tuckered out, you can kick back for a well-deserved rest in one of the eco villas (complete with the world's first eco aircon system) or settle for a cool and breezy sea chalet. This is guaranteed guilt-free fun for the whole fam.
Pangkil
About 3 hours by ferry including land transfer

This lovely island is rented out in its entirety and makes a very spesh special occasion island. It was the precursor to Joyo and is owned by the same people. The number one activity here is known as 'energy minimisation' and it falls into a number of different categories: sleeping (on one of many hammocks dotted about the place), sunbathing (on your own beach), slounging (draping oneself across a piece of beautiful Indonesian furniture and relaxing like you're in a catalogue), dozing (if you take slounging to a higher level), and reading. Plenty of beachcombing and watersports for the kids too.
Lombok
Under 3 hours by plane
Often overlooked by its neighbour, Bali, Lombok also has some amazing, relatively unspoilt scenery awaiting you at the end of a direct flight. For the more adventurous among you, head towards Mount Rinjani (Indonesia's second-tallest volcano) and trek around the National Park (or climb Rinjani if your kids are teens or have Spiderman-like climbing abilities!) where you'll see a ton of flora and fauna including the rare and illusive Ebony Leaf monkey. Recover on one of the beautiful beaches around Lombok or take a short boat ride to pure castaway heaven on the Gili Isles. Make sure you bring your snorkels!
Bali
Under 3 hours by plane

This isle needs no introduction but it's a perennial fave for a family holiday. It's grown with us over the years and we find something new every time we go back. When we were sans kids we loved staying around Seminyak. Then kids came along and the lack of footpaths for prams, or just moderately safe walking, saw us move along to Petitegenet (no footpaths really but a bit less hectic. Petitegenet started charging Seminyak prices and Canggu became the next haven, especially because of its proximity to Naughty Nuri's (that ribs and martini combo is a winner. And a killer), rice fields and beach. Now we prefer heading to Jimbaran Bay because it's closer to the airport, you can still get decent accom on or near the beach without indecent prices and a lot of our fave Seminyak shops have branches there. If we're lucky enough to go away on our own then it's up to Ubud. And with littlies, we love Nusa Dua. For all our tips on the latest and greatest places to stay, eat, shop and chill we've got a whole site dedicated to just that: go to Honeycombers Bali. For a recommendation on a private villa, check out The Sea Shanty.
Hong Kong
Under 3 hours by plane
Hello girls' weekend (or solo trip!), Hong Kong Sevens or romantic getaway! But a family holiday in Hong Kong can be loads of fun (especially if you're not pushing a pram). You will score massive points with the kids when you take them to Disneyland, which is just as well because those queues are insane. While a stay at The Upper House would be lost on the little people (save that for you and the other half), you can stay on site at Disneyland or The Cosmopolitan Hotel is a good choice for families. It has family suites with an Ocean Theme – yes they have an affiliation with Ocean Park. Check out our guide to Hong Kong with kids before heading off on your adventures, and our sister site, Honeycombers Hong Kong.
Koh Samui
Under 2 hours by plane

We love it here. Reminiscing about those holidays (pre-kids and responsibility) spent hooning around the island on scooters with little regard for personal safety still gives us a thrill. Now, we hoon around on a little catamaran with the kids (in lifejackets of course). We tried it in the north at Belmond Napasai and in the west at the Intercontinental Samui Baan Taling Gnam Resort. Both yielded squeals of delight and plenty of places to park up, disembark and stumble straight into a bar on the beach. There's plenty of choice for all budgets around this sunny island, so have a look at our guide to Koh Samui with kids and then put it on your holiday radar, stat.
Phuket
Under 2 hours by plane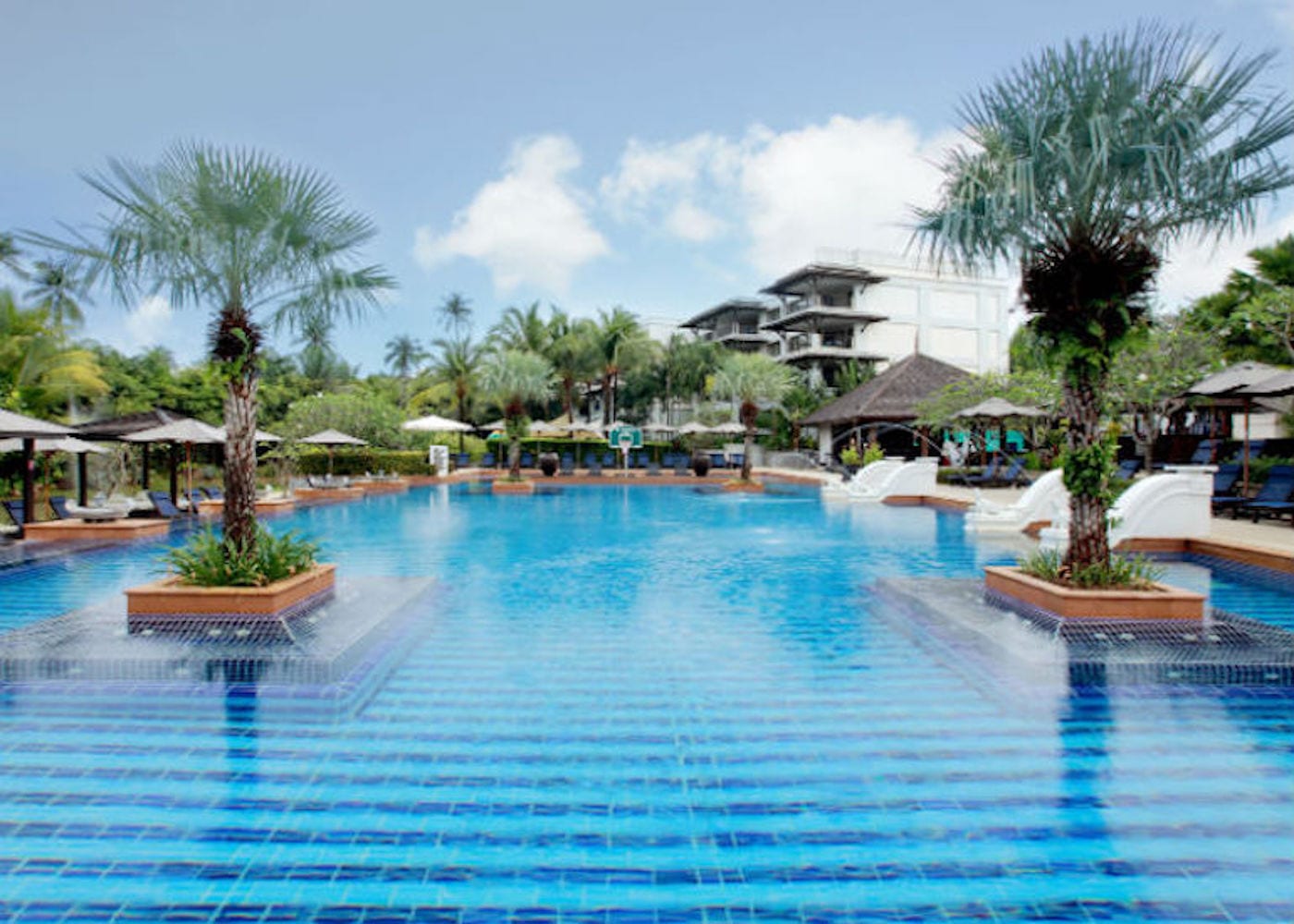 Love it or hate it, Phuket is accessible, comparatively inexpensive and varied. And it has some lovely beaches. Surin Beach is a stunner but it comes with a price tag if you want to stay in the vicinity. Kata and Karon Beaches are very user-friendly with the latter feeling not so crowded, but it is commercial. While we're definitely not fans of Patong, Kamal Beach just north of the gaudy lights is really rather nice. Mai Khao can be pretty treacherous at times with rough seas but the Marriott Mai Khao Beach Resort on its shores is our favourite spot in Phuket when it comes to a family stay. If you want to get out of the confines of the resort, it's worth the trip up to Bang Pae waterfall not least to support the Gibbon Rehabilitation Project on site there.
Nikoi
2.5 hours by ferry including land transfer

The original Robinson Crusoe experience, we still love coming to Nikoi Island here despite several other private island resorts that have sprung up. We like the houses on the north side of the island as they catch the best breeze. This breeze can be pretty full-on if you visit over December and January but it sure beats stillness and mosquitoes – the nets are not just for decoration. This place is best done with a group of mates but, having said that, we've done this with a five-week old infant and extended family and had an ace time. It can be a thumb twiddle for the kids if it rains so be sure to pack some back-up entertainment. But there is all that sand – even when you're 'inside' watching a movie.
Rawa
Under 4 hours by car and speedboat

You just can't top the water and sand here. The white against turquoise is like a postcard and it doesn't even matter what the accommodation is like (it's good!) because you're going to spend all your time either on that white or in that blue. Check out Rawa Island Resort: the first thing your kids will notice is the big slide attached to the pier, directing bodies into that stunning water. Bring a mask and snorkel and don't forget to coat your back in sunscreen because you will be looking down at the sea life and coral for ages.
Gaya
Under 3 hours by plane including transfers

This place is sublime. It's a little island off the coast of Kota Kinabalu where you can really enjoy the nature of Borneo in a place that feels miles from anywhere. What we love most, apart from its remoteness (though it's not hard to get to) and intimacy, is that the people behind Gaya Island Resort really practise what they preach in terms of ecological sustainability and nature conservation. The PURE activities program provides a real chance to connect with nature and get back to basics, which makes this an ideal family holiday for teaching the kiddos more about their environment.
Langkawi
Under 1 hour by plane

A trip to Langkawi makes for a very accessible weekend away with flights whizzing you there in under an hour (which is why we keep going back!). We love the great bucket-and-spade experience at the Meritus Pelangi Beach Resort and Spa, and the kids will go nuts for the small dino-themed water park on site. The white beach, relaxing atmosphere and close proximity to a small town full of delicious family-friendly restaurants seals the deal for us time and time again.
Batu Batu
Less than an hour's drive

This is a firm family holiday favourite, especially for big group holidays. We know of a number of people celebrating milestone birthdays en masse here with friends and kids in tow. It does everything that Nikoi does (private island, rustic lodgings, reef, beach, pool, dinner in the sand) but is probably not quite as exclusive (but really, that's being picky). While Nikoi is an Indonesian island, Batu Batu exists on the Malaysian Island of Pulau Tengah and is surrounded by turquoise waters and fine white sand. They're both matched in terms of how difficult it is to secure a booking, so get in way ahead of any public holiday. We're talking like a year.
Sea Gypsy Island
3 hours by car, plus 20min speedboat ride
If you are looking for a resort that is so laidback it's practically horizontal, then Sea Gypsy, Sibu is it. This place is simple, but therein lies its undeniable charm. There's something for every castaway in the family to enjoy and the back-to-basic vibe is a welcome break from the hurried life we lead in the city. Kids will love searching for shells along the shore before heading to the the handmade wooden playground for some imagination adventure, while the grown-ups can kick back and relax with a cocktail in one hand and book from the in-house library in the other.
Cebu
Under 4 hours by plane

Not to be confused with Sibu (above), the paradise island of Cebu in the Philippines is an easy direct flight straight from Singapore – we're talking under four hours, people! For a resort-style holiday that's big on family holiday fun, head to Plantation Bay Resort & Spa where you'll find a saltwater lagoon, four freshwater swimming pools, waterslides, mist-cages, volcano fountains, whirlpools and waterfalls! And if that still isn't enough then this place has a jam-packed schedule of kids' activities, including sand-castle building, kayaking, boat racing, fish-feeding and some seriously cool day trip picks.
Happy holidaying!