Photography: Rohini Gomez
Looking for a family staycation like no other? HoneyKids Asia checks in to Legoland Malaysia to give you the lowdown on what a brick-tastic experience looks like.
If you and the fam have been through all the staycay options in Singapore, no worries – we've got your back. And guess what? Our next hotel stop isn't a big trek away. Just a quick hop, skip, and jump from our little red dot is the Legoland Hotel. Brace yourselves for a family staycation that's totally out of this world. This place is all about the kids, and it's like stepping into a brick-filled wonderland. So, here's the lowdown on what's in store…
Legoland Hotel, Malaysia
Location
No worries, just hop in a bus or car and head towards the Woodlands checkpoint, then cruise on to the Johor checkpoint a few miles down the road. And here's the kicker – in no time, the whole gang will spot the iconic, vibrant and colourful Legoland hotel in all its awesome brick-tacular glory.
1. A brick-tastic welcome
The hotel itself is a real treat for the eyes. Designed to mimic a Lego castle, the little ones will be over the moon to find themselves welcomed by not-so-mini Lego figures guarding the hotel's front entryway. And don't forget to check out the fierce dragon on the rooftop – it's a perfect spot for a pic with the fam that's totally Instagram-worthy. If you think that's impressive, just wait until you step into the hotel lobby…
2. Lego-themed hotel lobby
The Legoland Hotel lobby welcomes you like nothing we've ever seen. But before you march in with the crew, here's our tip: get your cams ready to capture their reaction. This lobby? It's basically Lego paradise. Imagine walking into a Lego castle straight out of a fairytale. There's also a gigantic Lego pirate ship for the kids to unleash their imaginations, Lego pits to dive into and build like mad. While you're there, make sure to check out the concierge wall that shows off over twelve thousand Lego mini-figurines. It's a sweet spot to keep the little ones entertained while moms and dads just kick back and chill.
Activities for the fam
1. Lego crafting spaces
Not only is the lobby bursting with loads of Lego-tastic stuff for the kids, but there are also a bunch of Lego activity spaces to keep the little ones totally hooked. And here's the best part: the Lego fun is tailored to different age groups. Think cute little Lego pits decked out with big foam Lego blocks for the tiniest hotel guests, and then there are mini Lego crafting zones for the older kids. And guess what? Adults can totally get in on the action too.
2. Story time at the Legoland Hotel
In a fairytale setting, you've got to have some fairytale skits. Well, at the Legoland Hotel, the lobby is where the real excitement happens. Think interactive and jam-packed skits and story sessions for the little ones. And here's the best part; after the session, the kiddos get to snap some cool pics with the storybook characters. Did we mention that Lego characters also drop by every now and then?
3. Lego Shopping
While the little ones are having a blast in the hotel's lobby play area, moms and dads can swing by the Lego stores right next door to scope out all the latest Lego goodies up for grabs. You've got everything from small Lego projects perfect for the tiny tots to more intricate ones designed for the older kids and even adults – the choices are limitless. And guess what? The shop also has a bunch of cool Lego-themed clothing. If you're hunting for a fun keepsake from your stay, they've got cute little keychains and knick-knacks too.
Check-in
The Legoland Hotel delivers a totally unique overnight escapade that'll have the fam jumping for joy. Picture this. A bunch of cool room themes up for grabs, like Pirate, Kingdom, Adventure, and Ninjago. We went all-in with a Pirate-themed room and the whole crew loved it!
1. Lego-themed disco lifts
There's a boatload of Lego-tastic fun even on the journey to your hotel room. Brace yourselves for the disco-style Lego-themed elevators that'll get those little feet grooving – our little ones just couldn't resist! And don't forget to keep those cameras handy when you hit your room door. You're in for some seriously share-worthy snaps!
2. Pirate room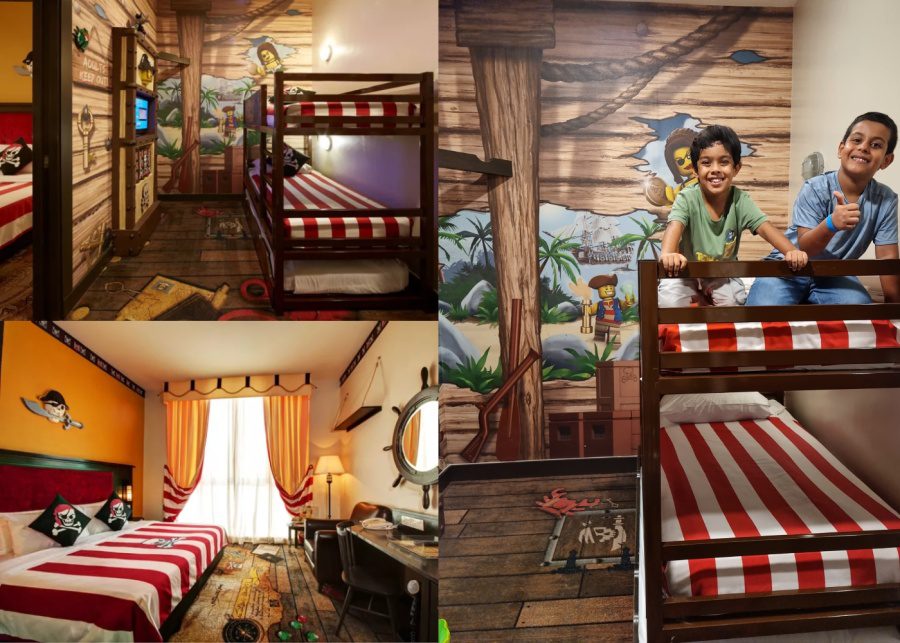 The Pirate room is like stepping into a pirate's dream – packed with vibrant pirate-themed furniture from floor to ceiling, and awesome Lego murals decorating the walls. And here's the coolest part: the room is divided into two sleeping areas, a king-sized cabin for the grown-ups and another for junior shipmates, separated by a sliding door. Both spaces are hooked up with their own in-room entertainment and super comfy beds – think a spacious king-sized one for the adults and a playful bunk bed for three little adventurers! So, while mom and dad enjoy a breather in their spot, the little pirates can dive into some Lego crafting fun in their own space.
3. Treasure Hunt
To make the room even more jam-packed with fun, the little ones can gear up for an exciting treasure hunt. In the Pirate room, there's a cool riddle that the young pirates can crack to unlock a treasure box filled with Lego-tastic surprises. How awesome is that!
4. NEW: LEGO Friends-themed room
If you're not into the whole pirate scene, Legoland has just dropped a brand new room theme – a LEGO Friends-themed room. This room is all about those cheerful, poppy vibes with colours that'll make the little ones jump for joy. Picture this: you and the fam can crash in a room that's basically a rainbow explosion. And those cool Lego room murals? They're like a one-way ticket to Dreamland for the whole crew!
Dining at Bricks Family Restaurant
The Bricks Family Restaurant at the Legoland Hotel is your go-to spot to fill those hungry tummies in no time. The dinner and breakfast buffets are like a food adventure, loaded with tons of delicious options for the gang to dig into. While the buffets are mostly designed with an Asian flair, there's a sprinkle of international choices too. Our crew couldn't resist the ice cream station stocked with a rainbow of popsicles and soft-serve delights.
Exploring the Legoland Resort
Apart from Legoland Resort's fantastic themed rides and attractions, they're also constantly rolling out limited edition experiences and new releases. Our tip? Keep an eye on their page to stay in the loop with all things Lego and beyond.
1. Lego Dreamzzz
We jumped right into the realm of Lego's latest theme and content series – Lego Dreamzzz. This fresh theme cranks up kids' dreamy creativity to a whole new level. The launch is packed with tons of captivating experiences for the little ones, including an exciting treasure hunt for dream creatures that decided to break free from the Lego Dreamzzz universe. Plus, there's some seriously cool Lego crafting action happening at various Lego Dreamzzz stations.
2. Lego Dreamzzz 4D movie
The theme bursts into action in the latest 4D movie, 'Z-Blob Rescue Rush,' at the Lego Studios 4D Movie Theatre – our little dream-chasers were totally hooked! The special effects, the action, and the 3D features were absolutely mind-blowing. And the 4D twist cranked up the animation even more, with actual bubbles dancing over the crowd, a gentle breeze on our faces, and even water droplets splashing around.
3. Lego Dreamzzz Sets
We also rolled up our sleeves and got hands-on with the brand-new Lego Dreamzzz Lego sets, putting together its characters brick by brick. The three sets we tackled were – Izzie and Bunchu the Bunny, Mateo and Z-Blob the Robot, and Mrs. Castillo's Turtle Van. Even though the Lego Dreamzzz Lego sets might seem a bit tricky at first glance, they turned out to be a blast to assemble, thanks to the handy-dandy instruction manuals. And guess what? We uncovered that each of the characters we brought to life has some seriously cool Lego superpowers – think roller-skating and dynamic blasters.
Lego Dreamzzz: Lego sets are on sale across LEGO Certified Stores, LEGO Official Store on Lazada, Shopee, Amazon, as well as major retailers and department stores in Singapore; The LEGO DREAMZzz series is available to watch on the LEGO YouTube channel.
Our verdict
The Legoland Hotel is basically a dream come true for every kid. From our perspective, this hotel ticks all the boxes for family entertainment. And here's the cherry on top – the fun isn't limited to just the common areas; it spills right into the rooms too, which our gang totally loved. Now, onto the grub. If the fam isn't super into the Asian flavours at Bricks Family Restaurant, no sweat. The Mall of Medini is just a hop, skip, and jump away from Legoland, and it's loaded with a wider variety of dining options to satisfy every craving.
The package deets
The Pirate-theme room in Legoland Hotel accommodates five people, including two adults and three kids. Regular rate starts at RM679/night, as at August 2023.
Have you visited the Legoland Hotel? What was your experience like? We'd love to hear from you.