The whole family will love spotting star fish and conch shells when the tide reveals hidden sand banks in the South Pacific. Photography: Tracy Tristram
Take us back to Fiji! The ultimate family holiday in the South Pacific...
Wanderlust is kinda 'our thing' here at HoneyKids, and we've got a serious case of the holiday blues right now thinking back to a new destination we had on the travel bucket list for quite some time before taking the plunge: Fiji. It had a lot to live up to what with recent adventures to family-friendly Maldives, a mini escape with the kids to Myanmar, and a weekend hanging out in Hong Kong without the kids, but we are happy to report that when it comes to an almost perfect family holiday from Singapore, this is IT…
Getting there
We won't lie to you: the journey is pretty epic. Fiji Airways is your go-to for a direct flight and air time is around 10 hours. It's a four-hour time difference so we took off from Changi Airport at 2pm, but didn't arrive into Nadi Airport, Fiji, until 4am the following day (take this into account when making accommodation bookings). Airline staff were friendly, entertainment was good for whole fam (although mum watching Fault in Our Stars wasn't the best idea), and the white wine was cold and delish. Hot tip: take your own snacks for the kids and refill water bottles once through security checks: there was a long delay in getting a drink once we were on board and the kids meals were discarded pretty swiftly by our fussy kids (they weren't particularly kid-friendly). Bring your PlanePal or other nifty travel gadgets!
Where to stay
With 330 islands making up Fiji, over 100 of which are permanently inhabited, you'll be spoilt for choice when it comes to the perfect accommodation in your own little pocket of paradise. From homestays to hostels, luxury resorts to eco tours, there's something for all budgets and wish lists. We plumped for the three-star Plantation Island Resort, on Malolo Lailai, just an hour's boat ride from the airport.
Plantation Island
If you're looking for five-star digs then this is NOT the resort for you: the poolside chalet we stayed in was a bit like stepping back in time to gran's bedroom, but the space was awesome (we had one double bed and three single beds in our room with plenty of room to spare). Rumour has it that garden and sea chalets have been renovated recently though, and the poolsides are due for a makeover soon. What it lacks in mod-cons it certainly makes up for in facilities for families! We'll be honest, our kids can be pretty hard to impress at times but this place blew their minds with SO much fun on offer. The drop-in kids club was a huge hit (there was a teen club too, which mostly consisted of teenagers warily eyeing each other up without actually talking to one another), and our tribe had an awesome time trying their hands at tie dye t-shirt making, crab racing, treasure hunting, crazy golf and coconut smashing. The club is fully supervised by friendly staff, but kids do have to be five years and up to be left unaccompanied. Younger tots are welcome but you will need to pay a resort nanny to chaperone them whilst they are in the club.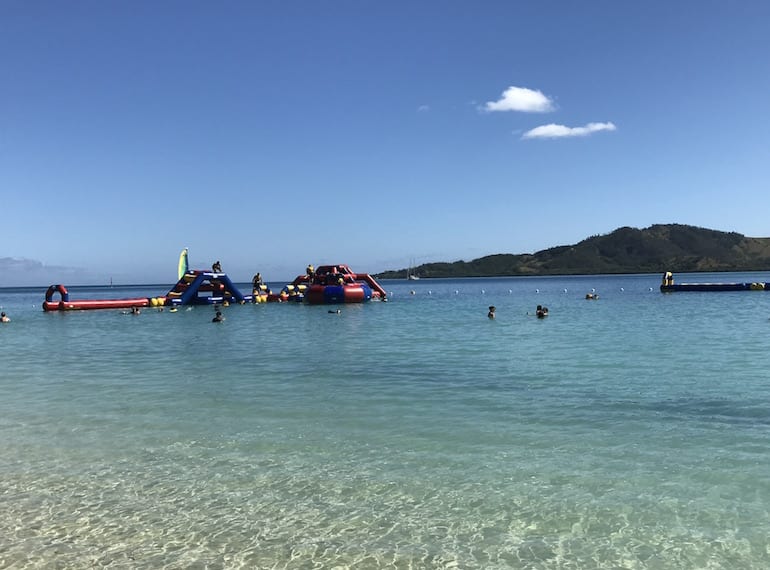 The beach is where the family-fun is at and with kayaks, paddleboards and snorkelling gear all available for free, you'll be happy to plant yourself on the golden sand for days on end. Expect kids (and adults) to shriek with joy when they first see the giant inflatable playground anchored just off the shore…
Hot tip: take the sand bank trip out when the tide is right to a gorgeous strip of beach in the middle of the ocean. We found conch shells and a million star fish while strolling on our very own deserted strip of sand. Snorkelling out there is amazing too. The afternoon trip to nearby Shell Island is also worthwhile: you'll see a traditional working Fijian village and visit the local school. Take some cash for the small market.
www.plantationisland.com

Castaway Island
Whilst we didn't stay on this pocket of paradise ourselves, we did spend an afternoon there as part of an island hopping tour. Accommodation and pools are more upmarket than at Plantation, and there's plenty of watersports on offer from the golden sands. Sadly it doesn't have a Ninja Warrior style sea playground here, but it does have a great kids' club which runs a daily programme for small castaways age four to 11 years. Think coconut husking, sandcastle competitions, coconut toffee making and traditional Fijian dancing. We did look but we never saw Wilson or Tom Hanks…
www.castawayfiji.com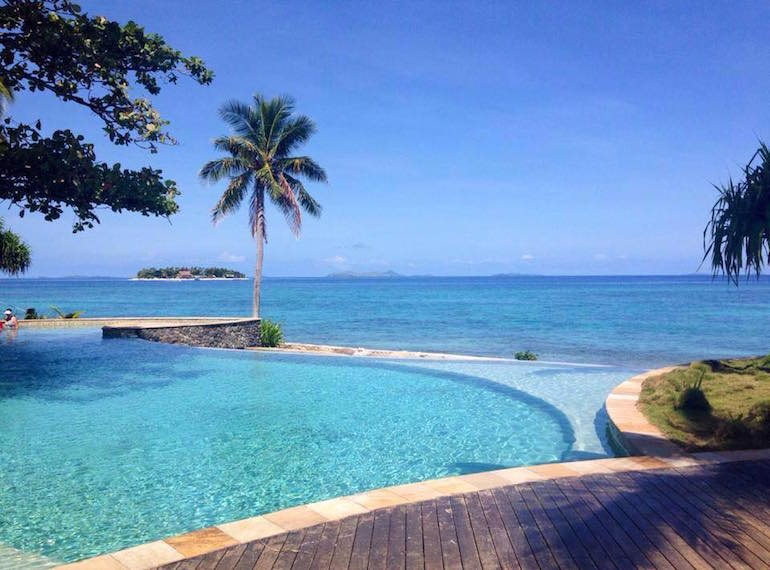 Treasure Island Resort
Another island resort straight out of holiday heaven, Treasure Island has a luxe feel and all the right little touches to make this a perfect family pick. Fijian culture is the big theme over at the kids' club, where little ones age three and above can join in with a daily programme of cool activities. Babysitting is also available: this place is SERIOUSLY romantic.
www.treasureisland-fiji.com
Teitei Homestay
Combine a far flung holiday at a resort with a few days getting back to basics on an awesome farm stay experience at Teitei Homestay. Located about 65km from Nadi Airport in Fiji's 'salad bowl' region of Sigatoka River Valley, guests will stay in a basic three-bed cottage (no hot water, folks!) and get to grips with life on a farm. The farm is a kids club, and kids of all ages will love discovering the chickens, ducks, geese, honeybees, fish, coconuts, sandalwood and fruit areas of this gorgeously green homestay. Hang out with the local Indian farmers who are famed for their hospitality – expect to be asked over for tea – or head into the nearby Fijian villager where friendly residents love to share their culture.
www.facebook.com/teiteifarmstay

What to do
If you're looking for a holiday spot that doesn't involve too much exertion beyond stepping from the sunbed to the sea, then Fiji is a winner. There's also plenty of water-based adventures to be had, from diving to snorkelling, island hopping to kayaking. Adventurous types should check out the parasailing, surfing, jet-skiing, zip-lining and sky-diving options! 
When to go
We used last year's school summer holidays for our adventure, and although June is winter-time in Fiji, we had glorious blue skies and perfect temperatures for the whole of our stay. July and August, as well as Christmas and New Year are when you're going to have share those stretches of sand with more people. Typically the weather is driest from May to September, and the summer months of November to March are when it's warm but also wetter. But whenever you decide to go, please do feel free to ask us along too!
Lead image: Tracy Tristram
Like this story? Here's more we think you'll enjoy:
Glamping in Asia with the kids
Go on a farm stay!
Five reasons you should be going to Sri Lanka for your next holiday
Where to buy the best swimwear in Singapore for all body types
Don't forget to subscribe to our weekly newsletter for the latest updates on all things family-friendly and follow us for sneak peeks and fun moments on HoneyKids Instagram!