Get inventive over the school holidays with these five fun DIY projects for kids, courtesy of London's queens of cool craft: Ladyland!
Put down that iPad and back away with your hands held up, kids. If you're looking for fun holiday activities for your brood, crafting in Singapore is cooler than ever – and you don't have to spend a fortune on supplies (see our guide to craft stores in Singapore here) to get your kids using their imagination and exploring their creative side. Let them get their hands covered in paint, make a bit of a mess building a jungle terrarium and put their own stamp on their bedroom style by decorating their own cushions: it's all in the name of art, no?
Our friends over at Ladyland – London's queens of kick-ass craft – have shared five awesome (and easy) projects to inspire your little ones during the hols. Go on, you know you want to hide out in that sparkle cave too…
1. Potato-print cushions
This is one for older kids (or supervise very closely lest you end up with some newly patterned neon walls. Rediscover the art of potato printing and give your kid's room a pop of colour with these cool polka-dot floor cushions, pictured top. Budding interior designers could even create different patterned cushions for their own reading nook – now, that's a project to keep them busy for the whole holiday! Get the full tutorial for these fun potato-print cushions over at Ladyland.
2. Sparkle cave
You may have seen images of this idea kicking around on Pinterest – it's super easy to do yourself, and it certainly beats making a fort out of throw rugs and cushions for the hundredth time. All you need is a giant cardboard box and some fairy lights to make your own sparkle cave (for safety, make sure they're LED lights): it takes about five minutes to make and the kids will play in it all afternoon.
3. Dino jungle terrarium
Once considered a relic of the '70s, the preserve of lizard enthusiasts, terrariums all but disappeared from the collective pop-culture conscious… but now they're back in a big way. This kid-friendly DIY dinosaur terrarium is super fun to put together. Fill it with easy-to-care-for air plants and succulents: little ones will love creating an indoor micro jungle for dinosaurs to roam.
4. Paper monsters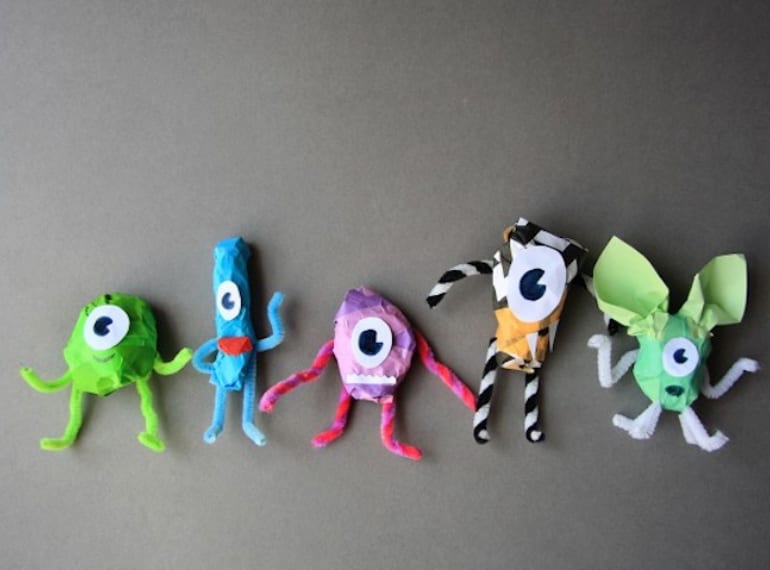 Some of you might be scraping the bottom of the barrel for things to do with your little monsters by the end of the school holidays, so instead of watching Monsters University for the 1000th time, try making some of these paper monsters to give the old imagination a bit of exercise. Bring out the tissue paper, pipe cleaners and washi tape from your craft kit: once you start making these guys, you won't want to stop! Let your kids lead the way, but if you need a hand with your paper monsters, head on over here for a video.
5. Holiday jars
And here's one to remember that holiday break: if your kids always come home with pockets full of pebbles and shells from those family holidays at the beach, get them to curate their little collections into memory jars. This is a great way to finish off a seaside trip with kids and help them edit down their collections into a 'best-of'. Get some inspiration for your own holiday jars over at Ladyland.
Photography: Emma Scott-Child for Ladyland