Photography: Jona via Unsplash
Love going to the movies but looking for something different? From free open-air cinemas to vintage theatres, here are our favourite spots for a night at the cinema with a twist.
Whether you love watching movies as a family or like to make it a date night, going to the cinema is always a fun affair. Decked with comfy seating, ample leg room, and state-of-the-art surround systems, the plush cinemas in Singapore definitely contribute to our status as one of the highest movie-going nations in the world! But if you're looking for a nice change to your weekly outing, keep reading. From free outdoor movies to independent film screenings in vintage cinemas, we've listed the best alternative movie experiences for families and couples.
Alternative cinema experiences in Singapore
1. Films at the Fort
Fort Canning Hill is one of our fave places to explore in the daytime, and now we're super excited that something is happening here at night too! Films At The Fort is celebrating its eighth anniversary in Fort Canning Park from 10 to 21 August with a carefully curated film programme, from new releases to festival hits and classics. So for a fun, romantic date night or a girls' night out, this is the alternative cinema experience in Singapore that we recommend.
Films At The Fort, Fort Canning Green, River Valley Road, Singapore 179037
2. The Projector
You can't talk about alternative cinema in Singapore without mentioning The Projector. This indie cinema opened its doors in 2014 on the fifth floor of Golden Mile Tower, which was previously another cinema operator. Fast forward to today: The Projector has become the de-facto cinema for hip, independent films and festival favourites. It has also expanded with a pop-up housed in Riverside Point, with a similar pop-up taking over The Cathay on Handy Road from this month onwards. Besides movie screenings, The Projector also holds exciting events, exhibitions, and pop-up markets.
The Projector, locations in Golden Mile Tower, Riverside Point, and The Cathay
3. ST3PS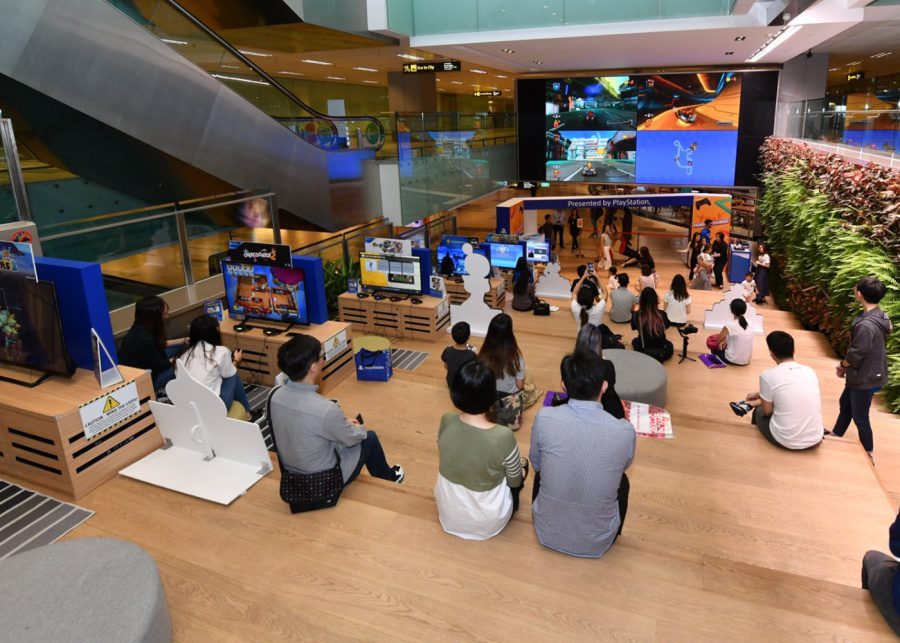 Everyone goes to Changi Airport for basically anything and everything. Well, how about watching movies? Betcha didn't know you could do that here! Just head over to Terminal 3's Basement 2, settle down on the steps, and enjoy the show. Click here for the movie schedule. Besides movie screenings, live performances and entertainment shows take place here every Saturday. At the same time, footy fans can catch live telecasts of football matches. For those flying off, you can also watch movies at the theatres within the departure halls of Terminals 2 and 3.
ST3PS, Basement 2, Changi Aiport Terminal 3, 65 Airport Boulevard, Singapore 819663
4. ArtScience Museum
Would you consider screenings at the museum as an alternative cinema experience in Singapore? Our vote on that question is a definite yes. ArtScience Cinema boasts comfortable seats and high-quality surround-sound wireless headphones that offer viewers an immersive cinematic experience. The cinema presents a curated programme of films all year round, free and requiring payment. We say hit up the screening room after exploring the exhibitions for a breather and a good movie.
ArtScience Cinema, Level 4, ArtScience Museum, 6 Bayfront Avenue, Singapore 018974
5. Cinewav Movies in the Sky
There's a second alternative cinema if you're within the Marina Bay Sands area. Head up to the SkyPark Observation Deck to experience an outdoor silent cinema against the backdrop of Singapore's scenic skyline. Catch popular and critically acclaimed releases on the big screen while listening to high-definition audio via your smartphone and headphones. Parents, this is one date night idea that you should bookmark.
Cinewav Movies in the Sky, Level 56, Marina Bay Sands, 10 Bayfront Avenue, Singapore 018956
6. Movies by the Beach
If you're planning to spend the day at Sentosa, stay on till sundown and join its complimentary outdoor movie series by the beach. Enjoy an unforgettable experience under the stars featuring a line-up of popular favourites, classics, and Hollywood blockbusters. Bring along your picnic mat or foldable chairs so you don't get sand in your pants! Famished? Food and drinks are available here too. Screenings take place on selected Fridays, weekends, and public holidays.
Movies by the Beach, Southside, 80 Siloso Road, Singapore 098969
7. Objectifs
Blink and you'll probably miss the quaint monochromatic building and bright yellow chapel, which reside at Middle Road. Objectifs is a visual arts space that's dedicated to the appreciation of film and photography here in Singapore. The non-profit registered charity unveiled Objectifs Cinema, an exhibition that showcases Southeast Asian short films. Psst, if you missed any of the screenings, you can rent them for a small fee. Watching movies in a chapel is as alternative a cinematic experience as it can get in Singapore.
Objectifs Cinema, Chapel Gallery, 155 Middle Road, Singapore 188977
8. Omni Theatre at Science Centre Singapore
Enjoy the ultimate movie experience at Singapore's only IMAX dome theatre, which will visually captivate your kids while teaching them about the environment. Its upgrade to a highly advanced digital full dome system is designed for a fully immersive experience. The theatre is also equipped with a digital planetarium system that lets moviegoers peer into space at 8K resolution AND travel through space at light speed.
Omni Theatre, Science Centre Singapore, 21 Jurong Town Hall Road, Singapore 609433
9. Screening Room
Looking for an intimate alternative cinema experience in Singapore? Check out Screening Room, a boutique film theatre situated at Ann Siang Road. Guests get to kick back with a glass of bubbly or munch on tapas while watching various films to their liking – or curiosity. Movie screenings take place from Mondays to Saturdays, with two films being shown each day. Besides the theatre, Screening Room also features a multi-faceted studio and rooftop bar.
Screening Room, 12 Ann Siang Road, Singapore 069692
10. The Sundowner
Speaking of rooftop, The Sundowner is a unique destination that also hosts movie screenings on its rooftop. All you have to do in order to experience this alternative cinema is load the movie of your choice on your laptop or mobile device. Oh, don't forget the food – you can take away nibbles from nearby eateries, or fire up the barbeque pit and smoke some meat. If you prefer a more intimate setting, The Nomad's Tent is perfect for four persons.
The Sundowner, 705A East Coast Road, Singapore 459062
11. Shaw Theatres Dreamers
Is this a conventional movie theatre? Sure, but there's a slight twist – Shaw Theatres Dreamers has been designed with families in mind. The seats are vibrantly coloured as opposed to the drab red or black seats, there are adorable murals on the walls, and it screens family-friendly movies throughout the year. Plus, the movie theatre is softly lit and has softer audio, so kiddos can have an enjoyable movie experience. Oh, don't forget the beanies located at the front of the hall! Conventional yes, but still different enough to make it an alternative cinema experience in Singapore. When you're done with your movie, enjoy the rest of Jewel Changi Airport.
Shaw Theatres Dreamers, B2-237, Jewel Changi Airport, 78 Airport Boulevard, Singapore 819666
12. Drive-In Movie Screening at Downtown East
Nostalgic for the good ol' days of drive-in cinemas? Downtown East takes you back to the age of drive-in theatres, where cars parked side by side for a cosy night of movie-watching. As of now, there's no news if a movie screening will take place, so we're waiting for any updates with bated breath…
Downtown East, 1 Pasir Ris Close, Singapore 519599
Have fun at these alternative cinemas in Singapore!