Photography: Everything Everywhere All at Once via official website
If you have time to catch a film in the cinema, make sure that it's this mad multiverse movie (not the other one). Our writer went in with zero expectations and left the theatre with many thoughts on the film.
Is 2022 the year where Asian parenting and generational trauma take centre stage in Hollywood? A couple of months back, Disney and Pixar's animated feature Turning Red highlights tiger and helicopter parenting styles. This time around, another film with an Asian ensemble takes a stab at spotlighting Asian parents and their expectations, mental health, and alternate realities. Wait, what?
Before Dr Strange, there was Evelyn Wang…
Everyone knows the latest Marvel blockbuster with its multiverse storyline. But are you aware of the indie film with a somewhat similar premise? Directed by The Daniels (because both directors have the same name), Everything Everywhere All At Once stars Michelle Yeoh as Evelyn Wang, a Chinese immigrant living in the United States with her husband Waymond (Ke Huy Quan) and sapphic daughter Joy (Stephanie Hsu). She runs a laundromat, and it's tax season. During a meeting with her auditor, things get a little bit crazy. Well, a little bit is an understatement… it gets a whole lotta crazy!
Jack of all trades, master of none
Evelyn's multiverse introduces different versions of her, each living with a different circumstance due to a significant decision she made. You know those choose your own adventure books that alter the course of a story? It's something like that with these characters. One version of Evelyn becomes a major movie star (albeit lonely) after deciding not to elope with Waymond. Another version is a highly acclaimed blind opera singer, no thanks to an unfortunate incident when she was young.
With each introduction to her alternate selves, Evelyn ponders her life if she had chosen a different path. What would it be like if she hadn't married and bore a child? Would she still have migrated to America? This "alternate life path" is something that we've probably entertained at least once. I know I have. I look back on my life and sometimes think, "If only I had been more confident during my interview", or "What if I had decided to go to university after my National Service instead of working?" Would my life have turned out vastly different than what it is right now?
On top of that, these alternate Evelyns have skills that the main Evelyn wishes she could have. Compared to them, main Evelyn is just an unremarkable working-class woman trying to make ends meet with both her business and familial ties. She wishes she could be like them instead of being stuck where she's at. Everything Everywhere All at Once emphasises the mentality that we often perceive things as being greener on the other side. Why not make our side green instead?
Unmet parental expectations
Against her father's wishes, Evelyn chooses to marry Waymond and move to America. Because of this, Gong Gong (James Hong), Evelyn's demanding father, becomes disappointed and rejects her as his daughter. Even though she accepts this, Evelyn's still trying to prove to him that she's done well for herself and her family. This is the catalyst of the Wang family's generational trauma. It sets up Evelyn's expectations, and she pushes Joy to reach them. They're projections of what Evelyn couldn't fulfil for her father. This eventually manifests in her daughter turning into the villainous Jobu Tupaki.
The expectations also extend to the life Joy leads. Even though Evelyn's fine with her daughter being queer, there's still some resistance and discomfort. Evelyn doesn't want Becky, Joy's girlfriend of three years, to participate in the Lunar New Year celebration held at the laundromat. She also didn't want Joy to come out to Gong Gong, fearing that he may not approve of Joy's sexual orientation and questions Evelyn's parenting skills. Joy's been trying so hard to gain her mother's acceptance; this indecision is the one that ultimately breaks her.
It's understandable how Joy feels. Even if you have frosty relations with your parents, you still want to please them somehow. Your inner child seeks validation and approval from your parents, even when you've reached adulthood. At times, to your detriment. How long do you allow that feeling to go on before giving up?
It's too late to apologise…?
After facing off against Joy/Jobu Tupaki in various settings, the two end up in a universe where they exist as round boulders at the edge of a canyon. Just rocks; no other lifeform on Earth. Joy/Jobu explains to Evelyn about the existence of this universe, before the latter apologises for ruining everything. The two then have an existentialist conversation before jumping into another realm.
This entire scene alone made the movie for me. First, there isn't any verbal dialogue, so you're relegated to reading the subtitles on the screen. It's a very tranquil moment that makes the entire exchange more impactful. I remember breathing a sigh of relief after Evelyn's apology, followed by hot tears welling up in my eyes. At that moment, it felt like my mother saying sorry to me. It's been something that I've wanted to hear for the longest time, and I got it – albeit from a fictional character in a movie.
Some of you may be wondering: why should a parent apologise to their child? See, in Asian parenting, apologising is an act that's as rare as the Loch Ness. There's a Malay proverb, "Sudah makan banyak garam", which literally translates to "(one has) consumed a lot of salt". It basically means one has lived through many experiences, and thus, they believe that they know more than others. I could count the number of times I've heard the older generation use that line to justify their behaviours and dismiss everyone else's contributions, particularly those from the younger generation. This is why preceding generations of Asian parents hardly apologise. This misguided sense of pride is often the cause of frustration and trauma.
The bagel of mental health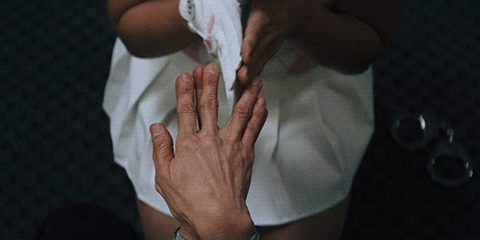 The movie's climax sees Evelyn being led towards a swirling, inviting black void that Jobu labels the "everything bagel". Viewers initially believe that the bagel is created to bring about doomsday. In actuality, it's a manifestation of Joy's repressed emotions. The void exists due to Joy trying to live up to Evelyn's expectations. As the bagel grows bigger, it represents Joy's mental health, specifically, her spiral into depression. Joy/Jobu then explains that the black void is not created to destroy everything. It's designed to destroy Joy herself.
When things get too much for you to handle, your fight, flight, freeze, or fawn response is triggered. In Joy's case, it was none of the above. She's a shell of her former self when she becomes Jobu; her mental health has deteriorated to the point that she wants to end her life, drag Evelyn with her, and hold little regard for the consequences. That's how generational trauma, when not confronted, snowballs and affects everyone, especially the following generations. At times, the trauma can be so great that it impacts one's mental health.
Nobody's perfect – and that's okay
The outcome sees Evelyn finally confronting all the issues she's been avoiding. She stands up to her father, makes up with her husband, and successfully reaches out to her daughter. She manages to settle them clunkily but amicably. It may seem like a perfect ending, but it's not quite so. In fact, it's just the start of Evelyn and her family's journey towards recovery.
Everything Everywhere All at Once showcases that Asian parents are fallible, even if they refuse to admit it until much later. In the beginning, Evelyn firmly believes that she's doing the right things to keep her business and family together. How often have you heard your parents lament their sacrifices for your benefit? She shows her love for Joy by body-shaming her, and treats Waymond as a child rather than her equal. Her adventures through the multiverse slowly open up her "third eye" and exposes the error of her ways. She learns how to break the generational divide and get through to Joy. She realises that Waymond may be her opposite, but he's also the one who's been grounding her.
This madcap movie is not just about Evelyn. It's also about Joy and the realisation that one is never truly alone in this world, regardless of their mental health. It's also about Waymond, and how displaying empathy and kindness does not mean a person is weak. And finally, it's not about nothing – it's about everything, everywhere, all at once.
At its core, Everything Everywhere All at Once showcases that nobody's perfect; that's what makes them human. And that's okay. It's better to be human than a bagel.
Did you manage to watch this film? Send us a DM – we'd love to hear your thoughts too!