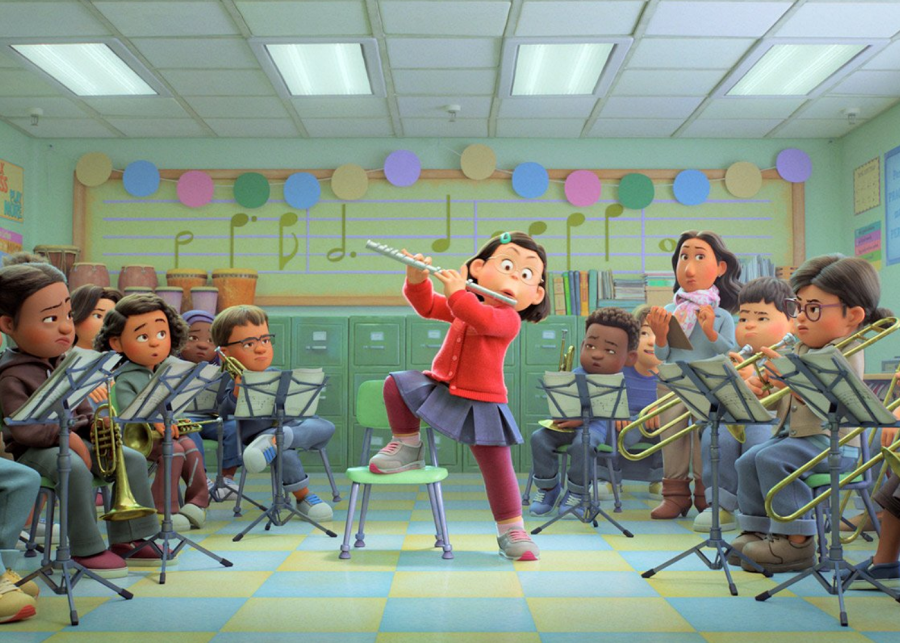 Photography: Pixar
The latest animated film from Pixar and Disney features an Asian girl who morphs into a red panda whenever she's feeling big emotions. Our writer deep dives into the movie and uncovers more than that…
Last month, an animated feature about a red panda premiered on Disney+. No, it's not another sequel or a spinoff to Kung Fu Panda. Set in the early 2000s, Turning Red follows 13-year-old Meilin Lee and her Chinese-Canadian family living in Toronto. Due to a family curse, Mei (as she's known to her friends) wakes up one morning transformed as a red panda. Sure the premise sounds cute, but underneath that lies various themes that resonate with everyone – particularly Asians.
Turning Red: Parenting styles, repressed emotions, and other themes present in the film
The "tiger parent" trope
Let's dive into the most obvious. The tiger mum trope is a parenting style most associated with Asian families. Tiger mums are strict; they predominantly want (and expect) their children to focus on academics and achieve good grades. Ever wondered where the term came from? Yale Law professor Amy Chua was the one who came up with it for her book, Battle Hymn of the Tiger Mother.
Ming Lee, voiced by Sandra Oh, is the textbook example of a tiger mum. She is authoritative, overbearing, and expects a lot from her only child. Because of this, Mei becomes an overachiever: attaining A+ for her schoolwork and becoming that schoolmate everyone loves to hate (pictured above). But that's not the only parenting style Mrs Lee adopted.
There's also helicopter parenting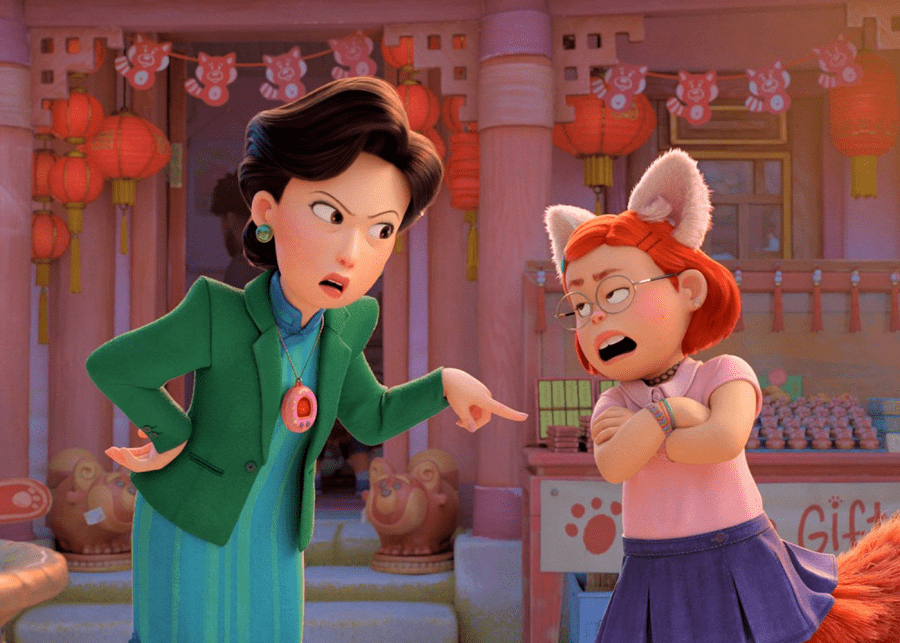 Search for the definition of this parenting style and what you'll discover is a style where the parents are overly focused and involved in their children's lives. These parents want to shield their kids from all the bad things in the world. Forever, if they could. In other words, they're overparenting. It's been said that helicopter parenting can cause mental health issues such as anxiety and depression. Yikes!
Besides being a tiger mum, Mrs Lee is also depicted as a helicopter parent in Turning Red. Remember the scene where she jumps to conclusions after coming across Mei's doodles? Or the times when she slinks about at Mei's school? What about when Ming didn't allow Mei to go to the concert? Sure, she may have good intentions; she's just looking out for her daughter… But this parenting style does not help Mei – or any child, for that matter – to think and be independent. Instead, they might even become overdependent on their parents or other people. How often have you heard of stories where adult children still get their parents to do their laundry because they don't know how to do it themselves? Don't laugh – these stories exist!
The case of repressed emotions
Mei transforms into the red panda when she's angry. The first time it happens is the day after the confrontation at the convenience store. It happens again the next few times after. My friend, who got me to watch this movie, thinks that the red panda is a manifestation of Mei's repressed feelings. And truthfully? I agree. How many times have you felt angry and hurt, but when you confide in your parents about what you're feeling, you're told to "calm down", "control your emotions", and/or "get over it"? The person you're confiding in won't bother or want to discuss your feelings. Eventually, you don't process these feelings anymore.
It's been said that emotional repression is related to childhood experiences. And guess what? This phenomenon is prevalent in Asian families. Bring this topic up to any Asian person, and they'll probably tell you how and why they've repressed their emotions. If they even know how and where to start, that is…
Normalising periods and hormonal changes
Let's go back to the first time Mei turns into the red panda: she runs to the bathroom to hide. When her mother asks whether she has gotten her period, Mei responds affirmatively. As far as I can remember, this is the first time menstruation is dealt with matter-of-factly. (Yes, humour is still being employed when talking about it, but it's not done overtly.) There's no "bleeding through a white uniform and dashing out of class to the bathroom" moment. Instead, Ming barges into the bathroom with all types of sanitary pads and medication, assuring Mei that "they'll go through it together".
This is a stark contrast to how Asian parents typically deal with hormonal changes. AKA, they don't talk about it or discuss it as little as possible. Or, they leave it to the schools to do it on their behalf. Turning Red subverts this by showing how the parents are open to talking about menstruation, albeit some metaphors are used to "describe" it. This is also what Asians do when they talk about periods!
Generational trauma: where it all starts
This term is a buzzword that continually pops up when people talk about mental health. Generational trauma is unresolved trauma and shame passed down from generation to generation. It can stem from "big traumas", such as war and death, to "little traumas", like breaking an arm. In Turning Red, generational trauma started with Ming Lee, who fell out with her mother (and Mei's grandmother), Wu Lee. The trauma stems from her constantly seeking approval from her mother.
Wu Lee isn't pleased with Ming getting together with Jin. Ming is also burdened with needing to live up being the perfect daughter and parent. The pressure to be perfect leads her to become the parent that she is, and the generational trauma gets passed down to Mei. Remember the scenes where Ming Lee's panda emerges? That's how generational trauma has affected her.
Let's talk about filial piety (aka honouring parents)
In the film's opening montage, Mei waxes lyrical about honouring parents as the number one rule within the family. But she also adds a caveat: "Honouring your parent sounds great, but if you take it too far, you might forget to honour yourself." In Asian culture, children are expected to obey and defer to their parents. The act of defiance towards the elders is considered unbecoming and disrespectful.
But what if filial piety results in you being unhappy? That you are not able to become your own person? Mei has been doing well under her mother's guidance, but once she hits puberty, everything seems at odds between them. So, how do you juggle honouring your parent and being true to yourself? Or, are you able to find a balance between the two?
Fangirling is not an obsession!
Another central plot point is Mei and her friends' adoration of 4*Town. This fictional boyband is inspired by the music eras of the 90s and 00s. I'm sure you'll remember fawning over the Backstreet Boys, Britney Spears, and the like back in the days. You know the words to their songs, learn the dance moves, and (tried to) imitate their style. It can also be seen as paying homage to the burgeoning K-pop wave and how music plays a significant role in adolescents' lives.
For the longest time, the public perceives fangirling as a rabid obsession. The perpetuation of K-pop fangirls further reinforces the stigma that this is "unhealthy" and a "waste of time and money". In the movie, Mrs Lee refers to 4*Town as "glittery, tacky delinquents" and questions why Mei is a fan of the group. Similarly, people are shamed for fangirling over the musical acts that they like. Let people like what they want!
My hot take on Turning Red
Honestly, I wasn't even aware that the movie is out on Disney+ until my friend suggested watching it together. And I'm glad that I did. I'm amazed that my lived experiences have been portrayed in a Hollywood movie with such nuance. The film shines a light on Asian culture. It deepens conversations on generational trauma and mental health. Viewers will eventually realise that Turning Red is more than about a cute red panda. It's about stories of Asian folk being told authentically. This movie made me feel seen and heard.
Have you watched this movie? What do you think of it? Send us a DM – we'd love to hear your thoughts.