Photography: prostooleh via Freepik
If your little ones are keen fans of a bedtime reading session, then they'll love one where they get to be the hero of their own personalised storybook...
Cuddling up for a bedtime reading sesh with the little people is one of our fave parts of the day, so we're always on the lookout for a lovely picture book or fun-packed chapter book to share with them. But for an extra dose of the warm fuzzies, a storybook that features your own child as the star is a guaranteed hit for parents and kiddos alike. We've found personalised storybook options here in sunny Singapore as well as overseas picks that will deliver straight to your door.
Where to design and purchase personalised storybooks for kids
1. Wonderbly
Looking for personalised books for kids between zero and 12 years old? Wonderbly is the place for you. It has an impressive range of themes: from stories of self-discovery and courage to search-and-find adventures and fairy tales. Adults can join in the personalisation fun too! Anyone would feel extraordinarily special when they receive their own personalised stories. Once done, you can get your books shipped via standard or express delivery.
2. Tinyme
Namedrop your kid into personalised storybooks courtesy of Tinyme. Your kiddo can go on adventures with Cheeky Monkey, the brand's hero extraordinaire, alongside musical pandas, dancing cupcakes, swimming doughnuts, and veggies that play table tennis! But what we love most about Tinyme's personalised books range is that they're also educational. If you want to do more than just read, there's an amazingly awesome activity book that you can personalise too. Wow!
3. Snapdragon Books
If your child has always wanted to be a hero of a magical storybook, surprise them with this personalised option by Snapdragon Books. Each bespoke hardback book is lovingly handmade, beautifully illustrated, and highly personalised – a colour photo of your youngling is also included in the story. Choose from the four covers available and Emma and Deborah, the founders of the company, will work their magic. A very cool keepsake that your kid will treasure forever.
4. Librio
For folks with more than one child, it can be a struggle when it comes to storytime. Who's going to be the hero of the story this time? (Trust us, we've been there and back!) Librio has the solution: a personalised storybook featuring two protagonists! The featured characters (AKA two siblings, a child and their best friend, a child and an adult…) go on a hide-and-seek adventure in the library. Watch out for the twist at the end of the story! You can configure the characters' looks, from the type of glasses they wear to the clothing colour. We also appreciate the brand's social and environmental commitments.
5. Penwizard
How about a personalised adventure storybook featuring your little one's favourite characters? Penwizard's collection features familiar characters such as Peppa Pig, the entire Paw Patrol squad, Dora the Explorer, and more! All you have to do is provide your children's names, and a designed avatar of them will be featured throughout the book. Your kid will want to read their personalised books over and over again.
6. The Letteroom
Here's another option if you want more famous characters to feature alongside your child. At The Letteroom, you can choose a personalised storybook for your little people with Paddington Bear, Thomas & Friends, Petter Rabbit, and other well-known folks from Disney and Pixar animations. If you want to keep it simple, there are generic options too. While you're here, go ahead and add the farm animal bookends to your cart. And yes, those can be personalised too. Gift idea sorted!
7. Dinkleboo
If you have time to spare, go through the selection of personalised storybooks by Dinkleboo. There's a book for every occasion and adventure: Christmas, the first day of school, visiting a farm… you name it, this company probably has it. Once you've decided on the story, pick which book type you'd like, yours and your kid's name, and the language. There's even a dedication page where you can leave a sweet message for your little reader. We bet this personalised book will be your tiny human's new favourite to read every bedtime.
8. Letterfest
We love the illustrations and colours Letterfest uses in its personalised books. The kids will get a kick flipping through each page, marvelling at the artwork while also spotting and reading out their names. Each copy also includes a personalised message that you can write for your littlie, and you can choose to have the book printed on a gorgeous laminated hardcover.
9. My Magic Story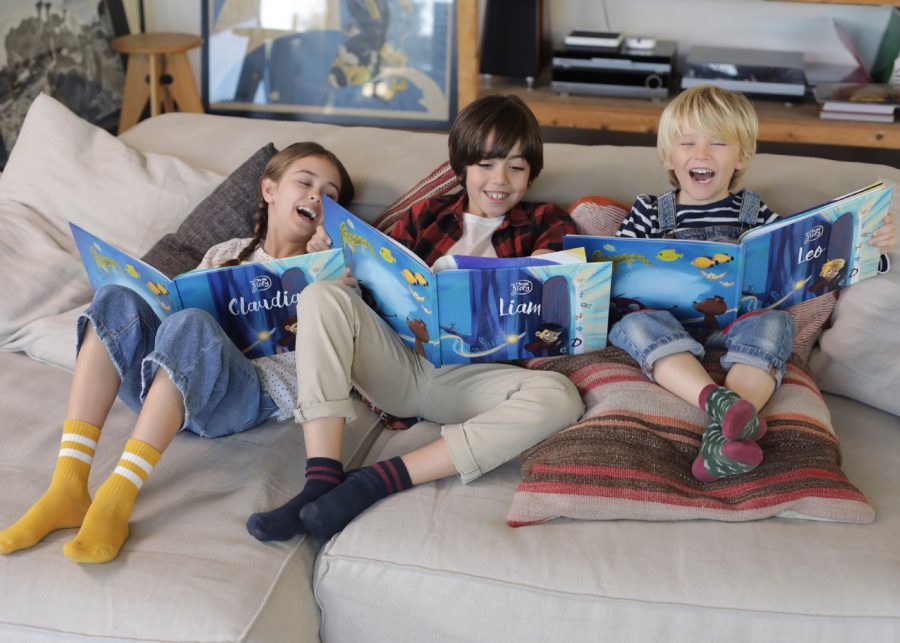 Not only will your little one love seeing cool meanings attached to each letter of their name in a My Magic Story, but the company works in collaboration with Save the Children. Each customised book comes in hardback or paperback, and while the number of pages depends on the name, it will be at least 38 pages of beautifully illustrated tale.
10. Bookyboo
For a fully customised tale, Bookyboo takes general info about your child – name, sibling info, etc – and builds a personalised adventure for them. Pop in a dedicated message on the first page, fill in the deets you want to be included, pick a theme (which include Disney and birthday party themes) and then wait for the biggest smiles when your little one gets a look at a story in which they are the hero.
11. TimTimTom
With free delivery worldwide, kids will love these stories all about them by TimTimTom. You can not only choose the hair colour, hairstyle, eye colour and name of the main character to match your own child, but it can come in a language of your choice too! Current picks include Chinese, English, Italian, Russian, French, Portuguese and more, and you can pick up to two languages per book. There are three stories to choose from – an underwater adventure, a magical ballet and a cool football-themed tale – all in which your child will be the star.
12. My Given Name
Share the love of reading with your little humans by gifting them a personalised book by My Given Name. Each copy comes with your child's name and the chosen animal character. Each book is printed in stunning colour on environmentally-friendly paper (which we totes approve) in softbound or premium hardbound. Planning to add more to cart? Each additional book gets you a discount – bonus!
Time to order your personalised storybooks, folks, and stat!