Eye spy with my little eye… Our list of vision care specialists in Singapore that you should have in your address book!
It is no surprise that myopia (and other eye-related problems) are on the rise, especially among kids. Excessive screen usage, reading in the dark, and even genetics are just a few causes of myopia. Psst, did you know that this particular eye condition is more prevalent in those with Asian roots? We had no eye-dea, either! Also, Singapore's myopia rate is among the highest in the world. Thus, the country is often known as the "myopia capital of the world". Yikes!
Are you looking for an eye specialist to check your peepers? Here's our guide to who you should consult in Singapore: an optometrist, an ophthalmologist, or an optician.
The three O's: optometrist, ophthalmologist, optician
Bet you didn't know there are three different types of eye care specialists! (Honestly, neither did we!) An optometrist is an eye care specialist that can examine, diagnose, and treat certain eye conditions. An ophthalmologist is an eye care medical doctor who can diagnose all eye problems and perform surgeries. They're essentially the levelled-up version of an optometrist. Finally, an optician is an eye care professional you often see when you drop by an optical shop.
Now that we're clear on the definitions, take a peek at our list of eye care specialists in Singapore that you can look into for your family's eye problems…
Eye care specialists in Singapore
1. Singapore National Eye Centre (SNEC)
Ophthalmologist/Optometrist
This is the place you should be eyeing for all your vision-related issues. Since 1990, this designated national eye centre has provided a full range of eye treatments and clinical services. There's a dedicated clinic on the third floor that manages all kinds of childhood eye disorders. It features child-friendly facilities that'll keep the littlies occupied while waiting for their consultation. Is kiddo experiencing double vision, lazy eye, or been squinting of late? The orthoptist (another O!), a trained eye health professional that evaluates and manages conditions involving eye movement and alignment, will take a look.
Singapore National Eye Centre, 11 Third Hospital Avenue, Singapore 168751
2. Eagle Eye Centre
Ophthalmologist/Optometrist
This one-stop comprehensive eye clinic is the first to integrate ophthalmic and optometric eye care under one roof. Everything that you need is here, from refractive surgery and retina services to myopia screening and control. Its team will recommend the appropriate and affordable treatment options for each patient. Besides Mt Alvernia Hospital, you can find Eagle Eye Centre at six additional clinics across the island.
Eagle Eye Centre, various locations around Singapore
3. OWNDAYS
Optician/Optometrist
As one of the most recognisable optical brands in Singapore, Owndays is often considered synonymous with style. Its eyewear comes with high-index aspheric lenses that repel dust and protects your eyes from harmful UV rays. Plus, its range of frames is lightweight and durable, which suits the littles just fine. If you need a pair urgently, rest assured the folks here are able to make one for you within 20 minutes. Fast, efficient, and wallet-friendly – we totes approve. Psst, if you're a Pokémon fan, you better get your hands on a stylish pair of glasses from Ownday's Pokémon collection!
OWNDAYS, several outlets in Singapore
4. W Optics
Optician/Optometrist
One of the largest optical stores in Singapore, this shop offers various services for your vision care. If you suspect your child may have myopia, you can consider Ortho-K, which significantly slows down myopia progression. This non-surgical procedure is typically recommended for those aged seven and beyond. Yes, adults are eligible for the corrective treatment too! Its flagship store at Suntec City features a fun kids' corner where your little people can play with puzzles or draw while getting framed.
W Optics, various locations across Singapore
5. Zoff
Optician
This Japanese brand claims to be more than just an eyewear brand, and we must agree. Its extensive collection of eyewear designs will leave you spoiled for choice! Kids (and perhaps adults, too) will be interested in the Peanuts and Disney collections, which have frames inspired by the respective animations. There's also the Zoff-U-15 Programme, an initiative that allows parents to change their children's prescription lenses for free within a year after making their purchase. This programme is only applicable to ages 15 and below.
Zoff, several branches throughout Singapore
6. Asia Retina Eye Surgery Centre
Ophthalmologist/Optometrist
Are you concerned about retinal care? Well, this medical centre is an excellent place to gather more information. Asia Retina offers a full suite of eye care services and aims to spread eye wellness and prevent eye diseases. Modern techniques and instruments are used to help patients improve their eye vision and health. The centre also has a mobile app that enables you to do vision tests on your own, book appointments, and keep track of your medical records. Handy!
Asia Retina Eye Surgery Centre, #15-10, The Paragon, 290 Orchard Road, Singapore 238859
7. Dr Leo Adult & Paediatric Eye Specialist
Ophthalmologist/Optometrist
This eye clinic was established to provide a vast range of services for your eye care needs. The team is led by Dr Leo Seo Wei, an ophthalmologist with over 20 years of experience and well-equipped to perform complex eye surgeries. You can bring your little people over for a comprehensive eye screening and treatment of complex eye problems. Psst, if you're looking to control your kiddo's myopia progression, the clinic stocks atropine eye drops, which have been proven super useful.
Dr Leo Adult & Paediatric Eye Specialist, #10-04, Mount Elizabeth Medical Centre, 3 Mount Elizabeth, Singapore 228510
8. Foptics
Optician
Is there such a thing as stylish yet affordable eyewear? With Foptics, you won't be burning a hole in your pocket getting eye-catching glasses for the little ones. The kids' collection carries a series of colourful frames that won't make them look like Harry Potter (but hey, if that's the look they're going for, then good for them!). Making your purchase with this homegrown brand is easy, too: pick the frame you want, select your lenses and prescription, and voila, your glasses will be ready in three days.
Foptics, #03-01, 58B Pagoda Street, Singapore 059217
9. Eyecare Studio
Optician/Optometrist
Eyecare Studio's commitment to excellence guarantees you'll have peace of mind when you engage with them. Its optometrist and optician staff are qualified and registered under the Optometrist & Optician Board of Singapore. This means all diagnoses and eye examinations are done with utmost care and professionalism. Plus, everything is inexpensive, so you can go ahead and get those blue-light coated lenses to protect the littlies' peepers.
Eyecare Studio, stores in Seletar Mall, Nex, and Jurong Point
10. Capitol Optical
Optician/Optometrist
Another prominent eye care specialist in Singapore is Capitol Optical, which has been around since 1968. This family favourite provides everyone with quality eye care, eyewear, and top-notch customer services, contributing to its longstanding presence here. If you want to slow down your child's nearsightedness, you can consider MiSight. Speak with the folks here to find out more about this non-invasive procedure. While you're here, why not sign up for its rewards programme? You'll receive a 20% discount during your birthday month and other perks such as free eye examinations.
Capitol Optical, various stores in Singapore
11. The EyeClinic by Dr Cheryl Lee
Ophthalmologist/Optometrist
In the heart of Orchard Road lies this boutique eye clinic by Dr Cheryl Lee. With more than 10 years of international experience, the award-winning ophthalmologist returned to Singapore after her overseas stints and set up her clinic. Dr Lee's responsible for increasing public awareness of Implantable Contact Lens, a reversible vision correction procedure that's noted as being superior. She's also a mother, so you can rest assured that your kiddies will be in good hands when consulting with Dr Lee.
The EyeClinic, #04-24/25, Mandarin Gallery, 333A Orchard Road, Singapore 238897
12. ACE Clinic
Ophthalmologist/Optometrist
Providing eye care for the family is this clinic's mission. And we say, it definitely delivers on that statement. Located within Mt Elizabeth Hospital, ACE Clinic offers an extensive range of adult and paediatric eye services. The clinic's medical director, Dr Cheryl Ngo, has conducted comprehensive research on children's eye diseases, including myopia and squinting.
Adult & Child Eye (ACE) Clinic, #07-43, Mountt Elizabeth Novena Specialist Centre, 38 Irrawaddy Road, Singapore 329563
13. Lenskart
Optician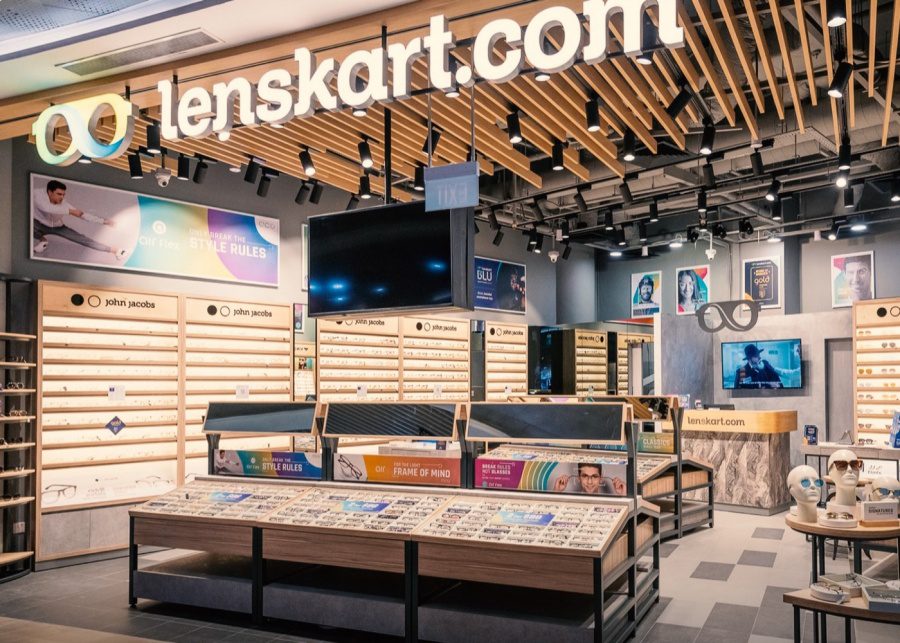 You probably have to do some research if you want to know more about frame sizes, prescription types, and even eyewear care. But what we love about Lenskart is that it provides everything you need in one place on its website. Its frames for kids are simple yet timeless, which parents will appreciate. (Psst, this particular design caught our eye!) The virtual try-on function on its website lets you see how its frames look on you. Ready to purchase but unsure of your prescription? Book a free eye power test, and off you go.
Lenskart, multiple locations islandwide
Choosing the right pair of glasses for your kids
So you've decided to take the plunge and purchase a pair of glasses for the kiddo? Unfortunately, it's not as easy as it looks. Here are a few things to consider:
1. Specs, but make it fashion
Always, always involve your child in the frame selection process. If your child loves their glasses, they're more likely to wear them! If I recall correctly, I always decided how my glasses looked. Of course, that doesn't necessarily translate to really good-looking glasses… But hey, at least they're my decisions to regret.
2. All about the frame
Other than aesthetics, how the frame sits on your child's face is vital in function and comfort. Do remember that the frame shouldn't be too big or too small, doesn't touch the cheeks, and the eyelashes are not touching the lens. For frame material, consider one that's lightweight, robust, and won't break easily. The number of times I've accidentally sat on my glasses and am relieved that they're still intact… (Don't do this on purpose, kids!) Lenskart has written a thorough guide on frame sizes, fit, and material.
3. Remember, remember, the temples and nose bridge
One of the hardest parts about picking a pair of glasses for wee kids is that their nose bridge isn't fully defined. Thus, there's less support for the glasses, particularly if they don't come with adjustable nose pads. Pick a frame that sits nicely on the nose bridge and won't slide down easily. Regarding the temples (i.e. the arms on the frame's sides), they should be at a good length and curve around the back of the ears comfortably. Too tight, and they'll be uncomfortable to wear. Too loose, and your glasses will slide off too easily.
4. Through thick and thin (lens)
Once you and your child have agreed on the frame, it's time to consider the lens. Consider getting thinner lenses if the eye prescription is on the higher side. It'll be pricier, not going to lie, but your child won't look like Sybill Trelawney after putting on their glasses, that's for sure! Also, avoid glass lenses, which can break and are a safety hazard.
5. The backup plan
If you can afford it, purchase a second (AKA backup) pair of eyeglasses for your young one. Children can be tough on practically anything, and you don't want them to lose sight while you replace their broken eyewear. Better to be safe than sorry!
How to take care of your (new) glasses
Wear and remove your glasses by holding both temples. Use both hands to keep them fitting properly.
When not being worn, store your glasses in their protective case. Don't leave the glasses lying around – others might kick, step, or sit on them!
Use a microfibre cloth to wipe your glasses. Paper towels, tissues, and napkins might scratch the lens.
If you need to adjust your kiddie's glasses, bring them to your optician, who will do it for free. Don't attempt to remedy yourself!
Do not place your glasses on top of your head. Yes, the folks in television and film do that, but you don't see them wearing the same pair of glasses all the time!
We hope this has been an eye-opener for you!