Time to pick up those first shoes to support your little one's first steps? Welcome to the brave new world of chasing your child!
You'll be well and truly listening to the actual pitter-patter of tiny feet once your baby becomes a toddler! Yep, your baby's first steps is one of those proud parenting moments where all the sleepless nights, self-doubt and moments of sheer panic suddenly don't seem so bad. But now your toddler has gotten the hang of being mobile, those little feet are going to need some suitable shoes (and you're going to think about child-proofing your house!). We've found the stores around Singapore where you can find the best kicks for the first steps, from the wibbly-wobbly stage through to rock steady steps…
Where to buy baby's first shoes in Singapore
1. Pediped
If you're looking for a pair of shoes that are stylish and promote healthy foot development, grab a pair from the folks at Pediped! You'll be getting top-notch, quality shoes for bubs. Pediped's range of shoes for babies are flexible, soft and made to mimic barefoot walking. Not to mention, they're also comfy, too! And, its shoes are also available for older kids up to eight years. We're big fans!
Where: Online
2. Tiny Dots Wonder
Both you and your little one will be spoilt for choice at Tiny Dots Wonder, a new local kid's concept store that carries premium Italian and Spanish shoe brands for kids, as well as its house brand Jack & Jill Shoes. This Singapore-based store has shoes for all occasions: casual shoes for a day out with the fam; and formal shoes for special dinners or family functions. It even has a selection of mother-daughter shoe pairings for those who love to play dress up with their mini-mes! Sounds cute? Bring the kiddos to try out Tiny Dots Wonder's signature loafers and ballet pumps at Takashimaya's Children's Department (Level 4)!
Where: Tiny Dots Wonder, Takashimaya, Level 4 Children's Department; or online
3. Happy Step Store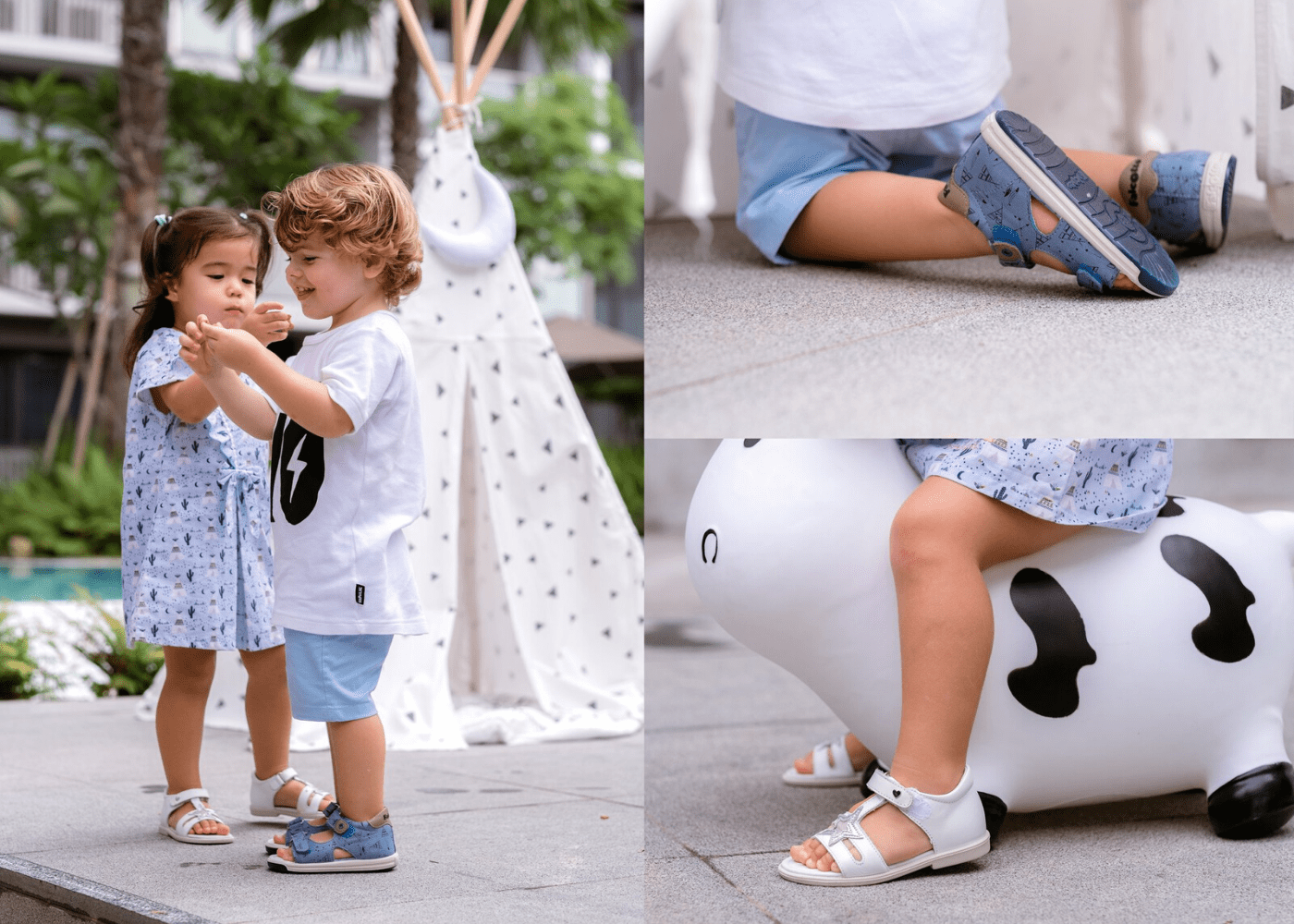 Looking for shoes your toddler will love that are both trendy and practical? Look no further than Happy Step Store! The brainchild of a mother with a very picky daughter, Happy Step Store stocks only reputable Italian brands like Falcotto and Naturino, which are as ergonomic, light and comfy as they are fashionable and fun. The shoes are orthopaedist recommended as they provide proper heel and arch support and ensure correct foot positioning. If only they came in our size, too! Happy Step not only strives to stock the loveliest footwear, but it also completely understands how important foot development is during early childhood, and that having the right shoes makes a huge difference. This is definitely a case of happy feet, guaranteed!
Where: Online
4. The Elly Store
Slip little feet into a huge selection of kids shoes over at The Elly Store. Cute but sturdy picks include Converse, Castell, Bobux, Livie and Luca, Native, Old Soles, Tip Top Joey and Salt Water Sandals. A solid range of baby's first shoes! Plus, a decent selection of adorable Jellycat stuffed animals that may well make it into your shopping basket.
Where: The Elly Store, Cluny Court, 501 Bukit Timah Road,#02-31/33 , Singapore 259760
5. Melissa Shoes
If leather or canvas isn't tough enough for your little one's feet, Melissa Shoes have the sturdiness and style to snazz up any shoe cabinet. You'll find plenty of glittery, bow-laden picks as well as sturdy sandals that are sure to match any outfit. (Psst… why not splurge a little and get a pair to match with the little one too?).
Where: Melissa Shoes, various locations
6. Hopla! Singapore
Pop over to the Cluny Court or United Square store, or check out the online options that will have you browsing cute shoes for early walkers through to teens for hours. Prepare to fall down a rabbit hole of Mary Janes, sneakers, pre-walkers and oh-so-snazzy sandals when selecting your baby's first shoes! The options are endless. We love the Froddo First Shoes range which has been designed in Europe specifically to promote the healthy development of children's feet. The fully leather shoes use only certified natural materials so when your little one has a chew on a shoe (that will happen) at least you know there are zero toxins or harmful substances in that snack.
Where: Hopla! Singapore, Cluny Court, 501 Bukit Timah Road #02-23 Singapore and United Square Mall, 101 Thomson Rd #01-57, Singapore 307591
7. Freddie the Frog
If comfort is your top priority, then the range at Freddie the Frog might just be something you'd be interested in. With materials such as synthetic leather and suede being used, your little one's steps are not restricted while still looking stylish. Personalised shoes as keepsakes? There's My Own, which allows you to customise the bottom soles of the shoes. We love!
Where: Freddie the Frog @ Bove by Spring Maternity, Suntec City Mall Tower 4, 3 Temasek Boulevard, Singapore 038986; or online
8. Bobux
Hailing from New Zealand, the cool Bobux brand was the first to create all-leather soft soles for early walkers. Head over to its website and browse its fit guide to ensure you get the right size, and then order a pair of podiatrist endorsed shoes online. Perfect for kids who have zero tolerance for shopping! We're just a little bit in love (okay, a lot) with these navy Peace Panda soft shoes (pictured above), which have a chestnut suede sole that provides a great non-slip surface for the littles to pad around safely. If you prefer trying before buying, check out the range of Bobux picks available at The Elly Store (details above).
Where: Online
Have a fun time looking for the perfect solemate for the kiddos!
Top image: Twinfisch via Unsplash