Want your little one to learn to swim? Then check out these swimming classes for kids in Singapore. Ready, set, splash!
However old your children are, there's one thing parents can agree on: teaching them to swim is crucial. Learning good water safety is a life skill we should all be imparting down to our little ones – you never know when they might need it. And, from a fun perspective, learning to swim is all kinds of awesome! With the tropical weather we enjoy year-round in Singapore, it's so easy to head to your condo or local public swimming pool, or enjoy a day on Sentosa's beaches. If you're ready to take the plunge and find swimming lessons for kids in Singapore, look no further. We've got all the best swim schools in Singapore in one handy read. And don't forget, it's never too early to start! Check out our guide to swimming lessons in Singapore for babies to get even the tiniest of tots splash happy!
The best swim schools and swimming lessons for kids in Singapore
1. SWISH! Swimming
We're big fans of Swish Swimming (pictured above) and for good reason. Not only are the swimming instructors the loveliest people ever, but the actual swim lessons are fab and the pools are, too. If you want the kids to learn to swim, be sure to check the facilities and the children's classes out. It's tucked away within the Loewen Cluster on Dempsey Hill, and you'll find both indoor and outdoor pools set in a beautifully restored black-and-white property. There's also the swim studio over at Core Collective Dempsey (we held a pool party there once!). Swimming lessons for babies are available, and the swim school also provides swim lessons for children with special needs. Not only that, there are 'Auntie and Me' lessons for helpers, and even Merfit sessions for aspiring mermaids.
Swish Swimming, 72 Loewen Road #01-08, Singapore 248848
2. aquaDucks
All kids are catered for at aquaDucks, which has helped swimmers of all ages since 1989. The swimming program consists of 18 levels, so you can be sure everyone from babies through to toddlers, preschoolers and beyond are looked after. And the 2000+ students on its books are a testament to that! This is a world-class swimming experience, with a professional team of swim coaches. And the kids? Well, they'll take to this effective learning environment like ducks to water! All the pools are also covered, heated and salt-chlorinated, which is kinder on sensitive skin. Don't miss this guide to 5 things you need to know about learning how to swim, which aquaDucks put together exclusively for HoneyKids.
aquaDucks, own pools at Dempsey, Newton, Queenstown, and Turf City as well as at two country clubs, Hollandse Club and Swiss Club
3. Happy Fish Swim School
Happy Fish Swim School has been running (or should that be swimming?) since 2007 and it's gone from strength to strength. It offers swim classes for kids of every age, all the way from four months onwards! Plus, if you need to brush up on your own swim strokes, it offers adult swimming lessons, too. How good?! The pools are indoor and heated to make the whole experience a whole lot lovelier, which we like. Those awesome peeps also offer special needs swim classes, prenatal sessions and lifesaving courses.
Happy Fish Swim School, pools at Bedok, Stevens Rd, Wild Wild Wet, Jurong East, JE Outdoor, Horse City, Bukit Timah
4. SwimRay
SwimRay is one of Singapore's leading private swim schools that offers a first-of-a-kind pedagogy combining accident survival swimming techniques and competitive swimming skills. Run by former swim student and naval diver Ray Kua, he noticed that most private swimming lessons in Singapore primarily focus on stroke efficiency, with little to no emphasis on water survival in open water. To help value-add the learning experience and build confidence amongst swimmers in open water, SwimRay incorporates accident survival swimming skills to equip children with drownproofing, limb immobility swimming, and shock entry skills.
Together with Co-Founder Jay Lin, a former competitive swimmer for Taiwan and Singapore, SwimRay's lessons also include the competitive elements of swimming. This is enhanced with their 5-step Aquatic Roadmap that progressively teaches students accident survival swimming and competitive swimming concepts, concluding in open water swimming. This is a good class for building strong swimmers!
SwimRay, various locations across Singapore
5. Little Splashes
At Little Splashes, the swim coaches pride themselves on being more than just a swim school for children to attend swimming lessons. Other than teaching strokes and water confidence, they believe in cognitive development, holistic learning and social interaction. We love how they create real scenarios for kids so that our little ones can get as much experience as possible in certain situations. Lessons are kept to an attention-grabbing 30 minutes, and the focus is on fun and play. We likey!
Little Splashes, indoor pools at Siglap, Yio Chu Kang, Jalan Selaseh, King Albert Park and Balestier
6. Isplash Swim School
Isplash is fast becoming one of the leading swim schools for kids in Singapore. Safety's the name of the game here. In fact, its in-house swimming instructors are certified to coach the SwimSafer Program in accordance with the Ministry Of Education. Whoop! Lessons cost as low as $17.50 per lesson and are held at various public pools, such as Jurong West Swimming Complex, Bukit Batok Swimming Complex and Taman Jurong Lake Swimming Complex. If you prefer private swimming lessons at your condo or want a group class at another location, the friendly team will happily do a free matching service for you.
Isplash, loads of locations islandwide
7. Marsden Swim School
Marsden Swim School is one of the oldest swim schools in Singapore. It offers swimming lessons for all ages, and the covered and heated pools mean swim classes can go ahead, rain or shine! All the coaches are accredited and highly trained, so your kids – and you if you take adult classes! – are in good hands. We love that it also offers a swim camp, too.
Marsden Swim School, locations at The Grandstand, Queenstown Swimming Complex, Ang Mo Kio Swimming Complex and GESS.
8. Little Swim School
Little Swim School offers lessons from paddlers (six months of age), right up to more seasoned swimmers (adults and seniors). The lessons adhere strictly to the SwimSafer syllabus, the national water safety program. Plus, the saltwater-chlorinated indoor learning environment means you don't have to worry about sun, rain or haze – hooray! Private swim lessons at your house or condo pool can also be arranged.
Little Swim School, main pool at Westway Mall; swim lessons also available at Yio Chu Kang Swimming Complex, Queenstown Swimming Complex, and HomeTeamNS Sembawang Clubhouse
9. Able Aquatic School
The swim coaches at Able Aquatic School (founded in 1981, by the way!) love water, love swimming and love sharing that with their students. Group lessons are taught in most of Singapore's public swimming complexes, making it easier for parents island-wide to find a competent swimming instructor close to home. We love that it's also an inclusive school, offering fun and enriching classes to children with special needs.
Able Aquatic School, various locations islandwide
10. Aqua Bambinos Swim School
Looking for swimming lessons for babies or toddlers? Aqua Bambinos is one of the few swim schools in Singapore that specifically caters to infants and children under five. Located in the completely weatherproof indoors, the pool is heated to keep those chills away. There are lockers, hot water showers, ample changing rooms, and baby changing tables, plus a children-friendly waiting area. So rest easy knowing everything has been designed with little ones in mind.
Aqua Bambinos, indoor pools at Serangoon Gardens and Picadilly
11. Singapore Swimming Academy
Singapore Swimming Academy has been operating since 2008, and it is now the market leader for swimming lessons in Singapore. Swim classes can take place at all public and private pools around the island, and kids will learn in accordance with the SwimSafer program. Social butterfly? Never fear. The helpful team will arrange your classes and lessons, matching the best suitable time for your schedule.
Singapore Swimming Academy, various locations islandwide
12. The Swim Starter
Keen to see your little one become the next Joseph Schooling? Check out The Swim Starter. Founded back in 1982, its coaching methodology has been designed only for children. Plus its lessons are designed to get your little ones swimming in just under six months! We're impressed. It operates in public swimming pools that are easily accessible and located near MRT stations too, so getting there is a doddle.
The Swim Starter, locations at Toa Payoh, Pasir Ris, Hougang, and Bedok
13. State Swim
This swimming school has over 45 years of experience and teaches more than 30,000 budding swimmers per week. That's a testament to how good State Swim is. Its innovative swimming programmes run the gamut: from six months ("Waterbabies") all the way to adulthood! Lessons are conducted by skilled, hands-on instructors at its outdoor pool in Suntec City which has been fitted with state-of-the-art water filtration, thus ensuring fresher water and without large amounts of chlorine. Asthmatics and those with lung and skin conditions can swim at the pool safely.
State Swim, Suntec City, 3 Temasek Boulevard North Wing Level 4, Singapore 038983
14. Inspire Mum & Baby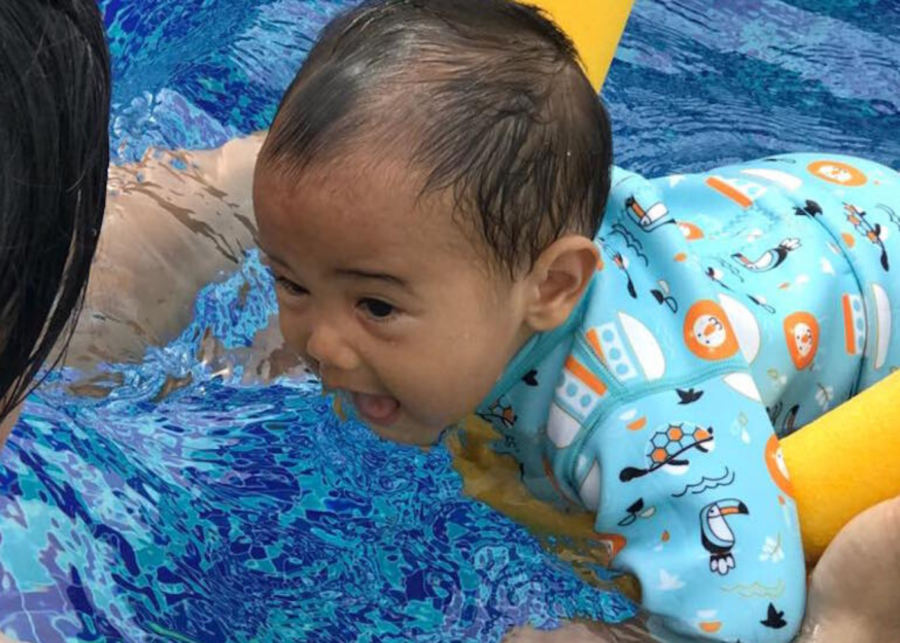 Turns out, Inspire Mum & Baby does a ton of baby classes in Singapore… including swim classes, too! Its lesson plan starts by recreating the womb in your bathtub with its rather ingenious Aqua Tub programme for tiny humans up to three months old. Inspire Mum & Baby also has a weekly schedule at its East Coast pool as well as offering private classes at home. The school also provides aquatic therapy, improves water confidence and aquatic fitness. Time to hit the pool!
Inspire Mum & Baby, 188-2 Tanjong Katong Road, Singapore 436990
15. Swim to Fly
Did you know that swimming is kind of like flying? So say the folks at Swim to Fly, who say their revolutionary swim method will show results from as early as the first swimming lesson. This swim method is specially designed for beginners without real swimming experience or for swimmers with bad habits that need to be corrected. Choose from private online or offline lessons and have your kids learning water safety and backstroke, butterfly and breaststroke in three simple steps. The instructors also swear to be able to cure aquaphobia. Sounds pretty amazing to us! Contact them for a free trial and to find out if they can come to your condo.
Swim to Fly, teaching locations at Novena, Newton, Orchard, Bukit Timah, Serangoon, Sentosa, Farrer Road, and River Valley
Ready to make a splash? We'll see you and your tots for a dip at the pool or beach soon!