Want to be a published author? HoneyKids speaks to local Singapore authors about how they turned their dreams of writing into successful children's books...
Everybody has a story. But if you want to share yours with the world as a book, how do you get that book on the shelves of the best bookshops in Singapore? Want to turn your dreams of being a published author into a reality? You're not alone. We have a few of our own books-to-be living on our computers, too. So, for all fellow aspiring authors, we spoke to a few local children's authors to find out how they made their Singapore breakthrough and became published authors of popular children's books.
PS: Looking for great reads for your little ones? Don't miss our list of all-time favourite children's fiction, kids' storybooks set in Singapore and our favourite books for babies and toddlers!
How to get your book published in Singapore
David Seow, seasoned children's book author
"Singapore doesn't have a huge children's book publishing scene, but it has grown significantly since I first started back in 1998. I was lucky because my parents knew someone who was working with a publisher… they accepted my manuscripts on the spot and then commissioned another nine manuscripts! I published 22 books with them altogether.
It was very different working with my next publisher, and although I learned a lot from them, I had very little editorial control. Next up, I tried self-publishing which, for me, was a tough experience. I was responsible for everything, from finding my own illustrator and designer to editing and also sourcing distributors. With self-publishing, you will also have to do your own marketing, and it can take a lot out of you. But if you're in a rush to get your book into the world, then self-publishing could be the way to go.
My third publisher, Epigram Books, has been a dream to work with. They have the best editors, illustrator and marketing team for sure. They also accept non-solicited manuscripts online, so are definitely worth approaching. I've commissioned nine books with them so far, with more to come.
If you really want to learn more about children's publishing, then I would also suggest going to the Asian Festival of Children's Content, where you can meet editors, agents, and publishers to whom you can pitch your ideas. Getting good contacts can really help with finding a path to being published."
Chen Wei Teng, author of 3 picture books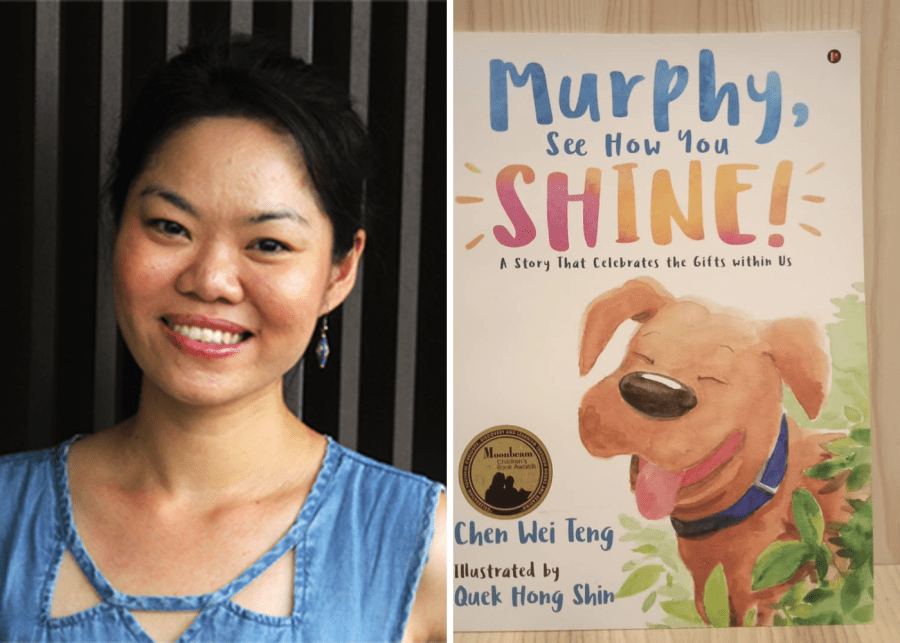 "Interestingly, when I was young, I wanted to be an author of Chinese works as I love the beauty of the Chinese language. Along the way, my passion for languages extended to writing in English, and my debut English picture book, Murphy, See How You Shine! has brought me to quite a journey I will forever be grateful for. I wrote the original manuscript as early as 2009, but I felt ready for it to meet the world only in 2017. A large part of what made me feel that way was that I met author cum illustrator Quek Hong Shin that year who made me feel he was the perfect illustrator to collaborate with. And true enough, I further fine-tuned my manuscript with his feedback, and he was sporting enough to give his virgin watercolour illustration efforts to Murphy. From collaborators, we became friends with whom we can share the joys and pains of this content creation journey.
I decided to self-publish it as I felt Murphy needed to meet the world that year, and there should be no more delay. From then on, it was an intense yet exciting, steep learning curve beginning when I engaged an independent publisher based in Chennai. I would never have been able to self-publish without my friends' help, who supported my publishing journey. From their contacts, I sought the advice of people who helped me understand how to put out a book on my own without a traditional publisher, such as looking for a printer and book distributor. Being a self-published author, I also needed to find my venues to market myself and my books. That was a whole lot of hard work but also a whole lot of fun too. Murphy, See How You Shine! was awarded the Gold Award by the Moonbeam Children's Book Awards (Picture E-Book category) in 2018.
The book also received the support of Lee Kuan Yew Fund for Bilingualism (LKYFB) and was translated to Chinese last year. Early this year, the Chinese version was selected by LKYFB and the National Library Board to be converted to an e-book that even more readers could access. I find it so uncanny that I came full circle and now have a Chinese literary work under my name, which I always wish for, albeit via a translator. The whole process of working on a translation work with my translator, Maha Yu Yi, my Chinese publisher and LKYFB has inspired me to produce more bilingual picture books in the future as I am a strong advocator of bilingualism.
I have since written two other children's books focusing on family values together with preschool educator cum picture book author Suzannah Chua and illustrated by Chloe Chang. Ministry of Social and Family Development commissioned us and our two books were published under the Treasures for Life series, which comes with lesson plans for preschool teachers. It was an honour to have our books read by preschool teachers for the pre-schoolers in Singapore!
What made this journey even more worthwhile are the friends I made along the way, from illustrators and fellow author friends to publishers and booksellers. I see them all as part of this close-knit network that works tirelessly to build reading communities in Singapore and our Southeast Asian region. To be part of this mission is something I am very proud of."
Vivian Teo, author of My BFF is an Alien series
"Before I became a freelance writer, I worked as a full-time financial journalist and editor for many years. When my younger daughter was in her last year of preschool, and my elder daughter was in primary two, I felt that time was passing too quickly. I thought I was missing out on their growing-up years and wanted to see my kids more often, so I started thinking about going freelance. Writing books became one of the writing gigs I considered. You can say my kids are one of the reasons why I decided to write a book.
I wanted to write stories my children would read. They were reading middle-grade books then (and still are!), so middle-grade became a natural choice. There is also another reason why My BFF Is an Alien is a middle-grade story set in Singapore – I grew up with Eurocentric narratives because there were very few local children's books then, such that when I was writing compositions in secondary school, I would always set my stories in a foreign place. I never set my stories in Singapore because I thought nobody did.
Fast forward to today, there are many more Singlit children's stories in the market, but I've always felt that we can do more. I wanted to write stories that I wanted my children to read. Our children here need to see themselves in stories and know that our stories in Singapore are worth reading and telling.
I knew I wanted to write a middle-grade story that would be fun, exciting and inspiring for children. So, I spent a lot of time brainstorming for a good story idea. I also read many middle-grade books and researched what was already in the market locally and internationally. When I had my story idea, I started working on my draft while still working full-time and completed it after leaving. During the writing and submission process, I knew there was no certainty that my book would be published, but I had done my homework to make sure it stood a good chance of being published – that is, by knowing what's available in the market and coming up with a story that is unique and interesting to my targeted market and readers.
After completing my manuscript, I submitted it to a few publishers in Singapore as per their submission guidelines. However, there was one publisher that I had wanted to publish with – Epigram Books, who is renowned for publishing Singapore stories and has published several successful middle-grade titles.
To my delight, the first who came back to me within a month or so was Epigram Books, who asked for my full manuscript (their guideline was to submit the first three chapters of my book). I took their interest to read my full manuscript as a good sign. After that, they came back to me pretty soon, within another month or two.
To date, I've published five books in less than three years. With each book, I probably went through about 5-6 drafts – the first few usually take the most time to work on as they are structural and line edits. There'd be some back and forth with my editor as we review the drafts and ensure our edits for each draft work. It may seem like a long process, but this is part of publishing, and I quite enjoy it because, with each draft, you can see your story becoming better and ready for the big stage.
My biggest takeaway from writing My BFF Is an Alien is that it's essential to plan the outline of a book series, especially for a limited series. If you don't have a plot outline for your series, there's a high chance of having plot holes in your story, and your protagonist's journey may not be coherent. Armed with this knowledge, I have a better idea of plotting the new middle-grade book series I'm working on.
In terms of publishing, I came into this industry as a newbie; I didn't know people in publishing or authors in Singapore personally. After being in the industry for almost three years, I know more people now, have a better idea of what things are like in the industry and what kind of expectations I should have. I've come to realise there are other important things to consider when choosing publishers, like how proficient the editors are, how easy the editor is to work with, how fair are the author contracts, how punctual they are with advance/royalty payments, what are their marketing efforts like; what's their level of author care.
So if you're an aspiring author, it's good to network, talk to people to know what working with different publishers is like. For instance, if you've heard that a publisher tends not to pay or delay advance/royalties, you ought to be wary of publishing with them.
For me, I feel very lucky to be published by Epigram Books. I have a very good working relationship with Epigram Books, and it is because of that I'm working with Epigram Books again for my new book series.
Many fiction writers are English or English Literature graduates, but I'm a finance graduate, so I didn't study fiction writing. I can only write stories because I'm an avid reader and know what makes a good story. But that doesn't mean craft and techniques do not matter. So before I started writing books, I read books about fiction writing to learn more about writing techniques.
On and off, I also attended writing workshops and book talks by authors. Till now, I still do that, and most of the time, I learn something from them. My writing journey is a continuous learning process, and my writing is still evolving.
Write for the love of story-telling. You may or may not ever be published, but don't give up; keep working on your craft."
Rachelyn Gordon, author of Rosie and the Mamak Shop & Curly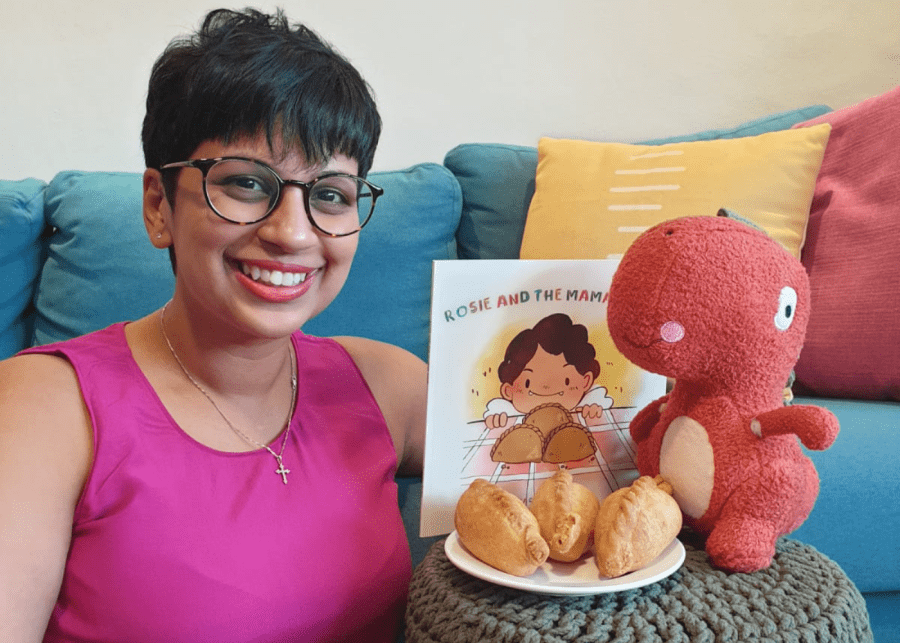 "It has always been my childhood dream to become an author. However, growing up in Singapore, that dream seemed far-fetched, almost impossible, and I didn't know how to make it a reality. Through trial and error and self-discovery, I decided to self-publish my first picture book, Rosie and the Mamak Shop.
Another reason for my decision was my observation as a teacher in international schools, where I noticed a gap in the local Singaporean picture book market. I found it challenging to find stories that featured Singaporean-Indian children, curly-haired children, multilingual children, and female characters with short hair. This gap served as motivation for me to introduce Rosie to other children.
I chose to write picture books because writing something that makes a child laugh, allows them to relate, and encourages them to reread it several times is one of the most rewarding achievements for a writer. Additionally, I love working with children, so writing for them came naturally! The process was incredibly challenging and often lonely, to be honest. I cried so many times! Of course, this was all because of my own decision to venture into the world of self-publishing instead of waiting to be traditionally published.
With my first book, Rosie and the Mamak Shop, I didn't even know an editor to seek help from. So, I wrote the story, proofread it meticulously, and sought an illustrator to breathe life into the text. To get it printed, I initially partnered with a trade publisher. Unfortunately, I was dissatisfied with the quality of the books they produced. So, I withdrew from my contract midway, resulting in a loss of my investment. I then had to figure out the intricacies of self-publishing on my own. GULP!
To print the second edition under my own name (since the aforementioned trade publisher still retained rights to my book for a period), I engaged a book designer to ensure that the second edition had distinctly different end pages.
I then got myself an appointment with a printing company, selected the paper I wanted and anxiously waited for the delivery of the second edition of Rosie and the Mamak Shop.
It was a crazy process of many ups and downs, but I learned so much about the publishing process and have no regrets because I am so proud of the second edition of Rosie and the Mamak Shop.
For my second picture book, Curly, I was fortunate to find an editor, Leila Boukarim, whom I truly loved working with as well as the most amazing illustrator, Cecillia Hidayat, who brought Curly to life, better than I could have envisioned it. I cannot put into words how just gobsmacked I was receiving Cecillia's work. Finding a printer was also much easier as I knew what specifications and paper I wanted.
As a result, round two proceeded much more smoothly, and I was a lot more confident!
A great picture book story requires trust in your imagination and patience. Take your time with your ideas; don't rush the creative process.
Inspiration strikes randomly, so write your ideas down as soon as you get them. I cannot tell you the number of ideas I have forgotten about because I needed access to paper and pen!
Working with an editor who took the time to understand my vision and what I wanted to communicate through my picture books was significant for my growth.
I continued to read many other picture books to keep my ideas fresh and my sense of humour going. I was also lucky that I worked with children who inspired me daily with the funniest, most out-of-this-world things they say and do!
If you're thinking of getting your story published, JUST DO IT! The fulfilment of having your book out there, in the hands of just ONE enthusiastic reader, is worth all the hours it takes."
So go forth and conquer, fellow wordsmiths. We can't wait to read your published book in Singapore soon!
Lead image: Chen Wei Teng via weiteng_for_magic