Image via Boston Public Library
What's your favourite ever children's book? We're reminiscing because it's World Book Day – you never know, you might find a new classic for your own kids!
It's no secret that we're huge bookworms here at HoneyKids HQ. So much so, that we've even created our own Book Club – have you checked it out yet, parents? And we're also trying our darndest to pass down that love of reading to our wee people. Well, today being World Book Day and all (every year on 3 March), we've rounded up our all-time favourite reads that we love to read to our own sproglets. How many have you read?
Our favourite ever books to read on World Book Day!
"A well-written classic that will never get old. The message behind this story about friendships is just beautiful. Hands down one of the best children's books out there!" – Elizabeth
"One of mine and the boys' favourite is Perfectly Norman, about a little boy who grows wings and tries to hide them. It's a beautiful book about self-acceptance and being yourself. We also loved Mutt Dog. It's about a little dog who is homeless and finds a family to love him. It has some sad bits, but just tugs at the heartstrings and has humour too. The boys loved it so much I read it so many times I could still recite almost the whole book for you!" – Angela
"Such cute illustrations! Sandra Boynton's books are ideal for kids just learning to talk and walk; there is so much humour between the pages of those board books. Other personal faves of ours are Barnyard Dance and The Going To Bed Book. My ultimate fave classic, though, has to be Velveteen Rabbit by Margery Williams. Written in 1922, it's a wonderful story of love and loyalty." – Dawn
"My two girls' favourite book is Eric Carle's Papa, Please Get the Moon for Me! They love sitting on their papa's shoulders pretending to reach out for the moon." – May
"I love There's An Alien In Your Book, and it's a firm fave for my toddler, Jess, too. It's really interactive: you need to bounce and turn the book to try and get your little alien friend back into space. It's also got a lovely story too which celebrates our differences. Fun with a meaningful message – always a winner!" – Kate
"My all-time favourite is Lewis Caroll's Alice in Wonderland. I first read this at an age when I was busy building my own pillow fort in the living room and pretending to reign over an imaginary kingdom. Every chapter is a surprise and adventure on its own. I can't wait to read it to my baby boy – and perhaps we can work together and find out why is a raven like a writing desk." – Esther
"If you ask me, the recipe to a perfect children's book is a lineup of cute dogs, a catchy rhyme, and of course, a not-so-scary villain, in this case, a tomcat called Scarface Claw. I read this book aloud almost every night as a kid, and even to this day, I still remember every canine chum of Hairy Maclary from Donaldson's Dairy. There's Hercules Morse as big as a horse, Bottomley Potts all covered in spots, Muffin McLay like a bundle of hay, Bitzer Maloney all skinny and bony, and my fave – Schnitzel Von Krumm with a very low tum!" – Louise
"I loved reading the adventures of The Little Prince when I was younger. The lesson of the story, which is to look beneath the surface to find the real truth of something, is something I can relate to, especially as I was growing up. And who could forget the boa constrictor eating an elephant?" – Lord
9. The Mr Men & Little Miss series by Roger Hargreaves
"These were favourites for me, as were The Twits by Roald Dahl, The Magic Brush by Enid Blyton and Totto-chan: The Little Girl at the Window by Tetsuko Kuroyanagi. I love how all these books were able to take everyday items or situations and add a touch of fantasy to make the stories a little bit more exciting. I also read a lot of True Singapore Ghost Stories books when I was a kid but is that appropriate? Still, I enjoyed reading them all!" – Natasha
10. Double Act by Jacqueline Wilson
"If I have to choose a favourite, I'd go for Double Act. I don't actually recall why but, looking back, I think one of the main reasons may be because her books allowed me to experience life vicariously through her characters (many of her protagonists are young girls). Maybe I had wanted a twin or best friend back in the day… Or perhaps there was a side of me that wanted to live a different life? (I'm a Gemini, after all. Haha!) In hindsight, Wilson's themes intrigued me in general. With grieving, parents' divorce, being orphaned, adoption, bullying, and other 'taboo' topics being the subjects of her novels, I think her books really helped me mature emotionally. She's always had a way to write about these topics in a kid/teen-friendly manner which I admire to this day." – Elaine
"The Elephant & Piggie series of books are really funny and teaches kids important lessons like waiting your turn and appreciating the small things. I'm also a big fan of Dragons Love Tacos – my boys love it because of all the sound effects." – Jana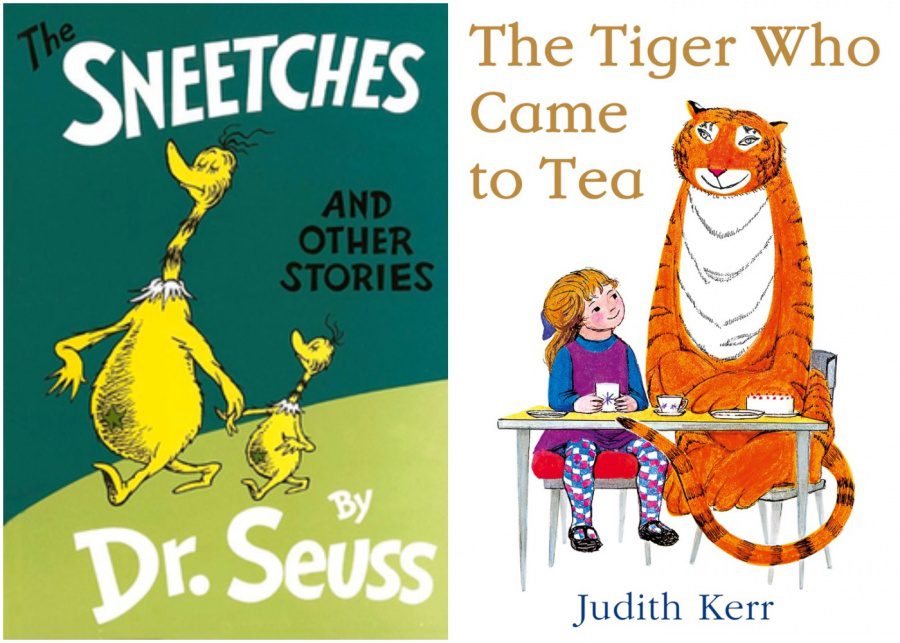 "When I was little, I used to have my older siblings read me The Sneetches by Dr Seuss over and over again! In typical Dr Seuss style, it has loads of great rhyming and funny words, plus the sneetches are adorable. It's a great lesson about the green-eyed monster, too." – Sophie
"I LOVED The Tiger Who Came to Tea so much when I was a kid. So much, in fact, that I bought it for my own little tykes. I think the possibility of having a potential BFF tiger pop around for a cuppa blew my mind. Still does, to be fair." – Amy
14. Ratburger by David Walliams
"My boys are loving Ratburger right now – mainly because Daddy is able to read it to them every night, thanks to us both working from home! I'm also a big fan of all the Dr Seuss books." – Claire
15. The Malory Towers series by Enid Blyton
"Definitely the Malory Towers series by Enid Blyton. My mum read those as a kid, and eventually, I did too, as growing up I always wanted to go to a boarding school. I didn't get to, but maybe studying abroad for uni kind of counts? Also, special shoutout to The Secret Seven and the Famous Five series. A group of kids get up to adventures… what's not to love? Pretty sure that's what inspired me to love adventure and the outdoors, too." – Mel
"I always wanted to find my own version of the magic faraway tree in Singapore that could serve as an escape from real life (before you ask, yes, I had a healthy childhood). I loved the characters, especially Moon-Face – I even wanted to be him (again, I had a very healthy childhood). Alas, my face wasn't round enough. But the book was really great for my imagination. Goosebumps by R. L. Stine was great as well. The different kinds of monsters were pretty cool." – Ryan
So there you have it: our recommendations for World Book Day! Happy reading…