Photography: IMDB
This fresh remake is the lesson in feminism we've always wanted to teach our kids…
Raise your hand if you grew up reading Little Women by Louisa May Alcott. Now, give us a high-five if you've seen Greta Gerwig's film adaptation of the classic. Yes, it's been done many times – inspiring six feature films and 12 television adaptations, to be exact – and yet, it's still a fresh story that continues to keep us on our toes in our lingering aspiration to leave the world a better place than we found it. And if you haven't seen it yet, we suggest that you round up your girl gang, your daughters, mum, sisters and colleagues (why not your sons and husband, too, while you're at it) and watch it on streaming services that have this movie. In this day and age, it's never been more important to learn how to pay tribute to strong women and how they navigate life in a world dominated by men.
The back story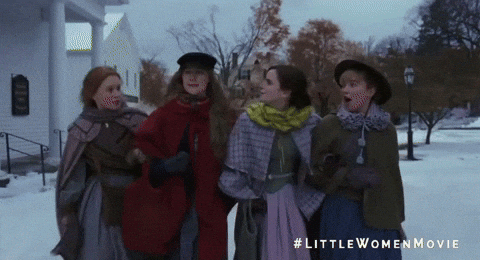 In 1868-69, Louisa May Alcott wrote the first two volumes of Little Women, a novel that follows the lives of the four March sisters – Jo (Saoirse Ronan), Meg (Emma Watson), Beth (Eliza Scanlen), and Amy (Florence Pugh) – and how they navigate adolescence and relationships. In Gerwig's film, she focuses on Jo's writing career and how she eventually works on a novel about herself and her sisters. Although the book and movie take place during the Civil War era, the themes are still as relevant as ever. Girl power, about women trying to be great and finding their own voice – are all topics we can get behind.
Girls just wanna do their own thing
The March girls, not surprisingly, march to the beat of their own drum. They put on plays, they follow their heart, and are confident – all thanks to the unwavering support of Marmee, played by Laura Dern. As a strong, independent woman herself, she leads the pack with a steadfastness that is almost surprising, considering the time it was written. "I am mad every day," she admits to Jo in the film, explaining how she's spent 40 years working on her patience. This line is a fist-bump to every mum who's ever felt frustrated about motherhood and marriage – yup, we're human and we're allowed to not like our children every once in a while. It's all so familiar and all so real.
Which March sister are you?
Fans of the novel will love Gerwig's casting choices. Ronan does a marvellous Jo: pushy, independent and stopping at nothing to help those she loves – even if it means writing stories she doesn't believe in. Emma Watson's Meg is appropriately on edge, while Scanlen's Beth is as sweet and lovable as her character in the novel. Pugh as Amy frustrates and tugs at our heartstrings, bringing considerable depth to Amy March. It's safe to say that they do the characters justice, prompting many an audience-goer to search for the appropriate BuzzFeed quiz that will tell them which March sister they most resemble. But the reality is, every girl is all of the March girls, rolled into one. We all have our inner rebels, a soft side, a lovesick side and even a bossy side.
If you've always wanted to give your kids a mini-lesson in feminism, Greta Gerwig's Little Women is just the (film) ticket. As mums, it's our duty to challenge tested ideas on gender and show our children how different the world could be if we open our eyes. Through this movie, our children – regardless of their gender – will learn the important lessons of agency and equality. Thank you, Greta Gerwig, for all your help.
Psst – you can gain more lessons in feminism from Ramita Anand during our podcast convo, How to raise our children to be feminists…