What do you feel like watching tonight? With streaming services at our fingertips, there are too many things to add to your watch list. We present our list of top picks, some just in time for Halloween.
The kids are already in bed. You've done the dishes, put the laundry away, and had that nice, long shower. It's too early to sleep – or you're doing the revenge bedtime procrastination thing (no judgment!). Should you read a book? Nah, too much brain power. Why not watch something?
Sounds good, but there's one caveat: too many shows to sieve through and pick! But don't worry, we've done all the hard work. Here's our guide to what you should binge watch on the available streaming services. Psst, we've curated this list, especially for Halloween, so enjoy!
Spooky shows you shouldn't miss this Halloween
Highly recommended shows for adults – kid-free zone
1. Wednesday
Wednesday of The Addams Family gets her show where she is guaranteed to vile viewers with love for woe and stoicism and some cool moves. Here's a gist: while attending Nevermore Academy, Wednesday Addams attempts to master her emerging psychic ability, thwart a killing spree and solve the mystery that embroiled her parents 25 years ago.
2. Chilling adventures of Sabrina
If you loved Sabrina as a teenager, you'll enjoy this one! Tune in to how this wily witch navigates two worlds! Magic and mischief collide.
Watch Chilling Adventures of Sabrina
3. The Fall of the House of Usher
Do not let the kids watch this one! It's got gore and some gruesome shots, but a masterpiece for horror flick fiends and utterly bingeworthy. From Mike Flanagan, the creator of The Haunting of Hill House and Midnight Mass, this wicked horror series based on the works of Edgar Allan Poe is guaranteed to spook you out. Ruthless siblings Roderick and Madeline Usher have built Fortunato Pharmaceuticals into an empire of wealth, privilege, and power.
However, their past catches up with them. Their secrets come to light when the heirs to the Usher dynasty start dying at the hands of a mysterious woman from their youth. Fans of Edgar Allan Poe's classic tales will love this series for the ways Flanagan has woven references and plot lines into this contemporary horror series.
Watch The Fall of the House of Usher
4. The Devil on Trial
The extraordinary story of a young boy possessed by demons, terrifying Catholic exorcisms, a brutal murder, and the first — and only — time "demonic possession" has been used as a defence in a US murder trial.
Highly recommended shows for kids
1. Vampirina
What's not to love about an adorable animated vampire? This series, streaming on Dsiney Plus, follows the story of  Vampirina "Vee" Hauntley, who becomes the new kid on the block after she and her family move from Transylvania to Pennsylvania to open a local bed and breakfast called the Scare B&B. Tune in to the quirks as the Hauntley family has to learn to do things the "Pennsylvania way", especially when Vee is at school, keeping their monster lives a secret from humans so they don't scare them.
2. Lemony Snicket's A Series of Unfortunate Events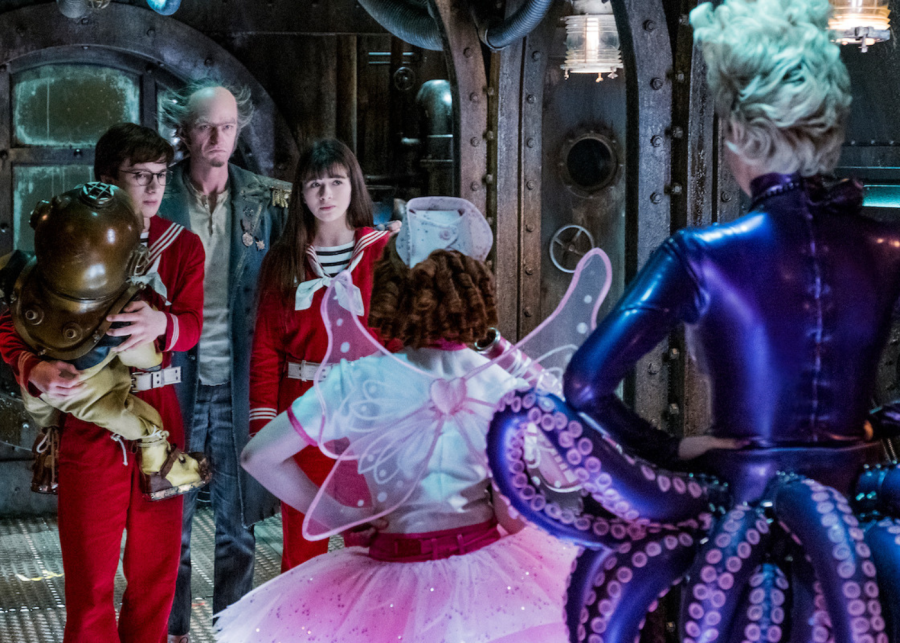 If kiddos love the books, this series will not disappoint, especially the enigmatic Olaf. The troubles do not end for the troubled trio, who become their own rescuers in the face of adversity.
Watch The Series of Unfortunate Events 
3. Halloween is a Grinch Night
Little fans of the Grinch are in for a treat with this hilarious sequel to The Grinch who stole Christmas! Who knew Halloween could be night for the Grinch, the beloved Dr Seuss character!
Watch Halloween is a Grinch Night
4. Trick or Treat
Some good ol' Looney Tunes is a classic must-watch during the hols. Donald Duck has more tricks than treats up his sleeve for his nephews Huey, Dewey and Louie. Witch Hazel steps in the help the little ducklings get their well deserved treats from Donald.
Netflix and chill with these titles
1. Love and Leashes
When it comes to romantic comedies, no one does it better than South Korea. This film depicts a romance between Ji-hoo, who is secretly into BDSM, and Ji-woo, a team member who finds out about his secret. What happens when the two enter a contractual relationship that features consensual play, pleasure, and pain? This might get you a little hot under the collar, so watch it when the kids are fast asleep.
2. I Told Sunset About You
Thailand is exceptional when it comes to BL (boys' love) dramas, and this series is one of the highly raved shows to watch. It follows Teh and Oh-aew, two schoolboys who used to be best friends but had a falling out. During their senior year of high school, the two meet again at an enrichment school, where they eventually make up and grow closer. When you're done binge watching this, continue with the 14-minute short film Last Twilight in Phuket and the sequel I Promised You the Moon. Both take place after the abovementioned series.
3. Something's Gotta Give
Who says you can't find love later in life? Hollywood heavyweights Jack Nicholson and Diane Keaton star in this rom-com as two polar opposites who end up falling for each other. However, Nicholson's character is a playboy with commitment issues. Things start to unravel when Keanu Reeves steps in and pursues Keaton's character.
4. Crimson Peak
How about a gothic romance flick for your Valentine's Day binge watch? Set in Edwardian-era England, the film follows an aspiring author, who travels to a remote mansion with her new husband and his sister. Whilst there, she is haunted by ghostly visions. Who – or what – could they be? Wait, did I say ghosts? Oops. This movie's directed by acclaimed filmmaker Guillermo del Toro (one of my fave directors), so this comes highly recommended by me.
5. Second Act
Jennifer Lopez is the queen when it comes to romantic comedies. In Second Act, J.Lo portrays an assistant manager who reinvents herself after losing out on a promotion… except the reinvention is done behind her back, and it got her a high-powered corporate job. Does she take the job or reject it? And what should she do when someone from her past appears in her life?
Adults-only entertainment on Disney+
6. Rosaline
Everyone knows the story of Romeo and Juliet, but what about the jilted lover that Romeo left behind? Get to know Rosaline, Juliet's cousin and the person that Romeo was in love with before he laid his eyes on J. When she finds out about R&J, she does what every angry ex always says they would do – she plans to tear the new lovebirds apart. Hell hath no fury like a woman scorned, they say.
7. 10 Things I Hate About You
Speaking of Shakespeare, here's a coming-of-age film that smartly adapted and modernised Will's comedy, The Taming of the Shrew. Moving the setting to an American high school, it follows new student Cameron, who has a crush on popular girl Bianca. However, they're unable to date until Bianca's sister starts to date. This is when bad boy Patrick enters the picture. If you know this movie very well, you'd remember that scene that has everyone putting it as their MSN and Facebook statuses for a period of time. What a classic!
Watch 10 Things I Hate About You
8. Moulin Rouge!
Even if you're not into musicals, this movie should rank pretty highly on your list. Nicole Kidman and Ewan McGregor portray star-crossed lovers who confess their feelings for each other through various musical numbers. This film deftly mixes a touching love story with bombastic show tunes, gorgeous sets, and amazing costumes. You wouldn't realise two hours have passed since you pressed play.
9. The Girl Next Door
What would you do if you found out your neighbour, who you're also slightly in love with, is a former adult film actress? That's what happens to Matthew Kidman, a high school senior. The rest of the movie is a rollercoaster that teaches viewers confidence, acceptance, and of course, sex education.
Shows that are a go on HBO
10. Legally Blonde
Whoever says orange is the new pink is seriously disturbed – remember this iconic line? If not, surely you can recall the Bend and Snap! Reese Witherspoon plays Elle Woods, a sorority president who attempts to win back her ex by going to Harvard Law. There are many lessons to be learned from this movie. The most important one? Don't let a man tell you that you cannot accomplish anything! If Elle can do it, so can you!
11. Clueless
Besides Shakespeare, Jane Austen is another author whose works have been adapted to film and television plenty of times. Clueless is loosely based on Austen's novel Emma, which centres on a beautiful and popular high school girl who befriends a new student. Along the way, she gives the new girl a makeover, plays matchmaker to two teachers, and has a mini existentialist crisis. Could she be so clueless about her own life? Ugh, as if!
12. Scott Pilgrim vs. the World
Boy meets girl. He falls in love with her. Boy tries to woo girl. Tries, because before they officially can get together, boy has to battle girl's exes. Exes? Yes – seven of them. Seven! This is on top of trying to win a competition in order to score a record deal for his band. Scott Pilgrim clearly has a lot to deal with.
Watch Scott Pilgrim vs. the World
13. The Leap Years
Did you know that there's a locally-produced romantic movie set in Singapore? Perfect for your Valentine's Day viewing! Based on Singaporean author Catherine Lim's novella Leap of Love, the film follows two people who are in two different romantic circumstances. They meet up at the same place and time every leap year, spanning a twenty-year love story.
14. Notting Hill
What's a romantic movie binge watch fest without Julia Roberts, the queen of rom-coms? (Yes, I know I mentioned J.Lo as the queen previously. There can be two queens!). Everyone remembers Notting Hill and its story of an actress falling in love with a bookstore owner. I mean… "I'm just a girl, standing in front of a boy, asking him to love her"? Iconic.
Check out these selections on Prime Video
15. Modern Love
A show about love for the season of love? How apt! This anthology series, based on the weekly column published by The New York Times, explores the topic of love across eight half-hour episodes. Romantic love, sexual love, platonic love, self love, these are covered against the backdrop of New York City. Binge watch the other Modern Love permutations that are set in Mumbai and Hyderabad after you're done with this series.
16. About Fate
Picture this: two people believe in love, but they can never seem to find the true meaning of love. That's the premise of this romantic comedy. However, there's a cruel twist that ends up causing a lot more chaos for the two leads. Should you leave things to fate when it comes to love? Or should you go forth and find it yourself? Something to ponder on while you watch this film.
17. Savage X Fenty Show Vol 4
Valentine's Day is the perfect time to bring sexyback. New mum Rihanna is back with the fourth volume of her highly lauded lingerie extravaganza. The fourth volume features a star-studded cast, all wearing the latest Savage X Fenty looks. Victoria's Secret, who? Psst, there may be a few pieces that you can hint to the hubs to get, wink wink!
Watch Savage X Fenty Show Vol 4
Happy binge watching, folks!