Does your kid need some extra help with their studies? Here's our pick of the best tuition centres in Singapore!
Every parent has different reasons for sending their kids to extra classes after school. Perhaps you realise that there's a particular subject that they're struggling with; maybe they need a little boost in their studies, or it could just be that they appreciate some personalised guidance with their homework. Whatever your needs may be, it's not difficult to find a range of options when it comes to tuition classes or after-school student care services that cater to kids of all age groups and school curricula.
But with so many amazing tuition and enrichment centres around, how do you pick the right one? Fret not; we've whittled the list down to make the decision a whole lot easier. Here's our list of top tuition, enrichment, and student care centres in Singapore:
BEST TUITION AND ENRICHMENT CENTRES IN SINGAPORE
1. VISPARK
Online education provider of supplementary learning programmes
Specialises in Mathematics and Chinese
For ages five to 12
VISPARK is an online learning platform that brings classes alive by combining highly interactive courseware with specialised teaching methods. VISPARK's two flagship programmes, Spark Math and Spark Chinese, use a robust research-based curriculum taught by experienced ex-MOE teachers. Each VISPARK class has a low teacher-to-student ratio to offer a more personalised learning experience for children. On top of that, VISPARK uses gamified and animated elements to stimulate learning, making the toughest concepts easier (and fun) to grasp. What's more, this platform allows your child to learn on the go. All you need is a laptop or tablet, and you're good to go!
2. Euphoria Education
Enrichment centre
Specialises in English programmes
For ages five to 15
English lessons are always fun at Euphoria Education. This enrichment centre offers engaging and wholesome English programmes, teaching kids how to master the language with ease and confidence. In addition to using traditional classroom teaching methods, Euphoria teaches kids how to read, write, and speak English through activities like vlogging and podcast-making. Not only do these methods make lessons more memorable, they also help children develop 21st century skills like creative and critical thinking. Aside from English programmes, the centre also organises thematic holiday camps, such as its Game Mania and Entrepreneur Week camps. Interested parents can sign up for a free trial through Euphoria's website, email, or call them at 82848197.
3. Academia
Tuition centre
For children in Primary 1 and above
Ten years of proven track record (and counting!)
Here's a centre that's on a mission to nurture empowered, smart, and confident students who are future-ready. Academia is founded by a Princeton grad and local top student, using a teaching method that blends the best of Singapore's education system with strategies re-engineered from liberal arts colleges as well as educational institutions and research. Each subject is taught in an engaging manner; students are also equipped with the necessary skills to excel both academically and in the future. Aside from that, the curriculum at Academia is continuously refined by its teaching experts (including tutors from Oxbridge and the Ivy League) to provide students with the latest and most relevant learning experience. The result? The centre has produced over 60% of AL1s in the 2021 and 2022 PSLEs, almost 100% A/B scores for the 2021 and 2022 O-Levels, and over 70% Distinctions for the 2021 and 2022 A-Level General Paper.
4. Nullspace Robotics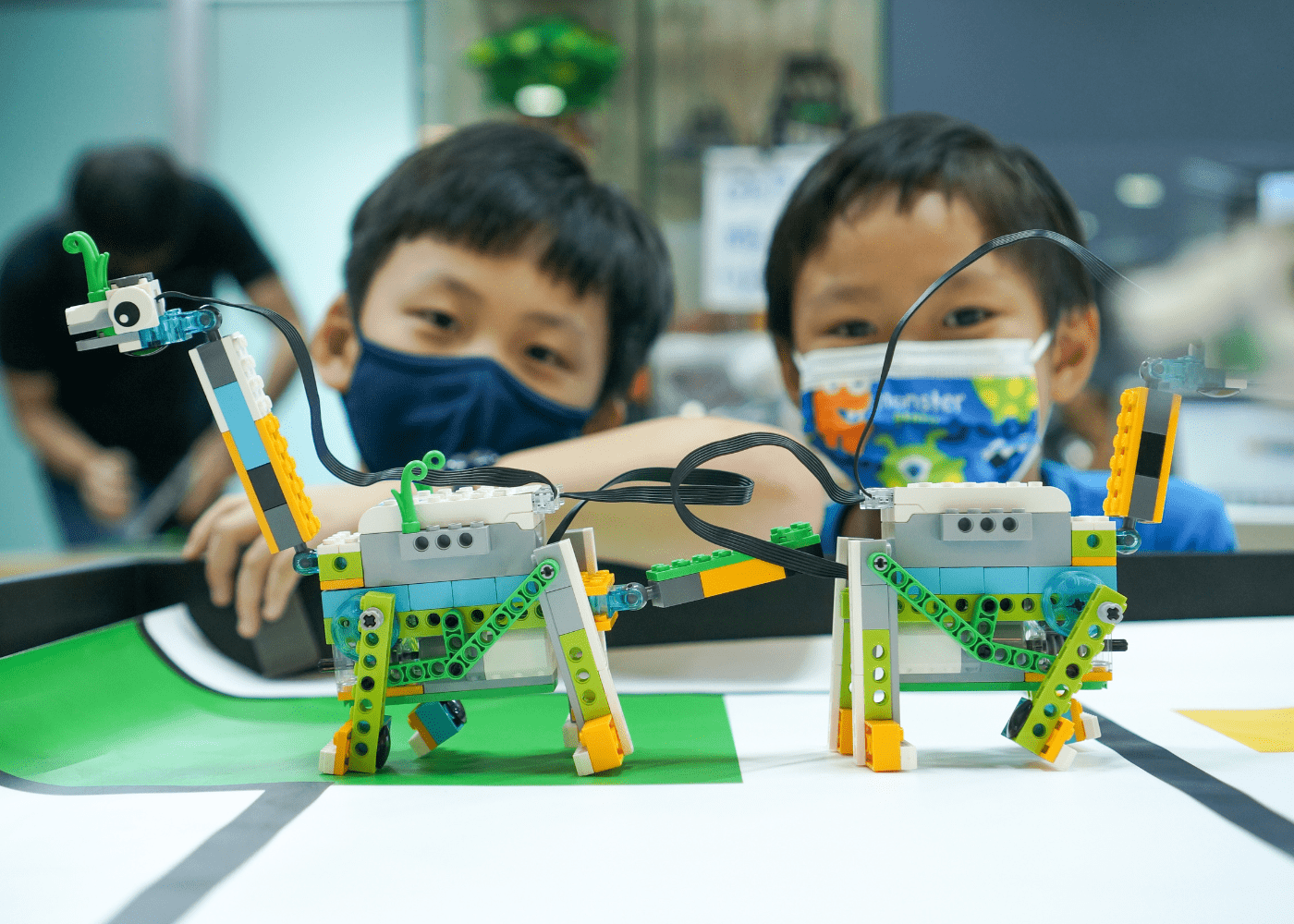 Enrichment centre specialising in technology education
Provider of Computer Enrichment Programmes across all Gifted Education Programme primary schools in Singapore
For ages seven to 16
If you're looking to get your child started on technology-based enrichment activities, then you should definitely consider Nullspace Robotics! This enrichment centre is one of Singapore's leading technology education providers with some impressive credentials. Not only has it been awarded the STEM.org Accredited trustmark, it's also the appointed vendor by the Ministry of Education to run the Computer Enrichment Programme for all nine Gifted Education Programme primary schools in the country. At Nullspace, children learn engineering and programming concepts through hands-on learning experiences, including building and programming their own robots, creating games, or working on individual electronic projects. On top of regular weekly programmes, the centre also has fun holiday workshops for kids. Nullspace has training centres in Rochester Mall, Kallang Wave Mall, and Siglap.
Bonus: Get $50 off any courses (minimum 4 sessions) with the promo code "HONEYKIDS50". Valid till 31 December 2023.
5. The Eton Academy
Enrichment centre specialising in English, Mathematics, and Science
Curriculum designed to be in close alignment with Singapore's MOE syllabus
Caters for children aged four to 12
The Eton Academy sees itself as every parent's partner in their children's learning journey. This enrichment centre uses its award-winning inquiry approach to drive a powerful sense of curiosity in children, thereby developing a lifelong love for learning among them. The Eton Academy offers English, Mathematics and Science lessons to children from as young as Nursery 2 (around four years old) till Primary 6. The lessons are designed to be closely aligned with the local MOE syllabus, and every class is conducted in an engaging way that empowers children to find their own voices as learners. There's nothing that makes us parents happier than seeing our children achieve improvement in results and gain confidence while enjoying every lesson. Interested parents can sign up for a free trial class at any of The Eton Academy's five centres islandwide.
6. English Ninjas Enrichment and Tuition Centre
English Language specialist enrichment and tuition centre
Uses learner-centred in-house curriculum that incorporates current affairs and global issues
Empowers learners aged six to 18 with critical thinking skills
Looking for English tuition that would excite your child? Every lesson at English Ninjas opens up a world of learning opportunities for students! Specialising in English, this enrichment and tuition centre leverages the Growth Mindset to nurture critical thinkers and passionate learners. To give students a sense of events and issues beyond the classroom, lessons are conducted with English Ninjas' in-house curriculum, which incorporates elements of current affairs, global issues, and notable children's literature. The enrichment and tuition centre focuses on effort and progress in learning, and believes in celebrating every student's milestones. Keeping lessons flexible to accommodate different needs, students have the option to attend classes in person or remotely on Zoom. In-person classes are conducted in a cosy space, with each classroom named after a location from a fiction book or movie: The Shire, Narnia, Endor, and Stormhold. In addition, English Ninjas boasts a curated library, full of exciting titles that will pique every student's interest. Reach out to the English Ninjas' team via its website or WhatsApp if you would like more information, or to schedule a visit to the centre.
7. MindChamps
Enrichment and after-school student care centre
For ages three to 12
Over 20 centres islandwide
MindChamps has an Enrichment Academy and an after-school care programme, MindSpace. It offers a host of enrichment programmes that teach children skills like writing and reading, learning techniques, public speaking, as well as subject-specific classes. Some of these classes are also offered in MindSpace for primary school students, which start from after school lessons end, all the way till 7pm.
MindChamps Enrichment's website
8. Busy Bees Learning Centre
Chinese language enrichment centre
K1 to O Level programmes available
Founded by experienced ex-teachers from a top local secondary school
If you're looking for enrichment centres that specialise in Chinese Language programmes, Busy Bees Learning Centre should definitely be on your list. The centre offers an effective curriculum that's developed by its three founders, all of whom are experienced teachers from a top secondary school in Singapore. As such, parents can be assured that the programme materials and teachers are very well-versed with the Chinese Language syllabus as set by the local Ministry of Education (MOE). Busy Bees Learning Centre has three outlets currently: HillV2, Balmoral Plaza, and Sin Ming Plaza.
Busy Bees Learning Centre's website
9. Tien Hsia Language School
Chinese Language enrichment school
N1 to O Level programmes available
11 centres islandwide
According to a survey conducted by Forbes Research Pte Ltd, Tien Hsia Language School is the number one choice for parents in Singapore when it comes to Chinese Language enrichment centres. Positioning itself as a Chinese Specialist centre, it has dedicated teachers for each school level. Lessons at Tien Hsia are anything but boring, as it incorporates lively activities that stimulate a student's sight, hearing, and touch. Not only do these help give lessons a lasting impression on students, but it also encourages them to put what they learn into practice.
Tien Hsia Language School's website
10. Kumon
Enrichment centre for Math, English, and Chinese
For ages three to secondary school level
Fixed monthly fee per programme regardless of school level
Most parents will be familiar with Kumon, an enrichment centre known for its unique teaching method that helps children develop self-learning abilities. Fun fact: The famous Kumon Method was born from a parent's love for his child! Its founder, Toru Kumon, prepared his own learning materials and came up with a self-study method to help his son gain proficiency in high school maths. He theorised that this will allow his son more time to pursue his interests and passion. Likewise, Kumon is confident that their method will help children learn, problem-solve, and achieve their full potential by themselves.
11. Aspire Hub
Tuition and enrichment centre
N2 to A-Level programmes available
16 centres islandwide
The tutors at Aspire Hub don't just teach; they coach and motivate their students as well. This centre offers tuition for a wide range of subjects at almost all levels of the Singapore education system. Upon registration, students will sit for a diagnostic and learning style test so that their respective tutors can create a customised learning programme for them. Each student's portfolio is also managed by an experienced tutor in a personalised manner. As of this year, Aspire Hub has over 90 tutors, all of whom are full-time staff who have been through rigorous training. Individual coaching sessions are also offered on a quarterly basis to help students ace their bi-annual exams.
12. Boutique Education
Tuition and education support provider
Caters to students from local and international schools
One-to-one and homeschooling programmes available
Whether your child is attending a local or an international school, Boutique Education is able to provide personalised tuition programmes for them. It's also the preferred education services provider among families of children from international schools in Singapore. Boutique Education uses a unique approach that maximises a student's potential and instils a love of learning in them, with programmes for children as young as preschoolers to adults. The tuition company provides a Personalised School Program for children who are 'between' schools and new to Singapore, as well as an education service for families who are moving to the UK. It also provides special needs services for children with autism and learning difficulties like dyslexia, ADHD and ADD.
13. Berries World of Learning School
Chinese language centre
Caters for N1 to Primary 1 levels
20 centres islandwide
Berries World of Learning School is designed around the concept of a garden. Students are regarded as seedlings who are being cared for and guided by teacher-gardeners. They reap the fruits of knowledge in the harvest stations, aka classrooms. Each Berries World centre has a library and storytelling rooms, where students learn Chinese in fun and experiential ways. Though classes may sound like all fun and games, rest assured that the Chinese curriculum taught at Berries World is tailored according to MOE's requirements.
Berries World of Learning School's website
14. The Learning Lab
Tuition and enrichment centre
N2 to Junior College level programmes available
Singapore curriculum
Being one of the top providers of academic enrichment and tutorial services in Singapore, The Learning Lab has a programme for students of all age groups: from as young as N2 in kindergarten, all the way to when they sit for their A-Levels. The centre uses its own learning materials for lessons, which cover interesting topics and address the latest exam format trends. Most importantly, these materials are in line with the Singaporean school syllabus as they're researched and written by the centre's specialists.
15. Mavis Tutorial Centre
Tuition centre
Primary, secondary, and junior college levels available
15 centres islandwide
Established in 1986, Mavis Tutorial Centre is pretty much a household name among locals. The centre specialises in English, Maths, Chinese, and Science for all education levels, also offering advanced Science and Maths subjects for students in secondary school. Mavis also offers The Write Stuff programme, one that focuses solely on writing and compositions. Most of Mavis' tutors are ex-school teachers who are highly experienced in the subjects that they teach. The tutors also conduct extra lessons prior to major examinations to guide and motivate students for a final push before their exam days.
Mavis Tutorial Centre's website
16. Salt and Light Student Care
Student care centre
Meal plans available
Weekdays only
Salt and Light Student Care is run by the friendly Auntie Debbie, who promises a truly unique student care experience for ardent students and like-minded parents. The centre is located in a cosy corner within the Bukit Timah neighbourhood, with plenty of natural light and air to make students feel comfortable. Due to its low intake, all of its students will be able to receive personalised guidance on their schoolwork and assignments from the centre's experienced mentors. Plus, Salt and Light also provide wholesome meal plans to its students, and there's even a juice bar available!
Salt and Light Student Care's website
17. Coding Lab
Coding courses for kids
MIT-inspired curriculum
Caters to children aged five to 18
Founded by a Massachusetts Institute of Technology (MIT) alumnus, Coding Lab is one of the top choices among parents who are looking for coding courses for their kids. The centre uses an award-winning MIT-inspired curriculum for its lessons, which are taught by qualified and passionate educators. These lessons are also anything but boring, with interactive boards, games, and tech toys to keep children engaged. Coding Lab currently has two learning centres: located in KAP Mall and Parkway Parade.
18. Julia Gabriel
Dedicated early learning programmes
Debating, readers and writers programmes, and adult learning programmes
Holiday camps available
Julia Gabriel has a whole lot of history as the first speech and drama centre to be registered with Singapore's Ministry of Education back in 1991. Fast forward to 2023, and it's still regarded as one of the enrichment centres in Singapore. The centre seeks to empower students to communicate confidently through EduDrama, a unique philosophy that involves learning within a positive and enjoyable environment inspired by educators who are passionate about children, language and the arts.
19. Chengzhu Mandarin Centre
Tuition centre
Caters for children from six months old to primary
Holiday camps available
Chengzhu Mandarin Centre offers Mandarin enrichment classes at for children as young as six months using a learner-centred approach, where children learn while having fun. Classes are grouped into three categories: Adult Accompanied Programmes to teach the foundations of the Chinese language; Preschool Programmes, which focus on introducing the Chinese culture to students; and the School Years Programmes, which support students to achieve the standards set by the Singapore Ministry of Education for primary school Mandarin Curriculum.