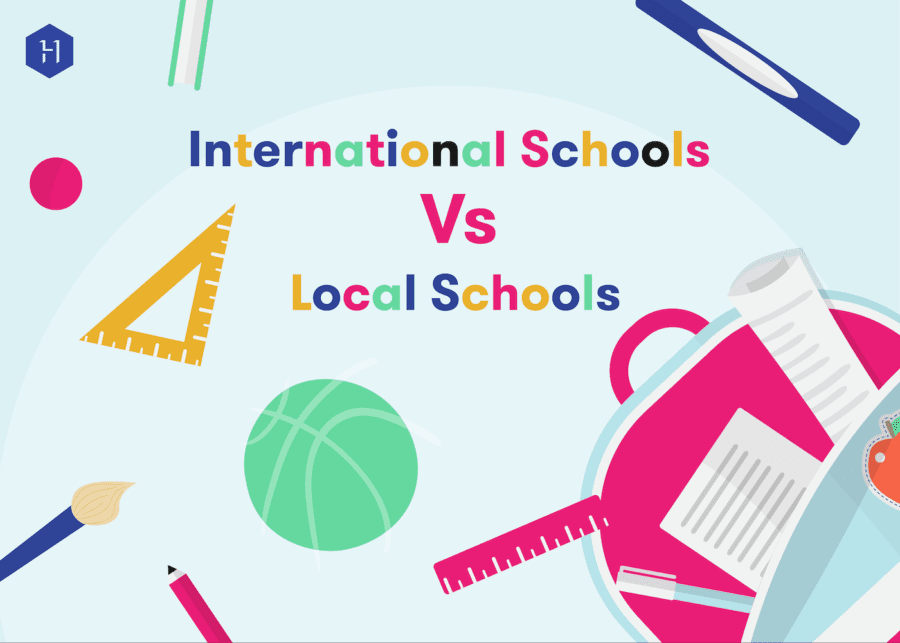 Here's all the information you need on making the decision between sending your child to international school or local school...
Forget potty training or breastfeeding – looking for the perfect school for our kids in Singapore is one tough gig. And with expat packages going bye-bye and tuition fees at international schools increasing every year, sending our young 'uns to local schools suddenly looks more appealing.
But can expat kids even get in to local schools in Singapore? What kind of curriculums do they follow? How much do they cost? Luckily for you, we've done quite a bit of groundwork on the topic. We've thought about the pros and cons of sending our children to international or local schools, and we've even gone through the whole process ourselves. The result? A comprehensive comparison right here, with all the information you need to help you make that all-important final decision. Check it out!
A Guide to International vs Local Schools in Singapore
Local or International School
The pros & cons: explained
Culture
While the transition to a local school for an expatriate child may be difficult initially, there is plenty to be gained by being exposed to a Singaporean identity. In addition to a focus on academia, local schools promote strong bonds between students, their families and nation. Alternatively, international schools offer the chance for children of various nationalities to stay connected to the language and customs of their home country. They also often operate on a "learning-through-experience" education approach.
Longevity
It's not uncommon for students at international schools to come and go, and as an expat kiddo here, friendships can prove somewhat transient. This can be unsettling, but certainly offers the chance for kids to adapt and build resilience. What's more, if you might be moving during a pivotal time during your child's education, attending a school that has the same curriculum as their home country may be beneficial. However, if you're here for the long haul or you think your child might be better suited to a consistent environment, then a Singapore government school can provide that.
Ease of signing up
While it's common knowledge that getting into the international school of your choice can involve long waitlists, so too is the demand for a seat in the classroom of a local school. PR children are guaranteed places in local schools, however, Singaporean citizens have first priority at local schools over PR children. As for non-PR children, attending a local school is at the discretion of MOE based on a P1 blind lottery admissions process, or a by taking a standardised test for ages 7 and older. Furthermore, if you're applying at P1 level for your child in a local school, you will need to apply for a space via a number of phases throughout the year. Your visa status will dictate what phase you can apply in, with foreigners generally being in phase 3. If your child is entering at a different grade to P1, an entrance exam (Admission Exercise for International Students) will need to be taken before admission is considered and allocated.
Approach
The teaching style at local schools can be very different to international schools. Some international schools follow the National Curriculum of the country they're affiliated with. Others blend this together with another internationally recognised curriculum, such as IGCSE or PYP. A lot of international schools are also guided by the International Baccalaureate curriculum, which promotes inquiry-based learning, independence and creativity. The approach at local schools is not as individualised, and class sizes tend to have a larger student-to-teacher ratio. However, they do have a reputation for being very robust when it comes to literacy and math. In recent years, the pedagogy has evolved to include a greater focus on values-based and inquiry-based learning. We love how local schools nurture a real love for learning.
Bilingualism
Both local and international schools in Singapore feature languages other than English as part of their syllabus. Singapore government schools teach the main curriculum in English, and learning a mother-tongue language is compulsory. The deep immersion that this offers can deliver amazing results. International schools, by and large, offer Mandarin and the language of origin that the school identifies with – be it Korean, French or German. The way these are taught varies from school to school. Chinese in particular can be taught as a separate subject, or parallel to all subjects. International schools are well-versed in what it means to be a 'third culture kid' and can offer particular support to those children. This often helps them to assimilate, retain their identity and embrace being something else altogether.
Competition
It's no secret that local schools can be fiercely competitive. Singaporean culture places a high emphasis on academic achievement and for parents who can afford additional tutoring for their children, they may enrol them multiple subjects from a young age so that they might gain entry to the secondary school they want. Even the schools will stream the best students into increasingly rigorous academic levels over the years they attend school. Saying that, you can attend a local school without committing to this results-driven approach. Expatriate students who attend secondary school in Singapore may benefit from the competitive environment and how it prepares them for the rigours of the real world. In comparison, a lot of international schools focus on individualised learning. They offer personal development plans designed to stretch each student to the best of their abilities and encourage them to direct their own learning. This freedom to 'think outside the box' can help define strong leadership qualities and problem-solving abilities. These are highly-prized traits in the 'real world', particularly in tech companies.
Values
The philosophy behind international schools can be informed by many different things. From religion and customs of the country of origin, to educational studies. The acquisition of soft skills (such as mindfulness) are a feature at many international schools, so you should check the school's Vision/Mission/Core Values if these are important to you. In comparison, the Singapore school system advocates a strong sense of community. For example, their streaming system is designed to play to the strengths of each student.
Connections
Students that attend international school in Singapore are in a unique position to meet people from many walks of life. This can form life-long connections and becomes particularly beneficial for those working towards a global career. Being part of a school that demonstrates community spirit can also be very nurturing. Children that attend a local school have the possibility of gaining a deep and intimate understanding of Singapore. They can then harness this cultural knowledge in future business enterprises or social initiatives.
Hours
While the hours do vary, most local schools start early at around 7.20am and finish at around 1.40pm, including a 30 minute recess. The early start for the local system is not for the faint-hearted. But the earlier finish makes for a fun afternoon together. International schools tend to have longer school days, but with more frequent and lengthier breaks. For example, international schools mostly start at around 9am and finish at 3.30pm, with a 60-minute recess, plus a snack break.
Academic Year
When it comes to the academic year for international and local schools, the two calendars rarely marry up. What's more, the school holiday dates for international schools vary from school-to-school. Generally speaking, the international school year typically runs from August to mid-June. In comparison, the local school year runs from January to mid-November. The local school calendar is available on the Ministry of Education website. Meanwhile, term times for international schools can be found on the individual school's website.
Cost
The biggest difference between the two Singapore school systems is not the quality of education, but the cost factor. Local primary school fees start at $13 a month for citizens and go up to $750 per month for those with foreign status. These costs do vary slightly between schools and are usually revised each year. Local secondary school fees are also higher than primary fees. International school fees also vary greatly. For your child's first year, it ranges from $13k to $50k and can include application fees and one-off registration fees alongside annual tuition, building and facilities fees.
A final word…
So there you have it! Time to do some comparisons to find out what school system will be best for your child. If you're leaning more towards an international school, you can check out our handy-dandy School Selector tool. Whether you need more in-depth information on the different curriculums (what's the difference between IB and IGCSE anyway?) or you want to read testimonials from the people who know it best (AKA, the parents of the students who attend the schools!) our School Selector gives you all the deets you need.