Do you know your IB from your IGCSE? We explain all the international school curriculums for you!
Are you choosing a school for your child but feeling confused about which curriculum to choose? And just what is the International Baccalaureate? This one-stop guide will help you decipher the code!
Whether you are choosing an International School in Singapore for the first time or just looking to move your child to a new school, one thing's for sure, the variety of school curricula – and just the tongue-tripping acronyms – can be confusing. You've probably already checked out our handy article and infographic on what it really costs to send your kids to international school in Singapore, so you are already ahead of the curve. And when you want to dive deep into your shortlist of schools or compare your favourites, head straight to HoneyKids School Selector: Singapore's original online school comparison tool and the source for real research, testimonials and essential insights that will help you find the best school for your family.
This time we've drawn together all you need to know about national curriculums, international curriculums to explain the key differences between EYFS, IB, IGSCE, American, Australian and French systems (and all in between). Ready? Settle in with a mug of coffee and prepare to become an authority on the international school systems in Singapore…
EARLY CHILDHOOD (PRESCHOOL) CURRICULA
EARLY YEARS FOUNDATION STAGE (EYFS)
The Early Years Foundation Stage (EYFS) is a set of standards for early learning, development and care of children from birth to five years old as set by the UK Government. There is a focus on three key areas of learning: personal, social and emotional development; communication and language; and physical development. The four specific areas of learning are literacy, mathematics, expressive arts and design, and understanding the world. EYFS has a strong focus on interaction with children to advance creative and critical thinking skills and the early adoption of language. Parents with children in the EYFS curriculum enjoy high levels of parental interaction and involvement.
For more information on EYFS visit: www.gov.uk/early-years-foundation-stage
Some schools and preschools offering the EYFS curriculum
Dover Court International School
Marlborough College Malaysia (also offers Common Entrance Syllabus in Years 7 and 8)
Pibo's Garden Preschool
Tanglin Trust School
White Lodge Preschools
Repton Schoolhouse
MONTESSORI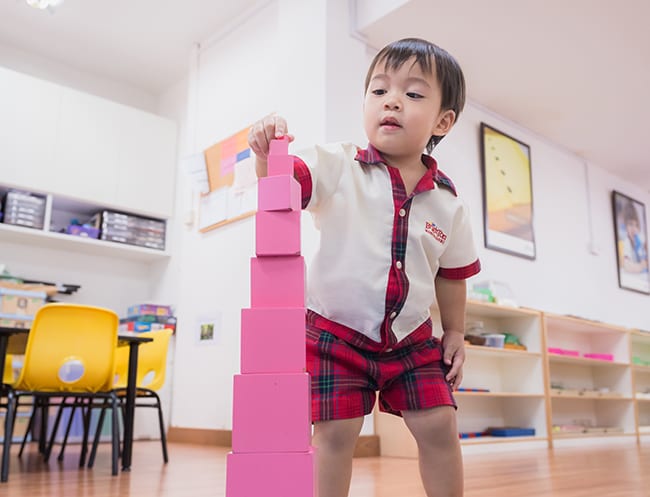 Montessori is a method of education developed by Italian physician and educator Dr Maria Montessori. It is based on independence, hands-on play, and learning through experience. Specialised Montessori materials support children to learn – the idea being that at each age the available activities should match natural interests. Students are allowed freedom to choose their preferred activity, thereby learning free from strict instruction. Children are encouraged to explore, be creative and to work alone and in groups to maximise acquisition of core competencies (language, science, maths, communication, art, dance and music).
Montessori-inspired
Montessori-inspired educators follow the general principles of the Montessori approach (self-directed learning through a choice of activities matching kids' innate interests); but have not been accredited by the International Montessori Council. See Montessori curriculum summary above for more information. Montessori-inspired schools therefore have freedom to adjust their framework to meet the needs of their student population, and are not required to use approved Montessori materials or methods.
Some schools offering the Montessori and Montessori-inspired curriculum
Brighton Montessori
Global Indian International School (Montessori-inspired)
Learning Vision (Montessori-inspired)
Montessori for Children
Modern Montessori International
The Winstedt School (Montessori-inspired)
REGGIO EMILIA
The Reggio Emilia approach is a preschool and primary educational philosophy developed by teacher Loris Malaguzzi in Reggio Emilia in Italy. The ethos of Reggio Emilia is that young people form lifelong personalities during the early years, during which they are endowed with "a hundred languages" for self-expression. The program is very much hands-on and aims to inspire students to use symbolic languages (such as painting and sculpture) to learn day-to-day. Reggio Emilia focuses on values of community, responsibility, and respect by providing an encouraging and inspirational environment.
Reggio Emilia-inspired
Reggio Emilia-inspired schools follow the Reggio Emilia theory of education, but have not been officially accredited. As detailed above, the Reggio Emilia curriculum is at its core a hands-on, project-based group learning approach, which Reggio Emilia-inspired educators use as a basis for their programmes.
Some schools offering a Reggio Emilia-inspired curriculum
Blue House Nursery & International Pre School
EtonHouse International Preschool
GESS
Learning Vision
Odyssey, The Global Preschool
Singapore American School
The Winstedt School
White Lodge Preschools
UWC South East Asia
SINGAPORE NATIONAL
The Ministry of Education (MOE) is currently developing its Nurturing Early Learners Curriculum for children age four to six, a framework that emphasises children are "nurtured holistically, so that they are confident, have strong social skills and a good foundation in literacy and numeracy". Currently, many preschools identify with the 'Singapore National' curriculum, but as their is no national standard, programs and methodologies may differ from one operator to the next. BibiNogs, for example, has crafted its 'BibiNogs BE' curriculum to nurture a child's cognitive development, numeracy and language skills, motor skills, social and emotional development, creativity and appreciation of the arts through a hands-on, experiential learning. Preschools following the Singapore National system incorporate a bilingual (Mandarin) element to their early learning programs.
Some preschools offering the Singapore National curriculum:
Bibinogs
Kinderland Preschool and Kindergarten
Repton Schoolhouse
Pat's Schoolhouse
The following curriculums also offer a preschool element:
American
Australian
French
German
IBPYP from age three
IPC from age three (The Windstedt School)
NATIONAL CURRICULA
AMERICAN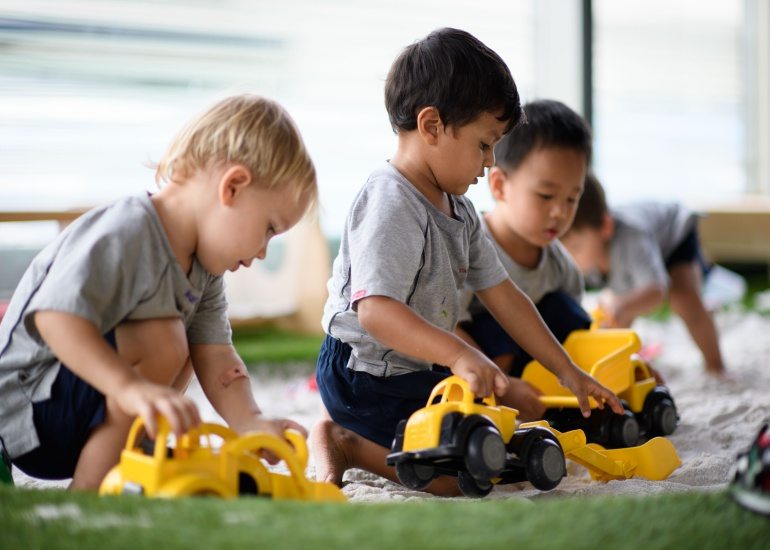 The American curriculum is an obvious choice for expatriates arriving in Singapore with children already in the American education system and/or those intending to return to the US (or wanting to send their children to top American/international universities). Kids adjust more easily to a familiar teaching style. Each state in the US has slightly different standards; however there are common themes and methods such as enquiry-based learning and student-centred planning.
The US State Department's Office of Overseas Schools and the Overseas Schools Advisory Council supports schools in the implementation of American Education Reaches Out (AERO) Standards. AERO provides a framework for curriculum consistency from Kindergarten (age five) to Grade 12 (age 17). Students finish school with the American High School Diploma, which is recognised by US and Canadian universities. American schooling is directed towards achieving good results in the standardised SAT Reasoning Test of general aptitude for college admission focused on math, reading and writing.
The American curriculum offers an 'a la carte' versus a 'set menu' approach to education at the high school level, through the choice of individual college level classes called Advanced Placement or AP courses. The American program allows students to continue making course choices reflecting their unfolding interests and strengths through graduation without locking into set courses in Grade 10.
Some schools offering the American curriculum:
International Community School
Pibos Garden Preschool
Singapore American School
Sir Manasseh Meyer International School
Stamford American International School 
AUSTRALIAN
Like other country specific curriculums, the Australian curriculum is suited to expatriates from and/or returning to Australia. The curriculum runs from Foundation to Year 10. Disciplinary knowledge is found in the eight learning areas of the Australian Curriculum: English; Mathematics; Science; Health and Physical Education; Humanities and Social Sciences; The Arts; Technologies and Languages. The seven general capabilities are Literacy; Numeracy; Information and Communication Technology Capability; Critical and Creative Thinking; Personal and Social Capability; Ethical Understanding; and Intercultural Understanding. Students are graded using levels A-E. Every year students in Years 3, 5, 7 and 9 sit the National Assessment Program – Literacy and Numeracy tests (NAPLAN).
The end of senior secondary education (leaving school) exams for entry into tertiary education institutions (universities, TAFE) have different names in each state, but in international schools in Singapore students predominantly sit the Higher School Certificate (HSC) (New South Wales).
For more information on the Australian curriculum, visit www.australiancurriculum.edu.au.
Schools offering the Australian Curriculum
Australian International School
Integrated International School
Pibos Garden Preschool
THE CENTRAL BOARD OF SECONDARY EDUCATION (CBSE) – INDIA
The Central Board of Secondary Education (CBSE) is the board of education for the Union Government of India, and it carries out final exams for Indian schools in Years 10 and 12. Assessment for CBSE classes is based on the Continuous and Comprehensive Evaluation system.
The CBSE International programme (CBSE-i) extends learning opportunities and emphasises research orientation while helping students develop a global perspective. Skills fostered throughout the programme include critical and creative thinking, life skills and effective interpersonal and collaborative communication.
While CBSE-i is based on guidelines of the National Curriculum Framework and the National Council for Educational Research and Training (NCERT), the curriculum takes a flexible approach to coursework covering regional issues and world geography. Students are required to perform community service (Social Empowerment through Work and Action program (SEWA)) to develop a sense of responsibility and commitment to improving the world around them and the wellbeing of others.
For more information on the CBSE curriculum in Singapore, visit: www.globalindianschool.org.
School offering the CBSE curriculum:
Global Indian International School
FRENCH
The French curriculum is arguably more popular with French expatriates in Singapore than say the Australian or American curriculums for their foreign nationals largely because of the language factor. The system is secular and is split into two levels: Level 1 (nursery and elementary school) and Level 2 (lower secondary and upper secondary).
During Level 1 (before age six) there is an emphasis on the acquisition of the common core of knowledge and skills based on key competencies for education, lifelong learning and success in later life. Priority is given to learning French and mathematics. Other key subjects are history and geography, science and information technology, art, sport and foreign languages.
Students enter Level 2 at age 11 in Le Collège (Lower Secondary School), where the aim is that all students become proficient in the common core of knowledge and skills. Once students reach Le Lycée (Upper Secondary School) they may either follow the voie générale et technologique (general and technological path) or the voie professionnelle (vocational path).
For more information on the French system, visit:  www.eduscol.education.fr.
Some schools offering the French curriculum:
La Petite Ecole
Lycee Francais de Singapour 
GERMAN
Once again, the German curriculum is favoured by German nationals not only because of the foreign language element, but also because of ease of transition from German schooling to Singapore and re-location to German university post-school. The education system varies from state to state.
Kindergarten (ages two to six) is optional, after which comes compulsory Grundschule (ages six to 10). Secondary education in Germany is relatively complex – involving five different types of schools: the Gymnasium (final exam, Abitur, is sat in Year 12/13), the Realschule, the Hauptschule (vocational education), the Gesamtschule, and Förderschulen/Sonderschulen. German universities as a general rule require students to have sat the Abitur examination. For those students favouring a vocational or apprenticeship route, the Duale Ausbildung is the preferred option. It is a relatively complex system.
Some schools offering the German curriculum:
GESS
UWCSEA Dover accommodates students from the Swiss School who enter UWCSEA Dover in Grade 7 by providing German as a first language according to the Swiss curriculum requirements.
UK CURRICULUM
The National Curriculum has five Key Stages:
Key Stage 1 – Foundation year and Years 1 to 2 (ages five to seven);
Key Stage 2 – Years 3 to 6 (ages eight to 11);
Key Stage 3 – Years 7 to 9 (ages 12 to 14);
Key Stage 4 – Years 10 to 11 (ages 15 to16) (I)(GCSE)(IGCSE); and
Key Stage 5 – Years 12 to 13 (ages 17 to 18) (A levels).
Core UK school subjects are English literacy, mathematics and numeracy, science, art, music, drama, and physical and religious education.
GENERAL CERTIFICATE OF SECONDARY EDUCATION (GCSE)
At the end of Key Stage 4, students sit the UK based General Certificate of Secondary Education (GCSE). GSCEs are for students who are preparing for UK leaving exams, A Levels. Most schools offering A Levels will offer GCSE courses as these are the best preparation for these next stage exams. The curriculum offers nine subjects including English Language, Mathematics and Science (Biology, Chemistry and Physics) (core) and other subjects, which may vary including Geography, History, German, Business Studies, IT, and English Literature.
IGCSE (see International Curricula below for information) is also becoming more popular in England and some schools opt for IGCSE courses to provide more options for their students at the next stage of schooling.
A LEVELS
Key Stage 5 is a two-year course, after which students take advanced level exams (A levels). A Levels are not compulsory, but are taken by a high percentage of the student population (especially in international schools in Singapore). An alternative to A level exams for international students at an IB school is the IBDP.
Some schools offering the UK curriculum:
Australian International School
Dover Court International School
Dulwich College (Singapore) (curriculum up to IGCSE is an Enhanced English National Curriculum)
EtonHouse International Schools
Marlborough College Malaysia
One World International School
Tanglin Trust School
The Winstedt School
INTERNATIONAL CURRICULA
INTERNATIONAL GENERAL CERTIFICATE OF SECONDARY EDUCATION (IGCSE)
IGCSE are internationally adapted certificate courses for high school age students. Originally based on the UK GCE O Level examinations, the content of the course has been adapted to suit the needs of international students who are not studying in the UK, or will be taking a different course in their final years of school. IGCSE are considered to be excellent preparation for A Levels and IBDP subject courses, which is why so many schools in Singapore offer them (as an alternative to the IB MYP).
Students sit exams in various subjects (see GCSE above) after a two year course of study and certificates are issued by a number of examination boards – the most well known in Singapore are AQA, Edexcel and Cambridge (who provide the Singapore GCE O Levels).
Schools offering the IGCSE and/or GCSE and/or (I)GCSE
Australian International School
Dover Court International School
Dulwich College (Singapore)
GEMS World Academy (Singapore)
Global Indian International School
Marlborough College Malaysia
Nexus International School (Singapore)
One World International School
Tanglin Trust School
UWC South East Asia
(INTERNATIONAL) GENERA CERTIFICATE OF SECONDARY EDUCATION ((I)GCSE)
(I)GCSE with a bracketed (I), means that the relevant school has cherry-picked some GCSE and some IGCSE certificates in a combination to best support the students and prepare for the final school leaving courses. Many schools in Singapore use the (I)GCSE as preparation for the IBDP.
INTERNATIONAL BACCALAUREATE (IB)
Founded in 1968, the International Baccalaureate (IB) is a highly regarded educational foundation (considered by many to be the gold standard). It aims to provide a truly international education by developing academic, personal, emotional and social skills students require for success in today's increasingly interconnected world. The IB is the most widely offered curriculum in international schools in Singapore. It receives high recognition among higher education institutions, often resulting in better chance of admission to high-ranking universities (and potential course credit and scholarships). It also has a focus on producing caring world citizens who are able to think independently. It is a great choice for any family wanting a global education.
The IB Continuum has four programs
The Primary Years Program (PYP) for students aged three-12.
The Middle Years Program (MYP) for students aged 11-16.
The Diploma Program (IDBP) for students aged 16-19.
The Career-related Programme (CP) for students aged 16-19.
International Baccalaureate Primary Years Programme (PYP/IBPYP)
The PYP is the first stage of the IB programme (but is not compulsory for entry to the MYP) designed for students aged three to 12. The PYP has the overarching IB directive of developing internationally minded, independent students with strong academic and social values. Subjects include maths, science, technology, arts, language (including a second language), social studies and physical education. Students benefit from the study of trans disciplinary themes: 'who we are', 'where we are in place and time' and 'how the world works'.
International Baccalaureate Middle Years Programme (MYP/IBMYP)
The MYP is the second stage of the IB intended for students aged 11 to 16. The complete program runs for five years and can be carried out in a partnership between schools. Shorter programs (two, three or four year) formats are also available. The MYP is a challenging curriculum that inspires learners to make practical connections between theory and reality. The framework consists of eight subjects: language acquisition, language and literature, individuals and societies, sciences, mathematics, arts, physical and health education and design. 
International Baccalaureate Diploma Program (DP/IBDP)
The DP is for students aged 16-19 and aims to produce students with exceptional breadth and depth of knowledge. The curriculum is made up of the DP core (theory of knowledge (TOK); a 4000 word self-directed extended essay (EE); and creativity, activity and service); and six subject groups: studies in language and literature, language acquisition, individuals and societies, sciences, mathematics and the arts. Most courses require written examinations at the end of the DP, but also involve internal assessment. Transcripts are provided for university applications. 
International Baccalaureate Career-related Programme (CP/IBCP)
The CP is a programme of career-related education intending to lead to further education, apprenticeship or employment.
For more information on the IB program, visit www.ibo.org, and if you would like to know how the IB is recognised internationally, visit www.ibo.org/university-admission.
Some schools offering the IB curriculum
Australian International School (PYP, MYP and IBDP)
Canadian International School (PYP, MYP, IBDP)
Chatsworth International School (PYP, MYP, IBDP)
Dulwich College (Singapore)(currently a candidate IB school in the process of accreditation)
EtonHouse International School and Preschool (PYP)
GEMS World Academy (Singapore) (PYP, MYP, IBDP)
GESS (PYP, MYP, IBDP)
Global Indian International School (IBDP)
Hillside World Academy (MYP, PYP, IBDP)
ISS International School (MYP, PYP, IBDP)
Marlborough College Malaysia (IBDP)
Nexus International School (Singapore) (PYP, MYP, IBDP)
One World International School (PYP) (and from August 2016 MYP)
Overseas Family School (PYP, MYP, IBDP)
Stamford American International School (PYP, MYP, IBDP)
Tanglin Trust School (IBDP)
UWC South East Asia (PYP, MYP, IBDP)
INTERNATIONAL PRIMARY CURRICULUM (IPC)
The International Primary Curriculum (IPC) is a rigorous, global-minded curriculum for three to twelve year old students. It has a skills-based approach with specific learning goals for every subject. Many view IPC as having similar features to the PYP IB program. Students are supported to achieve strong research skills, interpersonal skills and adaptation skills, which are crucially important for international students (often moving home and country during their education).
School offering the IPC curriculum:
The Windstedt School
St. Joseph's Institution International

Right, got all of that? Want to compare the schools on your shortlist and access all the info you've been wanting on fees, facilities and see what parents have to say about their schools? We've made it easier than ever for you (hurrah, we've done a whole lot of your research!) at our dynamic preschool and international school comparison tool, School Selector.
Like this story? Here's more we think you'll enjoy:
What it really costs to send your kids to international school
Local vs International: the eternal debate
Changing schools during the Secondary years
Glossary of Singapore school acronyms
Don't forget to subscribe to our weekly newsletter and follow us for fun moments on HoneyKids Instagram!