We spoke to several international schools in Singapore about how their bilingual programs work, the role of parents, and why a bilingual education is so important.
So, the day is finally arriving when your kids have to start school in Singapore, and you've probably heard the term 'bilingualism' thrown around more than once. By now, you've likely weighed up the pros and cons of local schools and decided (whether by choice or by circumstance) to take the leap towards international schools instead. But if, after taking a look at the fees and location, you're still not sure what sets these schools apart, try adding a 'bilingual education program' to your list of criteria. After all, in this globalised world, learning a second language is an increasingly important skill…
There's no denying the benefits of bilingual education for kids. Other than having double the arsenal of words and concepts under their belt, there's an ongoing buzz around 'the bilingual edge'. Both increased creativity and advanced problem-solving skills have been linked to bilingualism. But, the fact remains that learning two languages, especially the one you don't speak regularly, is hard. That's why it's important to enrol your child into the right bilingual education program.
So, how can kids gain this 'bilingual edge'? One of the most effective ways to implement a bilingual immersion program is by using the target language as the instructional language. For example, using Chinese to teach classes to English speakers. But should schools be the sole developer of a child's character and education? Or do parents have to put in a little elbow grease too? We turned to the experts to get their take on parental involvement in bilingual education. We also asked about the benefits of bilingualism, and how different international schools give their students the 'bilingual edge'…
Bilingual education programs in Singapore: the benefits & approaches
1. EtonHouse
Cultural immersion is a cornerstone of EtonHouse's language programmes. Check out their free guide to raising bilingual children here.
"Bilingual education has always been a key focus and strength of EtonHouse, having nurtured many cohorts of fluent bilingual speakers, including many non-native Mandarin speakers. In the 2021 Youth Chinese Test, EtonHouse Broadrick's Bilingual Immersion Programme students achieved a 100% pass rate, with 30% of the students attaining full marks!
"We offer different tracks in bilingual education to suit different learning styles and goals. Those who want to develop strong language proficiency at a very young age can opt for the full Mandarin Immersion Programme in Pre-School. In Primary, they can opt for the Bilingual Immersion Programme, where students are mostly immersed in Mandarin in Year 1 to build a solid language foundation before moving to Year 2 through to 6, where Mandarin and English language time are divided equally.
"Informed by research and best practices, language is not 'taught' but naturally acquired through experiences using an inquiry-based approach that is meaningful and contextual so that students identify and engage with the learning. Our small classes allow us to offer a differentiated learning environment where children can learn at their own pace, maximising their potential and building confidence at the same time." – Bipasha Minocha, EtonHouse.
2. The Schoolhouse by Busy Bees
The Schoolhouse by Busy Bees gives children equal exposure to both languages in class.
"As the pioneer and trendsetter of the Bilingual Immersion Core Curriculum, we believe learning should be fun, hands-on, as well as intellectually challenging."
"What sets The Schoolhouse by Busy Bees (formerly Pat's Schoolhouse) apart is that children experience equal amounts of exposure to both English and Mandarin in the classroom. Our English and Mandarin teachers work as co-partners in the same classroom in a cohesive and immersive bilingual environment. This arrangement facilitates language acquisition at a very young age and encourages children to interact within context throughout the day." – The Schoolhouse by Busy Bees
The Schoolhouse by Busy Bees' Profile
3. St. Joseph's Institution International
The school's new Bilingual Programme aims to develop children's proficiency in not only the English and Chinese languages, but cultural awareness as well.
"What sets St. Joseph's Institution International's (SJI International) new Elementary School Bilingual Programme apart is the unique and enriching education experience we provide to prepare students for success in a multicultural world. The programme will be introduced in January 2024 for students in Prep 1, Prep 2, and Grade 1; and is designed for both native and non-native speakers.
SJI International aims to develop students who are not just bilingual and bi-literate, but culturally aware, and globally minded. We believe these are essential skills that will help our students thrive in this increasingly globalised world. To achieve this, our Bilingual Programme adopts a Two Way Immersion Bilingual education model. Our students not only improve their fluency and literacy in both English and Chinese through this immersive programme, but develop a deep understanding of culture and history too. We're proud of the high academic standards we have in Chinese, Math, and English; and we have an intensive reading programme in both languages that will help develop our students' language skills.
At SJI International, we strongly believe that bilingualism offers a wealth of benefits for children. The need to switch between languages and perspectives, develops enhanced flexibility and creativity in learning. It also promotes open-mindedness, improves multitasking and comprehension skills – leading to success in the classroom and beyond." – Dr Gary Guo, Assistant Principal (Bilingual Programme) at SJI International Elementary School.
St. Joseph's Institution International's Profile
4. One World International School (OWIS)
OWIS's bilingual educators are fluent in both languages.
"One World International School's Chinese-English bilingual program encourages native-level bilingualism, rather than simply Mandarin instruction for English speakers. The teachers of our bilingual programme are bilingual educators themselves. They are fluent in both languages and are able to give students the skills and support needed to learn in both languages to a native level.
Our bilingual program is structured to give students a parallel understanding of concepts using Mandarin and English. Students are encouraged to discuss key concepts, ask questions and express themselves in both languages. This ensures that they have an immersive environment for learning, develop a rich vocabulary and gain a full working fluency as well as linguistic fluency. Native-level fluency in both languages will give our students the tools to access higher education and the world of work throughout the world." – Luna Deller, OWIS. 
One World International School's Profile
5. Singapore American School
The Chinese Immersion Program at SAS uses a 75/25 model in kindergarten and first grade where 75% of subjects – including maths, science and language arts – are taught in Chinese.
"The Chinese Immersion Program at SAS is a well designed and well articulated Chinese-English dual language program. We're aiming to foster bilingualism, biliteracy and cultural confidence. Bilingualism has significant benefits; it provides our kids with two ways of knowing, thinking and being, helping to create purposeful, motivated and goal-directed learners."
"Immersion means that students are immersed in the Chinese language and culture for the majority of time in school. For example, our program uses the common SAS curriculum to deliver our content so students have a smooth transition from the English program. It's a collaborative effort to make the program a success." – Ying Chu and Julie Zhang, SAS.
Singapore American School's Profile
6. Australian International School
The progressive mother tongue program at AIS provides students the opportunity to learn the language and literature of their home countries at advanced levels.
"In the same way that our English-speaking Secondary School students learn the English language and literature within their curriculum, we offer all our mother tongue students (notably, Chinese, Korean, Japanese and Spanish-speaking students) the equivalent opportunities in their own languages. This is all part of our progressive, high-level Mother Tongue Program. The Mother Tongue Program can provide quality language education in almost any language, not just the ones currently being taught. If a student wishes to learn their mother tongue and it is a language currently not being taught here at AIS, then we will seek a tutor of the highest calibre. This is so the AIS student can be immersed in the language and culture of his/her origins. At IBDP level, the list of possible languages an AIS student can study as a mother tongue is extensive." – Monica Johnson, AIS.
Australian International School's Profile
7. Canadian International School
CIS works on integrating culture into spoken language.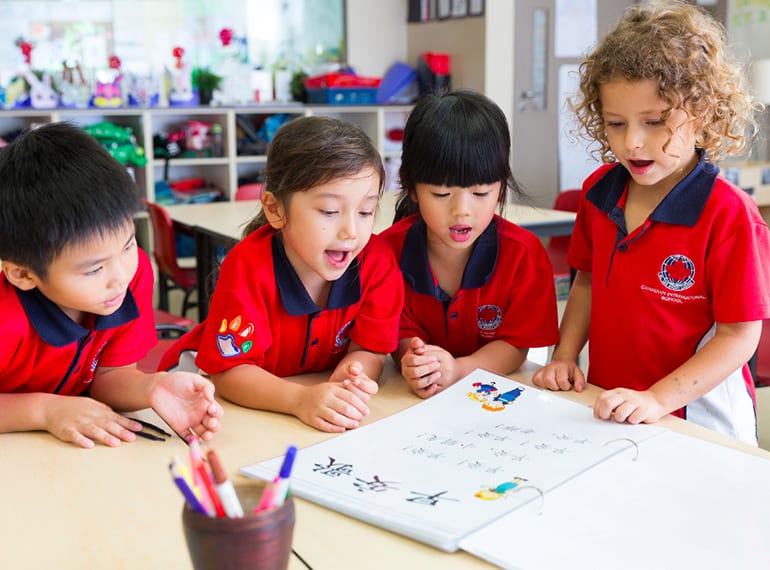 "As one of the first international schools in Singapore to offer a Chinese-English bilingual programme, we are a leader in providing students with a high-quality education in both languages. Our programme is fully aligned with the IB PYP and available to students in Junior Kindergarten to Grade 6. Students are taught by native speakers of each language and attend classes in either English or Chinese on alternating days. Throughout the programme, we place a strong focus on integrating culture, values, history and even how to think in a respective language. This is because speaking a language without understanding its culture has very little real-world value. After Grade 6 there is a specific pathway for students to maintain their Chinese in Secondary School and the IB MYP.
As teachers, we have found 'public opinion' gives students an excuse for not trying, hence parents should avoid saying things like 'learning Chinese is hard and boring' in front of their kids. Instead, you should try to appear interested in Chinese and encourage your child to teach you some phrases. Then use them in real-life situations such as ordering lunch at a hawker centre!" – Huali Xiong, CIS.
Canadian International School's Profile
8. GESS – International School
Learning any language should be meaningful to the child, say the experts from GESS – International School.
"At GESS – International School, we encourage our students to deepen their roots through language acquisition and the understanding of cultures. From Grade 1, we offer the IB curriculum delivered in English or the German curriculum delivered in German. We also offer a German-English bilingual track in Kindergarten. In order to support our multicultural community, GESS also offers a Language Enrichment Programme (LEP) in more than 10 languages, such as Danish, Dutch and Mandarin. This helps students maintain fluency in their mother tongues.
Our students have displayed confidence in communicating and a well-developed sense of global citizenship. This is supported by language learning and displayed through collaborations such as the bilingual opera, Snow Queen, which our English and German-speaking pre-primary students worked together on for their final exhibition. We believe that learning any language should be meaningful to the child and integrated into daily life. As partners in their children's language development, we encourage parents to talk to their children, share experiences, ask questions and support their children's answers and interests. If children are interested and motivated, they will never be bored by learning languages." – Laura Munaro, GESS.
GESS – International School's Profile
9. HWA International School
HWA International School believes that success in today's globalised world calls for more than just the acquisition of knowledge in any one language.
"In HWA International School, the children are true bilinguals. All subjects and activities are conducted in both English and Chinese. We have an English teacher and a Mandarin teacher stationed within class at all times, along with language support programs to support children through their learning path. Success in today's globalised world calls for more than just the acquisition of knowledge in any one language. As such, HWA offers a dual-language immersion programme and a multi-cultural environment from the earliest stages of a child's education. Our students have the best possible head-start to becoming a thinking global citizen and a caring bilingual world leader." – Alan Fu, HWA.
HWA International School's Profile
10. Stamford American International School
Stamford American International School nurtures its students to become bilingual, biliterate, and bicultural.
"Research indicates that students are able to achieve a high level of language proficiency when there is a long-term commitment to the target language. Especially when that language becomes the medium of instruction. In Stamford American's English/Mandarin Bilingual Program, our students have the opportunity to access content in some subject areas through the use of both languages (50% in English/50% in Mandarin). In addition, students in the bilingual program enjoy a daily foreign language block focused on obtaining proficiency in all language domains. Students in the bilingual program (PreK-G5) are taught the same curriculum as monolingual classes with the only difference being the language of instruction. We believe children raised as bilinguals will become true global citizens of the world. It helps them learn and communicate with others, especially in a global community like Stamford with over 65 nationalities." – Xiomara Cruz, Stamford American.
Stamford American International School's Profile
Like the sound of these bilingual education programs in Singapore? Visit the schools' profiles via the HoneyKids School Selector to learn more!