How many children do you have attending AIS and how long have they been enrolled?
I currently have 3 girls attending AIS.  Our 10 year old twins, Charlotte and Madison, are in Grade 4 and our 7 year old daughter, Isabella, is in Grade 1.
What were the most important or deciding factors when selecting your preferred School?
For me, it was all about the feeling I got when I visited AIS. After asking my sister how she decided which school was right for her children, she said "you will just know, you will feel it".  And I remember thinking, "goodness, what does that look and feel like".
I reviewed AIS along with 3 other well-known and respected international schools. Each one of them ticked boxes for academics, the Arts and sport, but the overwhelming deciding factor for me was the feeling I got when I walked into the school.  At AIS it felt right and it felt like home.
How has AIS lived up to your expectations?
Our family has enjoyed being part of AIS since the Prep years. We couldn't have asked for a better experience and introduction to school life.
What does your child like most about attending AIS?
It's unanimous for my girls: the teachers and their friends.
Can you share with us a bit about the curriculum that AIS offers? 
In addition to literary and numeracy, the framework is based on the IB Primary Years Program which is all about educating and developing our kids more holistically – not just for the classroom but for the world outside.  It encourages our kids to become lifelong learners, to challenge, to become risk-takers, and to seek additional strategies to solve problems.
What extra-curricular activities do your children participate in? 
Maddy and Charlie love the CCA programs offered at AIS and willingly participate in as many activities as they can.  They have been part of the Choir since Grade 1 and plan to continue.  They have recently become members of the Sharks Swim Squad, and they're swimming 2-3 times per week. I'm sure when they're old enough, they will be participating in other representative sports, such as netball.
What advice would you give other parents looking for a school? 
To do your due diligence, visit a selection of international schools, and be clear on what you want for your children both now and in the long term.
What do you value most about AIS?
It's not just one thing: I value the family spirit, the way all nationalities are celebrated, the facilities, and the ability to participate in music, sport and the Arts.
Do you use the school's bus network? Does it work well? Do they have English speaking & reliable bus aunties?
I have always used the bus service.  I've found the bus to be extremely reliable, clean and safe.  There is one bus Aunty in particular who we all adore, as she's really cared for our children. I've never hesitated putting the kids on the bus.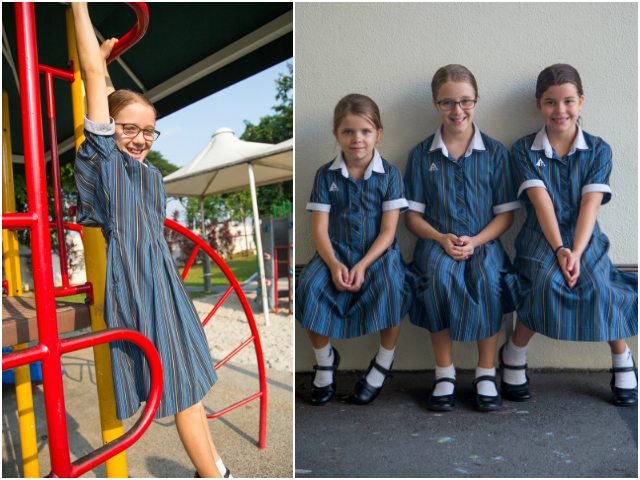 How is the communication between AIS and you as the parent? Do you get meaningful information on what is happening in the class room?   
I've found the teachers respond in an appropriate timeframe to any queries I might have.  I do tend to receive a significant amount of communication from the school, which at times can be a little overwhelming, particularly when you and your husband both work.
How much homework is given to your child and how often? 
Isabella gets weekly homework and the twins now have homework that needs to be completed within a 2-week period.