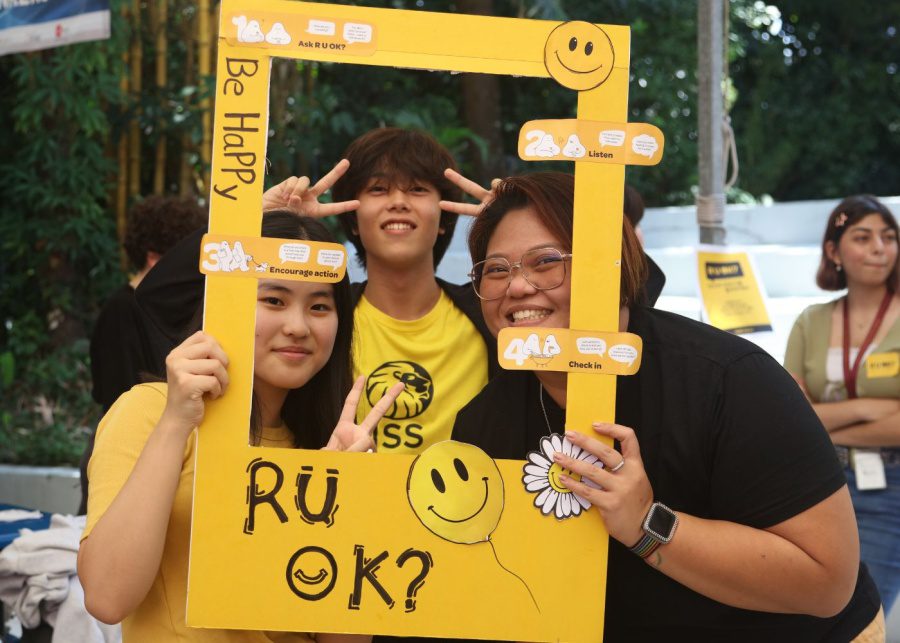 Our community
Within today's global education landscape, ISS International School stands as a beacon of educational innovation, providing a comprehensive and inclusive education that has made a real difference in students' lives for over four decades. Our unwavering commitment to "Educating to Make a Difference" is deeply embedded in the fabric of our institution.
Nestled in a serene heritage hilltop campus surrounded by nature, ISS is more than a school; it's a community fostering open-minded learners and dedicated educators.
As an authorised K-12 International Baccalaureate (IB) World School, ISS offers the complete IB curriculum, including the IB Certificate and an American-styled High School Diploma for G11 and G12 students. Our school's personalised learning programme, supported by a robust student achievement database, tailors education to diverse student needs and backgrounds.
Central to ISS is "Our Kampong Spirit," embodying a commitment to community togetherness. With intentionally maintained small class sizes, academic excellence is not merely a goal but a journey facilitated by a personalised approach to learning and a nurturing environment.
ISS takes pride in its robust English as an Additional Language (EAL) programme, consistently guiding students from low WIDA scores to success in IBDP and HSD exams. The success is attributed to individualised support, a dedicated team of educators, and a caring culture that cultivates English proficiency, laying the foundation for student success and future pathways.
Students actively participate in developing personalised learning plans in a safe and inclusive environment where confidence thrives. As a school committed to inclusion we believe in being non selective. Notwithstanding, 100% of our HSD students achieved a pass rate and university acceptance, 90% of our IB students achieved bilingual diplomas and the IB class of 2023 scored above global averages in seven IB subjects this year. These achievements underscore our commitment to holistic education and student well-being.
Situated in a space with a rich British colonial history dating back to the late 1930s, ISS cherishes its heritage and architecture, providing students with an escape from technology into a green atmosphere that enhances creativity and overall well-being.
Founded by the late visionary Mr. Chan Chee Seng, ISS remains true to his vision of an inclusive environment with a diverse student population that acts globally, thinks with care, and strives for sustainable change.
At ISS International School, we don't just educate; we educate to make a difference.
Essential Information
Type
Preschool, Primary, Secondary
Grades
Kindergarten 1 to Grade 12
Curriculum
IBDP, IBMYP, IBPYP, American-Style High School Diploma (HSD)
Language of Instruction
English
Foreign Languages Taught
Japanese, Korean, Mandarin
School Hours
Kindergarten (K1 & 2), Primary School (G1-5) and Middle School (G6-8) - 8am to 2.25pm

High School (G9-12) - 8am to 3pm

Monday to Fridays (excludes after school extra-curricular activities)
Nationality Restriction
None - all nationalities accepted *Singapore Citizens must seek approval from the Ministry Of Education prior to enrolment at ISS International School.
Qualification Type
IBDP, IBMYP, IBPYP, HSD
Facilities
Air-Conditioned Classrooms, Outdoor Turf Pitch, Primary Village Play Areas, Playground, Indoor Basketball Court, Event Halls, Music Rooms, Art Studios, Science Labs, Design Labs, High School Library, Primary Village Library, Cafeteria
Term Dates
2023 – 2024

Semester 1: 7 August 2023 to 15 December 2024
Semester 2: 8 January 2024 to 6 June 2024
What Sets This School Apart
'Educating to make a difference....'
In keeping with the mission, vision and values of the school, ISS aims to help each student reach his/her potential by maintaining an inclusive, nurturing and empowering learning culture.
An ISS education occurs within an inclusive learning culture that nurtures all learners, differentiating instruction to empower them with the range of competencies and characteristics they require to become skilful, active and fulfilled global citizens.
An ISS education empowers all learners to become skilful thinkers and creators. Learners who are able to both pose and solve problems, researching and expressing their understanding using multiple forms of literacies. Learners who can manage their own learning and collaborate with others to achieve shared goals. Learners who can apply their learning to new situations with creativity and innovation.
An ISS education inspires all learners to become active, socially responsible global citizens with an understanding of their responsibilities within their local community and as global stewards. An ISS education nurtures all learners enabling them to be fulfilled individuals. Learners who move through life with a growth mindset and an entrepreneurial passion for encountering the opportunities that await them.
An education that makes a difference by developing learners who are able to make a difference.
School Culture
ISS International School aims to help each student reach his or her potential by maintaining an inclusive, nurturing and empowering learning culture. This culture is fostered through ISS International School's programmes and operations. Our success in achieving our culture is measured through formal community feedback and a range of documented evidence.
Financial Information
Annual Tuition Fee
Annual Tuition Fee consists of Tuition Fee, Development Fee, and Fee Protection Fee.

The annual total prior to any available discount schemes is between S$ 29,972 to S$ 49,526 dependant on the grade levels.

Please refer to https://www.iss.edu.sg/admissions/school-fees/ for more details
Application Fee Refundable
No
Admission / Enrolment Fee
Comprises of:

Placement Test Fee: S$505 (One-time fee payable where applicable; non-deductible and non-refundable.)

Student Support Review Fee: S$505 (One-time fee payable where applicable; non-deductible and non-refundable.)

Enrolment Fee: S$3,633 (One-time fee payable upon acceptance of offer and non-refundable.)
Parents Association Fee
$22
Other Fees
Please refer to https://www.iss.edu.sg/admissions/school-fees/ for more details
Discounts
Family Fee Programme:
Second child - 5% discount on tuition fee
Third child onwards - 10% discount on tuition fee plus enrolment fee offset against total fee payable
(*This programme only applies to students Grade 1 and above)
Please contact our Admissions department at +65 6475 4188 or admission
[email protected]
for the latest policies and promotions.
Programs Available
Extra Curricular Activities
At ISS, we're all about offering our students a well-rounded, holistic education. Our Extra-Curricular Activities (ECAs) are a fundamental part of this educational experience.

We offer a wide range of ECAs, from sports like badminton and football to arts and crafts, gardening, and Model United Nations (MUN). We also have an array of clubs and societies to cater to diverse interests.

ISS participates in the Athletic Conference of Singapore International Schools (ACSIS) league for varsity sports competing in basketball, cross country, and volleyball.

This season, our volleyball team has made us proud, winning the first three games of the season. While we may not boast full-fledged gym facilities, state-of-the-art training resources, or professional coaches, what we lack in infrastructure, we make up for with sheer passion and heart.
Special Needs Support
Yes
English as a Second Language
Yes