Founded in 1925, Tanglin Trust School has over 90 years experience delivering British-based education in Singapore.
Tanglin is a vibrant coeducational day school where 2800 children, representing over 50 different nationalities enjoy learning. Our students look forward to the challenge, opportunities, comradeship, and fun of school life.

Tanglin's academic traditions and approach to teaching are firmly grounded in an enhanced and rigorous English National Curriculum, with an international perspective. As a not-for-profit school, tuition fees are devoted to the provision of an outstanding education.

We firmly believe that children are just as likely to learn outside of the classroom as in it. Our curriculum is enhanced through a multitude of opportunities to inspire including outdoor education trips, special days, service learning and a wide range of co-curricular activities that stimulate and broaden student experience.

We are proud to be the only school in Singapore offering both IB Diploma and A Level at Sixth Form giving our students the opportunity to choose the best pathway for them. A globally recognised, prestigious international school, Tanglin students go on to many of the leading universities in the world.

We create an environment where learning can grow and flourish, and we inspire every individual to be the best they can be. Everyone at Tanglin gets a chance to shine, whether it be in sports, arts or academia. Our students' achievements are celebrated at all levels, in all they do, and lasting values are created.
If you would like to come along to one of our open house events or book a tour of the school, click here.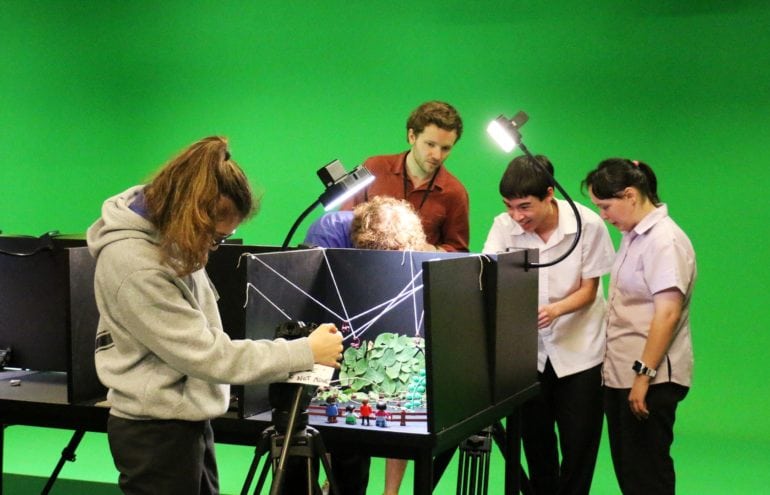 Essential Information
Type
Preschool, Primary, Secondary
Curriculum
IBDP, English National Curriculum
Language of Instruction
English
Foreign Languages Taught
French, Mandarin, Spanish
Current School Population
2800
Maximum Class Size
Nursery: 20
Infant: 24
Junior and Senior: 24
IGCSE: 20
A Level: 15

School Hours
3 years old: 09:00 – 13.50
7 years old: 07:50 - 14:50
11 years old: 07:55 - 14:50
Demographic Breakdown
47% British; 11.6% Indian; 9.8% Australian; 7.4% Singaporean; 1/8% American; 22.4% Other
Nationality Restriction
MOE approval required for Singapore citizens.
EduTrust Certified
Exempt
Teacher to Student Ratio
3-4 years: 1:6 Nursery
4-5 years: 1:8 Reception
5-7 years: 1:12 Years 1-3
8-13 years: 1:24 Years 4-9
14-16 years: 1:20 Years 10-11
16-18 years: 1:15 Years 12-13
Qualification Type
I/GCSE, A Levels, IBDP
Facilities
Throughout the three schools (Infant, Junior and Senior School/Sixth Form), the buildings feature large multi-purpose assembly and sporting halls, music rooms, indoor performance theatres, Information Technology suites, drama studios and science laboratories. Each school also has its own well-resourced library and health centre. Additional facilities include an eight-lane swimming pool, large outdoor sporting grounds, canteens, a future-learning room, a world-class design and technology facility, and state-of-the-art media technology suites.
Term Dates
2018/2019: 23/08/2018 - 05/07/2019
Term 1: 23/08/2018 - 14/12/2018
Term 2: 08/01/2019 - 29/03/2019
Term 3: 15/04/2019 - 05/07/2019
What Sets This School Apart
Experienced, committed and dynamic staff: The dedication and energy of our staff and their commitment to providing the most inspiring, exciting, memorable learning for our students, along with exceptional pastoral care that goes in to ensuring every child has the opportunity to achieve, whatever their strength or talent, sets Tanglin apart. Teachers are British or Commonwealth trained and experienced.
A broad and balanced curriculum: In the Infant and Junior Schools, the English National Curriculum provides the basis for the programmes of study, which are enhanced and enriched to reflect the school's international setting. We are the only school in Singapore to offer both A Levels and the IB Diploma, allowing students to choose a pathway that is best suited to them and their individual strengths. We have a specialist team of teachers, school counsellors and careers and university guidance counsellors who support and guide students and their parents in making this important choice.
Achievements at all levels are celebrated: Tanglin students are bright, hard working and confident. They consistently achieve outstanding (I)GCSE, A Level and IB Diploma results, going on to top universities around the world. However, going to school is not only about formal learning in the classroom and passing exams, it is also about developing a community of productive global citizens whether it be through trips, sports teams, drama productions, music and the multitude of other opportunities our students embrace.
"The learning environment, the endless support from teachers and the incredible opportunities I have been given, through travel and service projects, have allowed me to grow from the shy girl I joined Tanglin as, into a confident young adult." Former Head Girl 2018
A wealth of experience: We have provided high quality education for over 90 years in Singapore. Like our students, we have learnt and adapted along the way. What enables our students to fulfil their potential, whatever their starting point, is also about the community ethos we have built over the years. We believe in lifelong learning and we support each other to be the best we can be, in all that we do.
Excellent facilities and resources: As a not-for-profit school, all fees goes towards the provision of an outstanding education.
Our awards and accreditations: We are assessed within the British Schools Overseas (BSO) framework, recognised by Ofsted, UK. All three schools have been awarded Outstanding, the highest possible grade. Our Infant School is also the first school in Asia to be awarded the Early Years Quality Mark and the Primary (Infant) Quality Mark.
We have also been awarded the Historical Association Silver Quality Mark, the Geographical Association Gold Quality Mark and the Primary Science Gold Quality Mark, British Council International School Award with maximum points, and UNICEF's Rights Respecting Schools Award (RRSA), in recognition of the excellent provision and exceptional standards we offer our students in the Junior School.
As our Infant and Junior Schools are members of the Independent Association of Prep Schools (IAPS), an association for headteachers of leading prep schools throughout the world, we have received the prestigious kite mark of quality.
Exciting New Developments
Tanglin's lease on its site at Portsdown Road has been extended to 2038. Having this confidence in our future, means that we can look to develop and improve our facilities further, in the knowledge that we will be on this site for many years to come.
We recently opened a new design and technology facility which includes a design suite where students learn to design by hand, a workshop where they can manufacture products from a range of materials, a CAD area for modelling ideas in 2D and 3D and a CAM 'maker space' with a range of 3D printers, laser and vinyl cutters, and thermoforming equipment.
School Culture
We are a vibrant, exciting and caring environment. From the foundation set by the Infant School, right through the Junior School and in to the Sixth Form, we strive to make every individual feel valued, happy and successful. Responsibility, enthusiasm and participation are actively encouraged. We set high expectations whilst offering strong support, resulting in a community of lifelong learners who can contribute with confidence to our world.
Financial Information
Annual Tuition Fee
Infant School - Nursery: $26,181
Infant School - Reception: $32,076
Infant School - Year 1 to Year 2: $32,586
Junior School - Year 3 to Year 6: $34,296
Senior School - Year 7 to Year 9: $39,570
Senior School - Year 10 to Year 11: $41,418
Sixth Form - Year 12 to Year 13: $43,461

Application Fee Refundable
Yes
Admission / Enrolment Fee
$3,500

Building / Facility / Development Fee
N/A
Parents Association Fee
N/A
Other Fees
Uniform, transport, food, school trips.
Programs Available
Extra Curricular Activities
The Co-Curricular Activities (CCA) programme at Tanglin provides students with opportunities to pursue a range of interests by developing existing talents or learning something new. Our CCAs are divided into six areas: competitive, recreational, ensemble, creative, active and service.

The extensive CCA programme includes but is not limited to:
Arts and Crafts,
Athletics
Badminton
Basketball
Building websites
Ceramics
Chamber Choir
Chess
Chinese
Chinese Chess
Choir
Coding
Construction
Cricket
Cross Country
Cross Stitch
Dance
Debating
Drama
First Aid
Football
Fun Fitness Training with Hula Hoops
Gamelan
Golf
Gymnastics
High Commissioner Award
Hip Hop & Breakdancing
History
Jewellery Making
Masterchef
Musical Theatre
Netball
Origami
Percussion
Photography
Poetry & Drama
Recorder
Rock Band
Rock Climbing
Rookie Lifesaving
Rugby
Science
Scrapbooking
Scratch Programming
Scuba Diving
Singing
Soft Toy Making
Softball
Strings
Swimming
T-ball
Tennis
Touch
Touch Typing
TTJS News
Violin
Water Polo
Wind Band
Enrichment Activities
Mother tongue provision, tuition services, swimming.
Pastoral Care
Enrichment Activities
Mother tongue provision (Danish, Dutch, German, Greek, Hindi, Italian, Japanese), tuition services, swimming
Special Needs Support
Yes
English as a Second Language
No
MAP
Tanglin Trust School Singapore
Tanglin Trust School Singapore