Are international school fees in Singapore keeping you awake at night? Are you considering the local system? Wondering what the differences are between the two options? Tracy Tristram had her children split between the two school systems. Here's why...
If you're an expat parent in Singapore, entering the international or local school in Singapore debate is inevitable. "Where do your kids go to school?" is usually one of the top three questions asked here. What people generally don't expect is my response when I reveal I have two children in the local Singapore school system (K2 and P5) and one in international (Year 11). "Oh." Slight pause while that information processes. Standard reaction: "Really? Why?" Here's why it works best for us, along with the pros, cons and issues with how hard it can be to apply for a school in Singapore…
Choose the system that's best for your child
For us, there isn't a simple answer. You see, back when we arrived in Singapore in 2008, it was on an all-singing, all-dancing expat package. Remember those? We sent our son to the nearest international school. (By the way, if you're trying to find the perfect international school for your child, check out our online school comparison tool, School Selector. It'll be your new best friend during this process.)
Sadly for us, the package lasted a mere 10 months before The Husband was made redundant. We had to look, really look, at our expenditures. Which were hideously huge.
Thankfully, The Husband got a new job quite quickly, albeit on a local package. So, financially we were alone when it came to our kids' education. At that point, our eldest was the only one in school and we decided to keep him where he was. It was also around the same time that we had him tested for some learning difficulties. When the results confirmed our suspicions, the obvious choice was to keep him in the school he loved and that offered Learning Support. We decided he was best left in an international school. (If you're looking for support, see this guide to preschools, schools and courses for kids with learning differences.)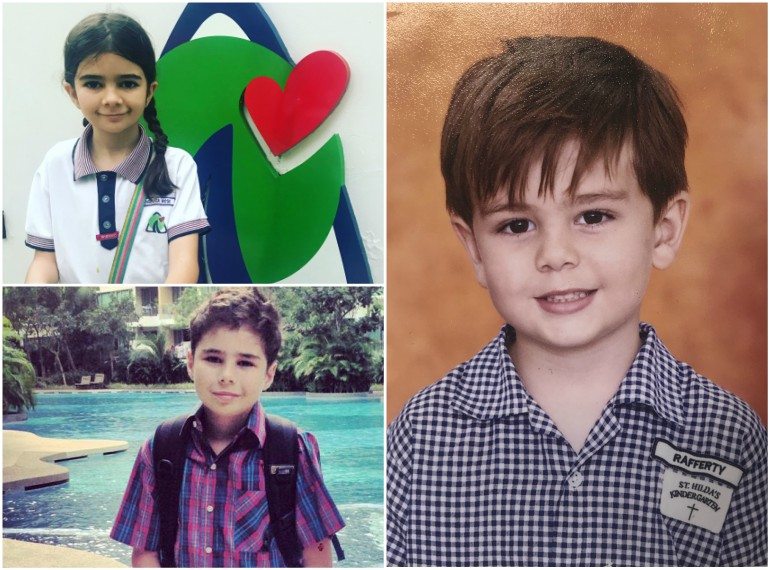 Different kids; different systems
Fast forward a few years to Angelica turning three. Initially, we put her in an international school, in the pre-school class. It was okay. But it just wasn't worth the money. She was oblivious to how much we were paying for her to do colouring sheets. With a rather large stroke of luck, we managed to secure her a spot at one of the most popular local kindergartens in Singapore, St Hilda's Kindergarten. She was happy. Really happy. And we were too. The staff handed out hugs and happiness in abundance, and it cost us a whole lot less for her to do colouring sheets. She was there until she was six and had an amazing backbone for education gifted to her. Her happiness and love of learning meant that keeping her in the local MOE school system was the logical step.
But can expats even get into a local school?
I love that my locally-educated kids are exposed completely to Singaporean culture by being part of the local system. It's such a huge benefit for long-term residents like ourselves. But getting a spot for a foreign child continues to be really, really difficult.
Angelica is in Primary 5 now and has flourished at her local MOE school. I am so proud of her and continue to be impressed with what a lovely community she is part of. Getting her a spot was hard, and there were many months of worry and stress along the way. Luck was on our side and it was a happy day indeed when she was given a place at a local school near to our home. Yes, there are more rules and restrictions in the locally-educated Singapore school system, but I try and keep the balance of school and after-school clubs right for her. The school itself also works hard at encompassing a more holistic approach, but still keeping its strong academic values. Her favourite school activity? Scouts!
Unique kids, unique choices
Equally, her very different brother has continued to flourish despite his 'labels'. The international school system is exactly the system that benefits him and the way he learns. Academia is still important, but the approach is generally less black and white. Where's next for him? We're looking at lots of options, including a vocational course at a local college or A-Levels. We think the IB course for years 12 and 13 at his current international school aren't suited to how he learns.
In a nutshell, so far, so good! Two very different children in two very different systems. Both are happy and neither care that we pay a large amount more for one than the other. To them, they simply 'go to school'.
The pros and cons – and the guilt factor (sigh)
In the international or local school debate, do we feel guilty that we pay vastly different amounts for our children? Well, actually, no.
Our daughter receives world-class education in the Singapore school system, with an affordable price tag. However, she does not feel hard done by. She is proud of how well she is doing and happy in an environment that suits her perfectly. The benefits for her include the fact that as she is educated amongst mostly Singaporeans, which means she does not have the turnover of friends that my son has been subjected to over the years. Her long-term friendships and the standard of education she has had cannot have a monetary value attached to them. She is happy and therefore so are we.
Our son receives an international education that offers him the learning support he needs and a more holistic view of education as a whole. There's no ridiculous early start or constant pressure of exams and tests. He learns a wide range of subjects but at an easier pace. This suits him perfectly. He is happy and therefore so are we.
But what about our third child?
Rafferty is in his final year at the same kindergarten that his sister went to. He is as bright as a button and has thrived academically and socially. Next up? We have to decide what path to set him on for the next stage of his academic journey. And we would LOVE for him to snag a spot at the same school as his sister.
He has a great attitude to learning, and we believe that a local MOE school will absolutely be the perfect fit for him. We just have to keep our fingers very much crossed and hope for the best – so we're thrashing out a back-up plan!
We would love for him to end up with the 'right fit' and not what others deem to be the 'fair fit'. He was born here in Singapore, it's 'home' and he very much wants to continue to be a part of the local Singapore school system… And annoy his big sister in the playground!
NEED-TO-KNOW DIFFERENCES BETWEEN THE SYSTEMS
Comparing the two types of systems can be a minefield, so check out the HoneyKids School Selector – Singapore's original online school comparison tool to save you a ton of research on fees, school hours, holiday timetables, curriculums and parent reviews on the international school of your choice.
Below is a quick guide to what you need to consider for the two systems, but full details for individual local schools can be found on the Ministry of Education website. Where applicable, you will see the direct comparisons that can be made between the international or local school systems.
Curriculum
Local schools
No matter which local school your child attends, all Singapore schools in this system follow the same curriculum as outlined in the MOE website.
International schools
The curriculum will change based on the school you choose. Confused about the different systems on offer? This guide to the international school curriculums explains the essentials. Many international schools follow the British, the IB and/or PYP/MYP systems.
Admissions
Once you have made your decision between the two systems you will face the next hurdle: admissions. The local MOE school system has a very strict procedure to follow, which applies across the board. Admissions are handled entirely by MOE and for international students trying to get a placement from years P2 upwards, they will need to sit an assessment exam (AEIS) before admission will be considered. Do have a look at the admissions policies for students set by the Ministry of Education. For those students who have one parent who is a Singaporean Citizen, the procedure will be different and you are advised to contact MOE directly at [email protected].
Local schools admissions
For parents who wish to enrol their child for P1 in a local MOE school, this will be undertaken in a number of phases during the year. Your phase to apply directly at the school of your choice will depend on your status here in Singapore. To find out which phase your child would qualify for, you should take a look at this guide to local school admission phases. If your child is unsuccessful in gaining a place during any of these phases, then appeal is, sadly, no longer an option. Do note you need to register your intent during June each year to be considered during the enrolment phase later in the year.
International schools admissions
For parents wishing to enrol their children into international schools, each school has a different procedure. Most schools have waiting lists and each school has its own policies. Get in touch with the schools you are keen on to arrange a tour, and then speak with their designated Admissions Officer once you have decided where to apply. Singaporean citizens are not allowed to attend international schools unless they have special dispensation given to them by MOE. To do so, you would need to approach MOE directly to state your case.
The verdict
Only you can decide whether international or local school suits your child the best. There is no right or wrong answer – it's down to each individual child. And there's another consideration worth mentioning – do you want to immerse your children in Singaporean culture while they are here? Or do you want to prepare them for a return to your home country?
No matter which system you choose, they all learn to read. They all learn to write. They all learn maths. The price tags are different. The school hours are different. The cultural diversity is different. But the kids all end up looking exactly the same on Graduation Day. A hat, a robe, a certificate and a happy smile.
This article was first published in August 2015.