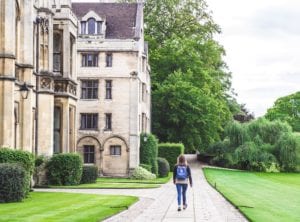 Choosing, applying and prepping for university from Singapore: we've been talking to experts on how and when our teens should be planning for life beyond high school...
Ahead of our HoneyKids Asia International School Fair with HSBC, which this time around includes a new element for older kids: 10 universities to talk through further education options with, we've been speaking to three of our partners to get the lowdown on how we can best prep our college kids for the next stage of their learning journeys.
Collegewise Singapore – Hani Rahman, Director of 
College

 Counseling

What is your best advice for preparing students for university? 
At Collegewise, we always advise you to start early, even if you are not sure where you want to go to university. The earlier you start, the better prepared you can be for any requirements the universities may have. Some countries, like the United States, require tests such as the SAT or ACT. Other universities, like those in the UK, require certain exams when you're applying to specific fields, such as Law or Medicine. The earlier you start planning your application, the better you can anticipate the different exams you may need to take and avoid any last minute rushing.

Do you have any specific pointers for the application process and how to give the strongest presentation of the student's qualifications?
We always tell students to put their best foot forward. All universities will ask for your academic records, but some may even ask for things like what activities you've been involved in, essays or statements highlighting key qualities about yourself or even recommendation letters from teachers. All of these will work together to help university admission officers get to know you. Before submitting any application, review it thoroughly and have a close family member, friend, or teacher review it as well. Does this accurately present who you are? Does it highlight the things in your life that are most important to you? Universities are often looking for what you could bring to their community, so the non-academic factors can often be a big influence on admissions decisions.

The best advice that we can give, though, is to be yourself. Do the activities you love. Take classes you enjoy. Be involved, start early, and challenge yourself whenever possible. We believe that applying to university should be an exciting time for students and parents, and Collegewise is all about helping to make the process is as stress-free as possible.
ITS Education Asia – Michael Li, Director of US Admissions
What is your best advice for preparing students for university?
For international students, US universities are the most expensive in the world. In some cases, US universities provide education at the highest level in all academic disciplines. In many cases, however, universities provide curriculums insufficient to prepare students for their future careers. Therefore, students and parents should be extremely selective in choosing US universities.
Choosing universities in the US
There are over 2,000 four-year colleges and universities in the US, so the landscape of institutions for higher learning is rich with opportunities for students of all abilities and interests. 
Students should strongly consider what knowledge and skills they hope to attain from a university education, and look for schools that are strongest in those departments. Students should consider geographical preference, desired major, proportion of international students, and many other factors when selecting schools. Students should do plenty of research on each school – there is a vast amount of information available on university websites and there are countless forums in which current students and recent graduates
There are so many tests, curricula and educational pathways – how can I ensure my child is prepared for the next step in their education when it comes to university?
The following should all be taken into consideration when preparing your child:
Application essays
Students will usually have to write one or two long essays (500-650 words) and any number of smaller supplemental essays (250 words or less). 
In the final summer before applications, once a student is narrowing down a list of possible universities, they should begin drafting their application essays. A student who starts writing early will have essays that are cleaner, clearer, and more thoughtful. Students do not have to finish their essays in the summer, but brainstorming and drafting the essays early on can greatly reduce the burden as application deadlines approach.
Hobbies and projects
Almost all top university applicants have extremely packed lists of activities. Extracurricular activities have very little value to US admissions committees because they don't help differentiate between applicants. Unless a student has accomplished something at the national, international, university professional level, these activities are mostly overlooked.
Students should find hobbies and projects they are passionate about, rather than choose from uninspiring lists of volunteer opportunities. Universities are looking for students who will forge their own path. In order to get the most out of their extracurricular activities, students should find activities that they are truly passionate about. Finding activities that align with a student's passions can help the student discover what skills and experiences they hope to harvest from their university education. And when these passions are conveyed to university admissions officers, those students will stand out in the crowd.

Preparing for college admissions in the US – SAT and ACT tests
SAT (which originally stood for Scholastic Aptitude Test) or ACT tests (which originally stood for American College Testing) are the methods used widely in the US for students to gain entry to college.
Students in IB, AP or A-level programs gain foundational knowledge and problem solving and critical thinking skills that serve them for the rest of their lives. Students have nothing to show from the SAT/ ACT except for a score. The SAT and ACT are tools of the university admissions offices. A bad SAT score can help the university exclude the applicant. However, a great SAT score does not guarantee admission. There is a Harvard legend that a student scored in the SAT 99th percentile, and then took the test twice more to achieve a perfect score, so Harvard rejected him outright on the basis that his academic priorities were misguided.

We recommend that students take their first official test at the end of Year 12/ Grade 11. Research shows that a student's second official SAT is usually the highest scoring, and students should start with a mock test to diagnose their strengths and weaknesses. Because the SAT and ACT are thoroughly standardized, students can drastically improve their score by understanding the strategies that the tests are designed around. There are aspects of the tests that take time to practice and improve, so students are encouraged to dip their toes in early on.
Keystone Tutors – Harriet Blomefield
What is your best advice for preparing students for university?
Prepare early; there is lots of information out there so students can and should start planning well in advance. There are 50,000+ courses offered by over 300 UK universities and colleges, so researching these is key. Students can use websites such as Which! and UCAS to help whittle potential degree options down.
If a student is applying to university it needs to be because they want to go. Our best advice for students: choose a subject you'll enjoy, and don't select based on the university alone as the course itself is an important factor.
Finally, leaving applications to the last minute is not advisable. Students should be encouraged to stick to their school's deadlines. We recommend that students start writing a personal statement over the summer holidays before their final school year.
How can my child figure out how to set realistic academic ambitions and achieve them?
This is a tough question as it is so specific to the individual!
Keeping on top of work and setting small, attainable targets is an effective way of boosting confidence. If a child can see the progress they are making it will help them reach their potential. Setting small targets will enable a child to start thinking of their wider ambitions.
It is always helpful to give your child an idea of what options are out there, and what they might need to do in order to access them. A trip to university or a conversation with an adult who has studied a certain degree might light the spark that gives the child the drive to aim high.
The HoneyKids International School Fair with HSBC
Wise words indeed, thanks guys!
For lots more info, do come along to our upcoming International School Fair, where you'll get to meet over 10 universities from around the world. So, if you have a child who is due to graduate to further education in the coming years, this really is your one-stop shop to get all your questions answered in one place, on one day. Don't forget to RSVP!
Lead image: Victoria Heath via Unsplash