Oh hey, BBC Dad! Courtesy of BBC News
Whether you're a WFH newbie or regular remote worker, here are our top tips on staying productive at home with the kids around (we're looking at you, BBC Dad).
The world's gone bonkers – coronavirus has completely changed the landscape of our lives. People are fighting in the supermarket aisles over toilet roll, hand sanitiser is now doing a roaring trade on the black market, and social distancing is the new normal. And, in light of that, we're all working remotely a lot more. But with many parents choosing to keep their children out of school in the current Covid-19 climate, how can we work from home… with kids? Hitting tight deadlines, attending video conferences and maintaining focus are some of the key challenges we're facing. But it IS possible – and it can also be really productive.
Working from home with kids around – why it's the new norm
After the World Health Organization announced the coronavirus as a pandemic last week, Singapore's Ministry of Health followed up with additional precautionary measures of its own. The MOH advised employers to reduce close contact of staff where possible. That includes staggering work hours, video conferencing rather than face-to-face meetings, and implementing remote working where feasible.
What about the schools, you ask? Well, while Singapore hasn't announced any plans to close schools at present, many parents are choosing to voluntarily remove their children and keep them at home until the outbreak quietens down a little (no mum shame here either way from us: you do you, we say). It wouldn't be alone in its decision if it did come into effect. According to UNESCO, 85 countries have closed schools nationwide, impacting over 776.7 million young people. On top of that, 15 more countries have implemented localised school closures.
Yep, thanks to Covid-19, it's become the new normal for us to be working remotely alongside our small humans.
Remote working as a parent: is it possible?
Remember the 2017 viral footage of 'BBC Dad'? We enjoyed all the LOLs when we watched the clip of Robert Kelly, an American academic and expert on Korean relations, conduct a video interview with the BBC. Mid-convo, his toddler daughter sashays into his study (with impressive swagger, might we add), before his baby son follows suit in his walker… closely tailed by his panicked wife! Funny as it was, it was just one case of how real life continues on in the background of (and sometimes adds a whole heap of challenges to) your career. BBC Dad may have been mortified at the time, but we can totally relate on so many levels!
There are absolutely challenges with an at-home office if it's not your norm (thanks, coronavirus), and of course it totally depends on what you do day-to-day to earn your crust, as well as your personal circumstances. It's especially hard if you don't have relatives or support – don't take for granted how lucky many of us are here in Singapore to have helpers, or foreign domestic workers. It certainly makes it a helluva lot easier to go about our 9-to-5! Regardless of your set-up at home, here are some top tips for keeping the productivity going.
Get a workspace set up
Make sure you have a dedicated space at home to work from. While your bed makes for comfy Netflix binge viewing or online shopping, it isn't a great set-up for working from home. Hello, RSI! If you've got a spare room or study, use it. Otherwise, get creative with your space and ensure some distance from the kids.
Metro in the UK recently published a piece with some rather humorous examples of how people have adapted to working from home with kids in the current climate. Definitely worth a look! We're particularly impressed with this height-adjustable 'workstation'…
Do shifts with your partner if they're also working from home
Is your partner also working from home with kids around? If you don't have any help at home, divide the responsibility around your work commitments and take turns. If one of you has an important phone or video meeting, make sure the other takes on parental duties to minimise disruption. (And make use of the mute button so your colleagues don't have to hear your kids yell, "I'm just done a poop!")
Set boundaries with your kids
This one's a lot easier with older children, who you can at least reason with. The separate working space is a great starting point. You can go one further by hanging signs on the door when you're on an important call so the kids know not to disturb you (unless, you know, the house is on fire or something). You could do green and red signs on the door, or a no-entry hanger on the door handle – let your imagination run wild!
Also, go easy on yourself. This whole coronavirus situation is (hopefully) a temporary thing, so if there needs to be more screen time, let it go. There are some great educational TV shows, YouTube channels and apps out there to keep their grey matter working!
Take regular breaks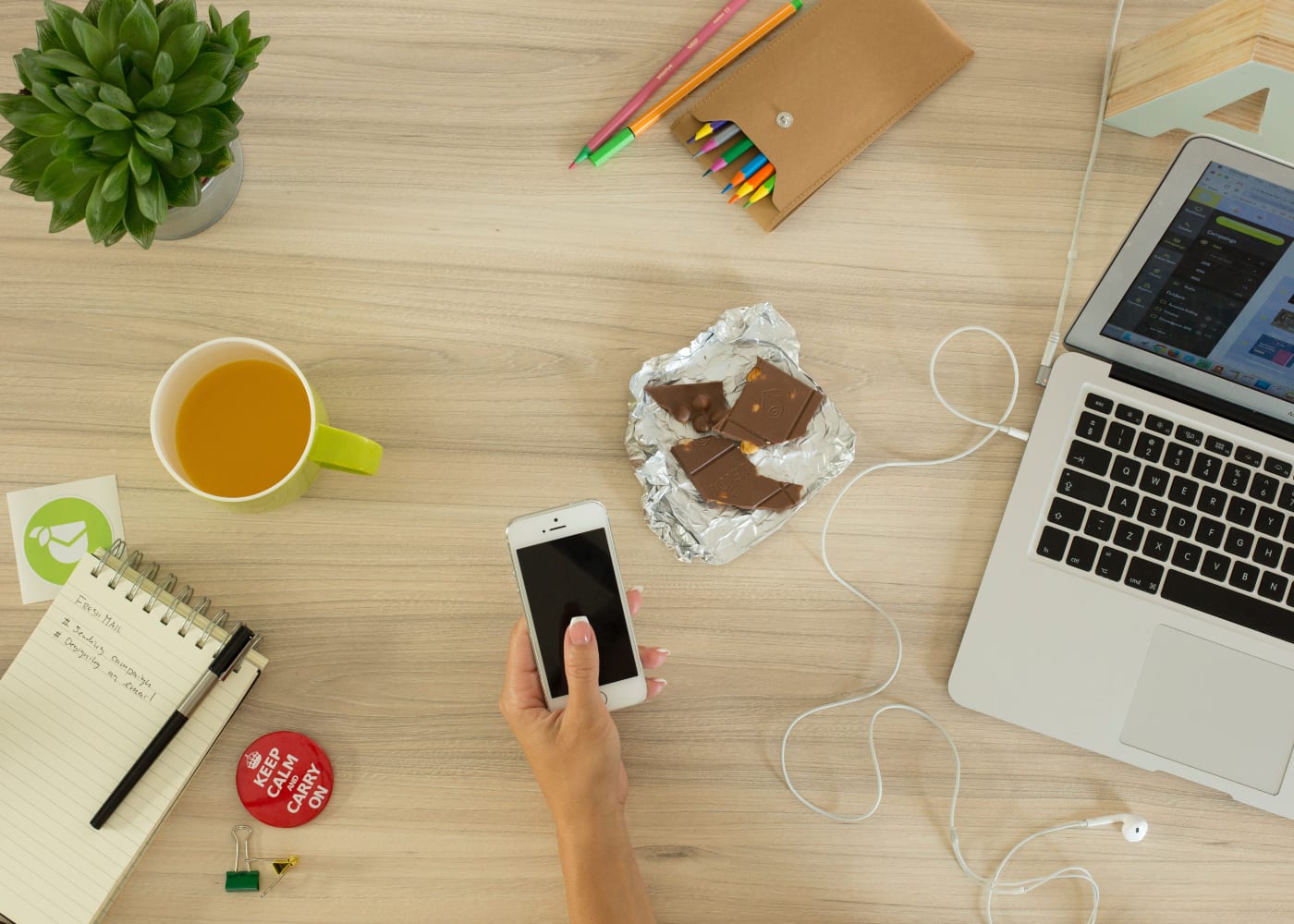 This is important, regardless of if you have kids at home or not – heck, regardless of you being home in the first place! Keep moving, give your eyes a rest and go drink some water. Having regular breaks will actually help you stay productive and focused.
Strict schedules will also really help every member of the household. Try and replicate your normal routine as much as possible, and also make use of any nap times in your household. We don't mean you sleeping, sadly; if you have a toddler who has a lunchtime sleep, use that quiet time for meetings or high-focus tasks where you won't be disturbed.
Keep communicating
In a recent survey of more than 7,300 workers by FlexJobs, 65 per cent of respondents said they're more productive working from home, due to fewer interruptions from colleagues, minimal office politics and reduced stress from commuting. However, loneliness can also be a factor – another study found it was the second-most reported challenge with remote workers.
Ensure you have regular check-ins with your boss and colleagues via phone or video; whatever works best for you. Perhaps touch base on video at the start and end of business hours, then message and email throughout the day. Regular communication will help you stay on track and keep some sense of normality… and seeing familiar faces helps your sanity, too! There are so many tools out there to help you stay effective while remote working. And it goes without saying: be understanding of people's circumstances, and they will return the kindness too.
So there you have it: five top tips for being productive while working from home with kids around. Go easy on yourself, be agile and know that (hopefully) this isn't forever. One day at a time, folks! #flattenthecurve