Whether you're facing rainy Singapore days or pandemic restrictions are back in town, we've got all the boredom busters and at-home activities to keep the kids busy!
Spending time at home? Whatever the reason – be it a rainy day in Singapore or the return to tighter restrictions – sometimes we can't venture outdoors. Not such an issue until you add kids into the mix. If they're getting ratty, then don't fret. We've got 66 fabulous at-home activities to keep your kids entertained (and hopefully out of your hair) on those stay at home days. Psst – if it's rain-related, we've also got our mega 100 things to do indoors guide for even more ideas. Before you know it, the sun will be back, or restrictions will be over, and you can move onto our other whopper: 100 things to do outdoors! (Be sure to check ahead if you ever decide to venture out of the house!)
66 THINGS TO DO AT HOME WITH KIDS IN SINGAPORE
1. Have a go at Origami
How about trying a new craft in the form of origami?! We love the free downloadables available from Canon's Creative Park website. There are loads to choose from and resources suitable for all ages (even the grown-ups!) – it's also quite addictive once you get the hang of it!
2. Make your own face masks
Rather than spend moolah on masks (no matter how cute they are), keep things sustainable and save some coins by making your own reusable masks instead! We've listed three ways on how to do them, or you can follow the instructions by Hello Sewing on how to create your own 3D mask. The kids may not be of much help, but they can assist in picking out the patterns they want for their own masks!
3. Play with rice
This is bound to get messy, but that's better than having to deal with cranky kids, right? All you have to do is grab a large tray or bowl, fill it with uncooked rice, and pop in several things for your kids to become rice-panning experts. Spoons, cups, balls, toys… anything that you can think of, really. If you can afford the extra time (and effort), dye the rice grains in various colours using food colouring. Deffo a fun thing to do at home with the kiddos.
4. Go on an indoor scavenger hunt
Stuck at home and looking for something to do other than staring at the screen? Well, how about an indoor scavenger hunt! It's easy, inexpensive, and you can do it using practically anything that's in the house. Good Housekeeping has rounded up a variety of scavenger hunts that'll keep the kids occupied for a few hours.
5. Have a picnic
Instead of having your meals at the dining table, make it fun by having an indoor picnic. Designate some space in the living room (or anywhere in the house), set up your mat, and make a picnic like how you would if you were at Botanic Gardens. Get the kids to help out by decorating your picnic area. You can prepare the food, or get them delivered. Looking for extra help? You can get a picnic supplier to help you out if you run out of ideas.
6. Make your own playdough
Let the kids loose with playdough! Roll it, squash it, mould it, cut it! Don't have any playdough in the house? Make your own with this easy recipe in our guide to DIY playdough and slime. And if you're looking for more inspo? We've got a whole bunch of DIY sensory play ideas. Guaranteed fun for hours on end.
7. Knock some pins over
Set up an indoor bowling centre with these easy instructions by This Mumma's Life. Blocks can be used as 'pins', and any soft ball becomes a bowling ball! We just hope the kiddos won't break anything in the house when the balls fly everywhere…
8. Make a long train track
Challenge your little one to use every single piece of road or train track they own to make a big mega track. Head over to The Imagination Tree for instructions on how to make your own.
9. Work on some colouring
Sticker and colouring books are tons of fun for kids and easy at-home activities (even for us adults!). Keep a few sticker and colouring books on hand at all times – it's the perfect way for bored kids to keep busy practising their drawing (and sticking) skills. For emergency colouring-in activities, print free sheets out from Super Colouring.
10. Bake a sweet treat
If you need to keep the kids busy at home and want yummy results, baking is where it's at! Good news, even if you're not a baking pro, there's loads of simple recipes out there that deliver delicious baked goods. We've put together 25 of our fave baking recipes to keep you and your mini-chefs busy!
11. Go on a treasure hunt
Treasure hunts are a great way to spur on the kids' imagination, and that's exactly what you need to make this fun! Create a treasure map, hide objects around the house and let the kids search for treasure. Reading Confetti has some cool ideas if you need them. Fingers crossed, you'll be able to find all your buried treasure!
12. Make your own fort
Cushions, a few old sheets and a touch of imagination are all you need to transform your living room into a tented adventure. Let your little Vikings use stray cushions (and other handy household objects) to make their own fort. Dads will most likely want in on this one, too.
13. Fix a puzzle
Now, this is a stay at home activity that will keep the kids occupied for hours on end! Get the 1000-piece puzzle out and piece them together. Creative and time-consuming (yes!), but we love 'em. Don't have a puzzle of your own? Check out Facebook listings and second-hand shopping sites for piles of puzzle bargains.
14. Work on some arts and crafts
Restock the art and craft kit, grab a big sheet of paper plus a few tubs of paint and dive into some finger painting fun by letting the kids unleash their creativity! Get crafty with your toilet rolls and create a Disney Princess or a pet snake out of a humble tube of cardboard.
15. Play in the rain
Did rain stop play? They say, "when you can't beat them, join them"! So if you have some outdoor space then, grab your wellies and be prepared to get soaked from top to bottom. Use the opportunity of a rainy afternoon to let kids play embrace the outdoors Peppa Pig style!
16. On that note… go swimming!
If you've got stay home plans because of the rain, then why not let the children paddle in the pool? (Watch out for lightning, though.)
17. Clear out your wardrobes
Take a page out of Marie Kondo's book and see if your clothes still spark joy. Rummage through your donation piles and dig out some old clothes. Kiddos will love a dress-up sesh to bring out their inner fashionista.
18. Dance it out
Don't like working out? Be a cool mum or dad and learn the hottest TikTok dances with the kiddos. It'll burn off hours of your time (especially if you're learning a toughie), and it's a great way to bond with your tweens and teens, too. Definitely an option if you're stumped over what to do with kids and need easy at-home activities!
19. Have a movie marathon at home!
If you're not feeling quite so active, you could always cuddle on the couch, make some microwavable butter popcorn and pop on a family flick or movie marathon! Our pick? Feel good and hilarious movies like Jumanji, Honey! I Shrunk the Kids or The Sound of Music. The kiddies will be singing do-re-mi for weeks to come…
20. Find a nook and read a book
We love reading! And it's a hobby we hope to pass on to the littlies, too. And, there are plenty of books that are great for kids – we're still obsessed with the Harry Potter series by J.K. Rowling (and you can always pop on the movies after you're done with the series!), any book by Roald Dahl or classics like Charlotte's Web. We've also rounded up some great touchy-feely interactive books for toddlers so the littlies won't feel left out, either.
And if you need any recommendations for yourself, check out our monthly HoneyKids book club for great reads.
21. Play rounds of hide and seek
There is fun to be had in old-school simplicity, like a couple of rounds of hide and seek! Play this retro game that kids of all ages will love. Extra points for kids who can count to 20 without peeking!
22. Video call the grandparents
Got family abroad? Earn brownie points with a Skype or Zoom sesh with Grandma!
23. Work on some science experiments
Boost the little one's understanding and interest in science with some nifty science experiments you can do at home! Scour YouTube for some ideas, or you can check out Science Bob for some ideas to start out with. We also love checking out Steve Spangler's experiment library for ideas too. Go nuts!
24. Take a virtual vacation
If you fancy checking out a far-flung location without leaving your front room, then the play packs from Skyscanner are the perfect answer. Let the young'un learn more about new destinations through quizzes, word searches and travel-inspired drawings. If that won't satisfy your wanderlust, explore Mars or the Moon with Google instead – it'll be out of this world… Literally!
25. Learn to draw animations
If you've ever wanted to learn how to draw your favourite Disney characters or animals, then be sure to hop on over to Instagram to find out. Not only that, tons of artists now have regular Instagram Live workshops for kids to improve on their art skills – it's great for their creativity and totally fun, too!
26. Craft your own DIY guitar
If the kids love to rock out to music, they'll be thrilled to know that it's really easy to make a DIY guitar out of a shoebox and a packet of rubber bands. They can even decorate these boxes before adding the 'strings', too! Follow these instructions by PBS and rock on with a DIY music lesson.
27. Make your own ice lollies
In need of a treat? How about making these delicious homemade popsicles! Alternatively, you could also learn how to make your own ice cream in a bag. In The Kids' Kitchen have got it down, and it works like a charm. Looking for an easier option? Lots of our fave ice cream shops offer delivery, hooray! Possibly one of the yummiest at-home activities!
28. Order in a takeaway!
If you can't face cooking, how about ordering a takeaway as a treat? The good news is there are loads of options for fam-friendly dining delivered straight to your door. No need to get out of your PJs!
29. Exercise and do some yoga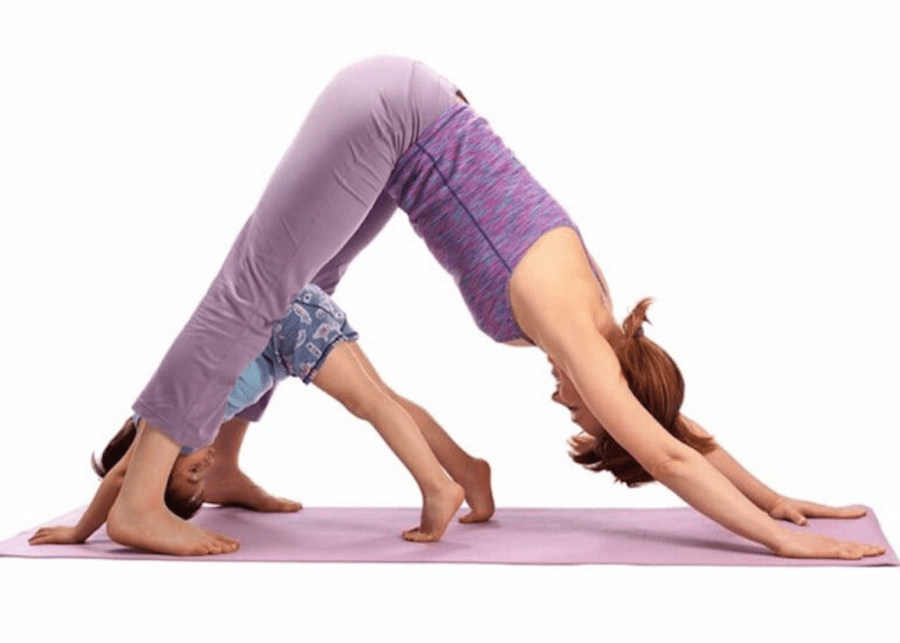 Teach the children yoga – kids are naturals, and it'll help them calm down and feel more relaxed. Get the kids into poses like the cobra and downward-facing dog, and all find your inner peace!
30. Paint those tootsies
Forget heading to the parlour for a pedicure with your kids when you can just teach them yourself! Turn the kids into mini-manicurists by letting them rummage through your nail polish pile and picking out a colour of their fancy. Hours of fun right there, where you'll get to paint all their tiny toes and fingers.
31. Watch some telly
Desperate times call for desperate measures. Once you've exhausted the craft box and have made mini chefs of the kids in the kitchen wind down with a bit of screen time: we love these educational but fun tv shows for easy at-home activities. And congrats, parents – you now have free time to do whatever you want while the kids are glued to the TV. (Psst, if you're popping on Netflix, make sure you know how to set up parental controls!)
32. Pick one of these sofa-bulous activities to do
Some days, parenting all day is just way too much – it truly takes a village to raise a child! Feeling the strain and just need some mum time to yourself while the kids are busy working on an activity? Check out these easy activities as a solution. We also recommend following in the footsteps of this parent (who went viral with this ingenious idea). All you need to do is "pose" in a sleeping position and take a well-deserved nap while the kids work away…
33. Make your own DIY party favours
Hosting a birthday party any time soon? Get on top of the party bag situation by making some of these fun DIY favours. Better to be well-prepared in advance than to wait till the last minute!
34. Play some board games
Dust off the board games and sit down for an afternoon of family games if you need to stay home! Need inspo on a new game? We've got a whole guide of awesome board game suggestions, so hop in for the ones you should be stockpiling.
35. Make your own kites
Keep little chins up by creating kites as a fun at-home activity! Follow these instructions, and then when you're heading out next, put your creations to the test. East Coast Park, Marina Barrage or West Coast Park always has a good breeze for kite flying fun. Check out our video of how to make a hand kite while you're at it!
36. Craft your own collage
Donate your old magazines to the kiddos and let them cut them up, and stick them together to make a collage. There are hours of cutting and pasting fun to be had! Take the craft up a notch by turning newspapers into pom poms: we love this tutorial by Apartment Therapy.
37. Host a play date
Invite your children's besties around for a play date (unless it's pandemic times, in which case keep it virtual!).
38. Clean out the toy box
Great for mums and fabulous for the general cleanliness of the place. Clean out the toy box, just like how you would with your clothes – Marie Kondo style. Create three piles – keep, recycle and donate (and when the rain stops… recycle and donate!).
39. Make your own indoor playhouse
Recently moved house? Save those packing boxes and use them to make a collapsible indoor playhouse! Follow these easy steps from She Knows, or head over to our guide on turning cardboard boxes into toys for more inspo.
40. Hit the kitchen and make dinner!
Kill two birds with one stone! Entertain the kiddos and feed them at the same time by teaching them a skill or two in the kitchen by making some delish bites for dinner. You could get them to help you make this super easy spaghetti sauce or the ever-popular favourite: bread. Hungry for some noodles? How about making a Chinese classic, noodles and soup? You could even teach the kids how to use chopsticks to eat their noodles. We like these tasty recipes by Mom Junction – delicious.
41. Paint a masterpiece with trucks
A big sheet of paper + a couple of old trucks, + a tub of paint = a top-notch art project for your little ones. It's going to get messy, but painting tracks with trucks is fun for everyone and makes the perfect stay home thing to do!
42. Make your own stamps out of vegetables
Rescue a few old potatoes and create DIY vegetable stampers. Cut the vegetables in half, create some cool cross-sections, dip in paint and stamp away. Don't forget to download a cool app for mums where you can keep all your little one's masterpieces stored.
43. Build your own city out of cardboard
Build a cardboard city using old cereal and shoe boxes. We like this fun tutorial by My Small Potatoes, but we say turn the craft session into a mini-geography lesson: model your city on a destination your little explorer fancies visiting.
44. Star in your own play
Lights, camera, action! Bring out your kid's inner thespian and encourage them to dramatise a classic play. Create a modern-day version of The Wizard of Oz, and watch with pride as your little munchkin delivers an Oscar-worthy performance.
45. Create your own picture book
Share the joy of literacy with your children by spending time writing, decorating, and binding your own picture book. You never know: you could end up publishing your book in Singapore!
46. Compete and see who can build the tallest tower
Think tall. Collect all the wooden blocks, Lego and Duplo you can find and set up competitions for your children to see who can build the tallest tower. And then create a DIY Lego storage system to stack it all away at the end of the day.
47. Play with some moulding clay
Hit the local art shops or order online and look for moulding clay to have up your sleeve for at-home activities. It's brilliant for small hands to play with and perfect for the kids to work on those motor skills.
48. Make your own face paints
Channel your inner Picasso and make your own face paints. Get the details over at Personal Creations for this stay home idea and spend the afternoon painting the kids' faces! Psst, it's also great for when Halloween comes around…
49. Go camping indoors
Turn your little ones into Scouts or Brownies, and try some indoor camping! Try Ikea or Decathlon for affordable children's tents, or have a look at the lovely teepees at Cuckoo Little Lifestyle.
50. Make some pasta crafts
Who doesn't have some pasta shapes sitting around the place? Of course you do. Give them to the little ones and teach them how to string pasta bracelets with this fun tutorial by Teaching Tiny Tots. Wear your macaroni masterpiece with pride!
51. Play a classic game of Hangman or Tic-Tac-Toe
Invest in some indoor chalkboards, or grab some paper and pencils and play games like Hangman or Tic-Tac-Toe! Easy peasy at-home activities right here!
52. Teach the kids how to braid their hair
The search for a decent hairdresser in Singapore is real. Spend time playing hair salon in Singapore and teach the kids braiding, beading, backcombing and quiffing skills. Make-up tutorial is optional!
53. Make your own bunting
Future textile designers will enjoy making a no-sew bunting. Use creations as party decorations or to brighten up the little ones' bedrooms. Plus, the kids will definitely want to pick their favourite patterned materials! Whip up these cute buntings by Childhood 101.
54. Sing your hearts out at karaoke
This activity's simple but oh so noisy… but the munchkins will certainly be entertained. Let your kids pick their favourite tunes and belt away – we can already guess which hit they'll want to sing over and over again. They might just fancy some singing lessons!
55. Shop for new threads
There's nothing like a spot of online retail therapy, right? We've started with the young 'uns and pulled together a list of our fave places to buy kids' clothes online. Need more shopping recommendations? We've got a list of the best online toy stores, our favourite maternity clothes brands and a whole list of online stores to help you stay sane.
56. Make a mosaic out of coloured squares
Small squares and glue sticks equal mosaic fun. Tip: the smaller the squares, the longer it will take your little lovelies to finish their mosaic creations. We love this easy tutorial for all levels of expertise by The Craft Train!
57. Make shadow shapes
Turn off all the lights in the house and make shadow shapes! Prop a flashlight up against some pillows and make shapes with your hands. Or, you could print out some animal shapes, stick them on popsicle sticks and direct your own shadow show!
58. Keep them 'appy with tablet and phone apps
A show of hands if you've ever said you were going to be that parent who limits your kid's screen time. Yeah, you can bet we've said that too. But give yourself a break: there are plenty of tablet and phone applications that will not only keep the young 'uns entertained, but are educational, too. We've got a couple of kid-friendly app suggestions that are perfect for toddlers when they're getting squirmy. We love Petting Zoo by Christoph Niemann, where a host of 21 animals animations will respond to your swipes. Great for animal lovers!
Psst, you can even download apps that teach the tots how to code like a pro. The possibilities are endless!
59. Let YouTube help you out!
Looking for other options for activities at home with the kids? Then check out YouTube for informational videos for the little tykes. From learning about deep-sea animals and space to getting your craft on with five-minute crafts and Sesame Street, finding something to do will be a breeze.
60. Write a letter to a pen pal
Want to teach the kids about other cultures in the world? Well, there's a great way to do so: pen pals! Not only does it broaden their world, but it can also help the littlies improve their penmanship, build lifelong friendships and develop their social and language skills. You could get the ball rolling by contacting other parents or by contacting one of several organisations that could connect your tyke to a friend abroad. This is one of those activities at home that will give potentially years of enjoyment!
61. Listen to a podcast
Enjoy a bit of quiet time by having the kiddos tune in to a podcast. Check out our guide to some of the best, kid-friendly podcasts that your little ones can listen to anywhere around the house. Adults, you don't have to miss out on this fun too – we've got you covered with these podcasts for parents that we know you'll enjoy!
62. Play charades
No board or card games in the house? No problem! Tear up a large piece of paper into smaller pieces, write down the phrases and/or titles that players need to act out, and dump everything into a bowl. Gather everyone together and start playing – either as a family or separated into teams. Creativity and laughter guaranteed! If you need charade ideas, you can follow the ones listed on YourDictionary.com, Country Living, or Childhood 101.
63. Create your own stickers
Sure you can go out and purchase tons of stickers, but why not make your own stickers instead? You can get creative with the designs, everyone in the house can do it, and you save money too. Follow the instructions from GoodtoKnow and your kids will be beyond impressed as they turn all their designs into stickers. Just be prepared to see them stuck all over the house! Pro-tip: easily remove stickers by blowing a hairdryer (at the hottest setting) on them before peeling them off. Ta-da, no more sticker glue!
64. Make greeting cards
Greeting cards are a great way to let someone know that you're thinking of them. It could be for a birthday, a simple thank you, or even a random surprise greeting card to brighten up that person's day! Gather all the craft supplies that you already have in the house (or head down to the nearest store to get some, if you don't have any!) and set some time to make the cards. If the kids would prefer to keep it simple, just head over to any greeting card website and personalise an electronic version. Online or homemade, the receiver will be more than happy to get one!
65. Discuss the news
As parents, we know you'd want to protect your kids from everything. We completely understand. There's a lot going on in the world right now and it can be overwhelming for everyone – let alone kids. However, we say it's an opportune time to sit the kids down and get them to understand events that are taking place worldwide. Sure, some of it may be traumatic to talk about, so here are some tips on how to navigate talking about (potentially) sensitive topics to your children.
66. Keeping toddlers entertained at home
Keeping older kids entertained is one thing, but toddlers – that's a whole different ball game! If you're struggling to think how to fill your day at home with a toddler in tow, check out this list of fail-proof toddler approved stay home activities. Good luck!
Need more activity ideas? Check out our massive list of 100 things to do indoors!