Have you used Netflix's parental controls to restrict what your kids are watching? Well, the streaming platform is rolling out some updates today.
Now that the kids are home, we realise their screen time has been off the charts. We're talking about spending most of the day on the iPad or computer to do schoolwork, watching YouTube videos and surfing educational websites to boost their learning. Oh, and we definitely can't forget some TV time, no matter how young the kids are. An episode of Paw Patrol or Carmen Sandiego on Netflix over lunch? Yes please – especially when we're working at home and need some time to ourselves. Thankfully, you can have peace of mind with Netflix's parental controls, which allow parents to create kids' profiles for the little ones and restrict what they're watching. But starting today, it's rolled out new updates to help parents one step further. Read on to find out what these new updates are!
You can now lock your profile
Worried the kids might sneakily try to access your profile to watch an episode of a saucy TV series? Well, you don't have to worry anymore! With Netflix's parental controls update, you can now lock each profile with a unique four-digit pin. Extra secure.
(Psst, enabling this option also prevents the kiddos from creating a new profile just to watch these shows. Now it's extra, extra secure.)
Review and restrict what your kids are watching
Set up a kids' profile for your tyke at home? Great. Not only does a kids' profile allow your young 'uns to view only children-friendly content, but it also has a unique interface, unlike your own personal profile. And with Netflix's parental control update, it now allows you to restrict and filter out content within each profile. We're talking about changing the maturity ratings for each profile, limiting programs based on their film ratings and setting viewing restrictions – hooray!
That means: you can restrict specific titles you might think are too gory, too violent or just totally inappropriate for your kid to watch (we're looking at you, The Haunting of Hill House). All you need to do is manually type it in, and it won't ever pop up on your kids' screen! What's more, you can set up a four-digit pin to restrict shows and movies that are rated R21. Super handy.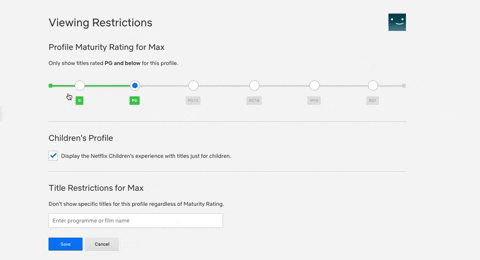 Also, in case you didn't already know: kids' profiles are limited to two ratings: "G' and "PG". For a complete list of classifications, read more from Infocomm Media Development Authority (IMDA) here.
Turn off autoplay
Admittedly, we have a love/hate relationship with Netflix's autoplay function. It's great because we'll happily sit back and watch Tiger King episode after episode (this documentary is truly wild – and we need more!). But we also don't want to be sitting in front of our telly-boxes for the entire day. The same goes for our kids, too – especially since we want to limit how much TV time they get.
Well, here's some good news: Netflix's parental control update now allows you to turn off autoplay, which means the kids have to manually select if they want to watch the next episode. So, we can limit the number of episodes the little ones watch – just remember to take the remote control with you! After all, kids are fast learners…
You can monitor your kids' viewing activity
Besides setting all these controls in place, you'll also be happy to learn that you can monitor your kids' viewing activity. That means you'll know what they've been watching on the streaming platform. While this list is never deleted automatically, it can be deleted manually. But don't worry – parental controls can only be accessed on your computer's browser, and not through the app. Phew!
The folks at Netflix have created a handy infographic to summarise everything for you – check it out below!