Photography: Bigger Bolder Baking
From all-out classic bakes, to the best cookies, as well as some healthy (but tasty!) treats, here are 25 baking recipes we love!
Not only is baking a great family bonding activity, but the end result means we get delicious bites out of it, too – hurrah! We checked in with the team to bring you the ultimate list of some of our fave recipes to get whipping up in the kitchen with the kids!
25 BAKING RECIPES FOR KIDS & FAMILIES
1. Nutella mug brownie
Try this brownie-in-a-mug recipe if the fam likes their brownies chewy and hazelnutty. The good news: you don't need heaps of supplies – just all-purpose flour, eggs and some Nutella. Amateur bakers rejoice as this recipe doesn't require much skill (or time) to whip up, either. I've made this three-ingredient brownie (pictured top) multiple times, and it's amazingly easy. Just mix up the ingredients in a mug and pop it into the microwave. Seriously dough, could brownie-making get any easier? And there isn't much washing up to do, which is always a plus in our books.
2. Raspberry blondies
For the uninitiated, a blondie is the white chocolate version of your typical brownie, and we think you need them in your life. We love this recipe for raspberry blondies. Why? Because it's easy and so moreish! The steps are so simple, which means the kids can easily help out along the way. They also love to help eat them! Gather the little ones for a home baking sesh to make these sweet bites, guaranteed to lift everyone's mood. They're the perfect afternoon snack.
3. Banana bread
If you can't stop seeing banana bread on your social feeds, we reckon it's a sign to make your own. Besides, it's an excellent way to use your overripe bananas. "It's like the whole fam chooses to let them overripe on purpose, so there's enough banana bread to go around," shares Honeycombers' writer, Nicole. She recommends the 'Best Banana Bread' recipe for busy mums. "Your batter's done in four quick steps. And I love putting my own spin on the recipe by adding peanut butter and chocolate chips, along with pecans or walnuts."
4. Traditional scones
Honeycombers' Head of People and Culture, Angela, has a homemade scones recipe from her grandmother that will satisfy all your pastry cravings – just add lashings of jam. Mix half a cup of double cream and half a cup of water before adding a whisked egg in. Then, mix two cups of self-raising flour, two tablespoons of sugar and a pinch of salt. Add two parts of this into the first mixture to make your dough. Cut them into circles and bake at 220 degrees for 10 minutes to make 10 to 12 scones. Her tip? "The key to these scones is a light touch. Make sure to only knead the dough until it comes together, and your scones will be light and fluffy!"
5. Lemon Drizzle Cake
When life gives you lemons? Ditch the lemonade and go straight for the lemon drizzle cake! A firm fave in our house, this can be demolished in one sitting – so be warned! It's also super easy to make, so the kids can help too. Our favourite recipe is this bake; it doesn't need many ingredients (only five) and tastes delicious, even for amateur bakers out there (like myself!)
FAMILY HOME BAKING RECIPES:  COOKIES
6. The BEST chocolate chip cookies
Who can resist cookies? Not us, that's for sure. And we are always in search of the best chocolate chip cookie recipe. And this time, the search is over, hooray! We've spoken to expert baker Tara (who studied pastry at Le Cordon Bleu in London, no less), and she's given us all the intel on what makes the best cookies. Want to mix it up with another cookie combo? There's more below…
7. Oatmeal and raisin cookies
Chewy with a hint of cinnamon, Martha Stewart does it again with these delicious oatmeal and raisin cookies. We love the fact that these morsels aren't all bad, with a healthy serving of oats and wheatgerm. This is a straightforward recipe that's easy to follow, and you can also freeze the unbaked dough balls for up to a month – the perfect way to get ahead of the game for school lunches!
8. Milk-making cookies
What's that, you say? A cookie that the kids will love AND that will boost my milk supply? Yep, check out these delish lactation cookies. The best part is they're absolutely delicious for everyone in the family (not just for the breastfeeding mum), and they're not too unhealthy either.
9. Jam drops
Another home-baking old-school classic, the small chefs will love helping you make these jammy biccies. This recipe from Kidspot is simple to make and relatively cheap, too, as it uses basic pantry ingredients. The cookie dough is perfect for the kids to knead and roll into balls, and they'll also love making the well in each cookie and dolloping the jam in. Hot tip: Dip the end of your wooden spoon in flour when making the well in each cookie to avoid it sticking.
10. Peanut butter cookies
For those times when you want to bake but you're short on time, these are the cookies for you. Not to mention the fact that they are insanely moreish, with a delish peanut butter taste – slightly salty and sweet all at once. You can whip this recipe from Ahead of Thyme up in under 20 minutes, including bake time. This is another recipe that the kids will enjoy helping with – they can take control of the measuring cups, learn to use the mixer and roll and flatten the dough balls. We dare you not to sneak a bite of the dough before baking!
11. Raw vegan cookies
No-bake? Check! Healthy? Check! We sometimes find that tracking down healthy snacks that the kids will actually eat can be a challenge. But these raw cookies from The Healthy Chef have enough yummy ingredients that the kids may just be fooled! Packed with dates, coconut, oats and peanut butter, they're great for keeping the kiddies full and helping with their digestive health too. To make them even more appealing, you could also try substituting the water for a bit of raw honey and topping them with pretty fruits like strawberries or raspberries instead of pumpkin seeds.
FAMILY HOME BAKING RECIPES:  GLUTEN-FREE
12. Flourless chocolate cake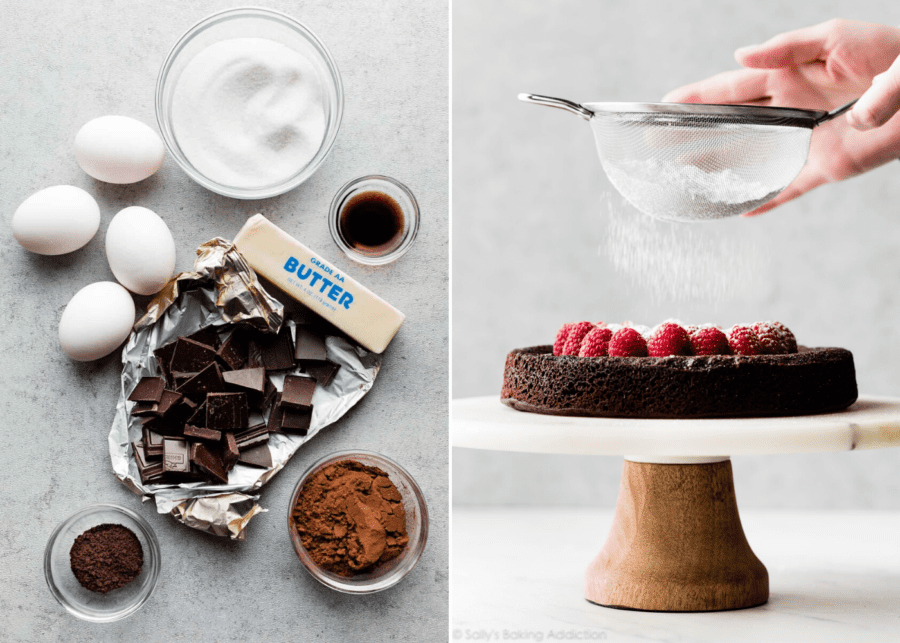 No flour? No problem. Give this flourless chocolate cake recipe a go. For those who can't have gluten in their diet, this is also naturally gluten-free. "Rich, fudgy and decadent, it's everything you could ever want in an indulgent chocolate dessert," says Honeycombers editor, Benita. "You can easily leave out the espresso powder and mocha whipped cream if you don't have them." Mmmm, we can't pass up an easy-to-make chocolate cake, and we're pretty sure the kiddos will be all over this, too!
13. Gluten-free banana and chocolate muffins
These banana and chocolate muffins are super easy and perfect for popping into your kid's lunchbox (you'll want some, too, of course). Use up ripe bananas in these fluffy and chocolately muffins, which contain coconut oil, not butter, and maple syrup instead of sugar.
14. Gluten-free chocolate chip and zucchini muffins
An unusual but tasty combo, gluten-free chocolate chip and zucchini muffins are just the right balance of naughty and nice. Try this recipe by Sarah Remmer for lunchbox fillers that are (kinda) guilt-free.
FAMILY HOME BAKING RECIPES:  HEALTHY TREATS
15. Healthy Apple Muffins
Read the words healthy and baking and think it's too good to be true? We're with you, but we can vouch for these healthy apple muffins to buck the trend. Plus, as they're packed with oats, they are sure to keep the kids fuelled, rather than just a serious sugar high and then an almighty fallout. Yummy and healthy – winning!
16. Blueberries and beetroot muffins
Blueberries and beetroot mixed together into one muffin? It shouldn't work, but it totally does! These colourful little numbers by The Lean Green Bean will be a hit with the whole fambam. Honest.
17. Venus Bars
We're not going to lie – we've been known to enjoy the occasional Mars bar in our time. But hold on to your hats, people – here's the healthier, smarter, yet equally yumtastic version… Venus Bars! It's definitely one of our fave recipes from Smart Snacks. Here's what you'll need…
Caramel layer: 1½ cups (285g) buckwheat, 1½ cups (270g) pitted Medjool dates (about 13) and 1–2 tbsps mesquite powder (optional).
Choc-malt nougat layer: 3 cups (450g) raw unsalted cashews, ⅓ cup (75g) coconut oil, melted, ½ cup (50g) cacao powder, 1 tbsp rice malt syrup.
Chocolate layer: ½ cup (125ml) canned coconut milk, ¼ cup (60g) coconut oil, melted, 1 tbsp cacao powder, 1 tbsp maple syrup, 1 tsp vanilla extract
Method:
To make the caramel layer, put the buckwheat into a food processor and process until ground, but still with texture. Add the dates and mesquite powder (if using) and process again until well combined, and the mixture comes together.  Line a 16cm × 26cm (base measurement) roasting tin with baking paper. Press the buckwheat mixture into the lined tin, pushing it into all the corners to make an even layer.
To make the choc-malt nougat layer, put the cashews, coconut oil, cacao powder and rice malt syrup into the food processor and process until well combined. (Don't worry about cleaning the food processor between these steps.) Press this mixture on top of your 'caramel' layer. Again, try and get it as evenly spread as possible – don't be afraid to use your fingers!
For the third and final chocolate layer, put the coconut milk, coconut oil, cacao powder, maple syrup and vanilla into a clean food processor or blender and process until well combined. Pour over the top of the other layers to evenly cover. Chill in the fridge or freezer for 1 hour or until set. This layer will have a lovely mousse-like consistency, so it will be soft to the touch even after refrigeration. Cut into pieces to serve.
FAMILY HOME BAKING RECIPES:  SUGAR-FREE
Although we love baking, if you've been going into baking overdrive and are worrying about those sweet carbs not being the best thing for our little ones' teeth and diet, how about giving sugar a miss?  We've been doing a little experimenting with sugar-free alternatives like honey and the fad product of the moment, agave. Check out these tried and tested baker's delights. We're converts. Sa-weet!
18. Blueberry Lemon Almond Cake
Who knew sugar-free and gluten-free could be so delish. Using rich almond flour instead of regular flour, this alternative cake relies on crunchy poppy seeds, refreshing lemon zest, and juicy blueberries to create a naturally sweet flavour. Glaze the cake with a homemade mix of natural yoghurt, honey, vanilla extract, and lemon juice, and top with generous handfuls of fresh blueberries.
19. Zucchini Bread with Blueberries and Pecans
This sweet zucchini bread makes a great breakfast bite with a side of cream cheese. The batter is prepared by combining a dry mix of whole wheat flour, baking powder, baking soda, cinnamon, and salt, with a wet mix of beaten eggs, canola oil, vanilla, and grated zucchini. Stir generous handfuls of blueberries and pecans into the combined batter and pour the mix into a non-stick loaf pan to bake for 40 to 45 minutes.
20. Cardamom Sunflower Muffins
Making your own homemade flour is actually much easier than you think!  Simply grind walnuts and roasted sunflower seeds using a mortar, food processor, or coffee grinder, and then sift in baking powder and salt before setting the nut flour aside. The key to these light muffins is the melted butter mixture that's flavoured with agave syrup, vanilla, and cardamom.
21. Chocolate Chip Brownies
This sugar-free version of the classic chocolate dessert is better than the real thing. Blending together almond butter, eggs, agave nectar, and vanilla extract, add in the cocoa powder, salt, baking soda, and then fold in your favourite store-bought chocolate chips. To bake, pop the brownie mix into the oven for 35 to 40 minutes.
 BAKING RECIPES PERFECT FOR KIDS:  MORISH MUFFINS
Whether you have just the one kiddo or a whole tribe of them, keeping them in a steady supply of healthy (ish) snacks takes some doing. And if said kiddos are of school age, the 'what shall I put in their lunchbox' conundrum' is a real parenting challenge. We hear you – and we're here to fix that snack gap. We've been baking up a storm in the quest to trial (and eat) these easy peasy savoury, and sweet muffin recipes for kids.
22. Mac 'n' cheese muffin
Mac 'n' cheese is always a dinner winner in our house, so turning it into muffin form is, in our book, pure genius! We like this easy and yummy recipe by Stay At Home Mum. Pop some sweetcorn or other veggies in to ramp up the 'slightly healthier' factor.
23. Vegetable savoury muffins
If your little one is not a fan of cheese, then here's an option that they'll love as much as you will. These vegetable savoury muffins by Healthy Little Foodies are easy and fun to make, so why not whip up a veggie storm in the kitchen with the help of your mini-chefs?
24. Breakfast egg muffins
Check out these healthy breakfast egg muffins by Well Plated. They're loaded with goodness for an alternative start to the day for the whole family. Leftovers keep nicely in the fridge for three days and can be frozen too. Add and subtract from the ingredients according to your tot's palate.
25. Bananas, yoghurt and chocolate chip muffins
Bananas, Greek yoghurt and chocolate chips in one tasty recipe by Creme de la Crumb are indeed as delish as they sound. So much YES!
Time to get baking, folks!