We know EXACTLY where we should be eating with kids when we're in need of some fuel at the East Coast Park: Parkland Green!
As an avid cyclist who has clocked hundreds of miles on a two-wheeler, I know the importance of stopping for a break every once in a while (especially in this heat). And whether you've decided to ride your bikes from home or rent one at the ever-popular East Coast Park, make it a fun day out by stopping at Parkland Green! That's right – avoid the crowded hawker centre by the warehouse, search for the lookout point (above) and grab a bite or a drink at this foodie stretch by the coast. It's the perfect pitstop on a hot day out after an afternoon of scooting with plenty of options available and we've picked the best! Read on below…
Where to eat at Parkland Green
Sandbank
Nothing beats munching on slices of pizza and enjoying a milkshake on a hot day. And if that sounds like something you and the kids want to do, then check out Sandbank! This family-friendly restaurant boasts delectable pizzas, burgers, pasta, chargrilled meats and seafood. Plus, all kids' meals come with nuggets, tater tots and juice to boot. Not to mention, it even has a 15-metre plunge pool for private parties and events – perfect for the kids' birthday party!
Bakery and Bar St. Marc
Want to opt for baked goods in a cosy setting by the beach? Make Bakery and Bar St. Marc your next brunch place with the kids when you stop by Parkland Green! Don't forget to pick up its signature Chococro: a sweet, freshly baked chocolate croissant that the kids will love. Or, order up your usual brunch favourites before continuing your adventures around East Coast Park.
Atmosphere Bistro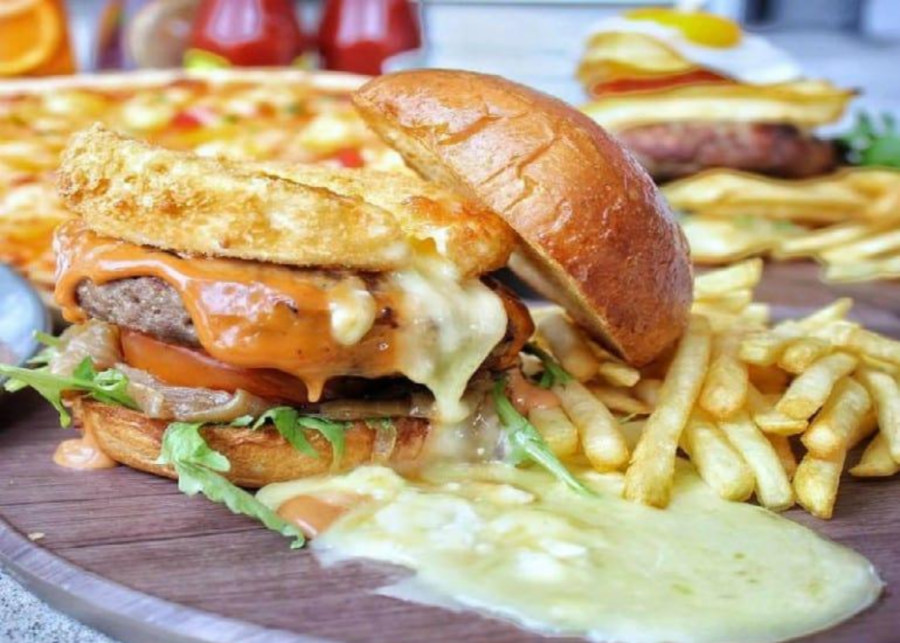 This super kid-friendly restaurant and sports bar should not be missed when you're in need to find a pit stop at Parkland Green. We're still full from one of the best burgers in Singapore – Atmosphere's lava cheeseburger. Not only that, but it also has amazing garlic butter mussels, good ol' fashioned fish and chips and plenty of other delish eats to tuck into. You also can't miss out on its desserts, especially the Black Pearl, which is flamed at your table! What a treat.
Patro's Sports Bar and Restaurant
Look, this North Indian and Mexican joint is a wild mix but we assure you that it's tastefully done (get it?). Feast on chimichangas, enchiladas and a whole host of your fave Mexican delights, but don't forget to spice up your meal with decent curries, too. Plus, what's not to love when you can enjoy the lovely sea breeze and an area where the kids can run around?
Starbucks
Okay, it's not a drawcard but you know you can come here and get a reliable coffee and wifi if you need it. There is indoor as well as outdoor seating but beware, the crowds swell in the mornings (maybe it's the aforementioned wifi), proving this chain's perennial popularity.
and if you need some wheels…
Hvpersport
While we are not entirely sure how to say Hvpersport, you'll want to check it out if you're looking for quality inline skates, urban scooters and skateboards to buy. A must for kids or adults before heading to the skate park to shred!
Parkland Green: 920 ECP, Singapore 449875
Photography: Melodi Ghui