Whether it's bike riding, swimming, rollerblading, having a barbecue by the beach or simply grabbing brunch with the kids, East Coast Park is the place to go!
The sun is shining, you're in the mood for some fresh air in the great outdoors, and the kids have energy to burn so where do you head with the family? East Coast Park, of course! This gorgeous sandy stretch of Singapore has tons of fantastic outdoor activities for kids (and a few for grown ups fancying a spot of kidulting), a huge stretch of cycling, skating or scooting routes, and some of the coolest playgrounds in Singapore. Add to the mix a wide expanse of beach for serious bucket and spade action and barbecue pits perfect for cooking up a family feast (or a ton of kid-friendly cafes and restaurants if you can't be bothered to cook), and, well, it's no wonder families love this pocket of the island…
Explore the East Coast on wheels
With 42km of coast stretching from Changi right round to Tanjong Rhu, this is one part of town where the family can get busy with some cycling fun (don't forget to check out our handy guide to cycling with kids before you push off). Don't worry if you don't have your own set of wheels: opt for bike-sharing or head to one of the bike rental outlets found in abundance along the park. Prices generally start at around $8 for two hours and you can choose from every type of bike imaginable including a family four-wheeled pedicab, tandems and cycles with training wheels for smaller tots. Rental booths also have rollerblades, scooters, swaveboards and skateboards for hire for some wheely fun adventures through the park. 
Have a sandcastle competition on the beach
Pack up a picnic, your bucket and spades, your sunscreen and your mozzie spray and head to the sand for a good old fashioned day at the beach. With 15km of coastline you're sure to find the perfect spot to pitch camp for the day.
Skate over to Xtreme SkatePark
If you have a budding skateboard ninja then they'll absolutely want to check out the skater's paradise aka Xtreme SkatePark. This is THE place to hang with the kids who are not only cool, but friendly and helpful too. Perfect for making new friends and picking up some awesome skills.
Set sail on the high seas
If waterskiing doesn't float your boat, then there are still plenty of high seas jinx to be had. Book kayaking, stand up paddle boarding or windsurfing adventures with Water Venture East Coast, where you'll find lessons for all ages and skill levels.
Hit the playground at Marine Cove
Between the climbing frames, bridges, awesome slides, and swings – yes, SWINGS – it's pretty hard to tear the kids away. The promise of a treat at one of the cafes nearby might be your best weapon, but we're not lying, we enjoy an ice-cream date as much as the kiddos. Make sure you bring hats, sunscreen and stay hydrated: time your visit for the morning or afternoon when it's a bit cooler! The playground doesn't have a great deal of shade and it gets hot. Get the full deets in our review of Marine Cove Park!
Pitch a tent
Bring out your inner Scout or Girl Guide and set up a tent along the East Coast Park. While we're not talking glamping, this is a surefire hit with the kiddos for discovering life away from the hustle and bustle of the city. Designated camping areas can be found at areas A and G along the park, along with basic amenities including toilets and showers. You'll need to apply for a permit, which can then be used for a maximum of four days. That's your easy peasy short break sorted.
Barbecue by the beach
Whether you're camping and fancy getting into the spirit by cooking outdoors, are looking for somewhere fun and easy for a birthday party, or just fancy throwing some meat on the BBQ and creating the best burger in town, the family will love booking at pit at East Coast Park for a fun alfresco dining opportunity. Book a pit online through National Parks (there are over 80 pits but they do get snagged quick, so make your booking early) and don't forget the ketchup.
Make a splash at Singapore Wake Park
Water sport fans wanting to make a splash will love Singapore's only cable-ski park: Singapore Wake Park. This fun adventure water sport spot offers all ages and abilities the chance to try wakeboarding, wakeskating, waterskiing and kneeboarding. Book an intro session for children and beginners before testing out your moves!
Climb trees!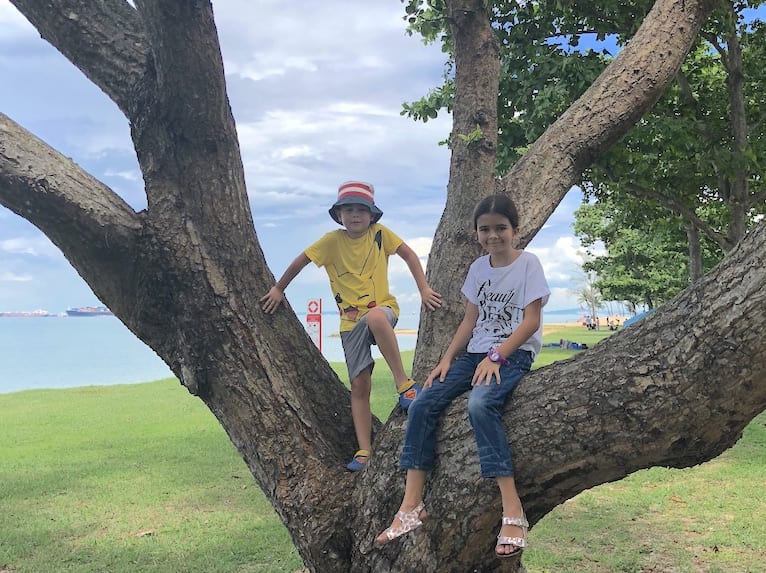 Good old fashioned fun alert: climbing trees is as cool today as it was back when we were kids, and the East Coast Park is full of ones perfect for testing out spidey-skills.
Try a family battle with a difference
And by that we mean Laser Tag! Plan a shoot-out with your kids and their friends with a fun-packed fast paced game at TagTeam Inc. Suitable for kiddos age four and above, we think the whole gang will want in on the ultimate family battle. TagTeam Inc provides all the equipment you'll need to go into the two different arenas: the mystery room and battle zone. You can even code and fly your own drone in the only version of TagDrone available in Singapore!
Refuel at a family-friendly food pitstop
There's something on the menu for even the fussiest of eaters at the huge choice of kid-friendly dining options on East Coast Park. Parkland Green has a wide selection of cool eats and Marine Cove is another great place to hit up for easy eats with the kids. Or why not eat local and work your way through a huge list of Asian foods being fried, grilled and boiled over at Laguna East Coast Lagoon Food Village?
How to get there
There are soooo many carparks that if you are driving over you would think you would be okay for a spot: not always the case at the weekends, folks! If you can take public transport or a taxi then that's the best way to get there stress-free! Bedok MRT station is nearest if you are coming in by train: take a bus 401 from there on weekends which will take you directly to East Coast Park, and during the week hop on the 197 to Marine Parade Road outside Parkway Parade and walk through the underpass. 
Photography (top image): National Parks